Thinking of romantic dinner ideas for two this coming hearts day? Then look no further! In this article, we list down 75 easy Valentine's day recipes for a cozy, candlelight dinner with your loved one.
Of all the many romantic Valentine's day ideas one can do, nothing beats a fancy dinner with your significant other. And what better way to express your love than with your very own cooking? That's why we list 75 easy yet incredibly romantic dinner ideas that'll make the most memorable Valentine's day dinner yet.
---
Fancy Dinner Ideas For Two
Make your date fall in love with you even more with our Valentine's Day recipes and romantic dinner ideas! Explore this section for elevated swoon-worthy dishes that you can recreate for your loved one.
Baked Cod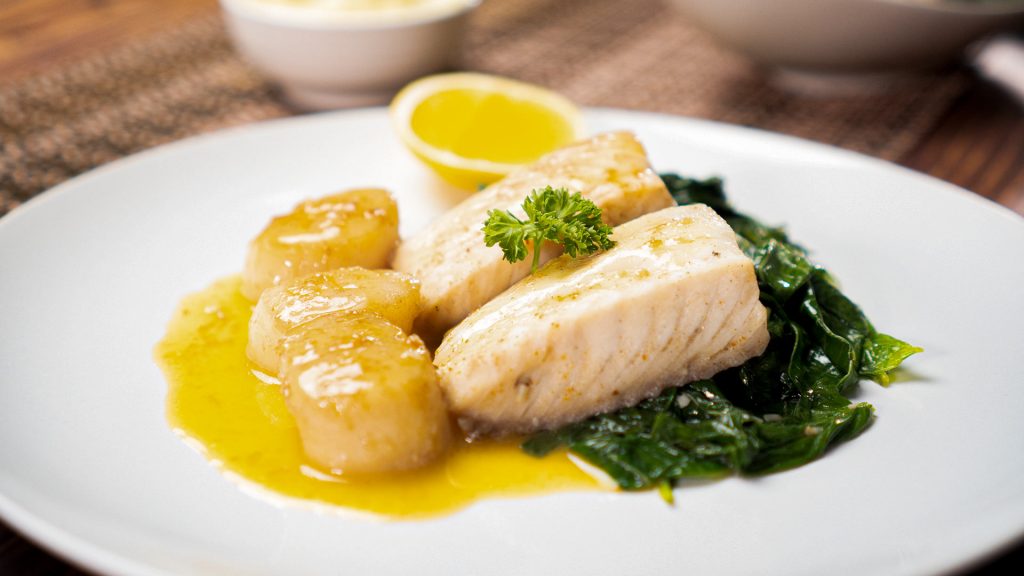 This gourmet-like dish of cod, scallops, and spinach tastes amazing paired with pristine white wine. Perfectly-baked cod fillets are served with a wonderful sauce of butter, vegetable juice, and nutmeg. There's also a tasty accompaniment of healthy spinach and rich scallops!
Recipe for Inspiration: Cod, Scallops, and Spinach
Steak Au Poivre
This steak au poivre is probably one of the fanciest steaks you'll ever make in your life. A French favorite, this recipe takes a cut of tender filet mignon and coats it in a juicy peppercorn crust. It's then pan-seared to a perfect golden brown and served with liquor-infused cream sauce.
Recipe for Inspiration: Steak Au Poivre
Coq Au Vin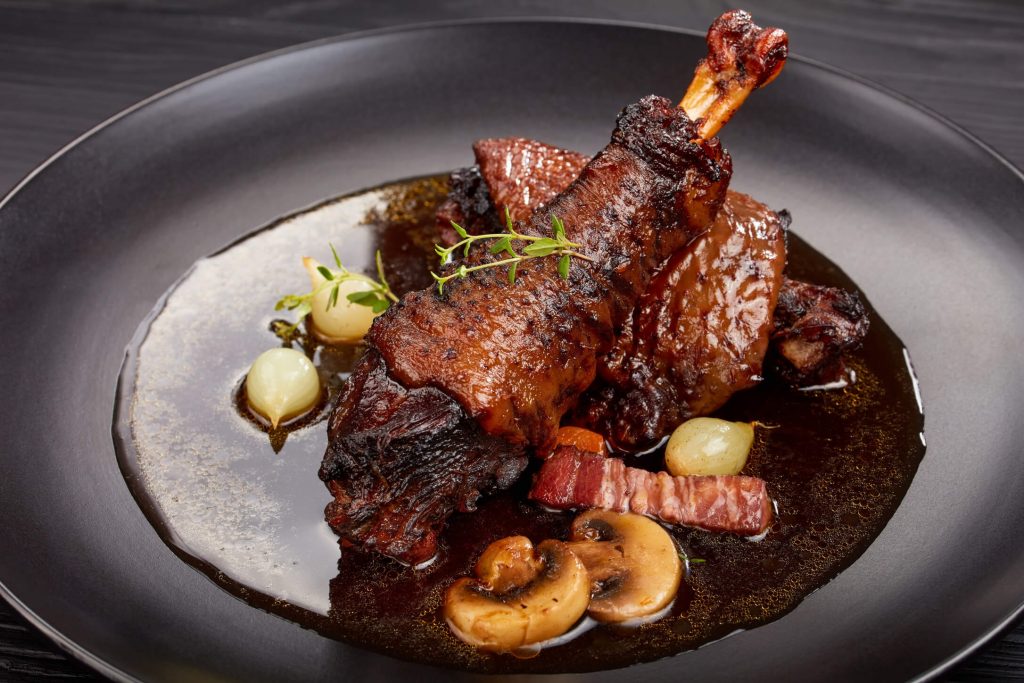 For yet another fancy dinner meal that takes you to Paris, try making this slow cooked coq au vin for your loved one. This French recipe tenderly cooks chicken and vegetables in a simmer of red wine. It might take some time, but the result will be nothing short of extravagant. If you really want something that'll impress your date, then try this tasty recipe.
Recipe for Inspiration: Slow-Cooked Coq Au Vin
Champagne Cocktail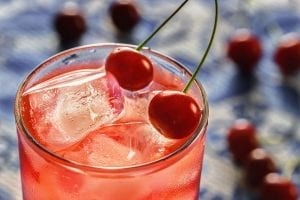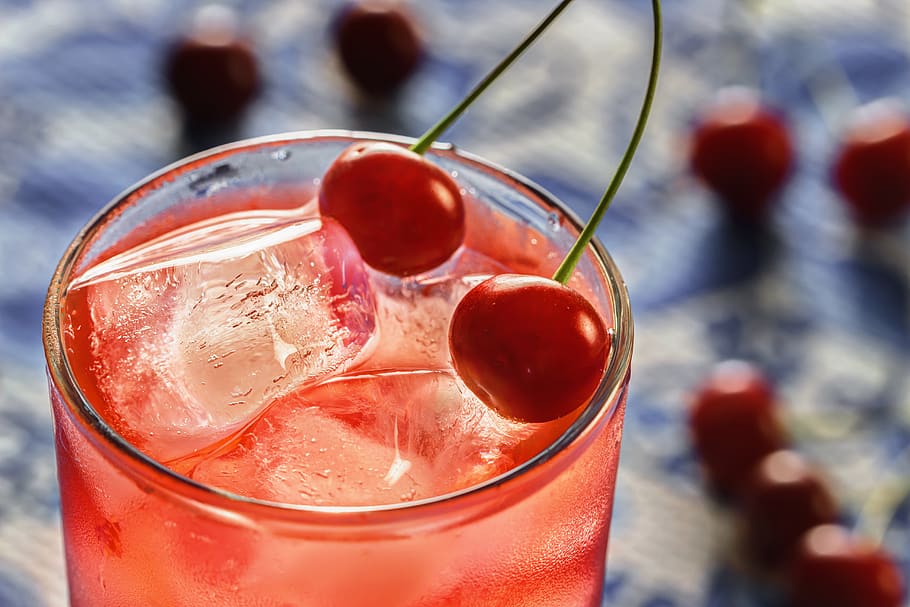 Step up your French-inspired date with a drink fit for royalty. Now you can turn your champagne drinks even better with this Marie Antoinette cocktail recipe. This drink was inspired by the late queen who was well-known for her extravagant parties and celebrations. If you want your date to feel like royalty, make him or her an elegant cocktail like this one.
Recipe for Inspiration: Marie Antoinette Champagne Cocktail
Sautéed Lobster Tail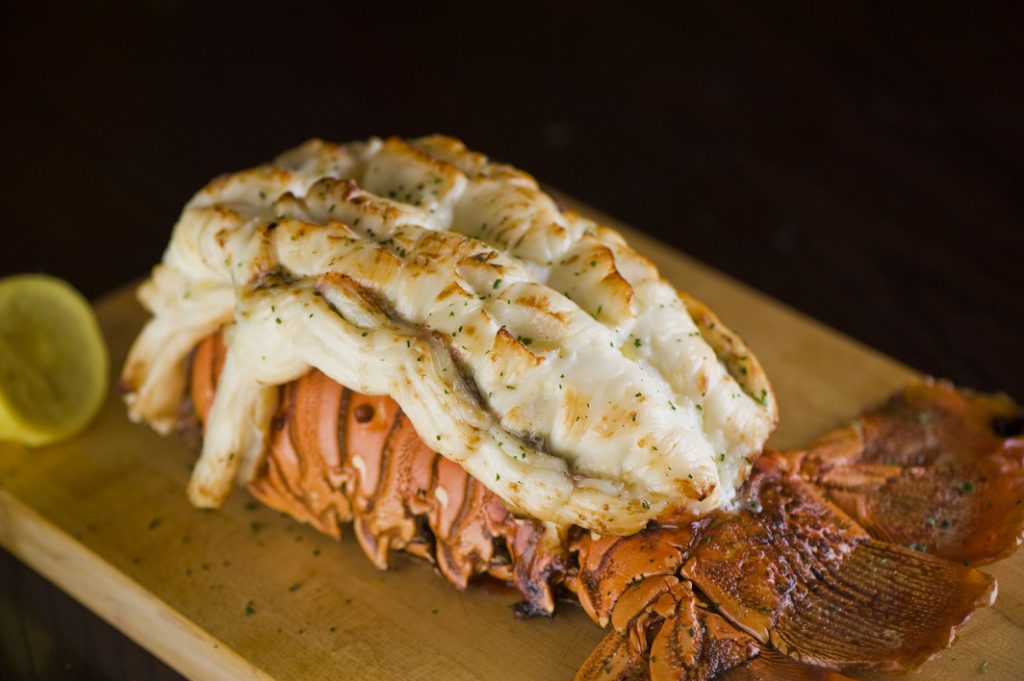 This sautéed lobster tail is a must for a romantic seafood dinner treat for you and your loved one on Valentine's day. This recipe needs just three major ingredients to make a buttery-seafood meal: four small lobster tails, butter, and lemon juice.
Recipe for Inspiration: Buttery Sautéed Lobster Tail
Dutch Baby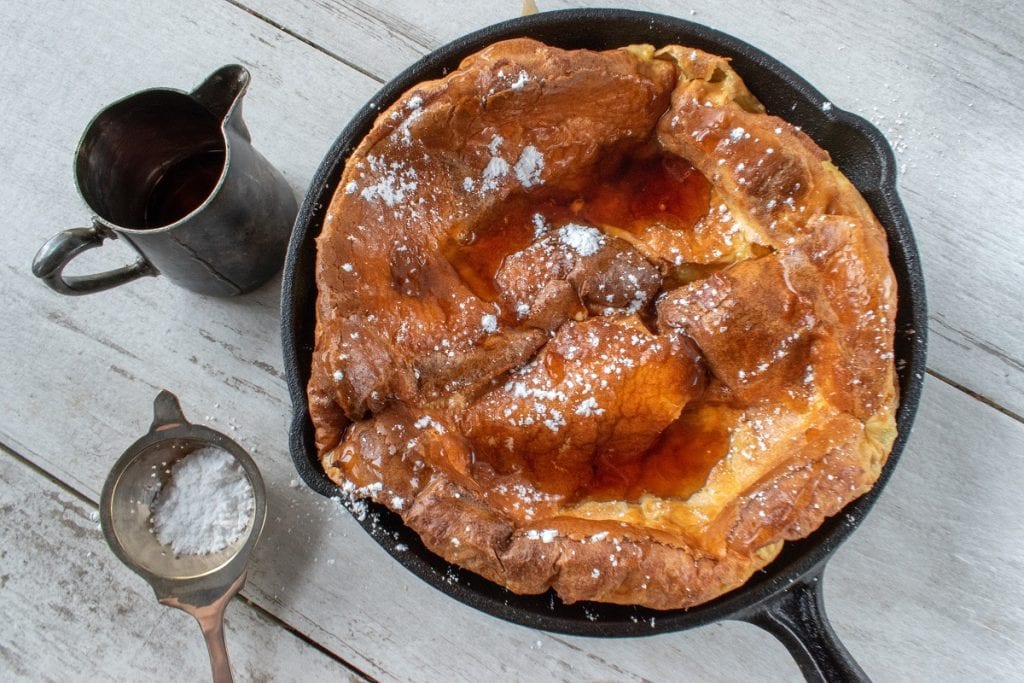 Who said you couldn't enjoy pancakes for dinner? A plateful of dutch baby is sure to surprise your special date. It's not a common dish to serve for romantic dinners, but it sure is scrumptious and instagrammable. The savory filling of pancetta, sweet, potato, and kale is also a plus.
Recipe for Inspiration: Homemade Dutch Baby
Beef Burgundy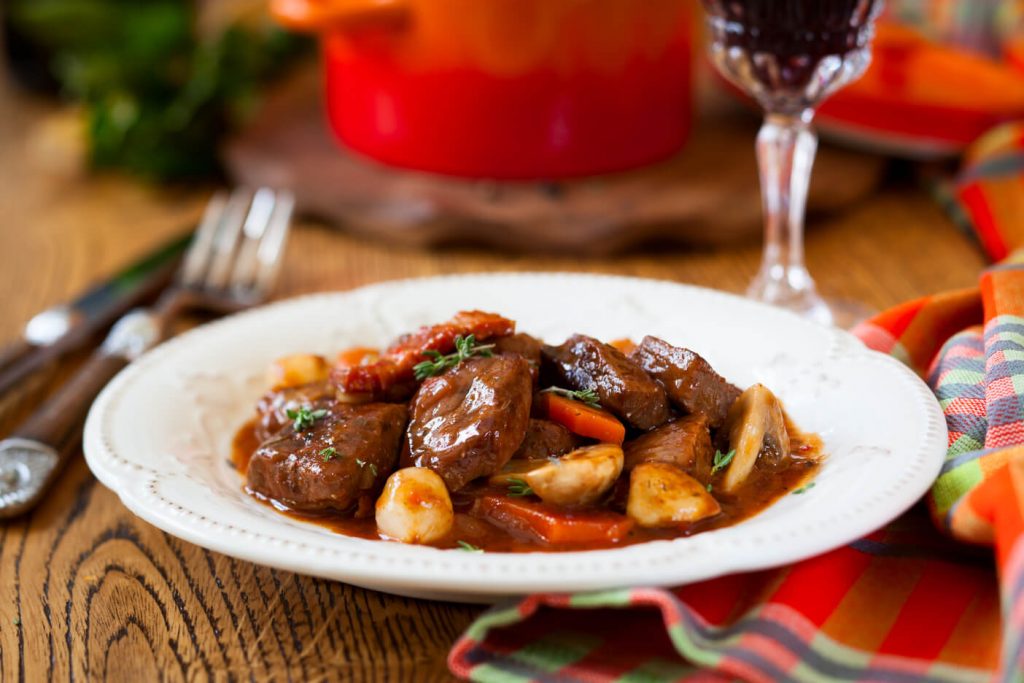 Beef bourguignon is more than just a simple beef stew. It's a classic French dish that should be rightfully served on special nights with a loved one. The beef is slow-cooked until tender and succulent, then added with red wine for a moist and flavorful dish. Once you've had a taste of this dish, it'll surely be a staple for special occasions.
Recipe for Inspiration: Slow Cooker Beef Burgundy (Bourguignon)
Duchess Potatoes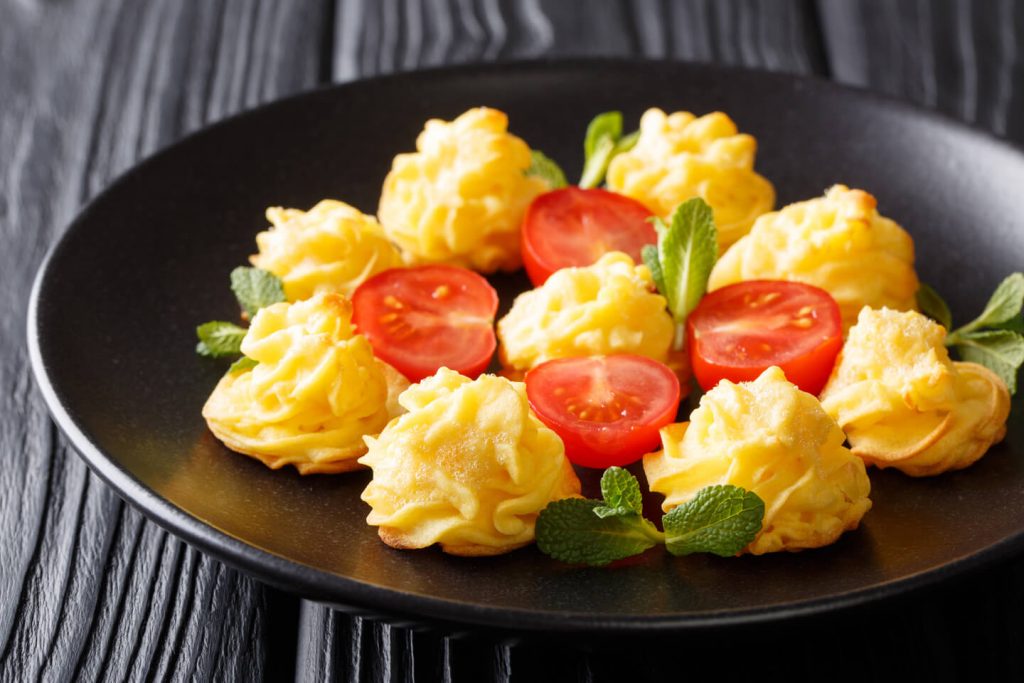 Complete your romantic dinner ideas for two at home with this scrumptious appetizer! Trade in your regular mashed spuds and try serving this dish of duchess potatoes instead. A much elevated version of the latter, expect to enjoy the classic buttery goodness of pureed potatoes but in a form that's fit for a candlelit dinner.
Recipe for Inspiration: Duchess Potatoes 
Smoked Salmon Pasta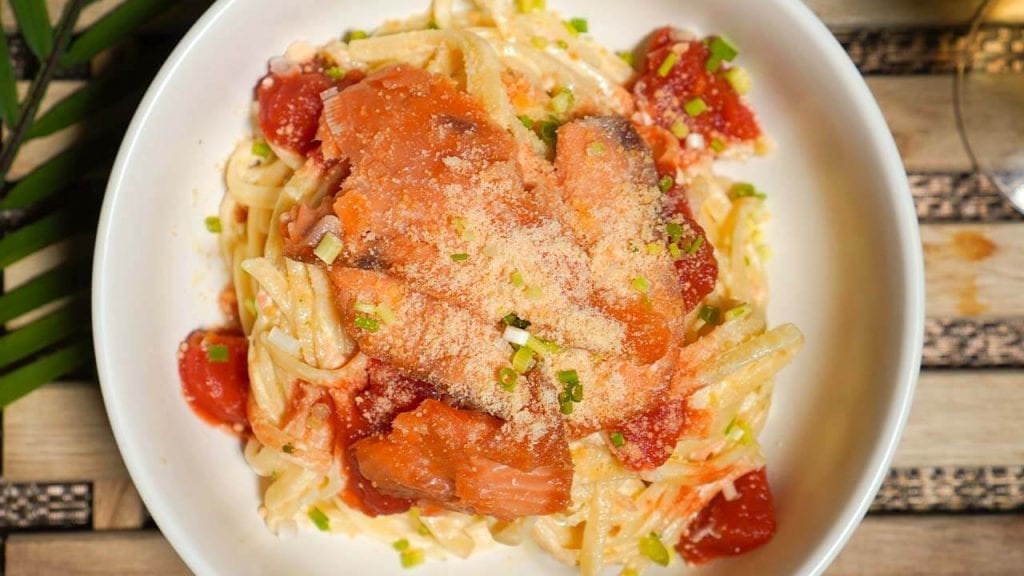 If you have some salmon in the refrigerator, then try making this linguine pasta dish! It may seem simple, but this seafood meal will never fail to put you and your date in a romantic mood. The creamy and buttery garlic sauce and smoked salmon combined, brings about rich and bold flavors. For all the seafood pasta lovers, it's definitely a must-try.
Recipe for Inspiration: Linguine with Smoked Salmon
Prime Rib Steak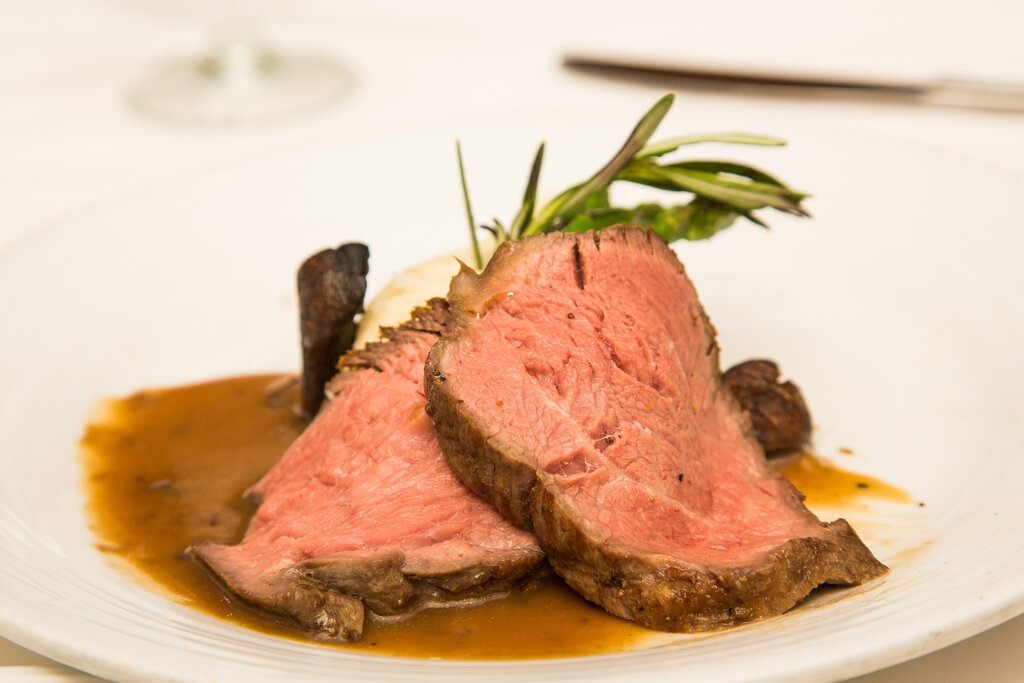 Valentine's dinner ideas don't have to be complicated, even if you're eyeing for fancy dishes to impress your special guest. All this easy prime rib recipe needs is an Instant Pot to get the job done. And voila: you'll get to chow down on tender chunks of wine-infused meat.
Recipe for Inspiration: Instant Pot Prime Rib 
Ribeye Steak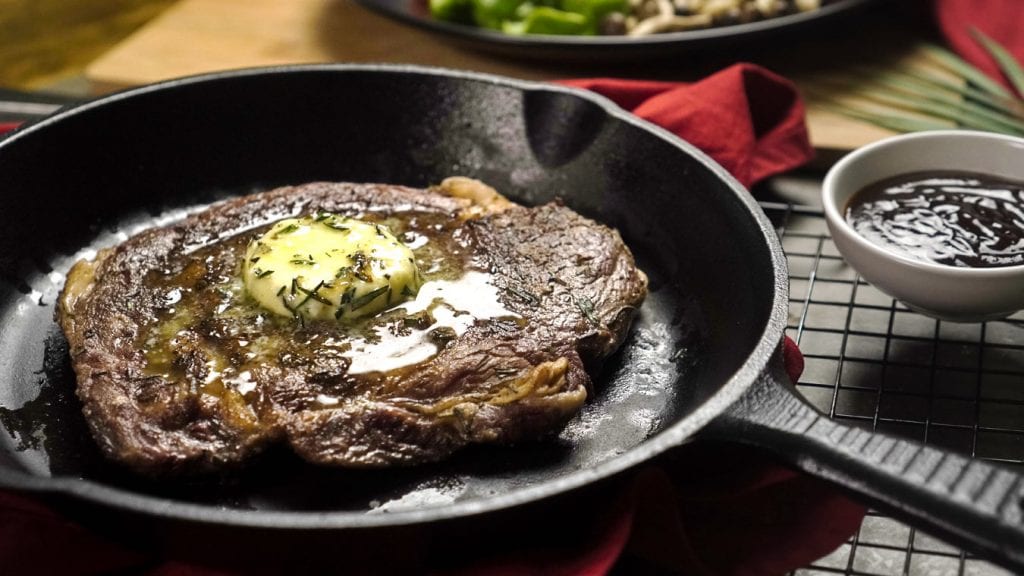 Ribeye has always been a well-loved steak cut for its tenderness, juiciness, and intense marbling. And what better way to serve ribeye steak than with some delicious veggies? Plus, this recipe calls for a pan-seared steak, so you're sure to be eating like royalty on your date night.
Recipe for Inspiration: Easy Tender Rosemary Ribeye And Fresh Veggies
Beef Tenderloin Steak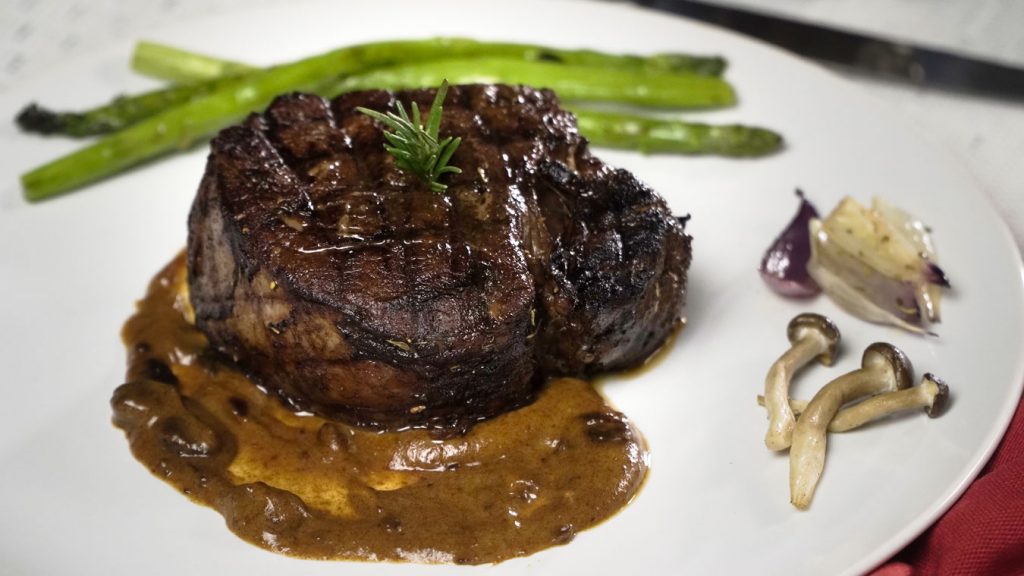 This grilled beef tenderloin steak is moist and incredibly filling, making it the best heartiest fancy dinner meal you'll ever hope to have. Served with a side of date essence, you will be blown away by the interesting fusion of sweet and savory flavors.
Recipe for Inspiration: Grilled Beef Tenderloin Steaks
Pasta Pomodoro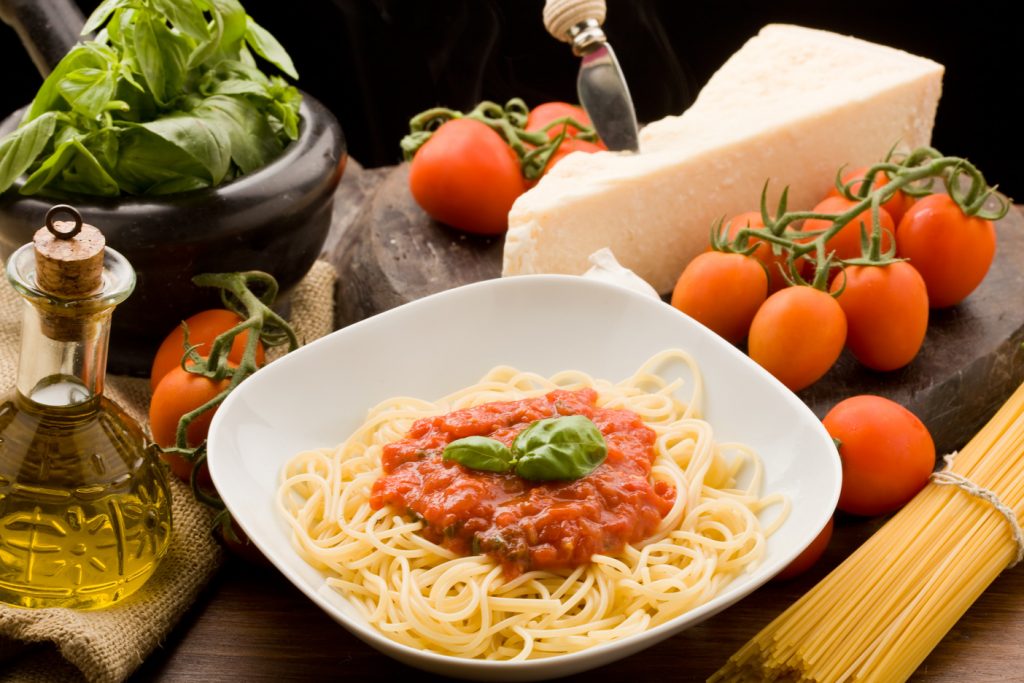 When in doubt, go Italian. As they say, you will never go wrong with an authentic dish from this European cuisine. So why not impress your date with a dish like pasta pomodoro? This recipe is simple to make despite how daunting the name of this dish sounds. It's simply made of olive oil, fresh basil, roma tomatoes, and of course pasta.
Recipe for Inspiration: Pasta Pomodoro
Pork Braciole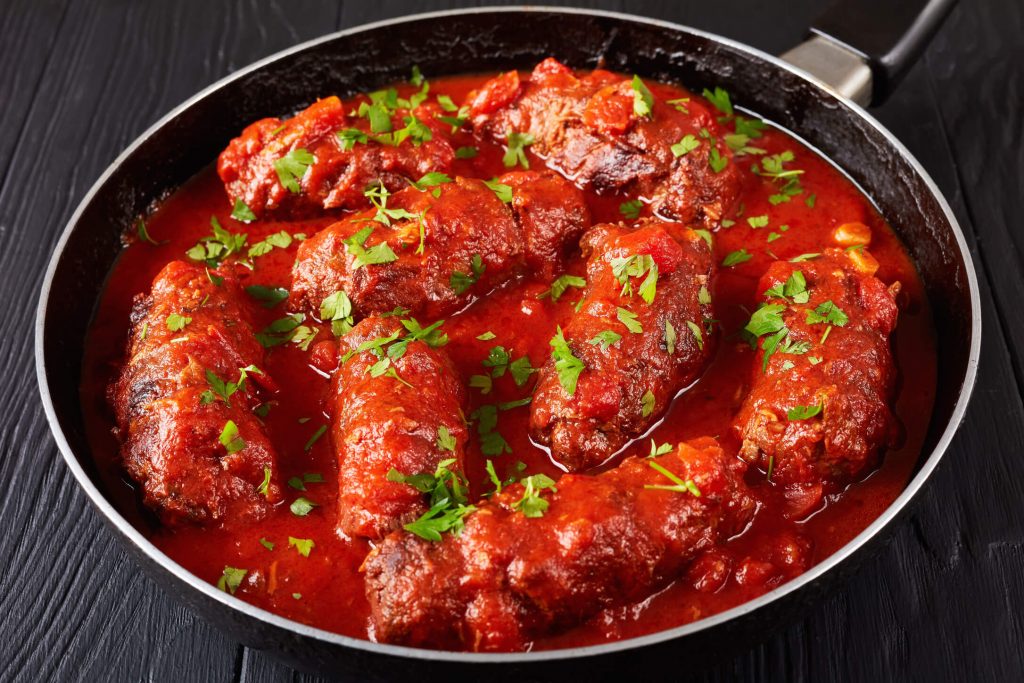 Romantic dinner for two? If you and your date are feeling a little fancier (and sophisticated) than usual, try an Italian classic, braciole. You can decide what meat you prefer too! The famous options would be pork and beef, so you might want to give these a try. If you're using pork, we recommend using pork rinds for its rich bacon-like taste and velvety texture.
Recipe for Inspiration: Pork Braciole in Tomato Sauce
Chicken Cordon Bleu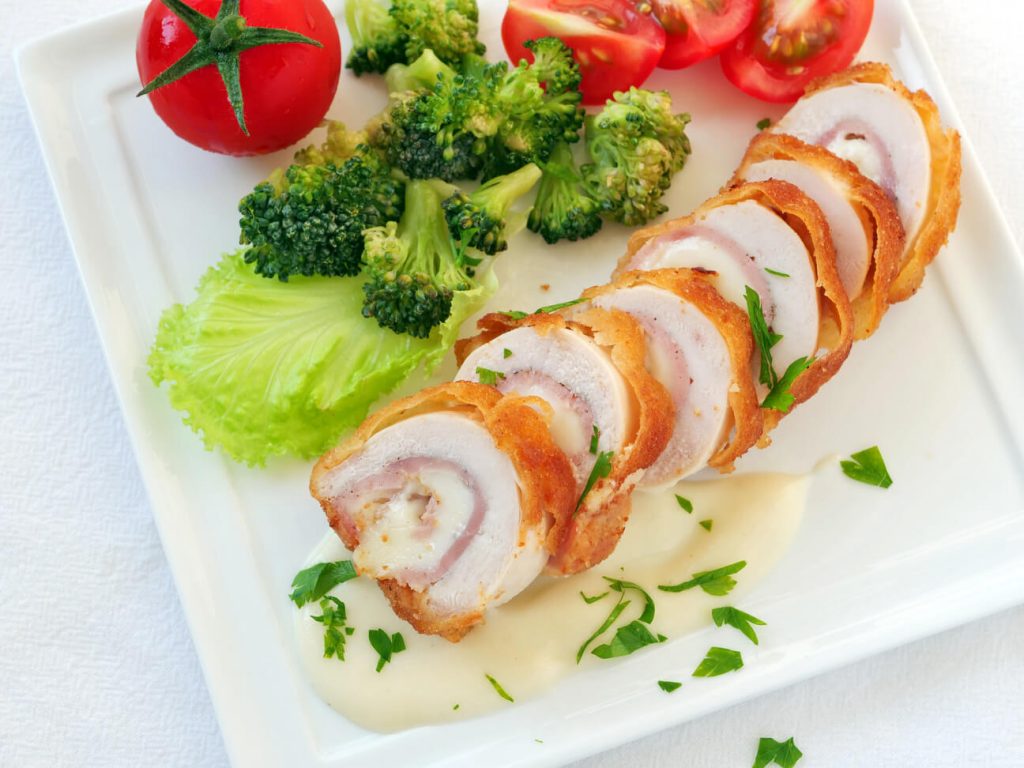 There are tons of homemade dinner recipes that can double as fancy meals for a special Valentine's date night. A chicken cordon bleu dish for instance, doesn't take much to make. But it looks particularly fancy with its rolled crispy breaded chicken breasts stuffed with ham and gooey cheese. You can even make a homemade wine-infused cream sauce to further elevate the dish.
Recipe for Inspiration: Chicken Cordon Bleu 
Chicken Piccata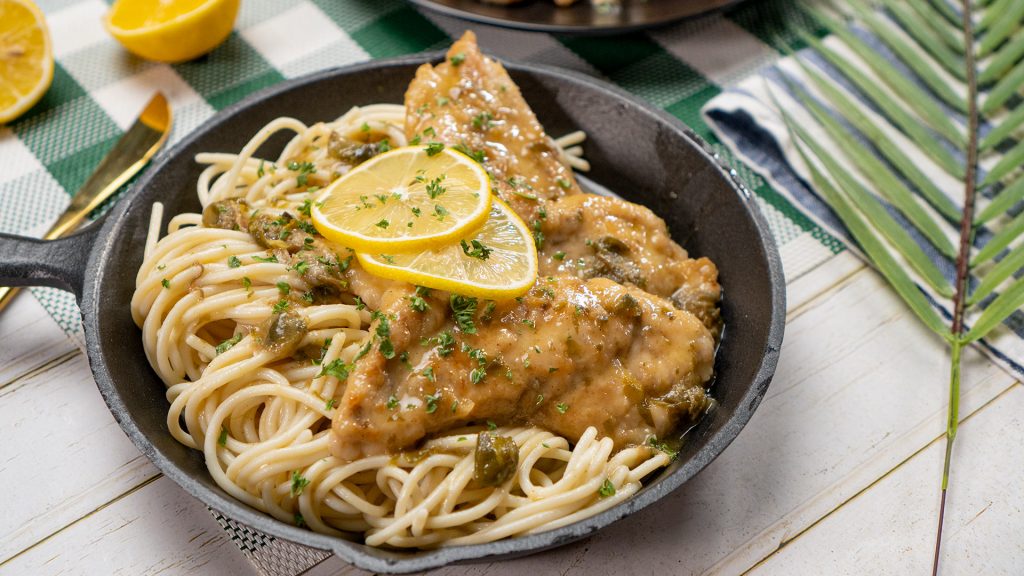 Don't forget to add chicken piccata to your list of fancy dinner recipes for date night. Try your hand at recreating this Italian classic, and treat your loved one to a special meal of crispy pan-fried chicken cutlets glazed with a lemon-flavored wine sauce. This lends a deliciously tart flavor to the meat, and it goes perfectly well over cooked pasta noodles.
Recipe for Inspiration: CPK-Inspired Lemon Chicken Piccata
Snow Crab Legs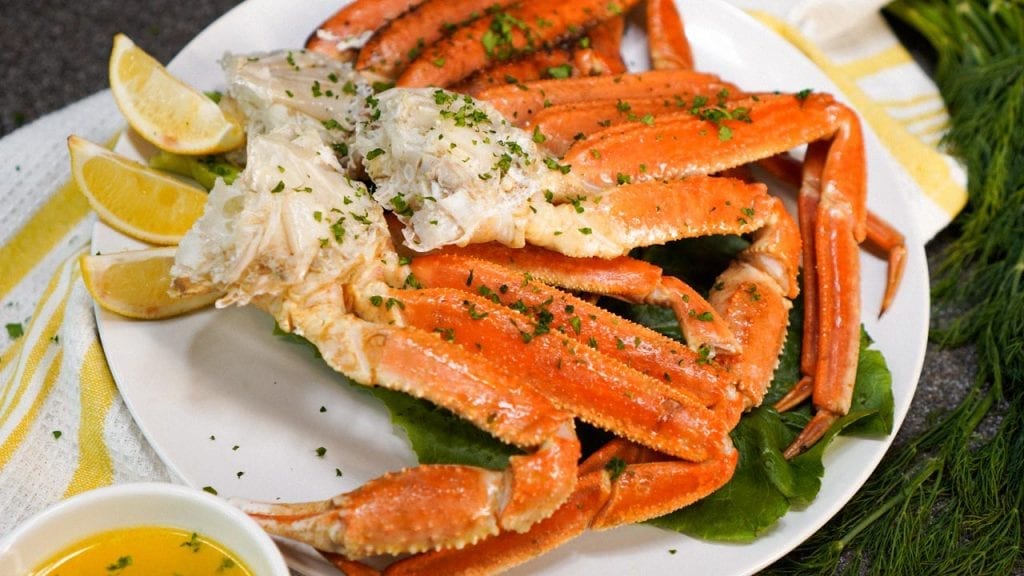 No need to dine out at a fancy seafood restaurant when you have this copycat recipe at hand. This recipe replicates Red Lobster's famous snow crab legs dish. You'll find that it's actually really easy to make crab legs, and more affordable too.
Recipe for Inspiration: Copycat Red Lobster Snow Crab Legs
---
Easy Romantic Dinner Ideas
Most of us may want to whip up a special meal to celebrate the day of love. However, not all of us have the skills that are needed to make a gourmet dish. Even if that's the case for you, rest assured that you can make something different for dinner— in the best way possible! Explore this section for perfectly romantic yet easy dinners for two!
Margherita Pizza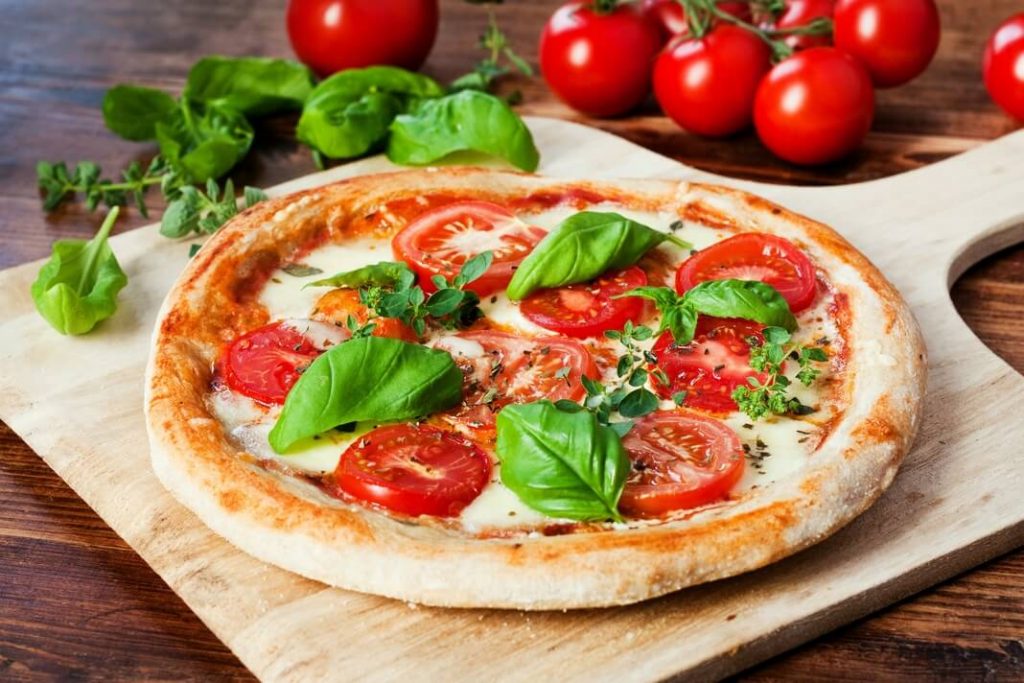 Pizzas are certainly on the menu for late-night dinners for two. This easy margherita pizza is simple yet elegant, perfect for romantic candlelight meals with your loved one. Even better, it's keto-friendly and low on carbs!
Recipe for Inspiration: Easy Margherita Pizza
Steamed Mussels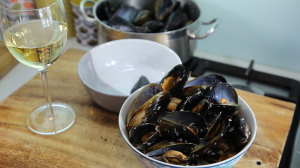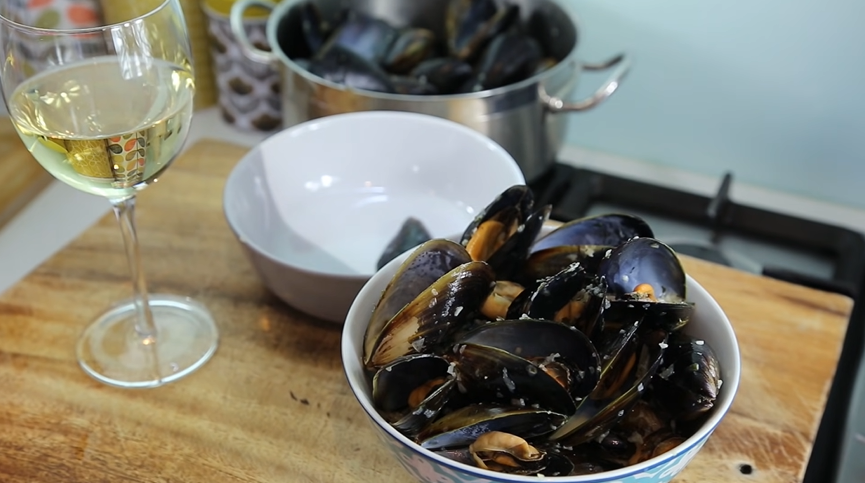 This mussels recipe is simple yet divine. It's easy to make but the resulting dish tastes like it was made by a top chef in a fancy, 5-star restaurant. Mussels are cooked in olive oil, butter, and a mix of white wine, cream, and parsley. Serve this seafood dish along with garlic bread for a truly romantic dinner.
Recipe for Inspiration: Steamed Mussels in White Wine and Garlic  
Red Apple Martini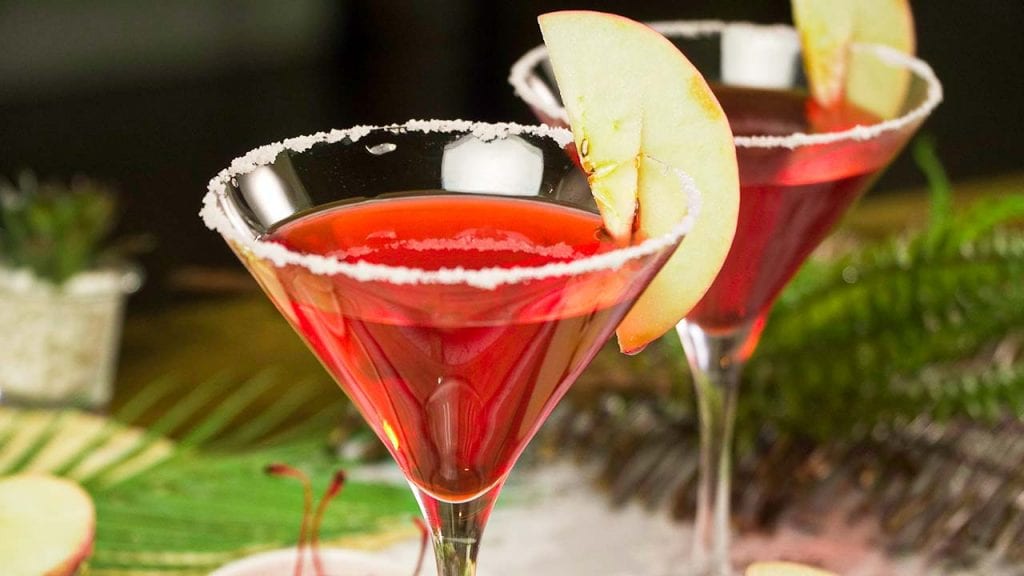 What's a more decadent cocktail for Valentine's day than this sweet, red apple martini? This drink tastes just like a vodka cranberry but has hints of apple goodness. Serve in your best cocktail glass along with delicious, red apple slices.
Recipe for Inspiration: Red Apple Martini
French Onion Soup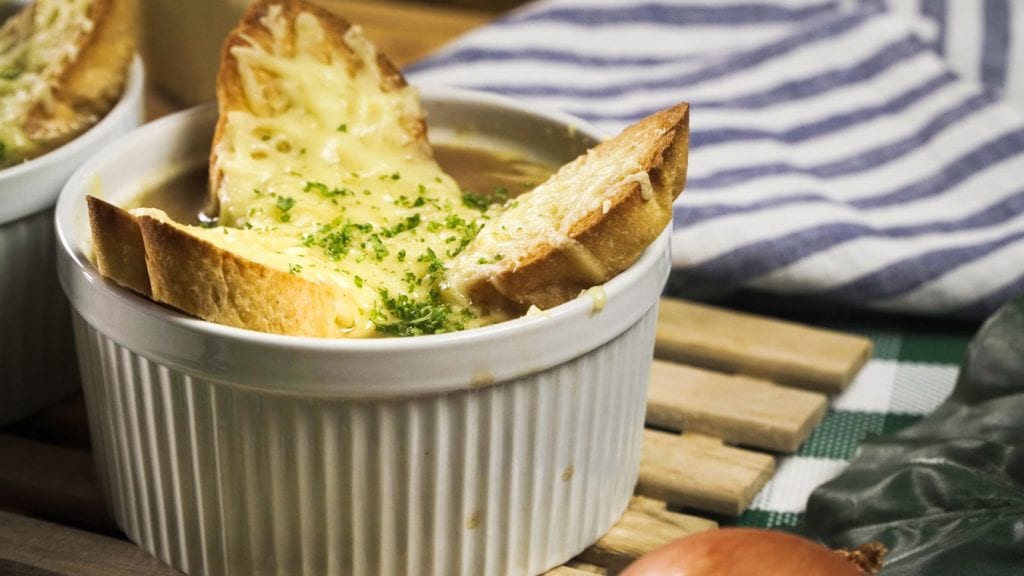 You won't need to dine out at Panera Bread this Valentine's day, not with this copycat recipe. This dish is a perfect replica of Panera's fan-favorite onion soup. A great soup to serve for a cold, February date night, it's savory, comforting, and incredibly filling.
Recipe for Inspiration: Copycat Panera's French Onion Soup
Chocolate Orange Martini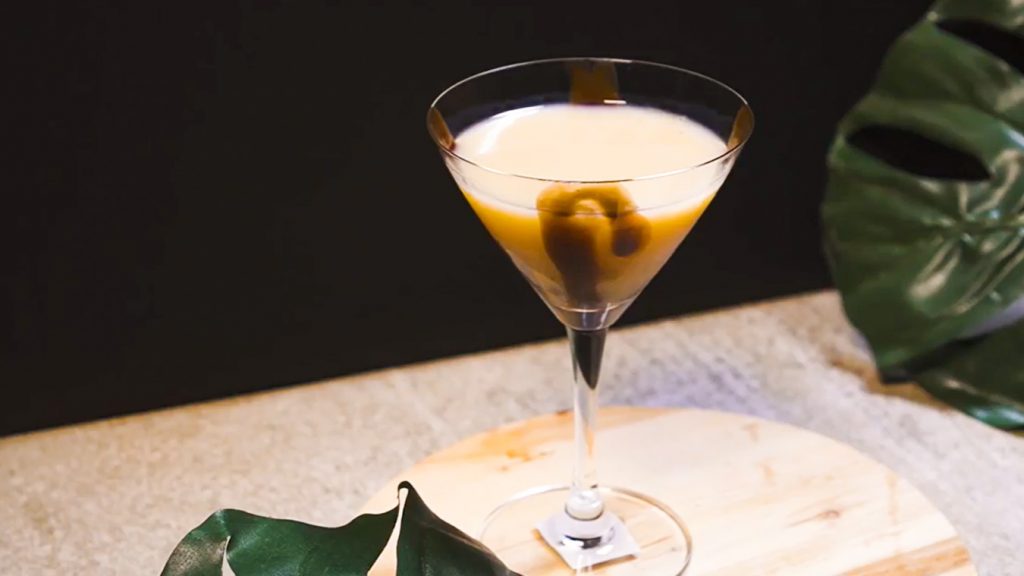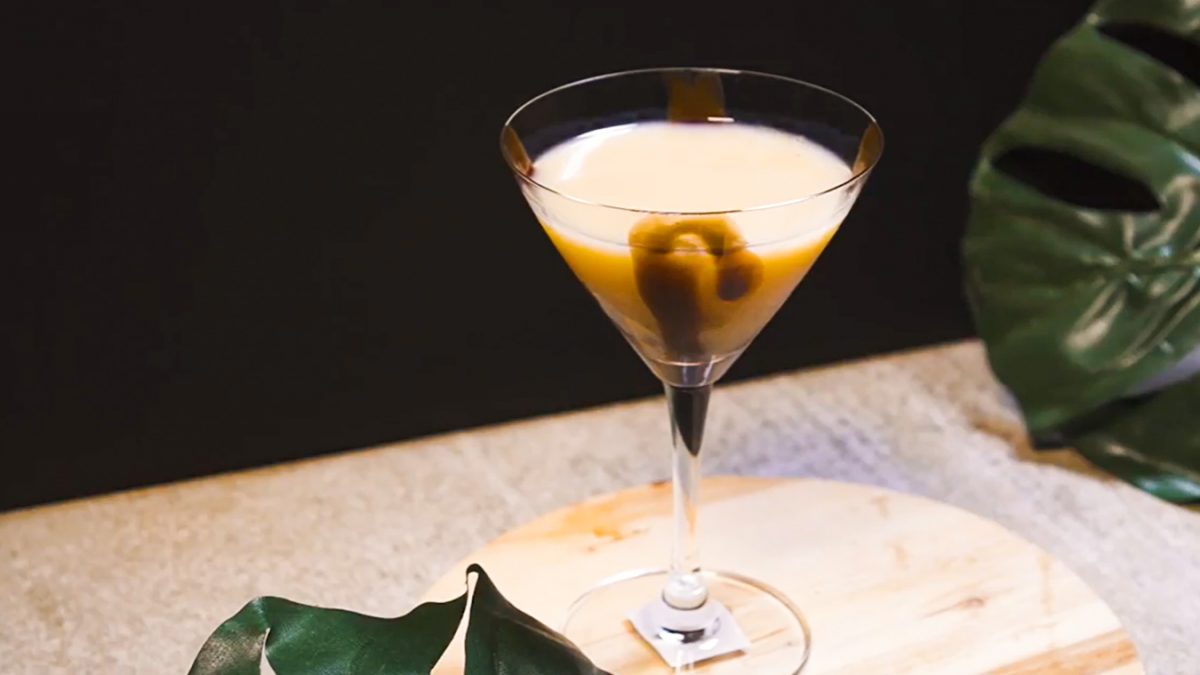 This chocolate orange martini combines two natural aphrodisiac foods in one fancy drink: chocolate and alcohol. Creme de cacao is added along with a vodka base flavored with orange liqueur and Bailey's Irish cream. And to make a truly indulgent cocktail, it's garnished with chocolate syrup and chocolate chips.
Recipe for Inspiration: Chocolate Orange Martini
Sangria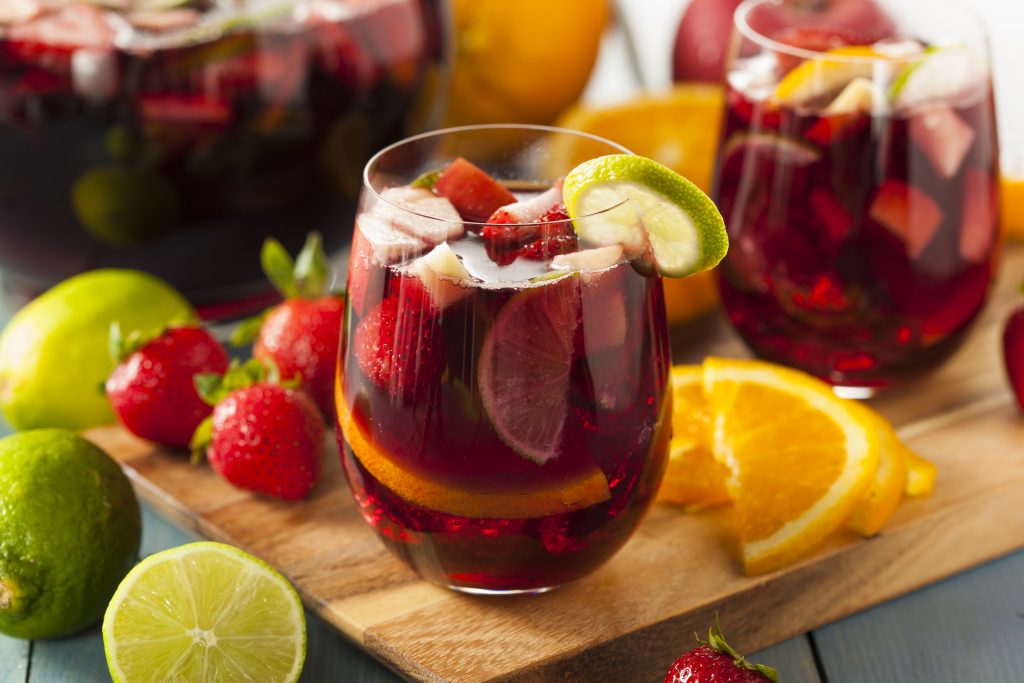 You might know sangria as a girls' night staple, but it could also be one of the best romantic dinner recipes to make for Valentine's day! This boozy beverage showcases fun fruity flavors from its base – sweet moscato wine and strawberry syrup. Coupled with fresh berries, lemon, mint leaves, and a portion of limoncello, this cocktail has the right amount of tart sweetness.
Recipe for Inspiration: Berry Sangria
Garlic Mushroom Spaghetti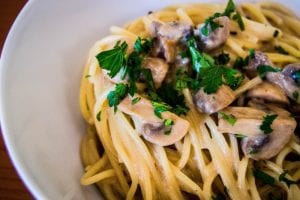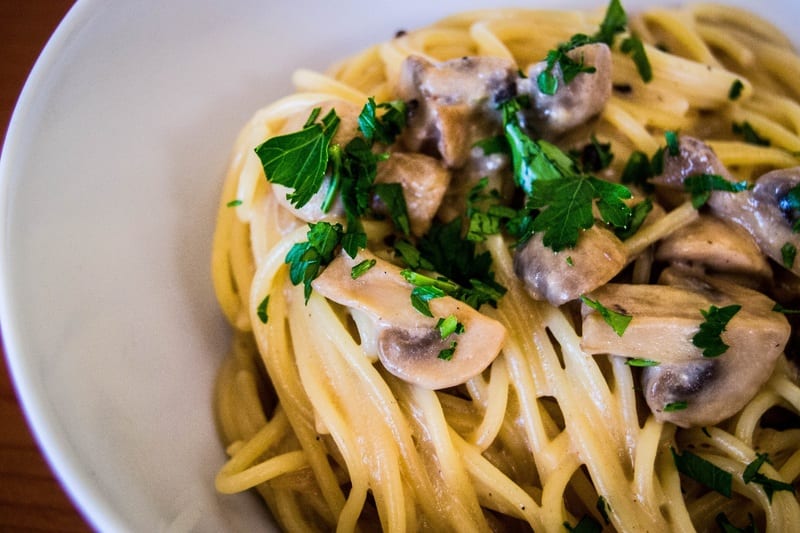 If you prefer something a bit more subdued for date night, then try this simple yet sophisticated spaghetti recipe. It's an easy meal to make, yet it'll look incredibly fancy when served. It perfectly cooks spaghetti pasta, mushrooms, garlic, olive oil, white wine, and red pepper flakes in the most scrumptious way possible.
Recipe for Inspiration: Spaghetti with Mushrooms, Garlic, and Oil
Mashed Potatoes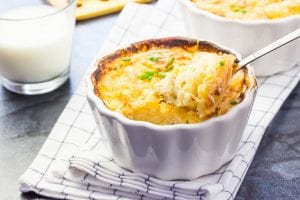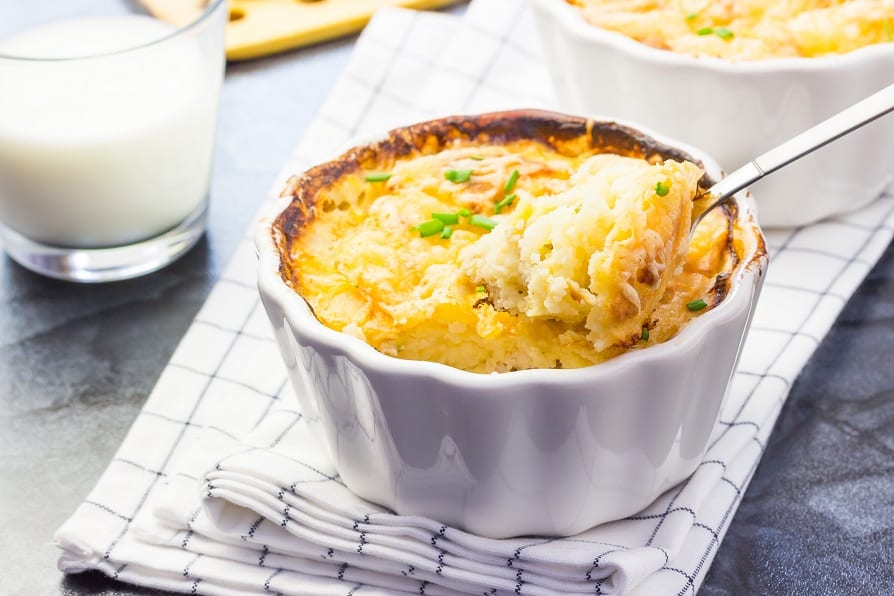 A filling, romantic dinner isn't complete without soft and creamy mashed potatoes. This mashed potato recipe is amazing paired with the steak dishes we mentioned in this list. The buttermilk does wonders making the mashed potatoes silky and irresistible.
Recipe for Inspiration: Buttermilk Mashed Potatoes And Chives
Mushroom Gnocchi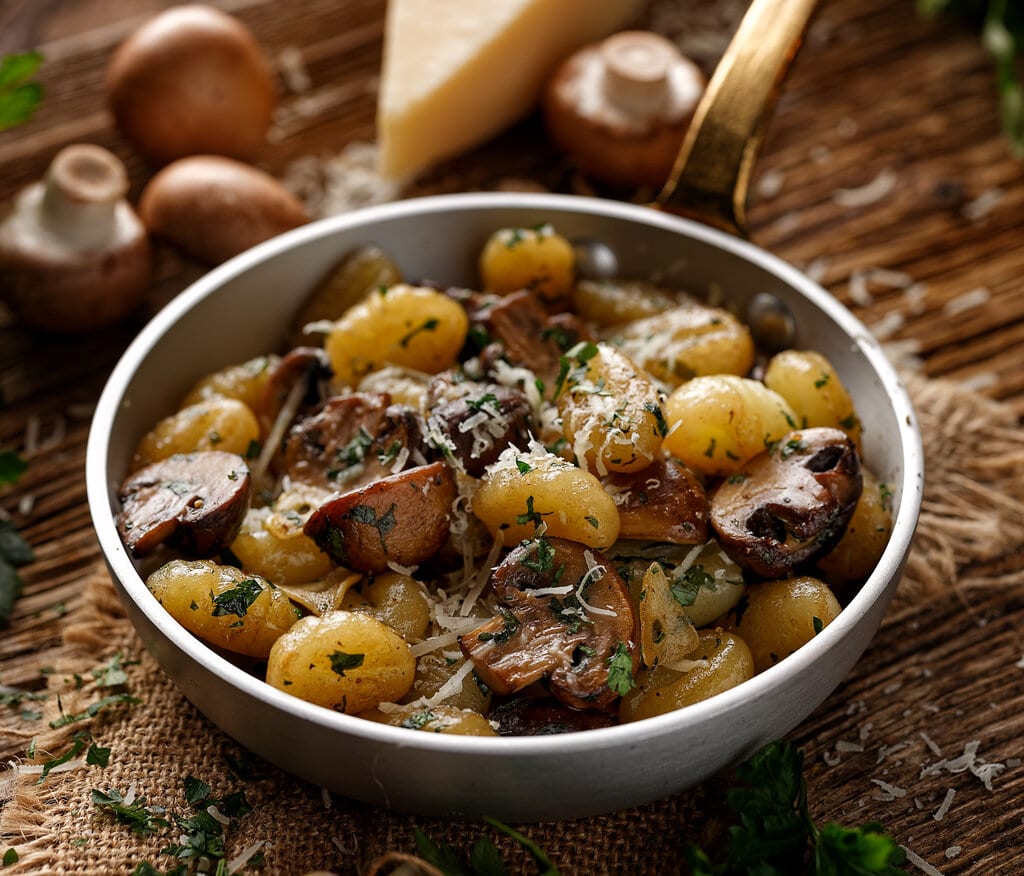 This mushroom gnocchi dish tastes so meaty, it's hard to believe that it's completely vegetarian-friendly. The pasta and mushrooms are sauteed in butter and garlic until toasted in a perfect brown color. The mixture is then added with white wine for additional flavor. The garnish of basil leaves and parmesan cheese makes this meal look extra-impressive too!
Recipe for Inspiration: Toasted Gnocchi with Mushrooms
Lasagna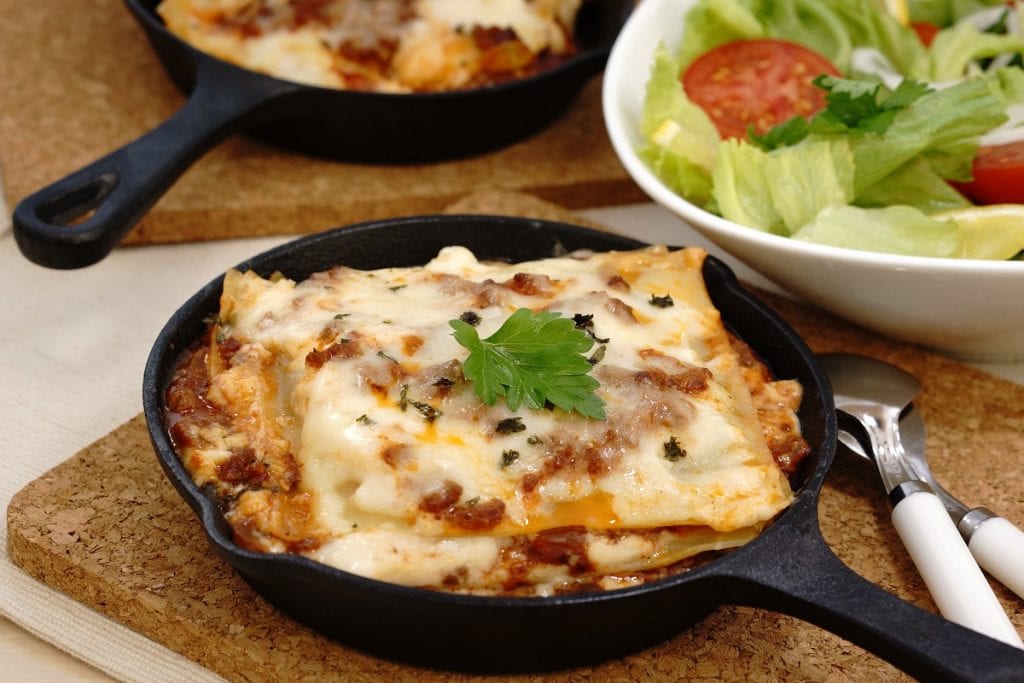 A list of romantic dinner ideas isn't complete without an easy-to-make lasagna recipe. The Italian-pasta dish is a go-to for many thanks to its decadent taste. And this recipe makes an incredibly easy pasta meal一no oven needed! Wonderful farfalle pasta is made tender simmered in a cheesy marinara sauce.
Recipe for Inspiration: Easy Skillet Lasagna
Eye of Round Steak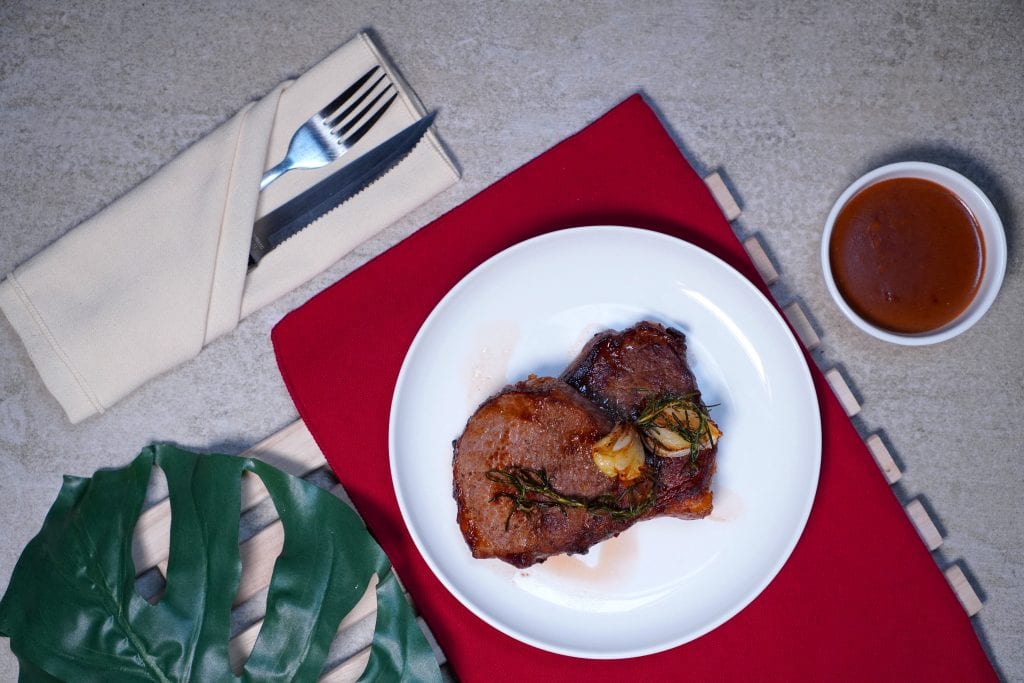 Not only is eye of round steak an elegant meal, it's also quick and easy to make. Simply season your thick eye of round steak and sear until it's a perfect golden-brown, then throw in a couple of fresh rosemary sprigs and crushed garlic. Pair this juicy steak with wonderfully spiced gravy and a bottle of red wine for the best date night of your life.
Recipe for Inspiration: Eye of Round Steak
Pasta Arrabiata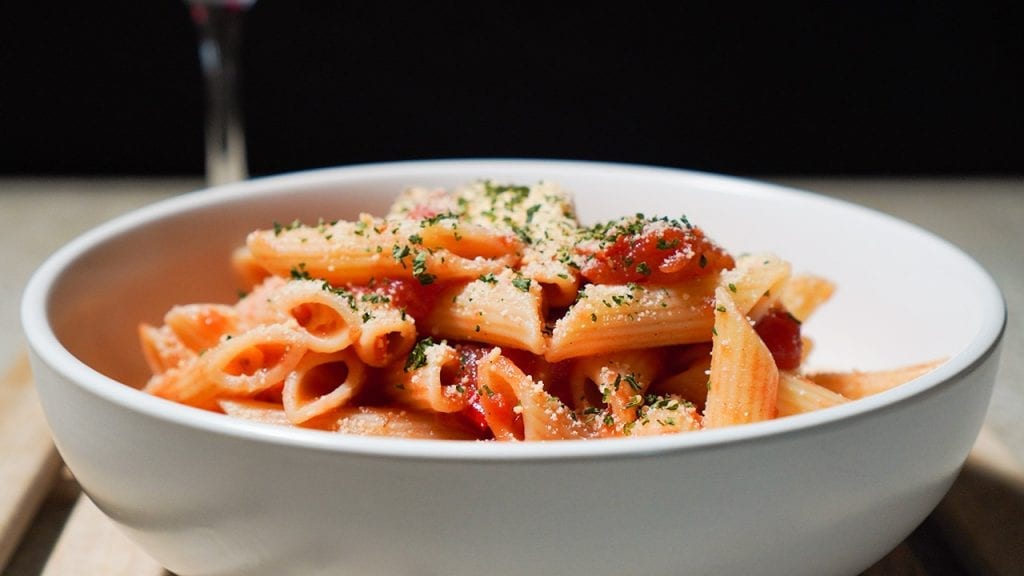 Spicy chili peppers are one of many natural aphrodisiacs and with good reason. Eating spicy food always stimulates and energizes foodies, putting them in an impossibly good mood. If you want to eat something hot on Valentine's day, then try this easy version of pasta arrabiata! It's a blast of flavor and spicy goodness.
Recipe for Inspiration: Spicy Penne
Chicken Cutlets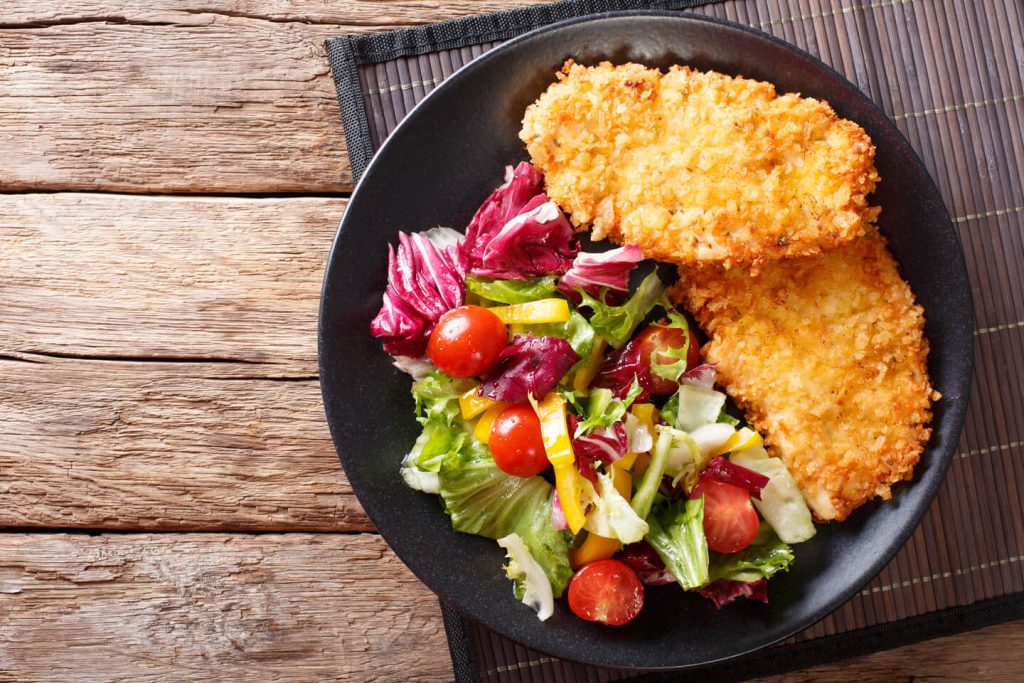 No matter the occasion, fried chicken is always a good idea. And for a more presentable take on this popular dish, check out these fried chicken cutlets that are crisped to perfection! Why this particular cut of meat, you might ask? Well for one, it's flattened to ensure even-cooking each time. It's also boneless, so chowing down on each piece in front of your special guest won't be a hassle!
Recipe for Inspiration: Crispy Chicken Cutlets
Barbecued Beef Ribs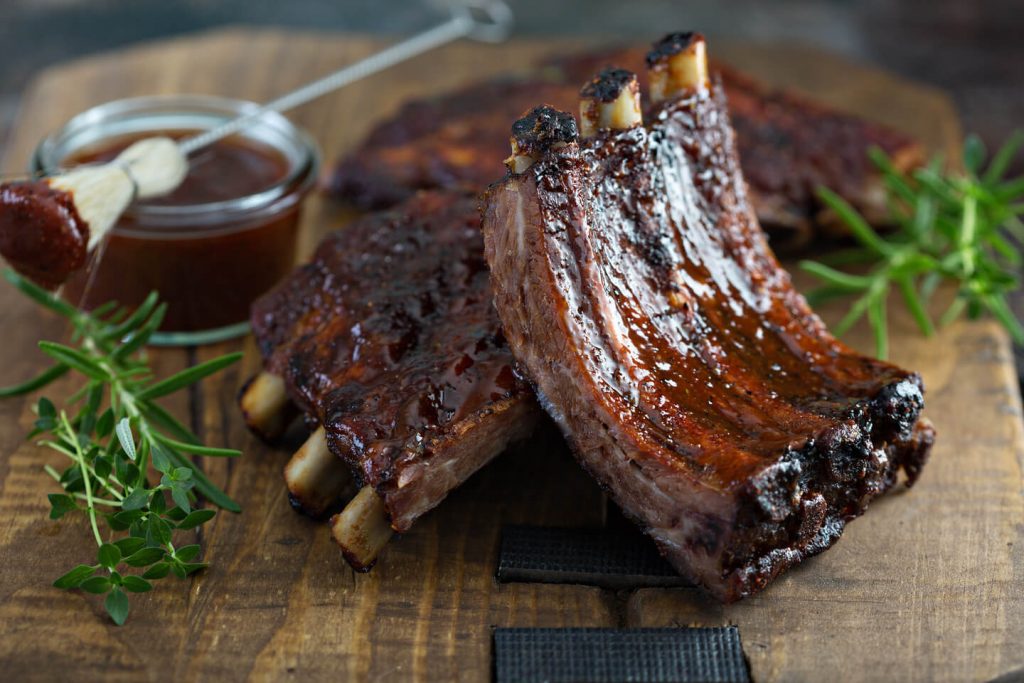 If you're not afraid of getting your hands dirty with your partner, you might enjoy munching on these saucy barbecue ribs for date night. Best part is, you won't have to fire up your grill to make some. This version only calls for slowly baking the seasoned meat for a few hours to give you utmost tender beef ribs. Easy, right? Make sure to coat the ribs with the reserved sauce before serving for the best result.
Recipe of Inspiration: Easy Slow-Baked BBQ Short Ribs
Pan-Seared Filet Mignon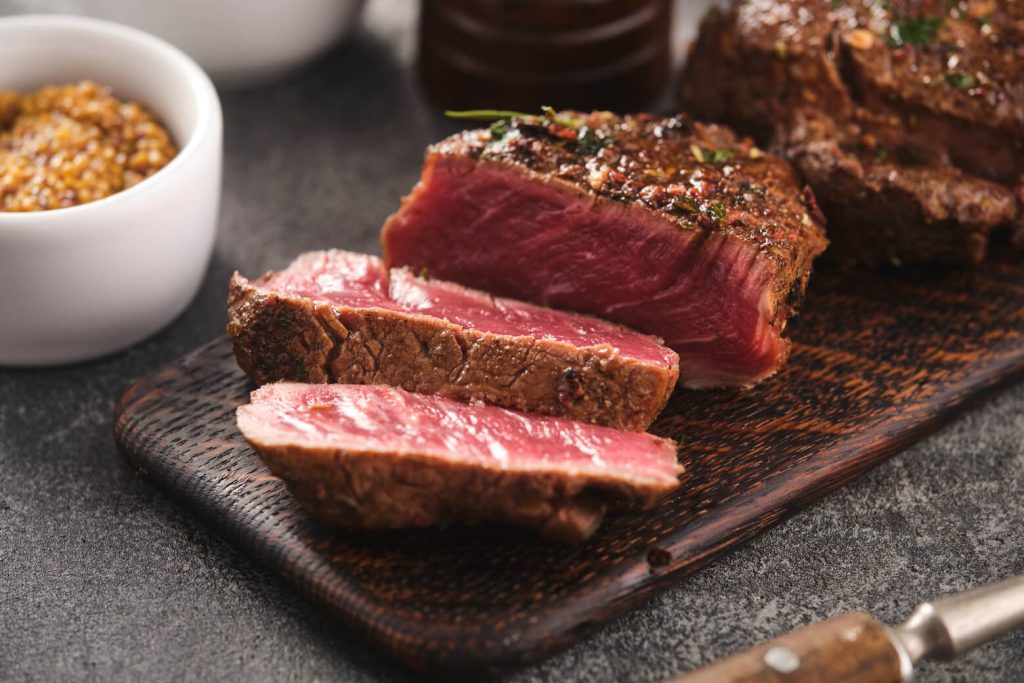 Steaks are possibly the best dish for a romantic night. And you can never go wrong with a simple pan-seared dish of filet mignon cuts that are oh-so-tender. We recommend getting good quality meat and using a cast iron skillet for the best experience.
Recipe for Inspiration: Filet Mignon with Garlic Butter 
Crab Cakes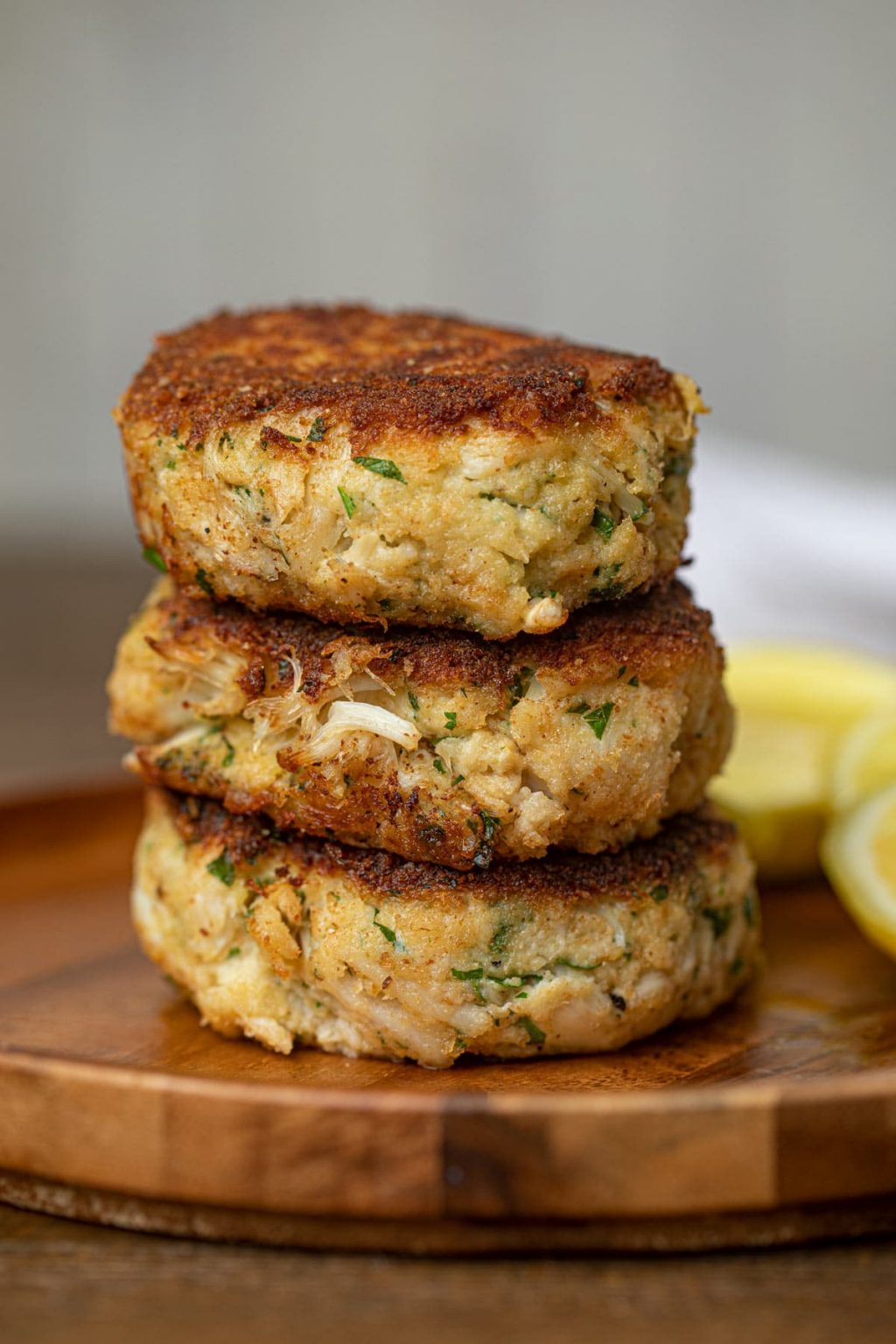 For more easy date night recipes, turn your attention towards these savory crab cakes! This dish is perfect if you prefer no-frills simple dinners for two. Seasoned with hot sauce and mustard, these spicy crab cakes are made extra crunchy with the addition of bread crumbs.
Recipes for Inspiration: Easy Crab Cakes
Shrimp Scampi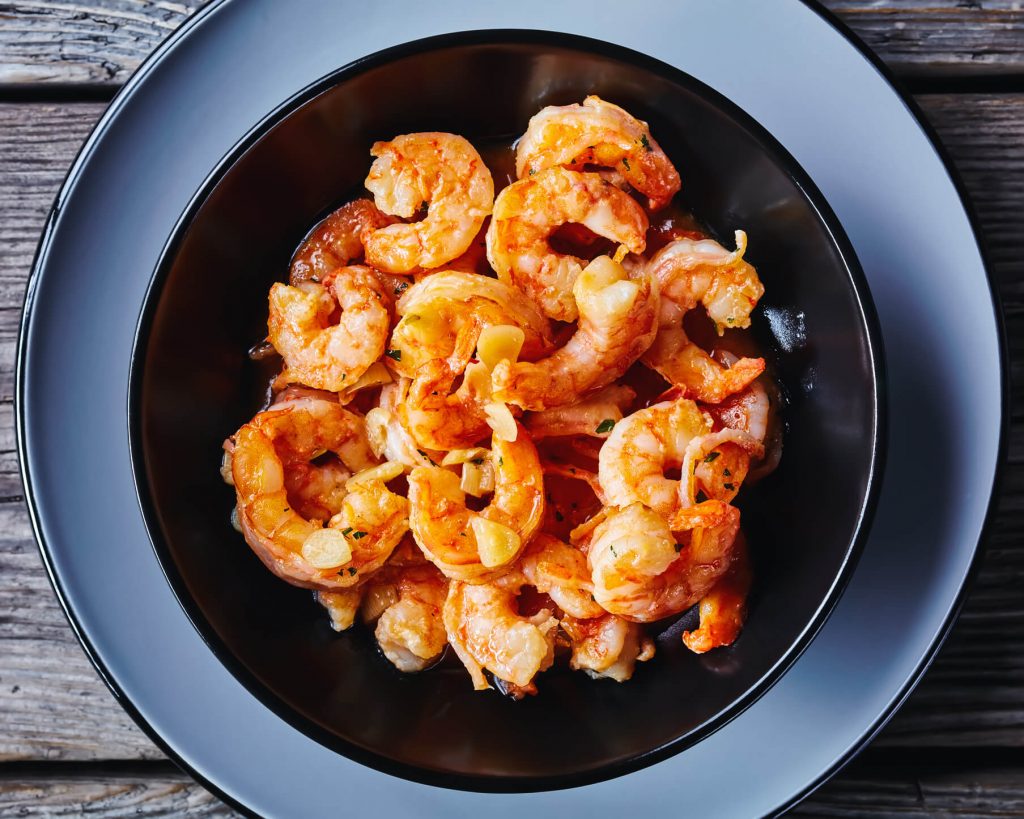 This rendition of shrimp scampi do away with the usual frying technique by adapting oven-baking as the sole cooking method. The result: a more effortless dish that tastes identical to the classic version. All you have to do is combine the ingredients in a gratin dish, and allow it to cook until bubbly.
Recipe for Inspiration: Baked Shrimp Scampi
---
Budget-Friendly Dinner Ideas For Two
Who said that you can't have a date night-worthy dish without breaking the bank? Browse through this section for romantic dinner ideas that are perfect for couples on a budget!
Smothered Pork Chops

Enjoy a dish of tender pork pieces simmered in a creamy and savory sauce with this smothered pork chops recipe. Plus, you'll only need basic herbs and spices from your pantry to season this dish. So if you're looking for some economic yet romantic dinner ideas then this pork chops recipe is perfect! It's affordable but doesn't compromise on flavor and presentation.
Recipe for Inspiration: Smothered Pork Chops
Bruschetta With Artichokes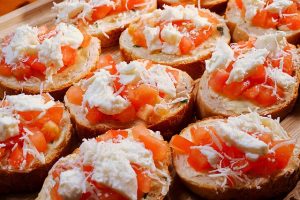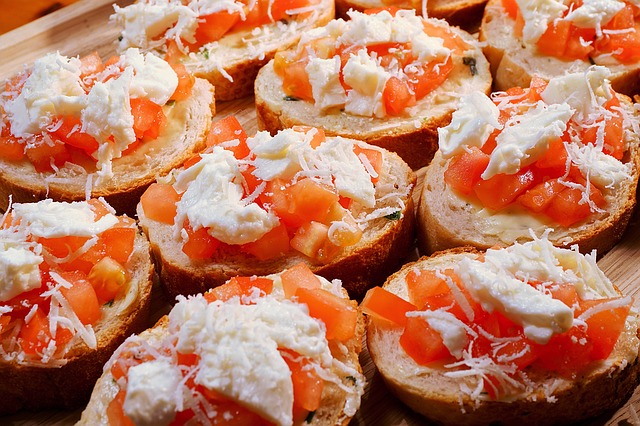 Some people might scratch their heads thinking of what ways to cook and serve artichoke. But trust us, this natural aphrodisiac tastes amazing in this bruschetta recipe (it's also really affordable). It's a great twist to the signature Italian recipe and works great as an appetizer for a fancy, romantic dinner.
Recipe for Inspiration: Artichoke Bruschetta
Skillet Chicken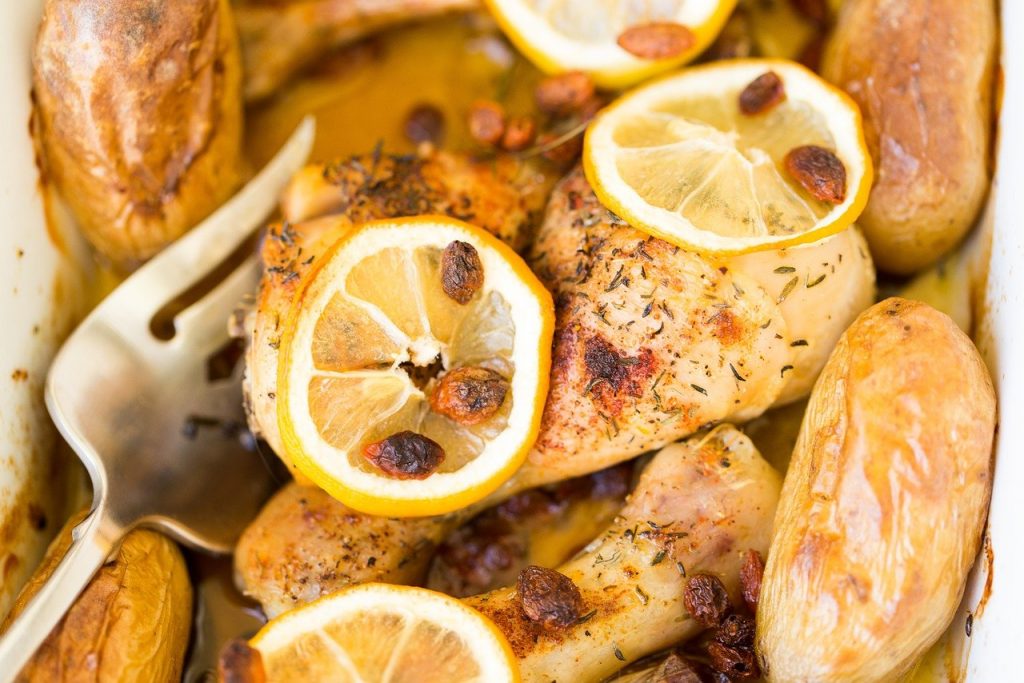 This chicken dish is both budget-friendly and simple to make. Flavored with lemon, olives, and aromatic herbs, it is a healthy baked dish that retains a good crisp, as the chicken breasts are first seared on a cast iron skillet. Once finished, don't forget to garnish with parsley for that extra fancy feel.
Recipe for Inspiration: Skillet Lemon Chicken with Olives and Herbs
Stuffed Chicken Breast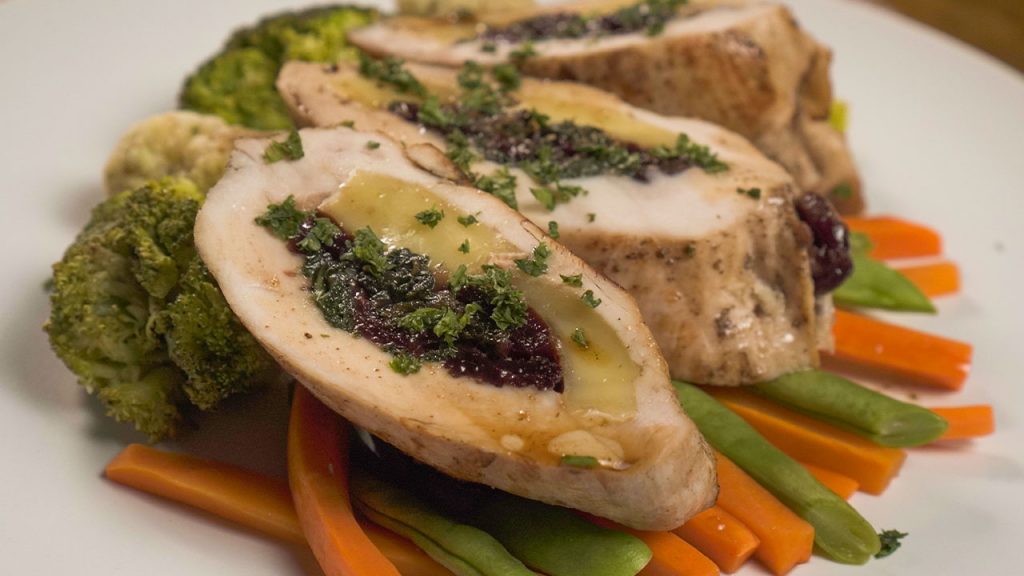 This recipe shows you a fancy way to serve affordable chicken breasts by stuffing them with cranberry and brie. While you can serve it on holidays like Thanksgiving, there's no reason why you shouldn't make it for dinner dates during Valentine's day. Serve with a garnish of fresh parsley and some healthy, steamed vegetables.
Recipe for Inspiration: Cranberry And Brie Stuffed Chicken Breast
Teriyaki Pork Tenderloin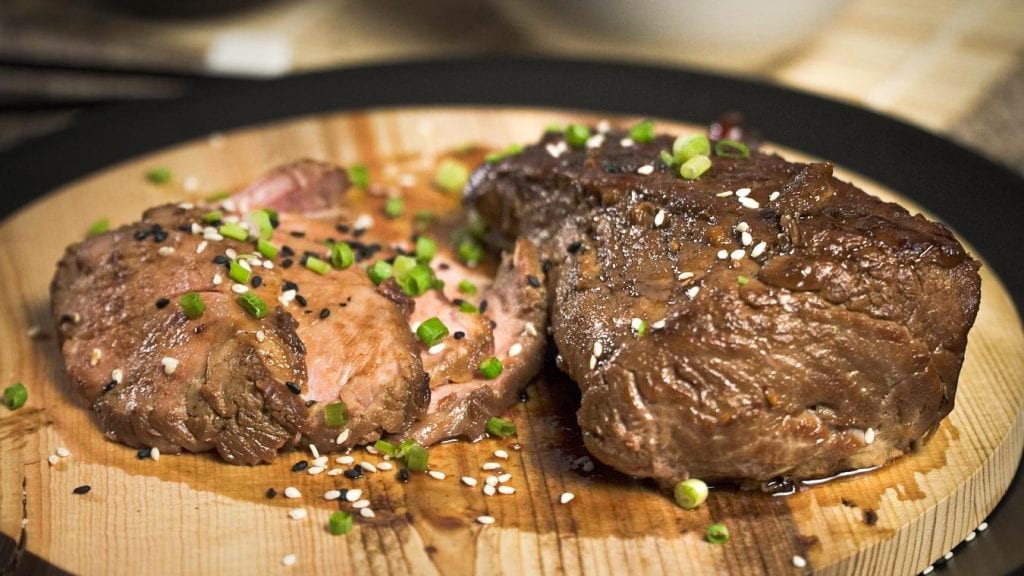 Complete your Valentine's day meals with a delicious main course that uses only affordable ingredients! So if you're thinking about what you can cook for dinner on a budget, this pork tenderloin dish is definitely up your alley. Expect an explosion of flavors thanks to the savory and spicy teriyaki marinade featuring dry sherry, ginger, and chili flakes.
Recipe for Inspiration: Grilled Teriyaki Pork Tenderloin
Meatballs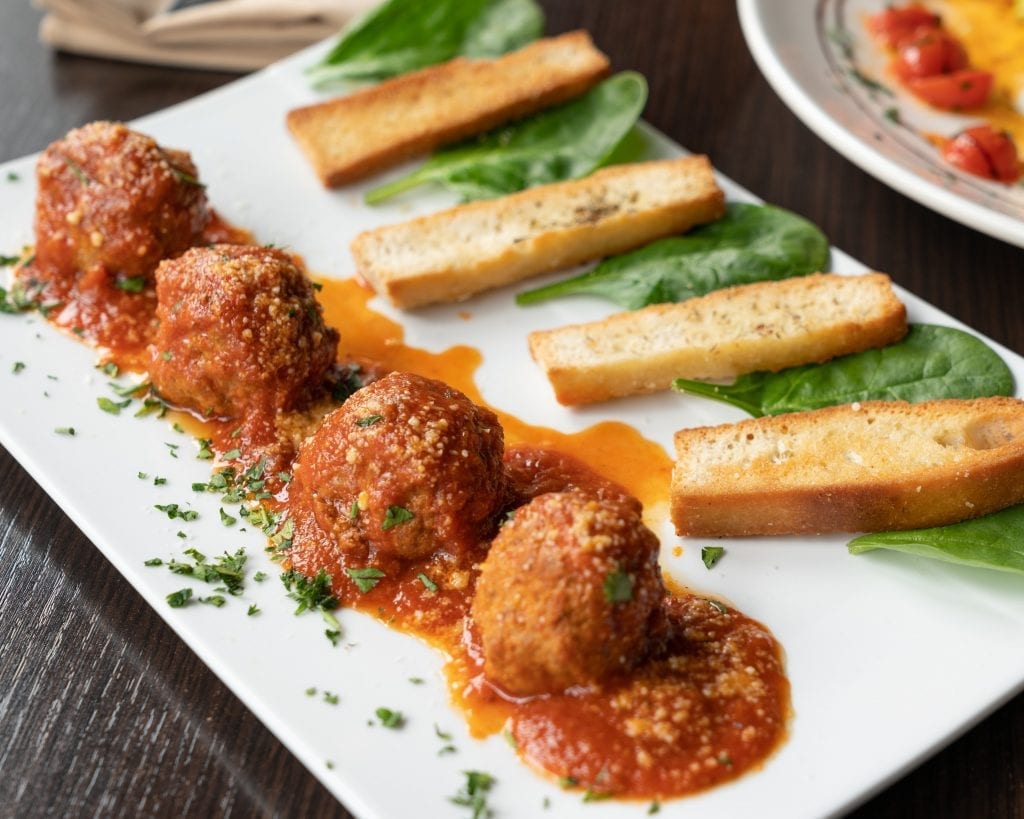 Meatballs make for some of the most filling and tastiest kid-friendly dinner meals. This recipe recreates the delicious ones served at Olive Garden with a mixture of herbs, red wine, and cheese. You can have them on their own, or with al dente spaghetti pasta.
Recipe for Inspiration: Copycat Olive Garden Meatballs
Whipped Sweet Potatoes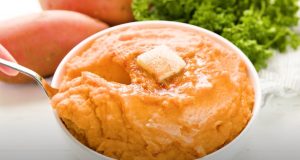 For the day of love, why not make Valentine's date night meals in three courses? This is definitely doable, even if you don't want to splurge. And with this recipe for whipped sweet potatoes, you're one step closer to achieving that and more. Instead of the usual salt and butter combo, this recipe calls for fun ingredients such as orange juice, molasses, and maple syrup for a one-of-a-kind dining experience.
Recipe for Inspiration: Molasses Whipped Sweet Potatoes
Clam Chowder Pasta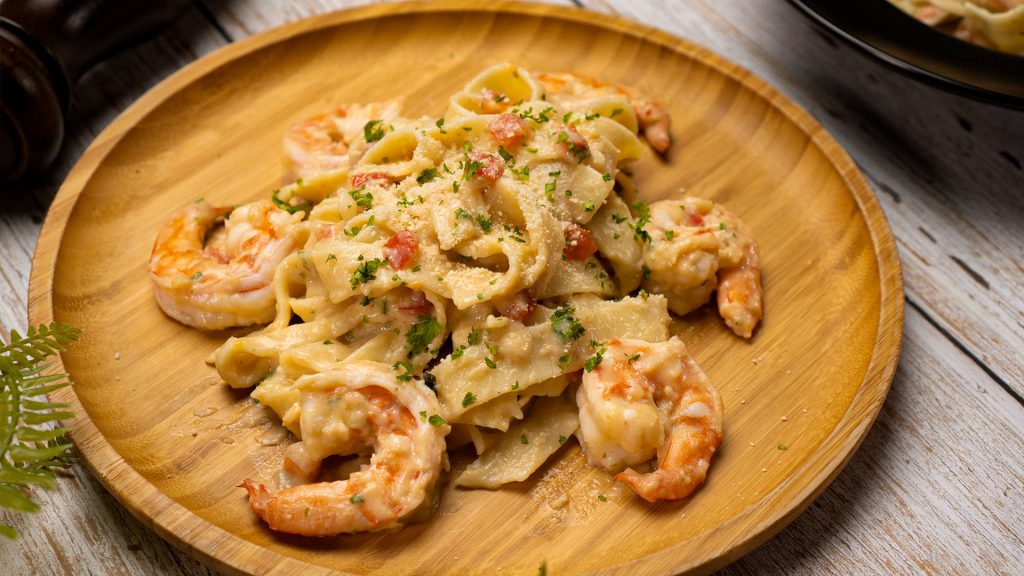 Need more ideas for Valentine's day? Why not try making pasta? Always delicious and filling, you can't go wrong with a serving of this noodle dish. And for a unique take, try your hand at recreating this budget-friendly recipe that fuses together a well-known comfort food with an Italian staple. All you have to do is make a sauce inspired by creamy clam chowder, and toss it together with freshly-cooked fettuccine!
Recipe for Inspiration: Clam Chowder Seafood Pasta 
Sun-Dried Tomato Pasta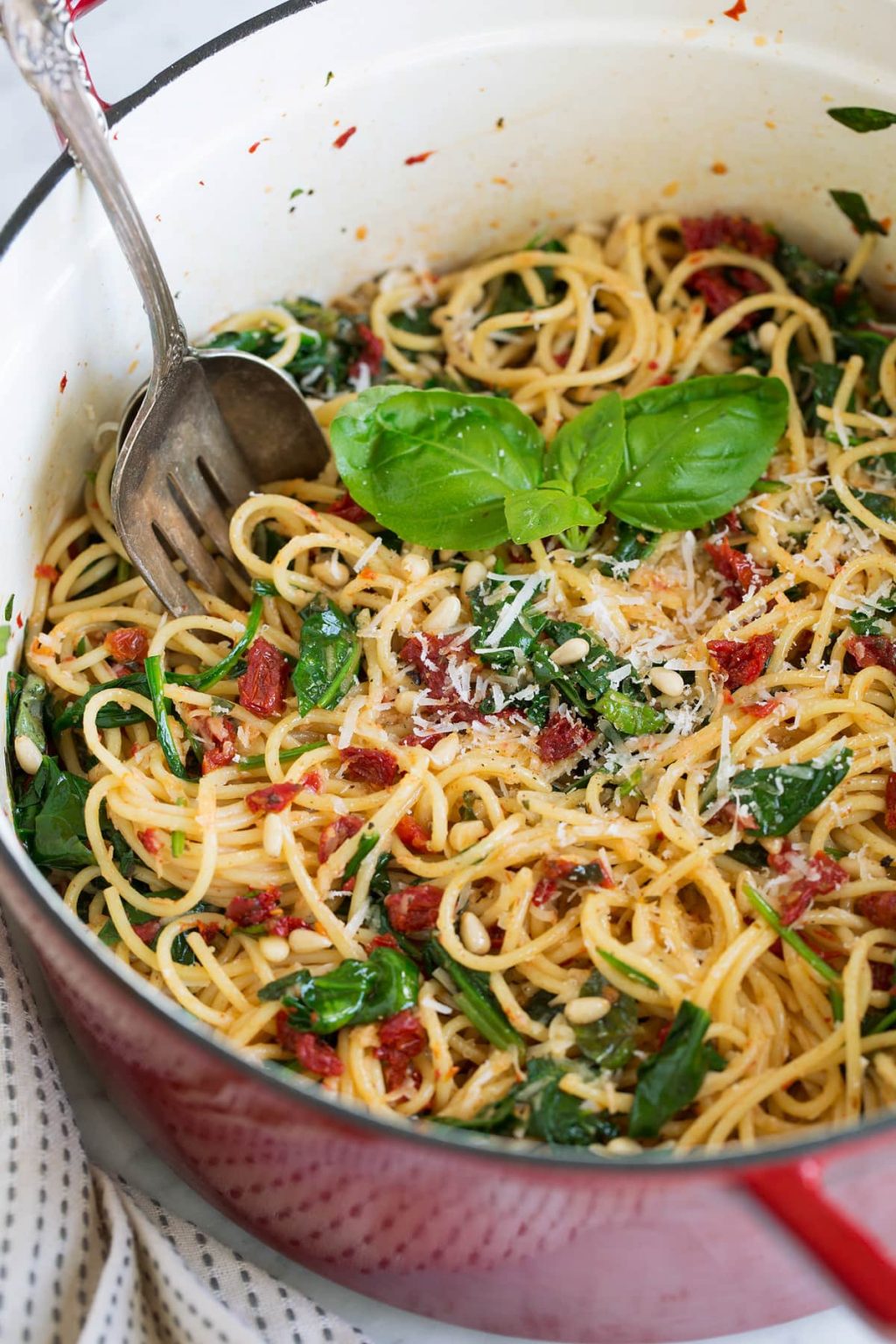 This pasta recipe pushes the boundary of easy romantic dinners  on a budget. The sauce made from sun-dried tomatoes, spinach, and garlic promises a healthful yet ambrosial taste. Whip this classic Italian delicacy in less than half an hour  for your special guest!
Recipe for Inspiration: Sun Dried Tomato Pasta with Spinach
Roasted Chicken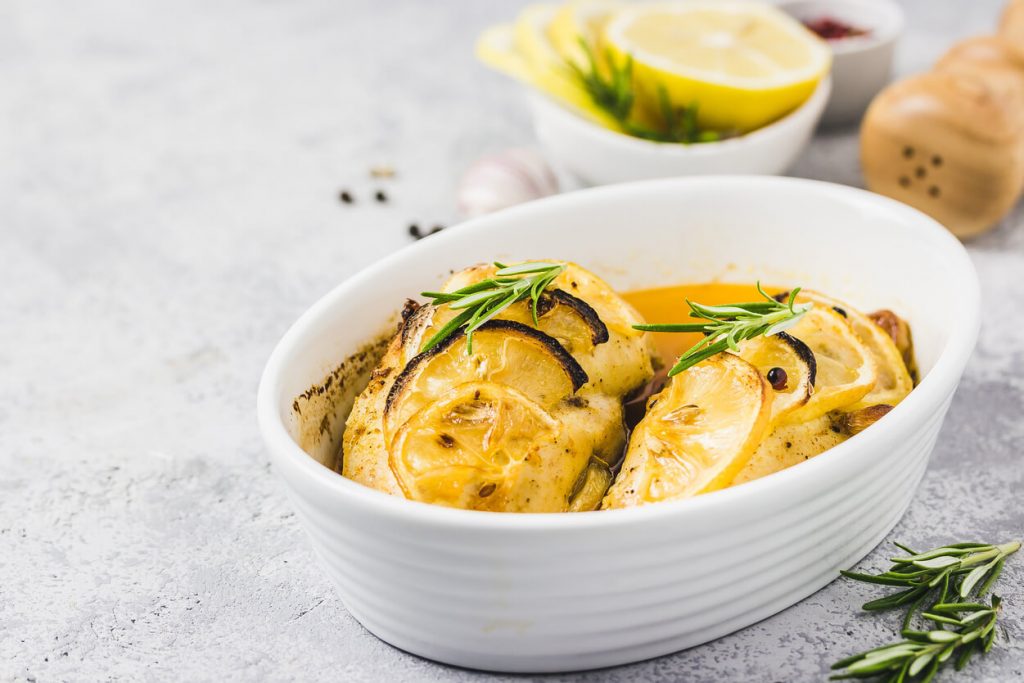 Want easy-to-cook meals that are also budget-friendly? Then, this recipe for roasted chicken is a great option. Almost all the ingredients used in this dish are inexpensive. The only thing you'll pay the most for is the white wine. But it will most definitely give you the best flavor, and really, all you need is a cheap house wine to give you the most succulent roasted chicken!
Recipe for Inspiration: Roasted Chicken with Lemon Sauce
California Rolls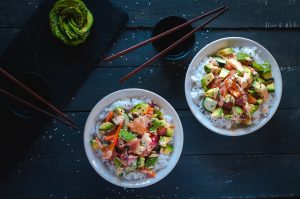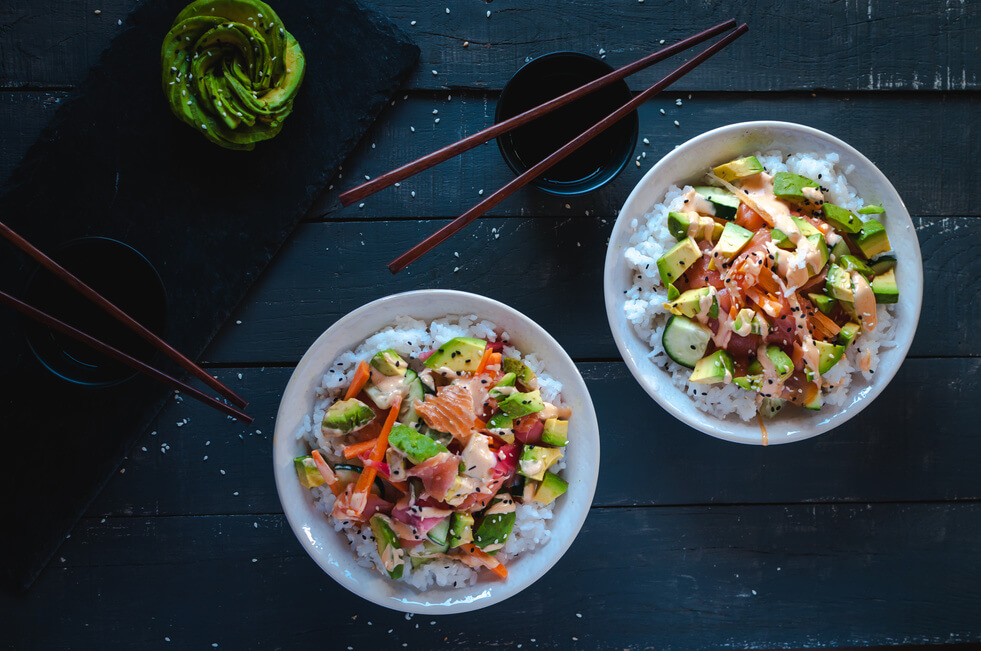 In your quest of discovering good recipes for Valentine's day, feel free to explore dishes beyond Western cuisine. One idea is to try this California roll sushi bowls recipe for a unique experience. With this in your culinary arsenal, you won't have to worry about messing up this Japanese dish. Simply combine the ingredients in a bowl, and you can call it a day! This is perfect for a romantic yet chill dinner at home.
Recipe for Inspiration: California Roll Sushi Bowls
Clam Pasta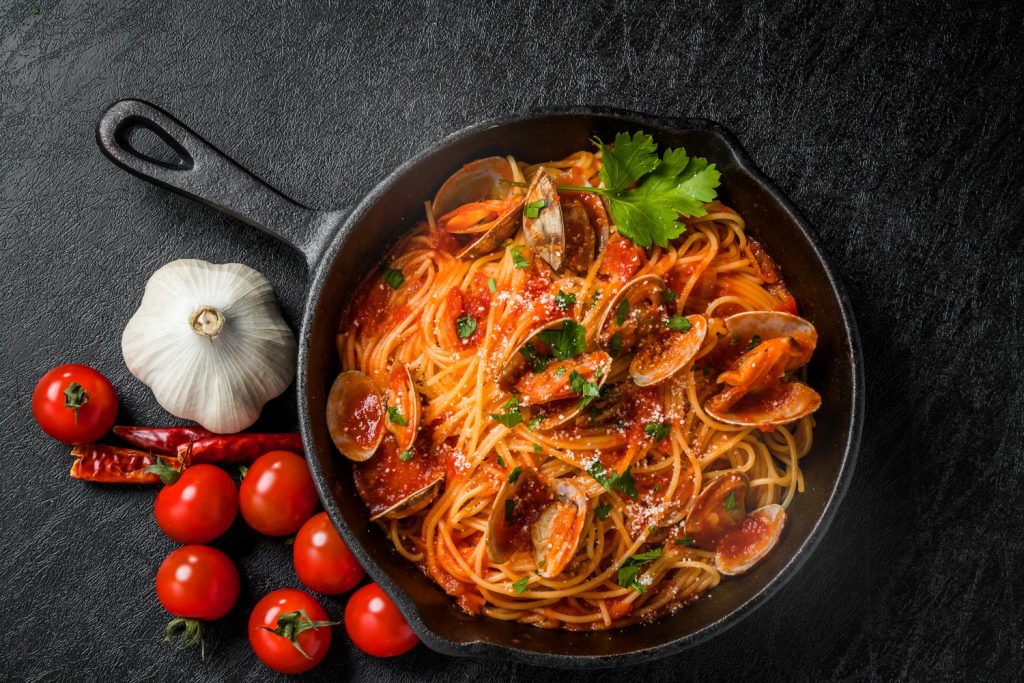 Versatile and easy to cook, pasta is one of the best home-cooked meals to make for a romantic night. For something different, try putting together this clam and bacon hodgepodge with linguine noodles. Cooked with wine, the fresh tomato sauce of this dish offers a tart base that works well with the salt and brine from the meat and seafood.
Recipe for Inspiration: Linguine Pasta with Clams, Bacon, and Tomato
Lobster Mac and Cheese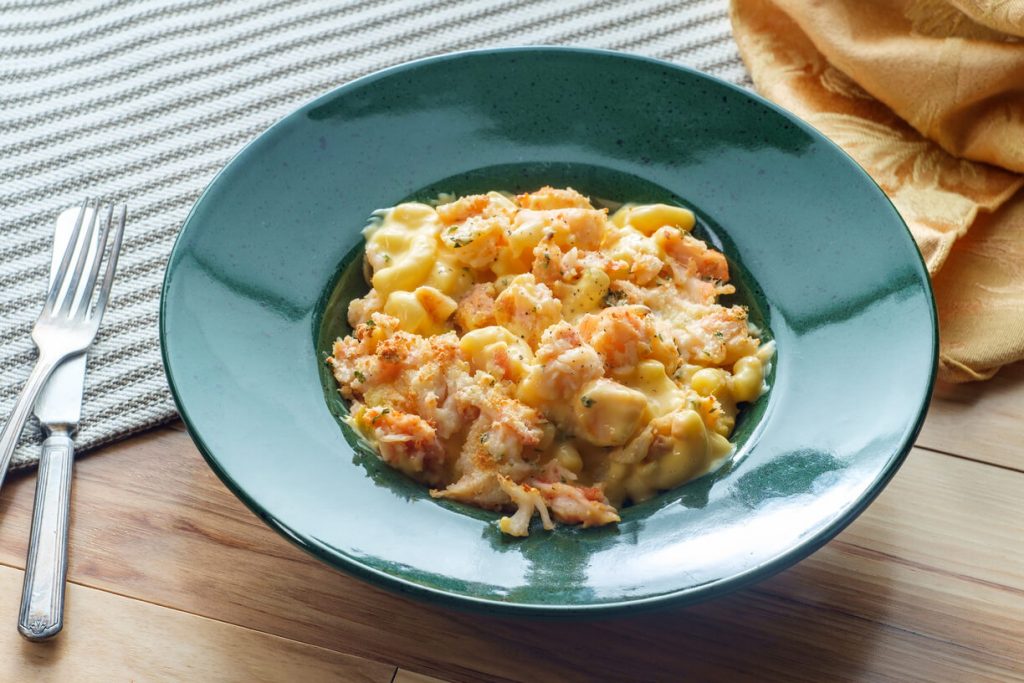 What if we told you that you can make a worthy Valentine's meal out of mac and cheese? Yes, it's definitely possible! With just a half cup of lobster meat, you can instantly transform this all-American dinner staple into a homemade date night dish. Perfect for a casual hangout with a loved one, this seafood-laden rendition is guaranteed to be oh-so-cheesy and filling.
Recipe for Inspiration: Lobster Mac and Cheese
Moroccan Chicken Thighs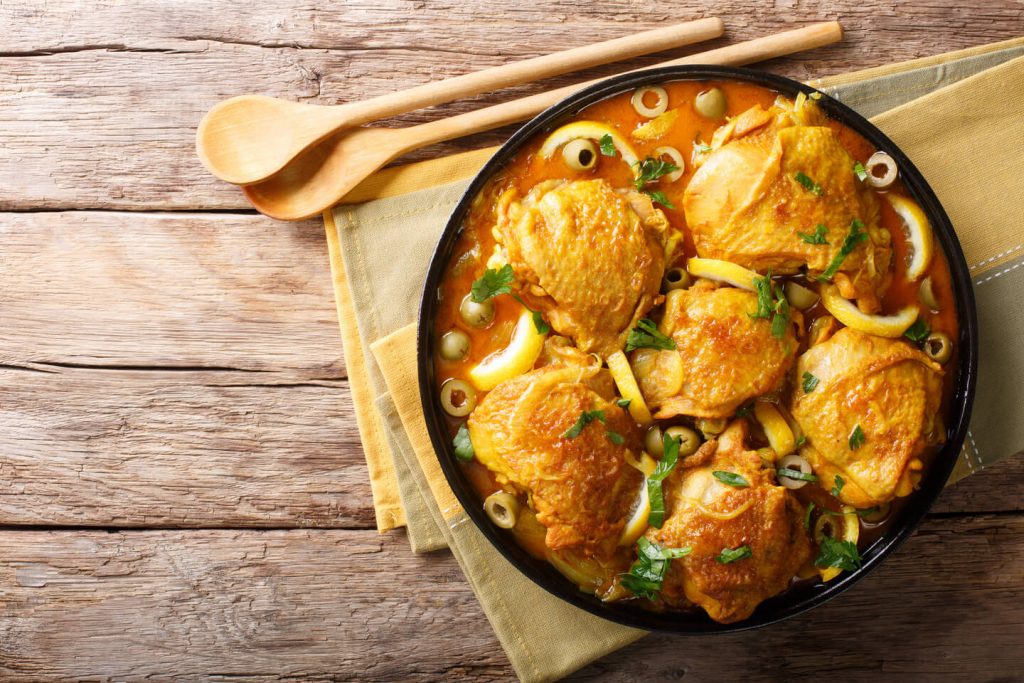 For a mediterranean touch to your romantic dinner ideas, try this recipe that takes inspiration from Moroccan cuisine! All you need are chicken thighs and a few spices from your pantry, and you're all set. We recommend using a cast iron skillet for cooking, to achieve the perfect golden brown crisp. This way, it'll also be way easier to transfer the roasted chicken thighs to the oven.
Recipe for Inspiration: Moroccan Chicken Thighs
Vodka Cocktail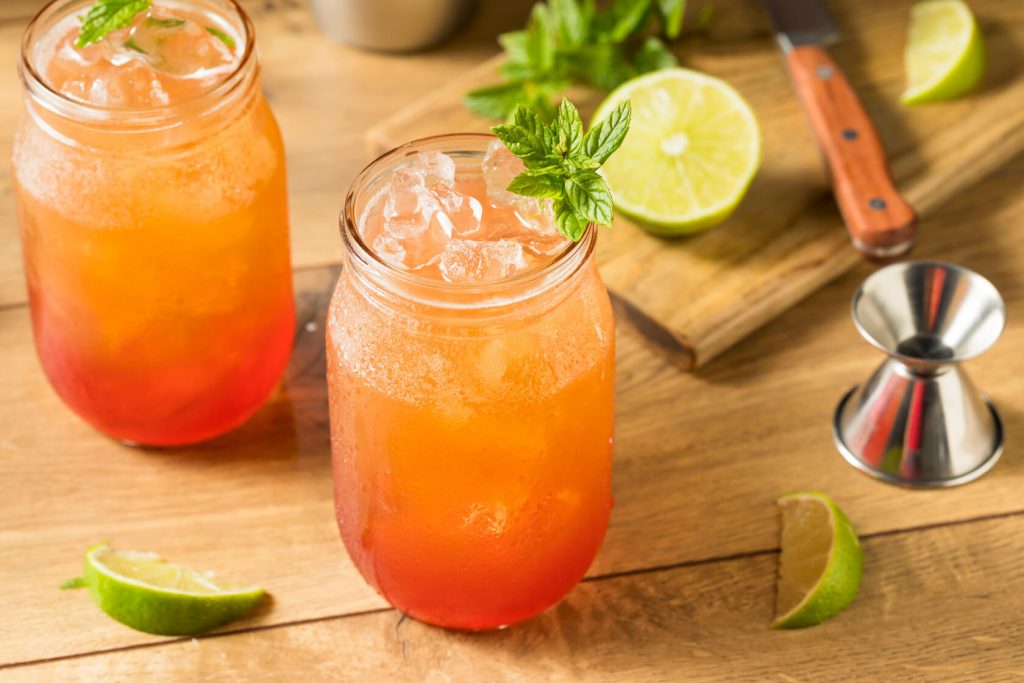 For romantic dinner ideas for two, you can't just start strong and not think about the other elements that go into the entire course. So, end your date on a high note by serving this tasteful refreshment. Use passion fruit juice-flavored vodka and combine its unique citrusy flavor with splashes of other fruit juices like cranberry and pineapple for the best results. Enjoy it on the rocks and garnish with fresh fruit slices to seal the deal!
Recipe for Inspiration: Smirnoff Passion Fruit Punch
---
Healthy Romantic Dinner Ideas
There's no need to break your diet if you want to indulge in good food. Sure, there's nothing wrong with having cheat days from time to time. But wouldn't it be a lot better if you could treat yourself and your loved one to a dish that's equally as nutritious as it is satisfying? Explore the healthiest romantic dinner ideas in this section.
Smoked Whitefish Salad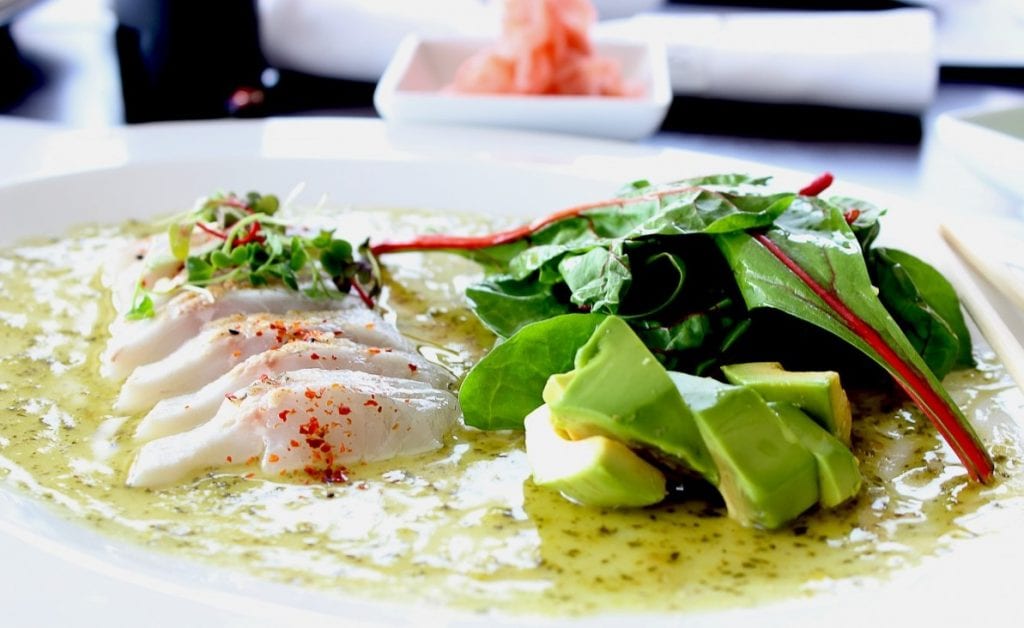 This salad recipe borders on gourmet territory with its use of smoked whitefish, fresh avocado, and tangy grapefruit juice. The whitefish is tossed in a mixture of olive oil and champagne vinegar, then sprinkled with grapefruit juice-soaked avocado slices, chives, and pecans. No need to visit fancy, organic restaurants or cafes with this recipe in hand.
Recipe for Inspiration: Smoked Whitefish Salad With Avocado and Grapefruit
Goat Cheese Salad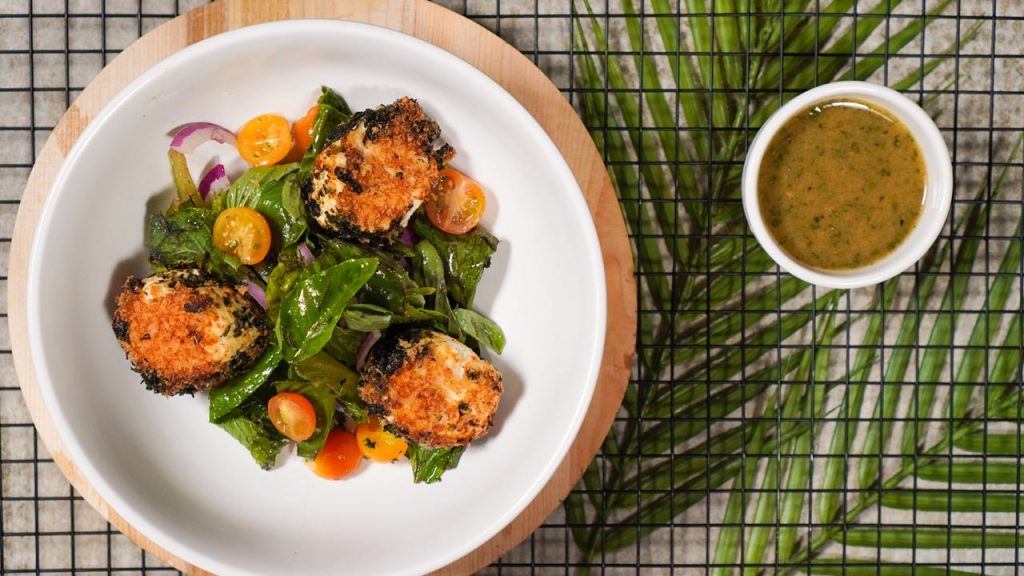 If you and your date are craving for something healthy and cheesy, then this salad is the perfect choice. Herb-flavored goat cheese sauteed in olive oil, plus baby greens coated in mustard vinaigrette salad dressing, combined to form a fancy gourmet salad. Serve and enjoy along with a freshly-popped bottle of champagne.
Recipe for Inspiration: Warm Goat Cheese Salad
Avocado And Cottage Cheese Salad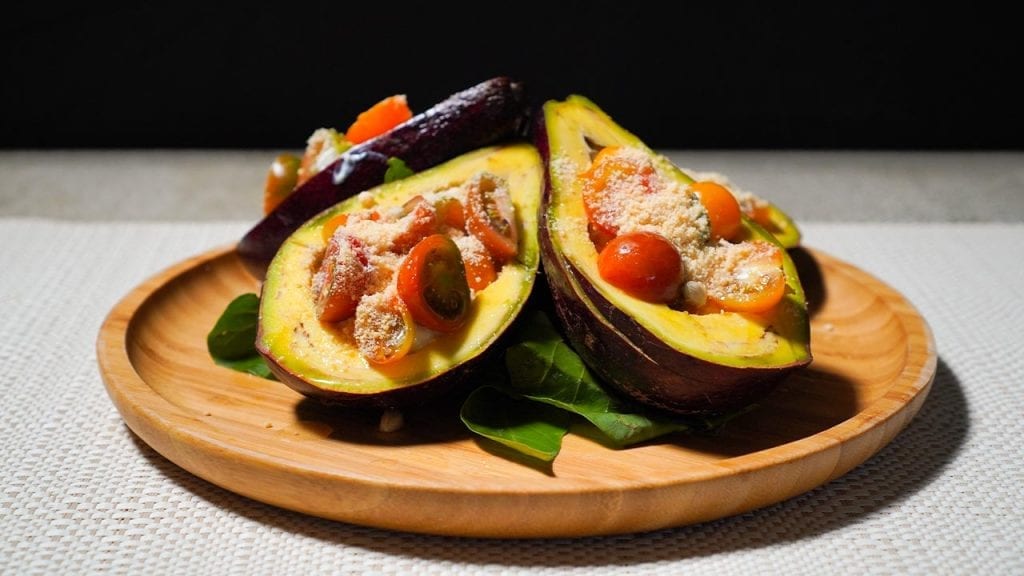 Nothing says "healthy" quite like avocado. And this amazing fresh avocado salad doesn't compromise on presentation either. Loaded with cottage cheese, cherry tomatoes, and spinach, it's a creative dinner idea perfect for a romantic date night. It'll work great as a tasty and instagrammable appetizer or even side dish!
Recipe for Inspiration: Fresh Avocado And Cottage Cheese Salad
Zucchini Rollatini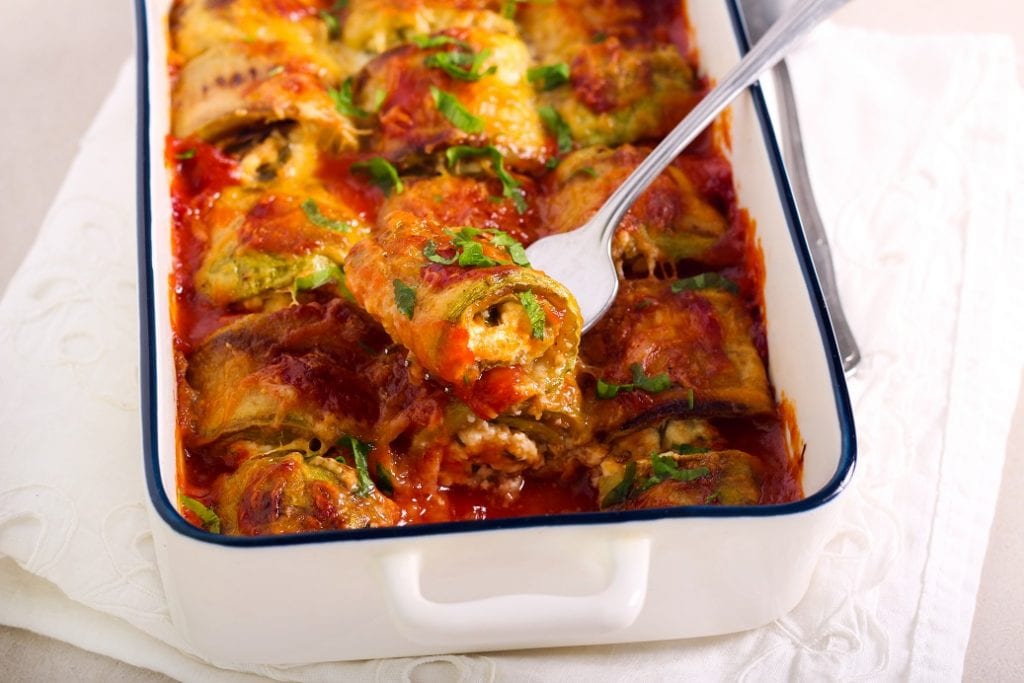 This zucchini rollatini dish is so gourmet-like, you wouldn't think that they're simply zucchini rolls smothered in marinara sauce. This meal is low carb but is still loaded with cheeses like ricotta, pecorino romano, and mozzarella. Serve this dish to your date and you're sure to make them fall in love with you even more.
Recipe for Inspiration: Zucchini Rollatini
Pasta Primavera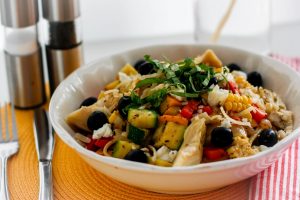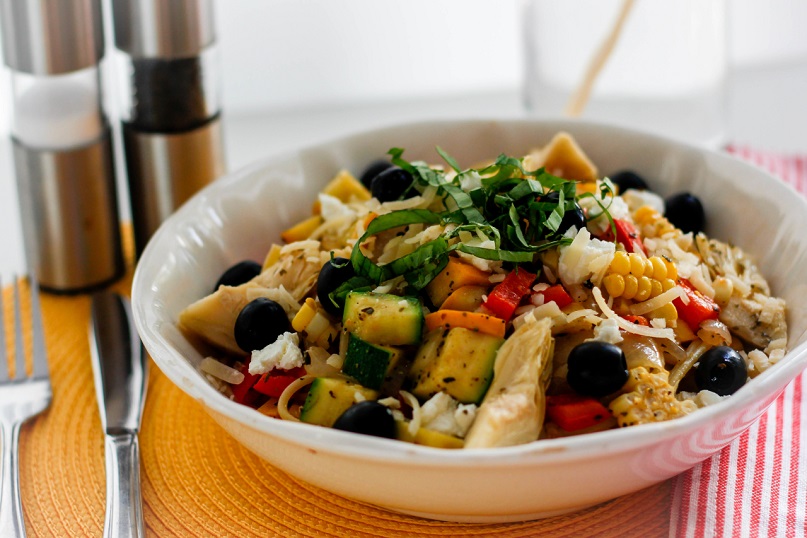 Pasta primavera may sound Italian, but it is an American pasta dish with fresh vegetables. For this dish, you will use broccoli, zucchini, carrots, and snow peas, just to name a few. As for the pasta, you can use cheese tortellini. But you can also use penne if you want to keep it strictly healthy.
Recipe for Inspiration: Pasta Primavera
Vegetable Pasta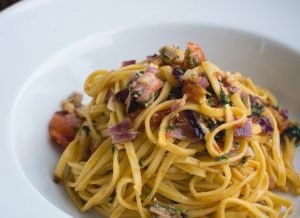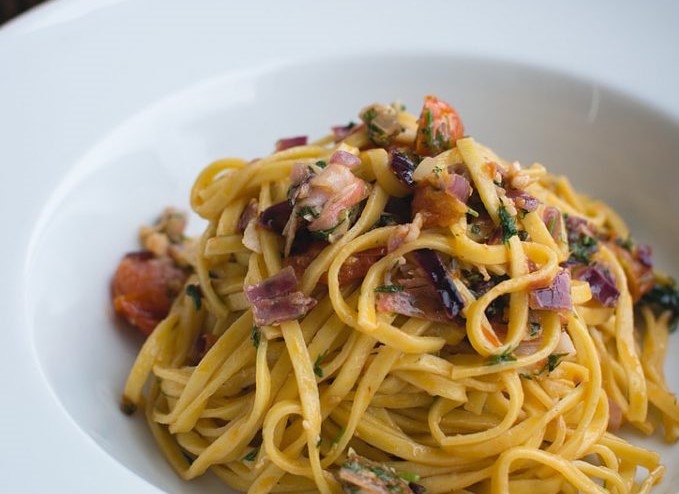 Looking for a healthy, yet tasty alternative from your usual pasta-meat combos? Try this linguine dish tossed with fresh stir-fried vegetables. Soy sauce is the star seasoning in this Italian-Asian fusion pasta. Because really, with pasta, your creativity in the kitchen is your limit.
Recipe for Inspiration: Linguine with Vegetables
Salmon Loaf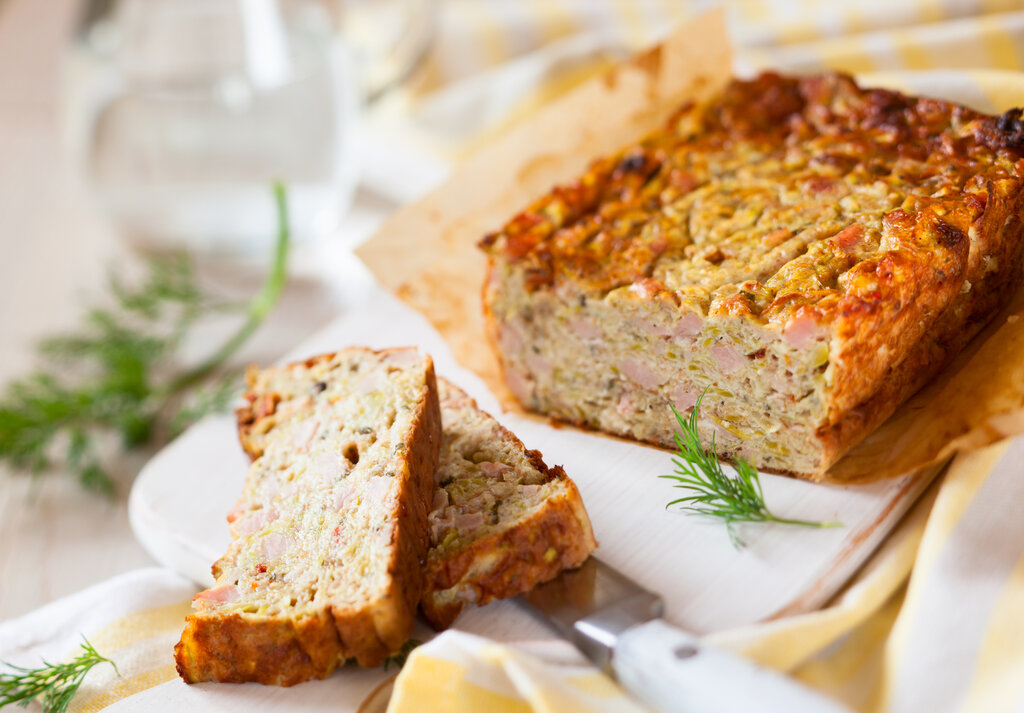 Fatty fishes like salmon are a great source of heart-healthy Omega-3 fatty acids. For something different, why not make this simple baked salmon loaf dish? Once you have your ingredients ready, simply toss the flaky fish together with seasonings, bread crumbs, butter, milk, and an egg. Bake the mixture for 45 minutes, and enjoy a nutritious, savory-filled dish without breaking a sweat!
Recipe for Inspiration:  Baked Salmon Loaf
Glazed Salmon with Rice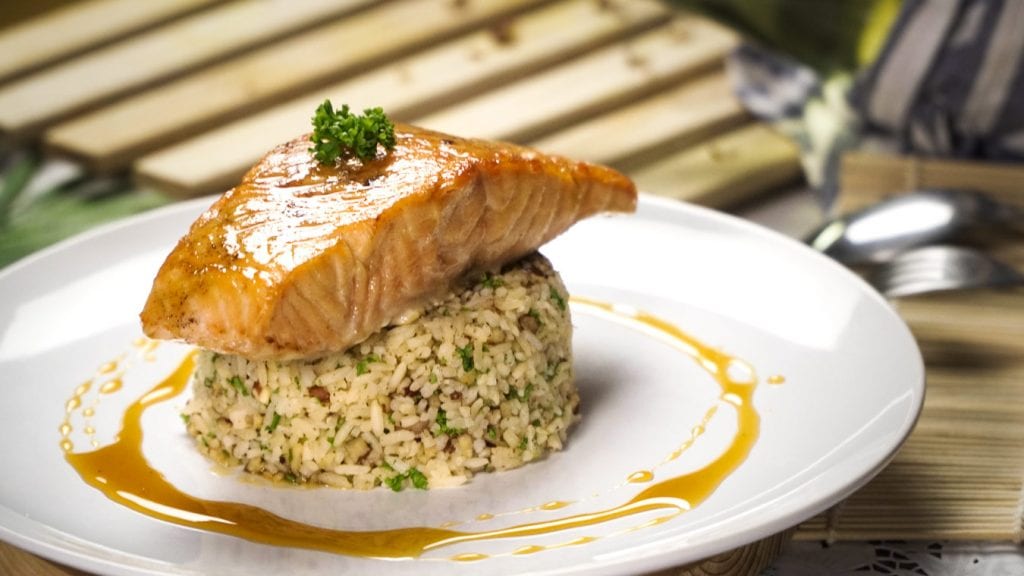 Wondering about the other ways you can serve salmon? Then try this healthy and delicious recipe! The salmon is coated in a delicious citrus glaze and served with healthy brown rice along with crunchy pecans. It's perfect if you're looking for something healthy and scrumptious for your Valentine's dinner.
Recipe for Inspiration: Citrus Glazed Salmon with Pecan-Citrus Rice
Butternut Squash Risotto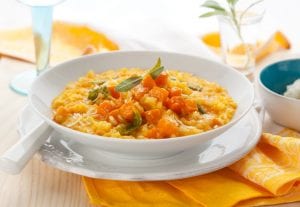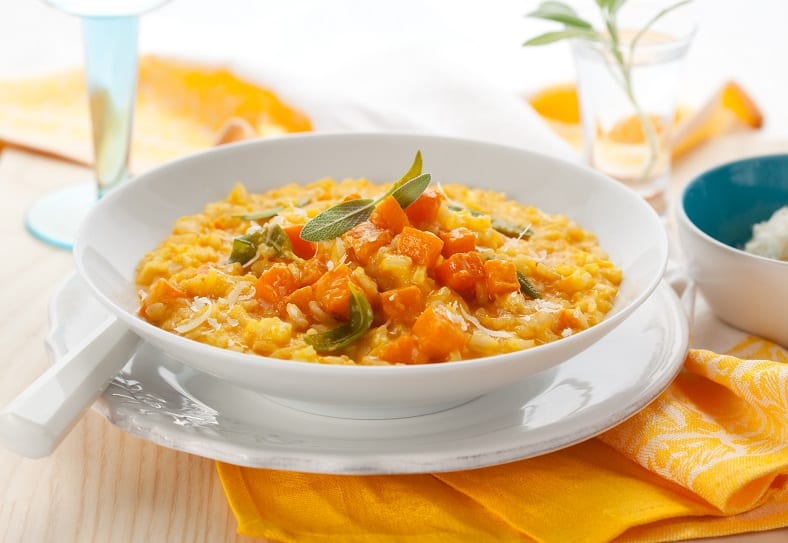 This butternut squash risotto is a vegetarian-friendly meal that's teeming with flavor. Seasoned with saffron and sage, this Italian dish is both healthy and delicious! The risotto is both creamy and rich, cooked with white wine, margarine, and homemade chicken broth.
Recipe for Inspiration: Butternut Squash Risotto with Saffron and Sage
Tomato and Eggplant Galette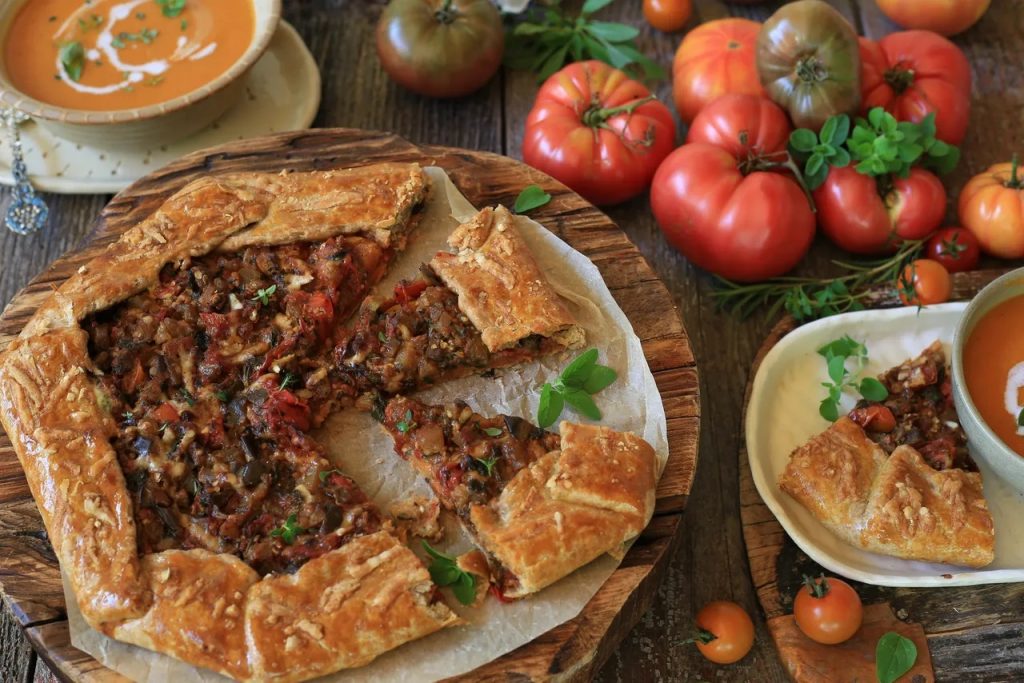 This vegetarian-friendly dish may look like a fancy serving of pizza. But in all actuality, it's far from it! This galette meal is way healthier than fast food pizzas, and more delicious too. That's because it's made of slow-roasted tomato and eggplants, all packed in one elegant-looking pie. Your date will surely appreciate an instagrammable meal like this one.
Recipe for Inspiration: Slow Roasted Tomato Eggplant Galette
Beef Stroganoff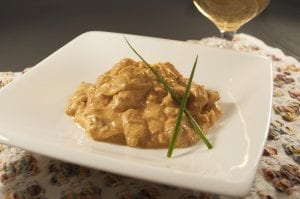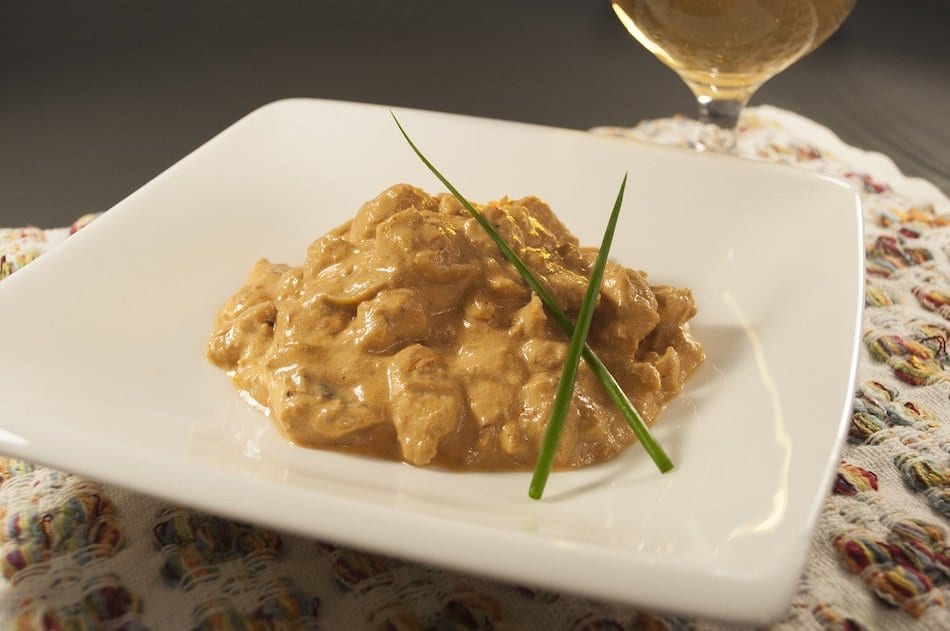 This is the popular Russian beef stroganoff, made easy. While the traditional variation of this dish involves sauteing the ingredients together, you'll only have to microwave them in this one. Not only is this method a lot more effortless, but you also won't be needing additional fats and oil to make this creamy main course.
Recipe for Inspiration: Easy Beef Stroganoff
Blackened Salmon Salad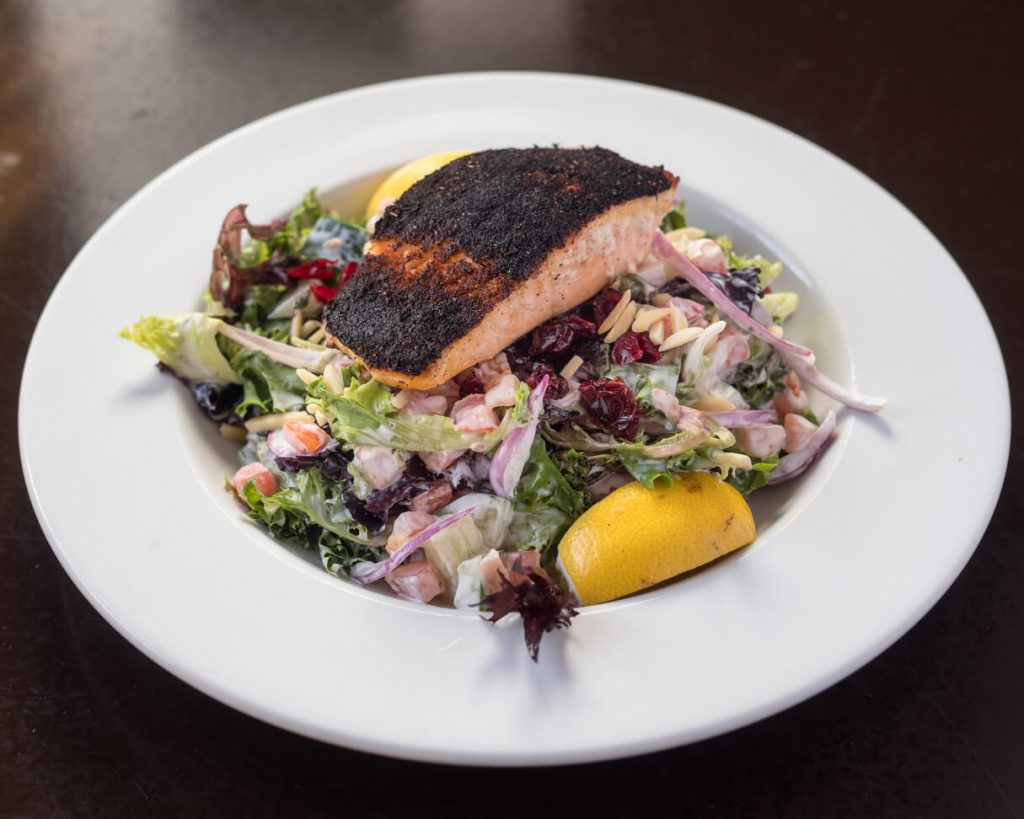 Can't decide on which perfect date idea to pursue? Then treat your loved one to a nice dinner at home. For the main dish, try this crisp and healthy dish that showcases slightly-sweet blackened salmon filets as the main ingredient! Served over a mixture of vegetables, feta cheese, and a tart salad dressing, this dish certainly doesn't fall behind in terms of flavor.
Recipe for Inspiration: Blackened Salmon Salad 
Caprese Garlic Bread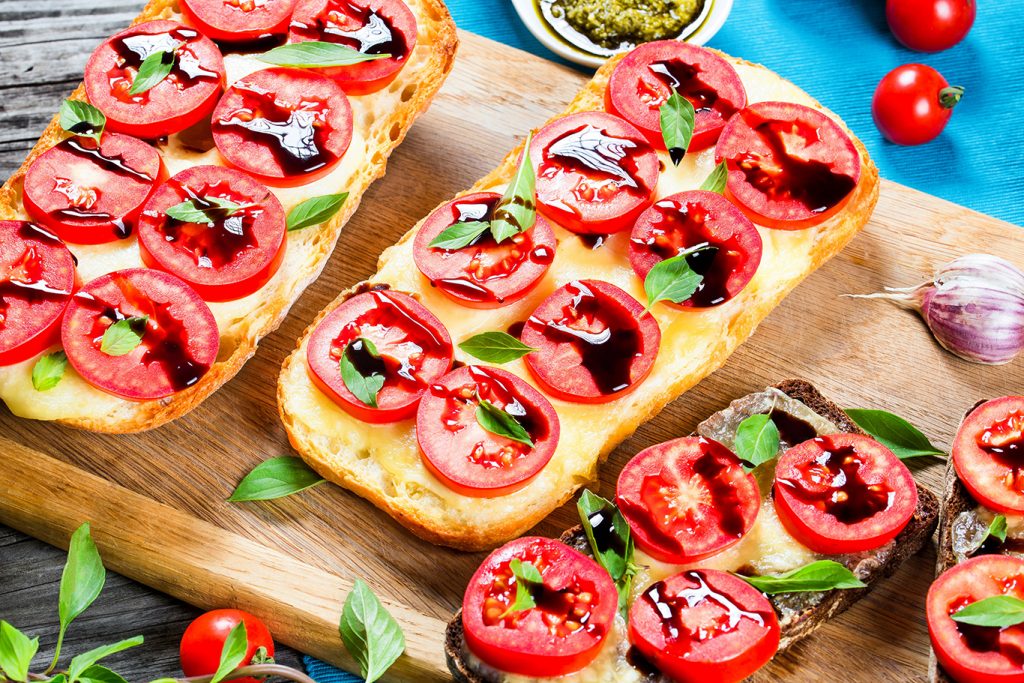 Absolutely fresh is what you can use to describe a classic caprese salad. For your quest of discovering the best meals for a romantic dinner at home, you may want to consider this clever recipe that encapsulates the famous Italian salad in garlic bread form. We should probably mention that the tomato and basil-infused garlic butter and the balsamic glaze are the highlights of this tasty side dish.
Recipe for Inspiration: Caprese Garlic Bread 
---
Romantic Dinner Ideas For Dessert
When you think about desserts to include in your romantic dinner ideas, some iconic treats may come to mind. Of course, who could forget conversation hearts or a classic box of chocolates? But did you know that there are a lot more dishes to explore for a sweet third course? Take your pick from this section.
Fruit Punch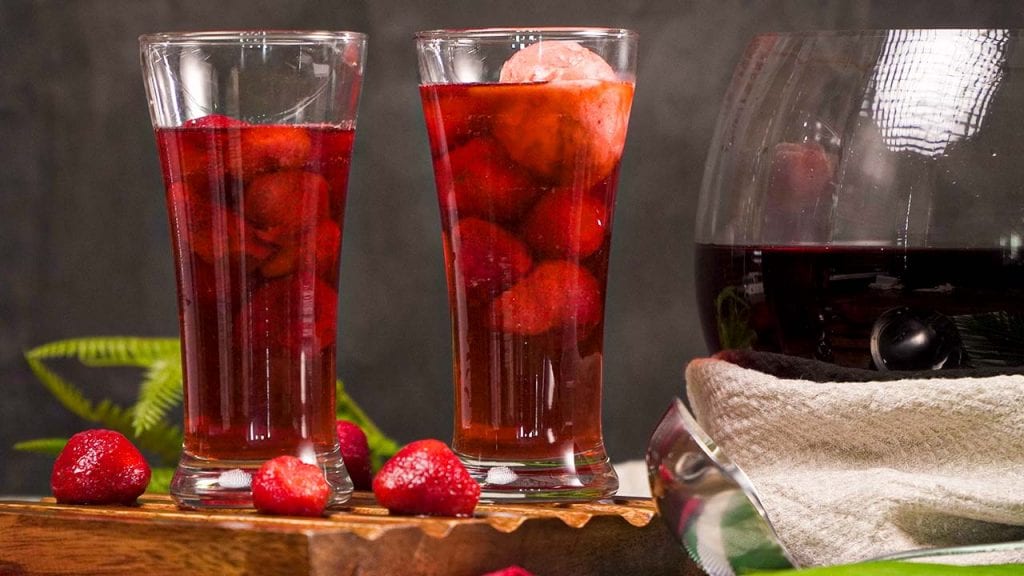 Have to take care of your kids this Valentine's day but still want a sweet themed drink to surprise your partner? Then try this fruit punch of love.  It is great for serving at parties, but works just as well for date night. If your partner wants a fruity, carbonated drink for dinner, then try this wonderful punch recipe. The heart-shaped punch ice swimming in lemon-lime soda will surely impress.
Recipe for Inspiration: "Cup-Of-Love" Punch
Chocolate Cupcakes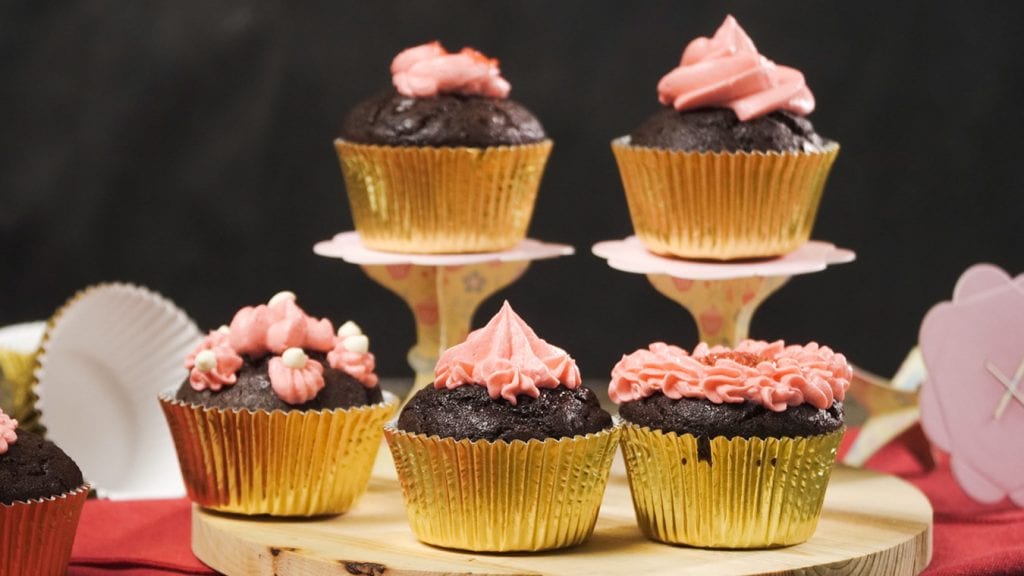 Of course, no Valentine's day celebration is complete without dessert. For a heartfelt treat you can also share with the kids, make a box of strawberry-flavored Valentine cupcakes! Top with sweethearts candies to make your date swoon.
Recipe for Inspiration: Be My Valentine Cupcakes
Strawberry Cake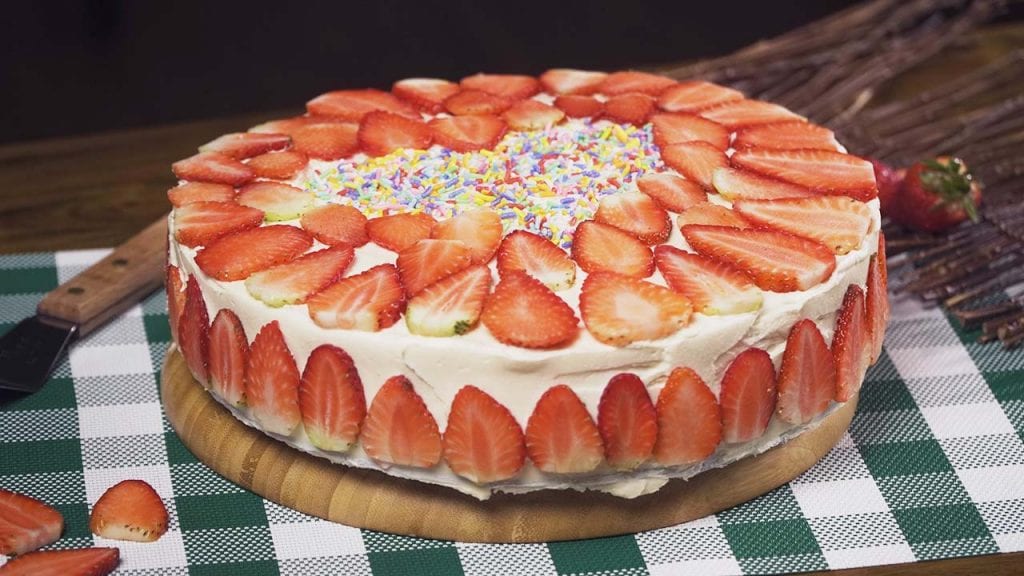 If you want to bake something bigger, then try making this strawberry sweetheart cake. It's also strawberry-flavored and uses real, fresh strawberries as a cute topping. Your date will surely appreciate the time you put in baking them a delicious dessert.
Recipe for Inspiration: Strawberry Sweetheart Cake
Red Velvet Cake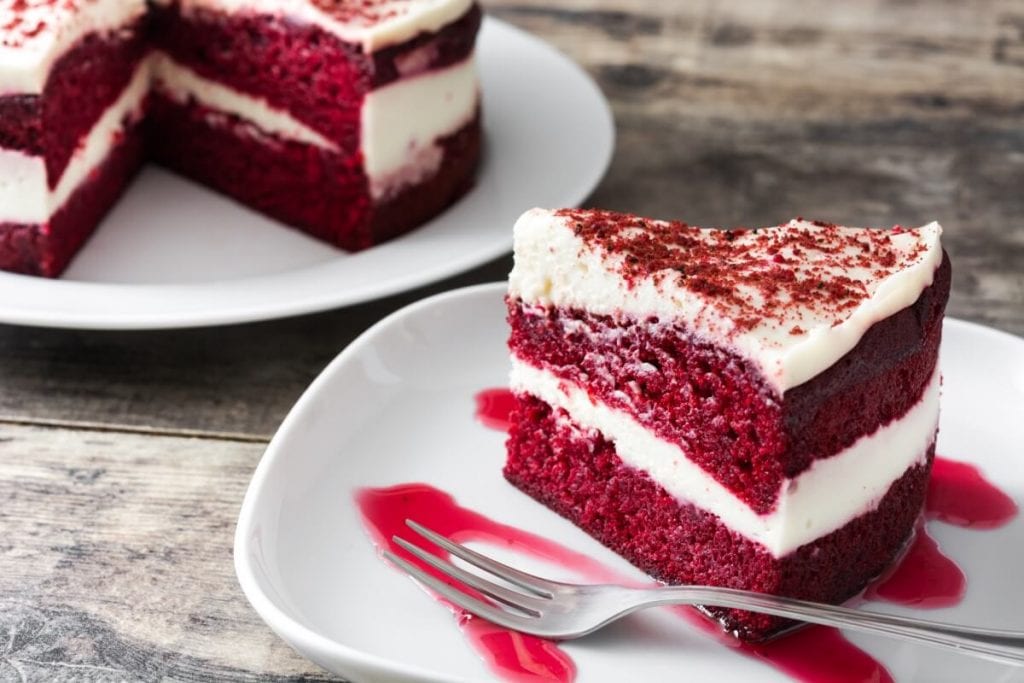 No Valentine's day celebration is complete without lush red velvet desserts! And what better way to serve this than with a red velvet cake. This rich and moist cake is topped with irresistible cream cheese frosting, making it a staple for any special occasion. It's easy to make and worth the time and effort to bake.
Recipe for Inspiration: Red Velvet Cake
Chocolate and Raspberry Fudge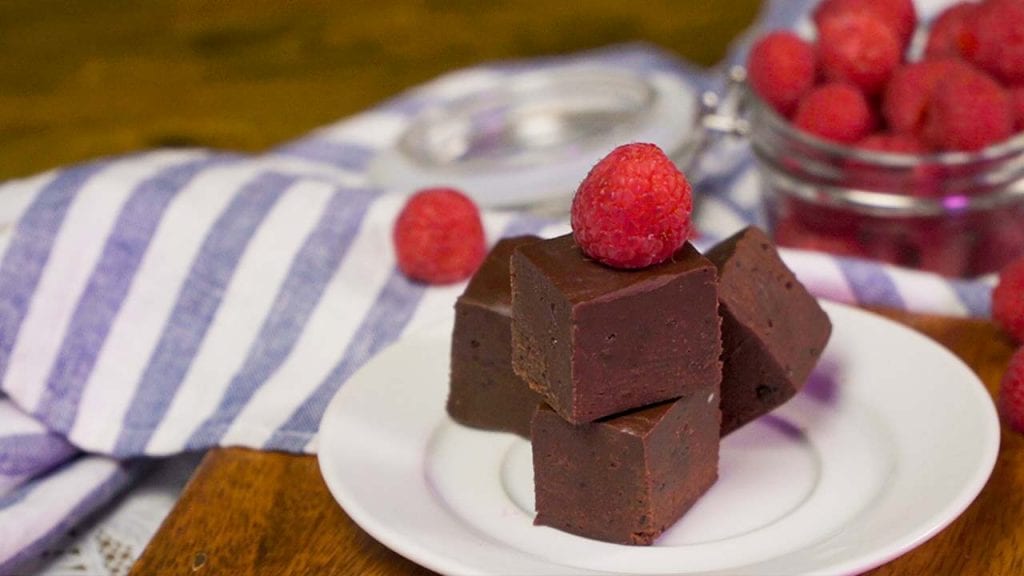 Like alcohol and asparagus, chocolate is also a well-known natural aphrodisiac. This raspberry chocolate fudge recipe is a staple go-to for a romantic Valentine's dessert. It's a sweet treat that your loved one will surely love! Now, who doesn't want to eat chocolate fudge topped with fresh raspberries with their loved ones?
Recipe for Inspiration: Delectable Raspberry Chocolate Fudge
Strawberry Cheesecake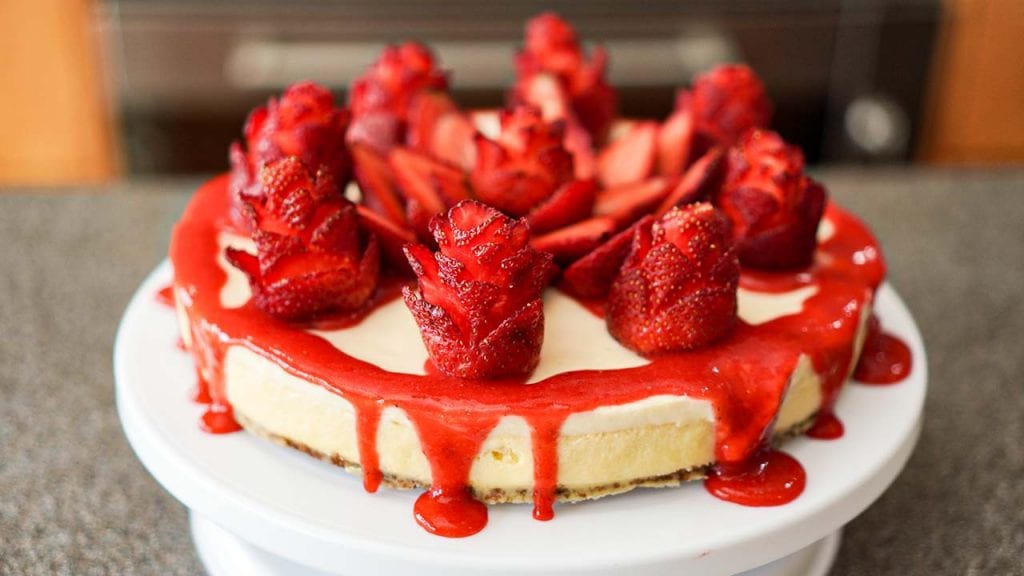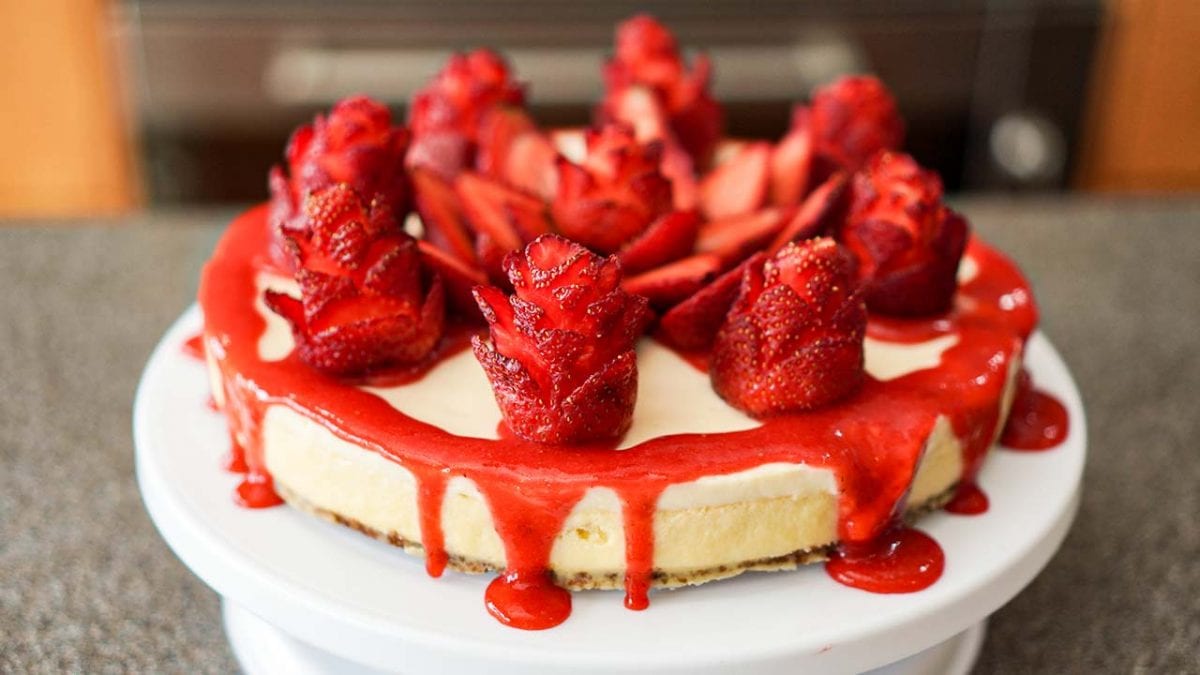 Another great copycat recipe for you to try this Valentine's day is this strawberry cheesecake. This moist cheesecake was inspired from Cheesecake Factory's signature version and is topped with delectable strawberries. If you're looking to make a dessert that's in theme with the special occasion, then this recipe is for you!
Recipe for Inspiration: Cheesecake with Strawberry Topping
Strawberry Milkshake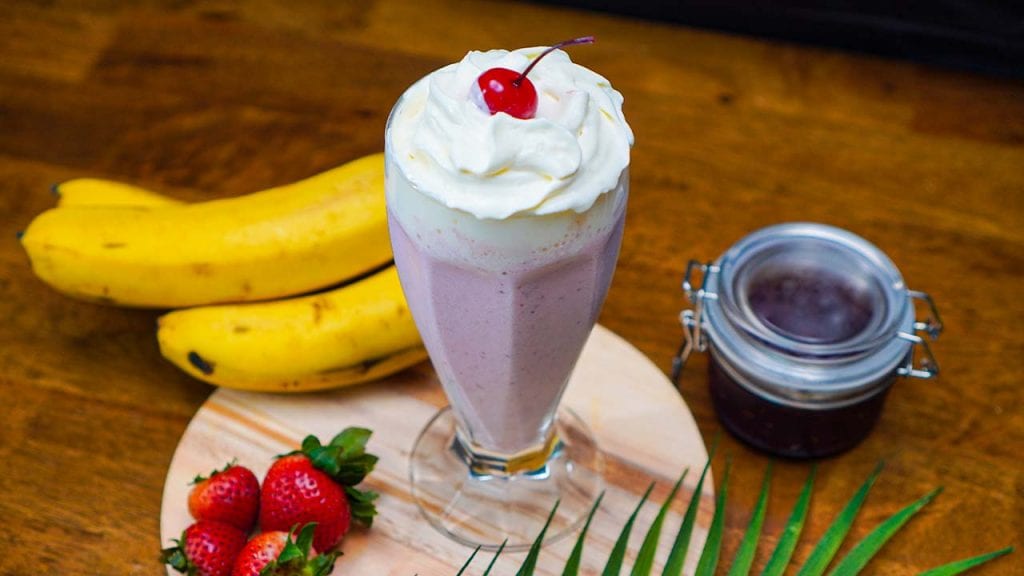 No alcohol? No problem! This classic strawberry milkshake is indulgent and sweet, the perfect non-alcoholic beverage for a simple romantic night. It's a great drink to pair with desserts right after eating something heavy for dinner.
Recipe for Inspiration: Classic Strawberry Milkshake
Chocolate Éclair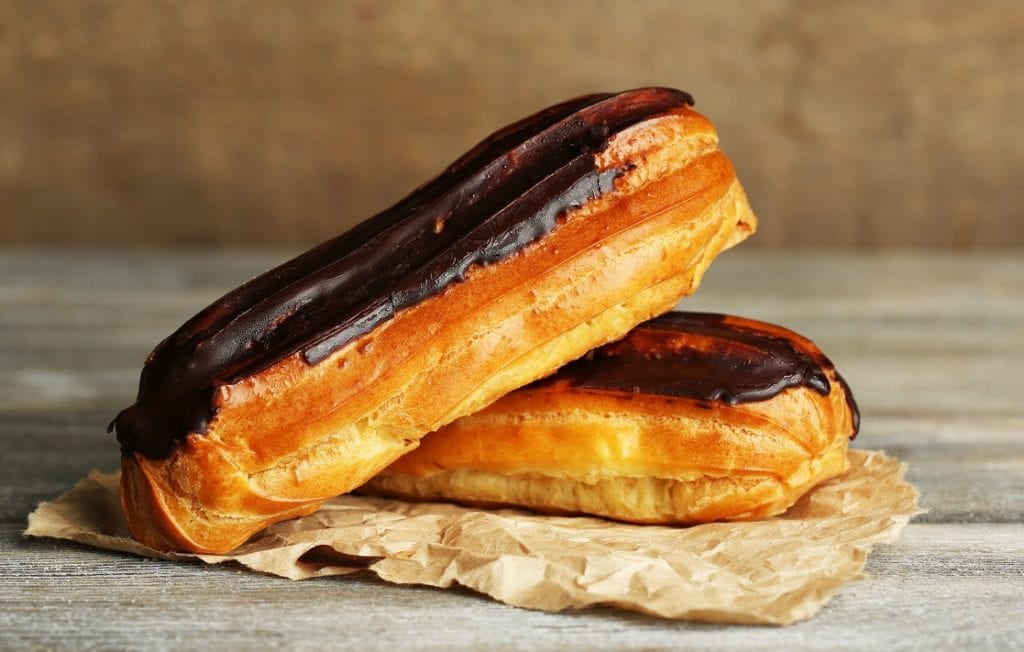 This chocolate eclair is an elegant French dessert that shouldn't be absent from the dinner table on your romantic date. The oblong-shaped pastry is filled with delicious cream, then topped with decadent chocolate. Your significant other will appreciate that you made time for something so indulgent.
Recipe for Inspiration: Chocolate Eclair
Cookie Pops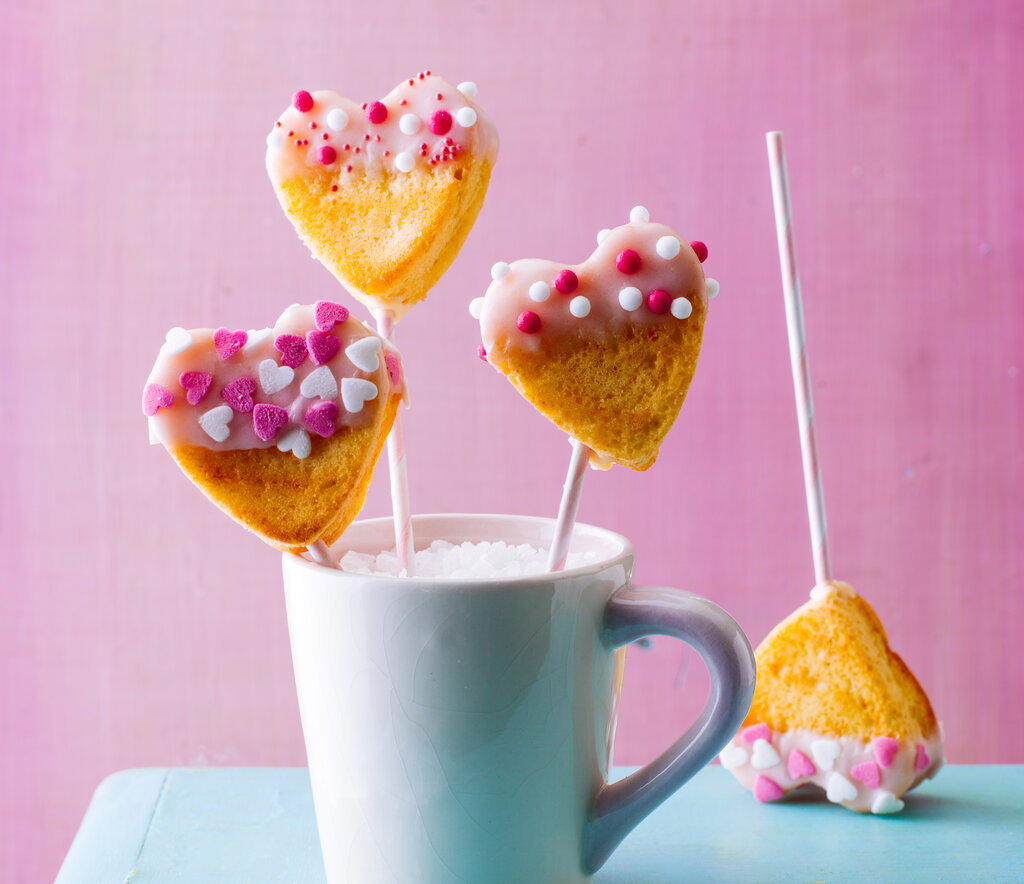 Give your date a sweet and thoughtful gift on Valentine's day with these cute cookie pops! The cookies are placed on lollipop sticks then topped with icing made from sweet and lush meringue powder.
Recipe for Inspiration: Valentine's Day Cookie Pops
Chocolate Cake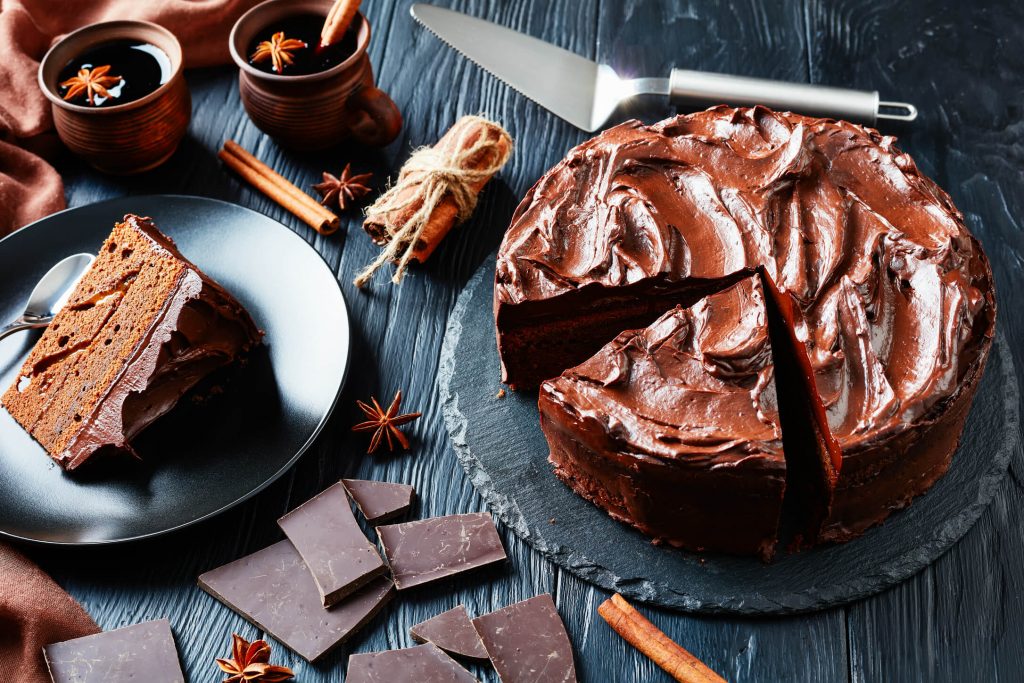 For a classic third course meal, treat yourselves to a slice of this moist and sweet Hershey's chocolate cake. It may look simple but this baked good doesn't really need to compensate for looks with its already top-notch flavor. It's relatively easy to make, too. A word of advice: use Hershey's cocoa powder for the batter to achieve the rich chocolatey flavor that you're aiming for!
Recipe for Inspiration: Chocolate Cake (Hershey's Perfectly Chocolate)
Sugar Cookies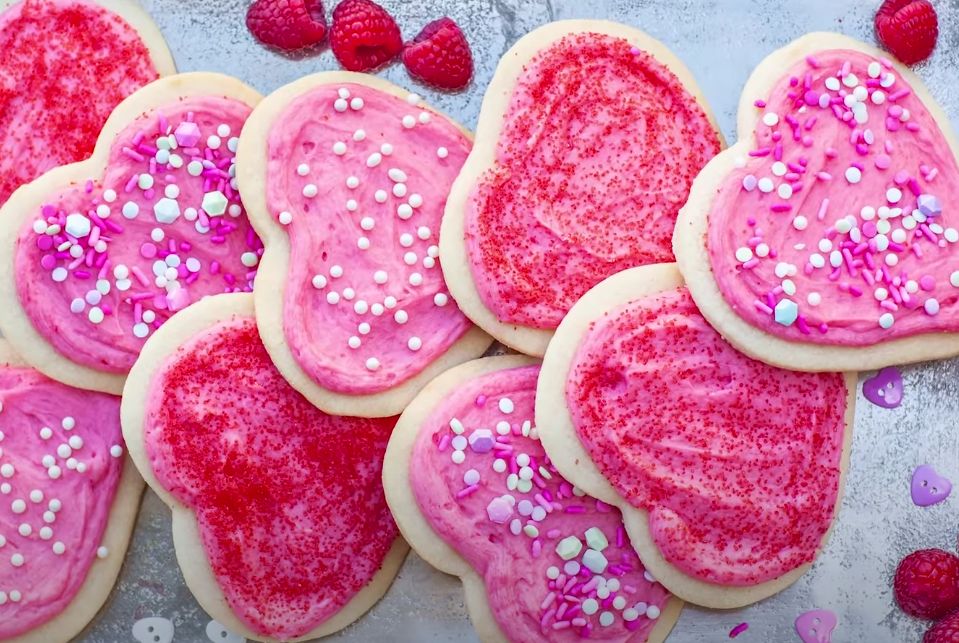 You have to add Valentine's sugar cookies to your list of romantic dinner ideas! After all, nothing looks and says I love you as easily as these cookies. From the looks of it alone, not only it commemorates the occasion, but it's also the perfect snack to keep your children occupied while you enjoy your date night. Who would pass these cute and adorable hearts?
Recipe for Inspiration: Valentine Sugar Cookie
Peanut Butter Blossoms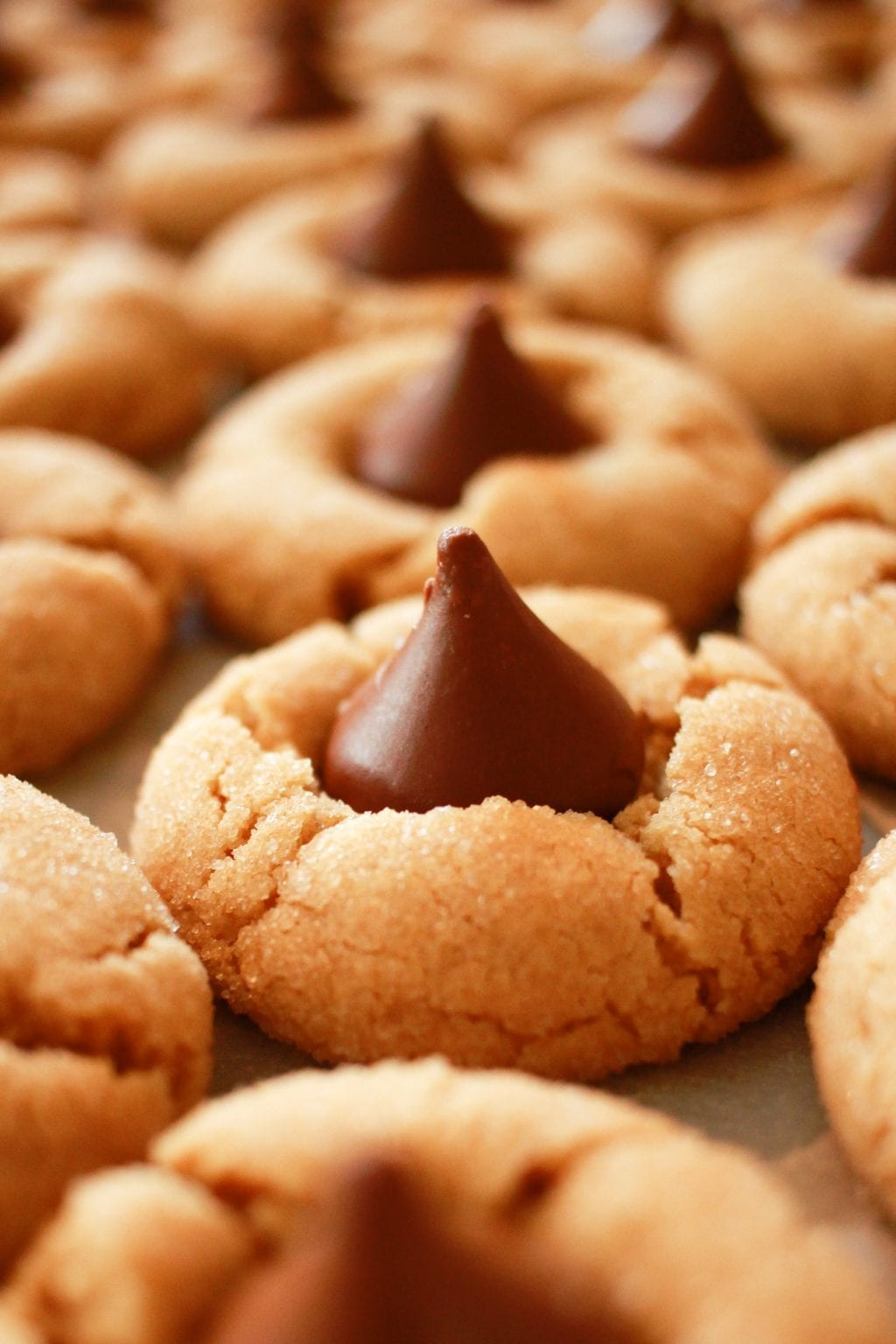 Give in to your sweet tooth by trying out fun recipes for dishes like these peanut butter blossoms! You don't need to go overboard if you're aiming for creative dinner ideas for two. Feel free to follow this cookie recipe and yield some sweet and nutty cookie pieces topped with luscious milk chocolate kisses.
Recipe for Inspiration: Peanut Butter Blossom Cookies 
Chocolate-Covered Strawberries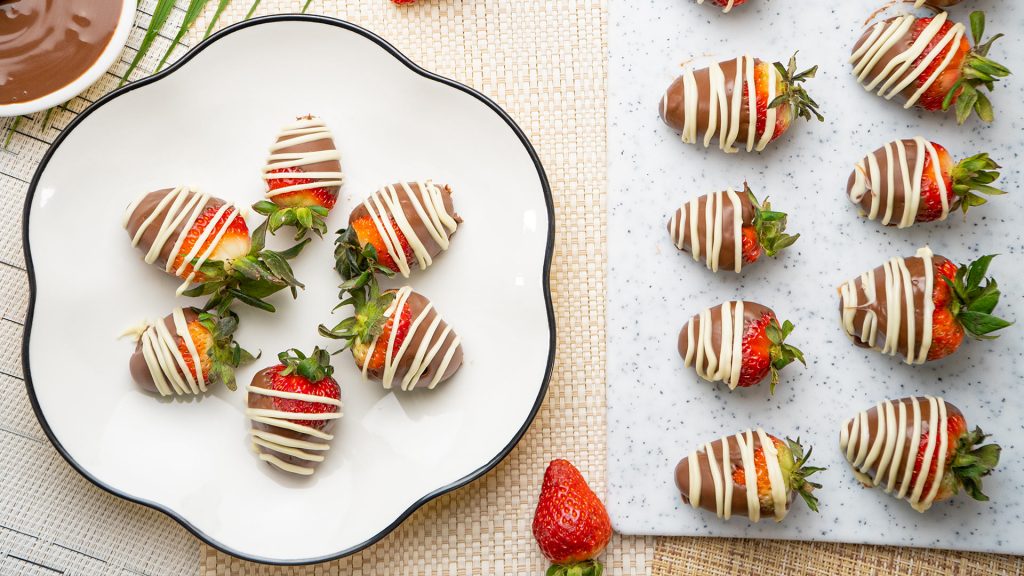 Last but not the least, we have chocolate-covered strawberries. Whether you're planning fancy dinners or a casual couples night at home, this sweet treat is a must-have to set the mood for this occasion. So, recreate this easy recipe and indulge in fresh and sweet berries dipped in a sinfully delicious melted dark chocolate. And don't forget to drizzle softened white chocolate on each piece for presentation.
Recipe for Inspiration: Fudge Dipped Strawberries