Fall season comes with cold weather and a selection of seasonal flavors. It's time to curl up and brace yourselves for those chilly nights. And it's also time to welcome warm drinks, comfort dishes, and heartier food we've missed during the summer.
With its rich, creamy, deliciously layered flavor combinations, roast butternut squash risotto should be your go-to dish this fall season. A fancy bowl of comfort food made in the comfort of your home!
Risotto, the best Italian rice side dish
Risotto is a beloved deliciously creamy Italian rice dish made with starchy, short-grained rice varieties like Arborio rice and pearl barley. Short-grain white rice is typically used for making risotto because it's stickier and can absorb liquid better, which, in turn, releases the starch. Simmer all the ingredients—a high starch variety of rice, a dash of seasonal vegetables, a sprinkle of fresh herbs—until you get a creamy savory consistency. 
Because of the simplicity of this classic Italian dish, Risotto has become very popular around the world. Risotto is often associated with high-end restaurants, an epitome of fancy indeed. This gourmet dish is perfect for a fancy dinner party or a romantic dinner for two.
Risotto is a highly versatile dish rich with Italian flavors. A simple basic rice dish, you can combine it with any ingredient you like, from meat to vegetables. Add some chicken to your risotto or go vegetarian with your risotto with arugula and peas. But as fall arrives, butternut squash is the ideal ingredient for risotto.
Making risotto is fussy and time-consuming. It's a labor of love, and it requires a lot of patience. But with our easy butternut squash risotto recipe, you'll find it effortless to make this sumptuous Italian rice dish at home.
Butternut Squash, Star Ingredient in Fall recipes
Fall means sweet potatoes, apples, pumpkins, and everything you can cook out of them.  Known for its creamy and natural sweetness, butternut squash is a healthy, cozy way to enjoy this seasonal staple. Butternut squash can be roasted, mashed, baked, or slow-cooked.
Butternut squash adds sweetness and creaminess to your favorite fall recipes. From vegetarian dishes, creamy soups and hearty pastas to tasty tarts, butternut squash truly is the star in these savory foods. Add it to a risotto, and you'll get a beautifully sweet and creamy risotto that celebrates fall with its vibrant orange color.
What to serve with Butternut Squash Risotto?
Butternut squash risotto topped with saffron and sage is one of our favorite fall recipes. This scrumptious dish combines the creaminess of Italian risotto and butternut squash, with saffron and sage adding to the deep savory flavors. While it's delicious on its own, you can make it an even more complete meal by adding some pairing dishes.
Risotto is usually served as an entree in Italian cuisine. But it can also be a main course for those with dainty appetites. For an elegant, light dinner, pair our butternut squash risotto with sides like roasted vegetables or kale salad. If you're serving it as a side dish, it will go perfectly with meaty mains like chicken or pork. Try it with our Garlic Roasted Pork Neck and a glass of white wine for a lavish meal.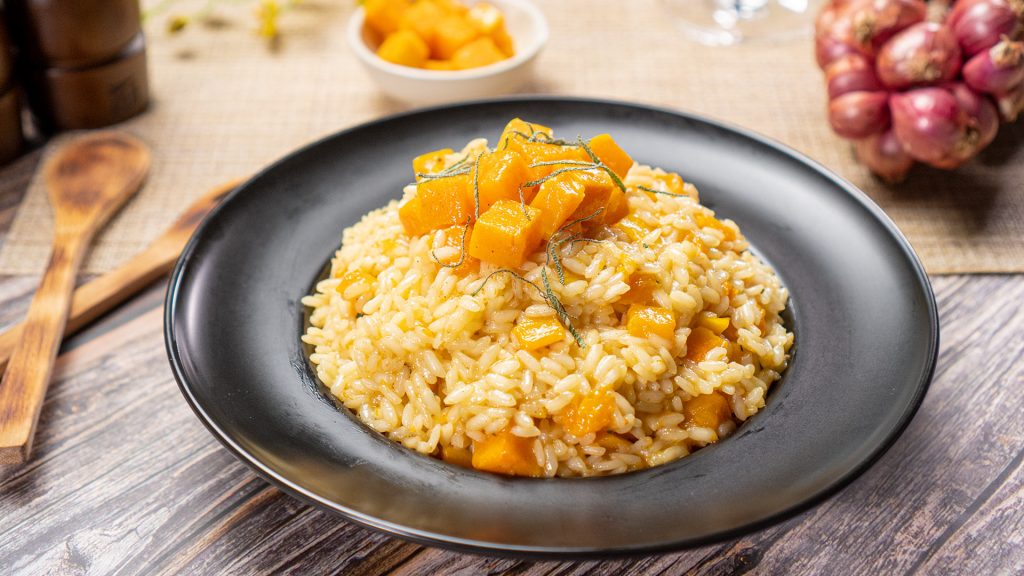 Butternut Squash Risotto with Saffron and Sage Recipe
How To Make Butternut Squash Risotto with Saffron and Sage
This butternut squash risotto is filled with sweet, soft chunks of squashed and flavored with earthy fall spices. With its creaminess, this cozy comfort meal is exactly what you want to eat this time of year.
Ingredients
For Butternut squash:
1

pc

butternut squash,

peeled

¼

cup

olive oil

fresh sage leaves

salt and ground black pepper
For Risotto:
2

tbsp

olive oil

1

tbsp

margarine,

unsalted

1

pc

shallot,

small, minced

1

pinch

saffron threads

1

cup

arborio rice

½

cup

dry white wine

6

cups

homemade chicken stock,

or 3 cups canned + 3 cups water

1

tsp

sage leaves,

finely chopped
For Garnish:
Instructions
Preheat the oven to 375 degrees F.

Slice the squash into cubes and place on a cookie sheet. Toss with a drizzle of olive oil, salt, pepper, and a few sage leaves.

Roast for 30 minutes until tender.

In a large skillet, melt margarine in olive oil over low heat.

Add shallots, and saute. Add rice, and stir until the rice grains begin to turn translucent. Crumble in saffron threads.

Increase the heat to medium-low. Pour in the wine, and stir until liquid is absorbed.

Pour 3 cups of chicken broth and stir until reduced. Pour the remaining 3 cups and stir until creamy.

Then add in a teaspoon of finely chopped fresh sage leaves and the roasted butternut squash and mix well.

Spoon into bowls and garnish with sage leaves and any extra butternut squash.
Recipe Notes
Do not rinse rice before cooking. The natural starches of the grains add richness and creaminess to the risotto. 

Stirring the rice helps to release starch which gives risotto its creamy texture.

You can add bacon or ham for some savory meaty flavor to the risotto. 

Leftovers can be stored in an airtight container in the refrigerator for up to 5 days.
Nutrition
Sugar:

1g

:

Calcium:

9mg

Calories:

411kcal

Carbohydrates:

41g

Fat:

24g

Fiber:

1g

Iron:

2mg

Monounsaturated Fat:

16g

Polyunsaturated Fat:

3g

Potassium:

65mg

Protein:

3g

Saturated Fat:

3g

Sodium:

35mg

Vitamin A:

152IU

Vitamin C:

1mg
Nutrition Disclaimer
Frequently Asked Questions
Can I use long-grain rice for the risotto?
Short-grain rice is the ideal rice used when making risotto, but you can also use long-grain rice. Just stir it constantly to release the starch into the liquid, giving it a creamy texture.
How long does a butternut squash last?
If stored well in a cool, dark area, butternut squash can last for a month or two. The ideal storage temperature for butternut squash is 50 degrees F to 55 degrees F. Some ideal places to store it will be your basement or closet. Refrigerating or freezing is also an option. If you have leftover butternut squash, place the unused cut parts in an airtight container. They should be able to last for around four days. If you choose to freeze the squash, make sure to space the cut pieces out in a baking sheet and freeze them till firm. Once completely frozen, transfer them to a freezer container with some space to allow for expansion. Frozen butternut squash will keep for about 6 months to a year.
What can I substitute for the dry white wine when making risotto?
If you don't have dry white wine, dry Vermouth or sherry are good substitutes. Otherwise, white wine vinegar will also do, but make sure to dilute it with some water before adding it to your risotto. But if you're looking for non-alcoholic replacements, try vegetable or chicken broth for a savory touch. If you're looking for some hints of acidity in your risotto, ginger ale or apple juice actually serve as excellent alternatives.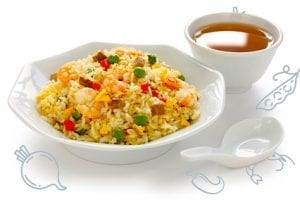 Conclusion
No need to rush to the nearest fancy restaurant to enjoy an elegant meal. Relish the deep savory flavors of this roast butternut squash risotto topped with sage and saffron. With this butternut squash risotto recipe, you'll get a delicious restaurant-quality dish at home.