Serve a plate of this luxurious rosemary ribeye steak with brown sauce and oven-roasted veggies on the side for your next date. You won't go wrong with a succulent prime cut of beef that's been well-seasoned with herbs and spices.
Not only are these rosemary steaks packed with flavor, they look very appetizing, too. From the satisfying ribeyes that have been perfectly browned, to the knob of rosemary butter on top, this entrée is a definite show stopper!
What Does This Rosemary Ribeye Steak Taste Like?
This steak recipe calls for fresh rosemary, garlic powder, salt, and pepper. This gives the ribeyes a balsamic taste that compliments the savory flavor or standard brown steak sauce. Salt adds brine to the dish and enhances the meaty flavor of the beef. It also tenderizes the ribeye steak even more, as salt is known to break down chewy lean muscles in meat. Pepper is also added for a bit of spice and nutty aroma. And lastly, the garlic powder mellows and sweetens the overall taste of this dinner for two recipe.
The ribeye recipe also incorporates dried rosemary into the seasoning of veggies and accompanying rosemary butter. A classic rosemary steak is a cult favorite among steak enthusiasts. Undoubtedly, this herb has a distinctly strong woody and piney aroma that harmonizes with the richness of the beef.
This recipe also includes a multitude of veggies to have on the side of each pan-seared ribeye steak. The variety of vegetables are doused in olive oil and seasonings before roasting in the oven for 20 minutes. This effectively brings out the flavors of each component. Alternatively, you can also try making a bowl of refreshing tomato and mozzarella salad for a chilled and crunchy veggie side.
How Long Should You Cook A Steak?
Typically, a slab of ribeye steak is cooked either on a stovetop or on a grill. Pan-seared steak recipes are usually cooked fast. The standard medium-rare doneness should only take 3 to 4 minutes on each side. However, it can be challenging to get the perfect balance between the char and the doneness of the steak. This may lead to an undercooked or overcooked steak, which isn't ideal.
For this recipe, the thick cuts of ribeye are cooked on the stovetop for 2 to 3 minutes, just until the outsides of the steak are browned. After which, each steak has to be cooked in the oven for approximately 8 minutes. This ensures that the surface of the meat has that signature color of perfectly-cooked steak, while also having an ideal internal temperature for medium doneness.
Should You Trim Fat Off Ribeye Steak?
Ribeye steak is a fattier cut of steak. It has more marbling, and as a result, it's much more succulent than other parts of the beef. This is one of the reasons why ribeye is a sought-after steak cut. It's very juicy, and the fat content further heightens the meaty flavor of the dish.
However, while it's true that fat content and marbling makes the ribeye incredibly tender, not everyone enjoys the experience of having to eat beef fat. Indeed, beef fat doesn't render or melt completely unlike other meats.
If you're cooking this rosemary steak for yourself, then you can decide whether or not to cut off the excess fat. However, if you plan on serving this dish to a special guest, it would be a good idea to trim it off. It's advised that the fat on the ribeye should be trimmed only after the cooking process. It's crucial that you keep the fat on the meat while cooking as it imparts an additional beefy flavor to the steak.
If you share our love for steak and steak sauce, you'll also love this copycat steak sauce inspired by Outback Steakhouse's signature marinate!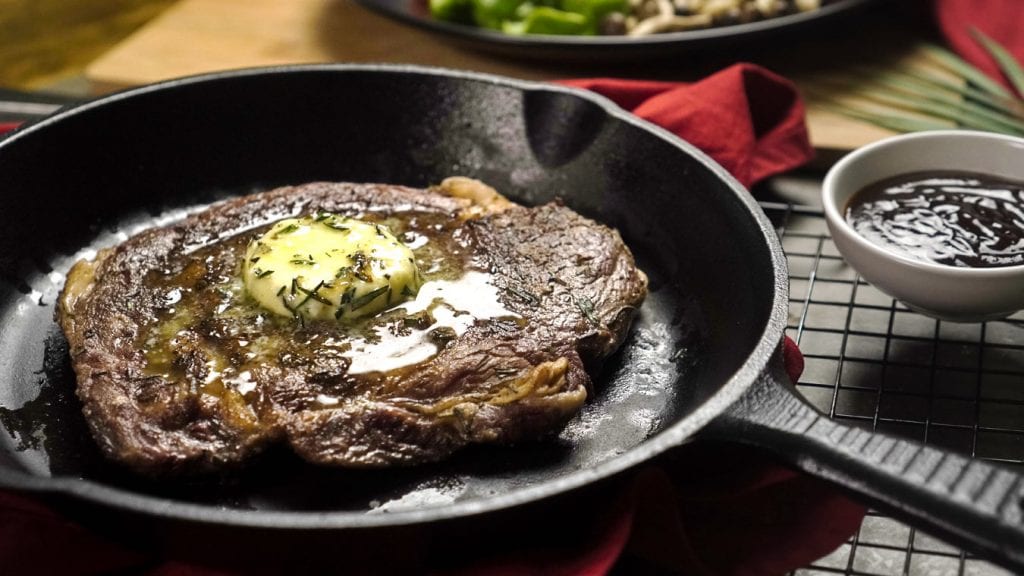 Rosemary Ribeye Steak With Roasted Veggies Recipe
How To Make Rosemary Ribeye Steak And Roasted Veggies
These perfectly seasoned rosemary ribeye steaks are pan-seared to medium-doneness and served alongside oven-roasted vegetables with herby brown sauce.
Ingredients
Steaks:
2

ribeye steaks,

9 oz each

3

tbsp

vegetable oil

¼

tsp

garlic powder

1

tbsp

salt

1

tsp

ground black pepper

2

tbsp

fresh rosemary,

chopped
Rosemary Butter:
¼

cup

unsalted butter,

at room temperature

½

tbsp

fresh rosemary,

chopped

1

pc

garlic clove,

minced

salt

ground black pepper
Fresh Vegetables:
5

oz

mushrooms,

fresh, quartered

5

oz

asparagus,

trimmed

4

oz

red onions,

quartered

4

oz

carrots,

cut into chunks

3

oz

bell pepper,

quartered

3

oz

zucchini,

cut into chunks

¼

tsp

dried rosemary

¼

tsp

dried thyme,

or marjoram

¼

tsp

dried oregano

6

tbsp

olive oil,

divided

salt

black pepper,

ground
To serve:
steak sauce

mashed potatoes

rosemary sprigs
Instructions
Prepare the rosemary butter first. Combine all ingredients in a mixing bowl. Whip with a spatula until combined.

Season to taste with salt and pepper. Adjust accordingly.

Transfer this onto a parchment paper and roll tightly (like a sausage). Tie both ends to hold its shape.

Transfer to a chilled area and allow to firm up, at least 1 hour.

Preheat your oven to 380 degrees F.

Next, combine asparagus and mushrooms in one mixing bowl, and place the rest of the vegetables in another.

Divide the herbs and oils equally in both bowls, then season both with salt and pepper. Toss to combine.

Place these onto separate baking sheets and roast in the oven until golden brown but still tender, roughly 20 minutes.

Prepare your seasoning for the steak by combining salt, pepper, garlic powder, and fresh rosemary.

Heat up a skillet with oil over high heat.

Season the steaks generously with the prepared seasoning, then sear evenly on all sides until golden brown, roughly 3 minutes per side.

Transfer these onto a baking sheet and roast in the oven, roughly 8 minutes for medium doneness.

Cool roasted vegetables and allow the steaks to rest briefly once roasted, on cooling racks.

While resting steak, slice roughly ½-inch disks of rosemary butter and remove its wrapper.

Place a disk of your rosemary butter per steak, and serve with your chosen steak sauce. You can also place a rosemary sprig per plate for decorations.
Recipe Notes
For the vegetable component of the dish, the specific kind of mushroom used in this recipe is brown beech. We also used green bell peppers.
For our take on this recipe, we used brown sauce served as a side for the steak.
Nutrition
Sugar:

13g

:

Calcium:

120mg

Calories:

1348kcal

Carbohydrates:

27g

Cholesterol:

199mg

Fat:

118g

Fiber:

8g

Iron:

8mg

Potassium:

1563mg

Protein:

52g

Saturated Fat:

51g

Sodium:

4052mg

Trans Fat:

1g

Vitamin A:

12333IU

Vitamin C:

78mg
Nutrition Disclaimer
Commonly Asked Questions
Is ribeye steak a good cut of meat?
Yes. As a matter of fact, ribeye is arguably the most in-demand cut of steak for several reasons. One is its fat content. Compared to other cuts of steak, the ribeye has a lot of marbling. This makes for a tender and flavorful piece of beef. You'll also get a better value since ribeye is a relatively larger cut as opposed to other soft steak cuts like filet mignon.
What wine pairs well with ribeye steak?
Since ribeye steak has a lot of fat and in turn is packed with flavors, we recommend having it with wine that tastes just as robust. For a classic pairing, have your steak with a bottle of Cabernet Sauvignon. It's a full-bodied red wine, so it should be able to live up to the ribeye.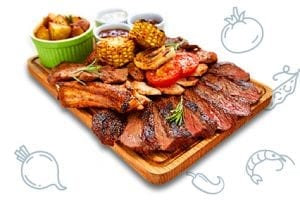 Conclusion
This rosemary ribeye steak recipe is the perfect fancy recipe to have in your pocket for homemade date plans. It's delicious, filling, and extremely mouth-watering. Without a doubt, you'll have a satisfying meal to have for yourself or with other people. Pair with a full-bodied red wine for an elevated dining experience.