The beautiful red-tinted color of the cake and the thick cream cheese frosting are the iconic features that give this cake it's wonderful appearance, flavor and depth. Our classic red velvet cake recipe is a wonderful dessert choice to bake and enjoy with your family and friends. It's a cake dessert that's visually stunning and heavenly to eat.
We made sure that our this cake recipe is easy to follow with ingredients that you can find at your local supermarket. It has a simple preparation and baking process that's quick and uncomplicated, ideal for first-time bakers planning on a birthday or Valentine's day surprise!  In this recipe, we provide some insightful tips for you to create that scrumptious homemade red velvet cake that's bursting with fluff and creamy goodness.
Pair this red velvet cake with other pastry desserts like a Fresh Strawberry Cheesecake, or with a simple and delicious drink like hot chocolate.
Red Velvet Cake vs Chocolate Cake: What's the Difference?
The red velvet cake is really different from a chocolate cake. Also, some have thought that it is just a red-tinted vanilla cake. However, there's more than just its luscious-red color that makes this cake recipe an icon on its own. What makes it different from other sponge cakes is the use of additional ingredients like vinegar and, in our recipe, Greek yoghurt to give it an extra rich and flavorful taste, yet not overly sweet. 
In this recipe, you also can't forget about the red food coloring which gives it that iconic red color. It's an essential ingredient that separates this cake from the rest. 

Tip: When choosing a red food coloring, it's best to use a gel food coloring so the color would be distinct and concentrated. If you prefer a more natural coloring, then you can use beet powder to achieve the same red color.
Our recipe also includes adding butter and oil. This is to give the cake it's delicious buttery flavoring, and moisture to the overall cake texture. Lastly, in every red velvet cake, you have the tasty and delectable cream cheese filling that you can add between your cake and as a topping. We discuss the taste of red velvet cakes in the following segment. Keep reading to know more. 

Tip: If you want to decorate the cake with the cream cheese frosting, chill the mixture first inside the fridge for 20 minutes. This is to guarantee that the creamy frosting won't be runny, and will be hard enough to last.
What Does Red Velvet Cake Taste Like?
Aside from the distinct red color of the cake, its flavors are also worth mentioning. It has a rich taste consisting of a buttery and underlying chocolaty taste combined with some tanginess. You'll have to experience this flavorful combination for yourself with our easy-to-follow baking process. This flavor comes from the added vinegar and Greek yoghurt. We used the yoghurt as a substitute for buttermilk to give it that malty, chocolaty, and tangy taste. 
The flavors of our red velvet cake recipe combine both sweetness and sourness. Each ingredient used perfectly balances each other. For instance, vinegar is added to the cake mix of red velvet cakes to ensure that the baking soda rises the cake properly. We then used yoghurt to balance the acidity from the vinegar.
The yoghurt, when slathered onto the cake, helps with neutralizing this acidic aspect when eating. Thus, when you're taking a bite into this delicious cake, you'll appreciate how these additional ingredients, blended together with the cocoa powder and cake flour, creates the ultimate soft and fluffy velvet cake texture.
Lastly, the cream cheese frosting and filling will help balance the sweetness that is present in cakes that tend to be very sugary and sweet. Combine this with the vinegar and yoghurt, and you get your red velvet cake that's bursting with delicious goodness.
Red Velvet Cake Recipe Video
How To Make Red Velvet Cake
An incredible dessert that anyone could enjoy! A simple red velvet cake recipe, but certainly nothing beats the classic. A wonderfully rich and moist cake with decadent cream cheese frosting that you can't get enough.
Ingredients
Cake
1⅓

cup

cake flour

1

tbsp

cocoa powder

½

tsp

baking soda

¼

tsp

salt

¼

cup

unsalted butter,

at room temperature

1

cup

granulted sugar

1

egg,

at room tempterature

½

cup

vegetable oil

½

tsp

white vinegar

1

tsp

vanilla extract

½

cup

Greek style yoguhrt,

plain, at room temperature

2

tbsp

red food coloring
Frosting
7

oz

cream cheese,

softened

1

tsp

vanilla extract

1½

cups

powdered sugar,

add more as needed

¼

cup

unsalted butter,

at room temperature
Instructions
Preheat oven to 350 degrees F.

Sift together flour, cocoa powder, baking soda, and salt. Set aside.

In a large mixing bowl, combine together butter and sugar. Cream until butter turns pale and double in volume, and sugar has dissolved, roughly 8 minutes.

Add the oil, vanilla extract, vinegar, yoghurt, food coloring, and egg. Continue creaming.

Fold the sifted flour mixture into the wet mixture until evenly incorporated.

Grease an 8-inch round pan and pour batter into the prepared pan.

Transfer to the oven and bake for roughly 20 minutes, or until a cake tester comes out clean.

Remove from the oven, and leave to cool completely on wire racks.

Prepare the frosting combine all your ingredients in a large mixing bowl.

Beat until all are incorporated, and turns pale, light, and fluffy, roughly 6 to 8 minutes. Set aside.

Beat until it's well combined, roughly 8 minutes.

To assemble this cake, transfer the cooled cake onto your working area. Set aside any cake crumbs. Slice the cake in half.

With the bottom of the cake half facing you, spread 1 cup of the frosting evenly.

Stack top half of cake on the slathered bottom half. Press down lightly to adhere.

Spread the sides and top of the cake with the remaining frosting.

Sprinkle the top with the cake crumbs. Keep chilled until ready to serve.

Portion accordingly and serve.
Recipe Notes
When beating the mixture for the icing, make sure that it's not too runny. It should be pale, light, and fluffy. Adjust with more powdered sugar if needed.
Nutrition
Calcium:

83mg

Calories:

1034kcal

Carbohydrates:

130g

Cholesterol:

75mg

Fat:

56g

Fiber:

2g

Iron:

1mg

Potassium:

165mg

Protein:

9g

Saturated Fat:

31g

Sodium:

432mg

Sugar:

99g

Vitamin A:

997IU
Nutrition Disclaimer
Commonly Asked Questions
How do you store a red velvet cake?
It's best to store it in the refrigerator. If we're talking about leftover red velvet slices, then make sure to store inside an airtight container before placing inside the fridge. This helps to keep the cake good and fresh for up to 3 days. Alternatively, you may store the red velvet cake in the freezer for a longer shelf-life of up to 3 months. When you're ready to consume again, remember to thaw it first overnight to bring it to room temperature.

Can I make red velvet cake in advance?
Yes, you can. If you're planning to serve it ahead of time, then you have to bake the cake and store it in the freezer. However, note that the cream cheese frosting lasts only 3 days in the fridge. Before serving and slicing, make sure that it's in room temperature for at least 25 minutes.

Why does my red velvet cake turn out brown?
Sometimes this can happen and it's nothing to worry about. The reason it turns brownish is because of the chemical reactions from combining vinegar, cocoa powder and baking soda. However, this can be easily avoided by adding enough food coloring, and is properly blended into the mixture. Add about 2 more drops of red food coloring if needed.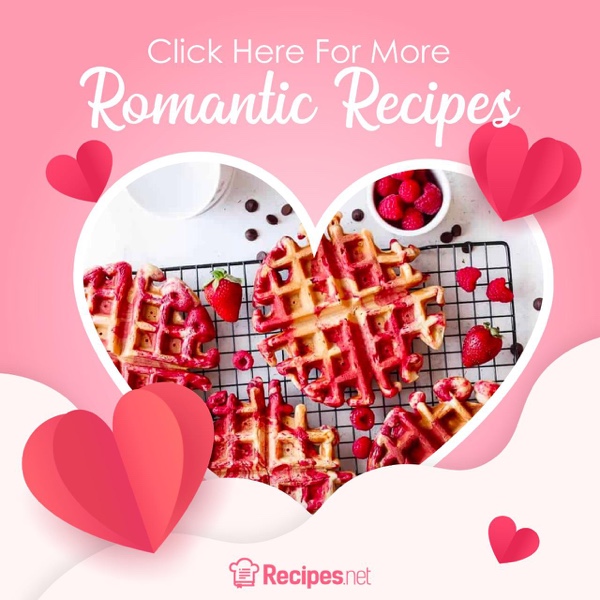 Conclusion
You can never go wrong with a red velvet cake recipe that is unique and delicious on its own. With our simple red velvet cake recipe, baking desserts will be a delicious part of your day. It's sugary cream cheese frosting with the delicious and tangy red velvet flavoring will make anyone's mouth water with its sweet and malty taste. Grab your aprons and let's get baking!
Topics: