Bring the hearty flavors of the Panera french onion soup to your dinner table. This french onion soup recipe calls for a combination of caramelized yellow onions, beef stock, and red wine, with added croutons and melted cheese. It's simply perfect as an appetizer or a light entrée. 
This french onion soup recipe is easy enough to follow and it's a great dish for when you're having guests over or for your romantic dinner for two. Another cheesy vegetable soup you should try on the Panera menu would be their broccoli cheese soup. 
What's in Our Panera French Onion Soup?
For our version of this beloved Panera French onion soup, you will be greeted with melted Swiss cheese nestled on top of the soup. You can use Emmental or Gruyere cheese, but we went with Gruyere for its slightly sweet, salty, and nutty flavors that add to the savory taste and soft and creamy texture of our dish.
We'll be dousing the sweet onions in red wine before adding the beef broth and cognac to make our meaty broth. Lastly, we're mixing in freshly toasted croutons topped with melted cheese stirred into our broth to make our bistro french onion soup extra thick and creamy.
Tips on Making Panera French Onion Soup
This homemade onion soup is already easy to make, but here are a couple of cooking tips to make it even easier and for you to make the best version of this Panera favorite at home.
Don't cut your onions too thin

because we don't want them to melt away in the soup.

Saute the onions until they are

soft with a deep sweet flavor and a rich golden brown color

. This is how we can tell that it has deeply caramelized, just how we want it for our onion soup.

Don't add too many herbs into your soup

. We're only adding thyme to our broth to keep it simple, flavorful, and aromatic. You can also add in some bay leaves if you like. But be careful in mixing in other herbs because they can be overpowering and can mess up the overall taste of the dish.
If you want them ready for serving, you can ladle your onion soup in soup crocks or oven-proof soup bowls, top them with cheese-topped baguette slices, and broil them in the oven for 3 to 4 minutes or until the cheese has melted.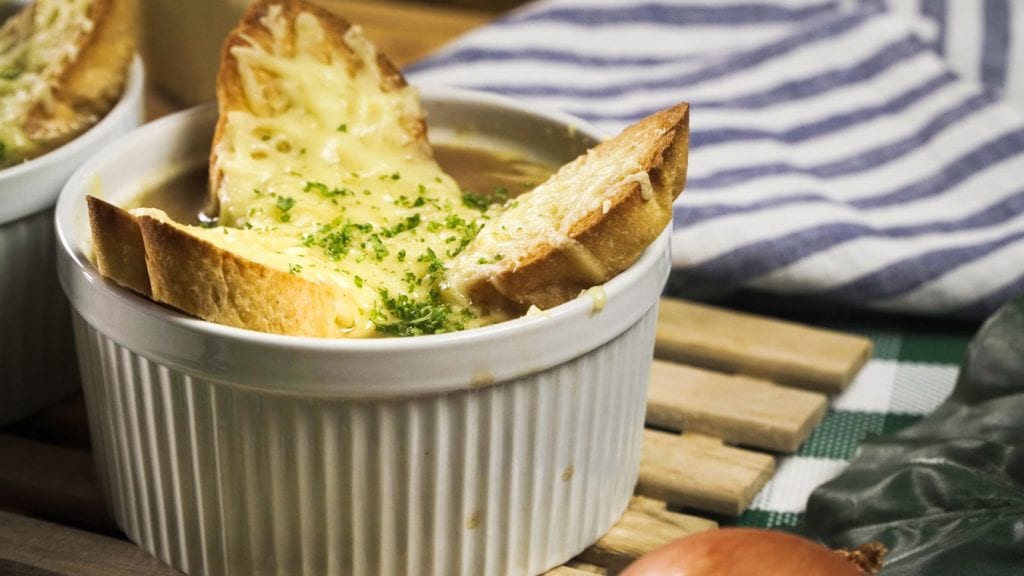 Panera French Onion Soup Recipe (Copycat)
How To Make Panera French Onion Soup (Copycat)
Savor the meaty broth of this Panera french onion soup made with caramelized yellow onions cooked in red wine, beef stock, and cognac. Love it even more with crunchy baguette croutons topped with melted cheese stirred in this flavor packed soup.
Ingredients
For Onion Soup:
16

oz

yellow onions,

thinly-sliced

¼

tsp

dried thyme

¼

tsp

salt

5

cups

beef broth

3

tbsp

olive oil

1

tbsp

all-purpose flour

1

cup

red wine

3

tbsp

brandy,

or Cognac

salt

black pepper,

ground

8

oz

Gruyere cheese,

or Emmental, grated and divided
For Croutons:
1

baguette,

preferably stale, ends trimmed

½

cup

olive oil

salt

black pepper,

ground
Instructions
Onion Soup:
Preheat the oven to 400 degrees F.

Heat up oil in a soup pot or Dutch oven over medium-low heat.

Add onions, thyme, and salt.

Sauté until deeply caramelized, for roughly 20 minutes.

Stir frequently to avoid burning, while adjusting to low heat as needed, until onions form caramelized bits, or fond, at the bottom of the pot or skillet.

Add spoonfuls of the beef broth, up to 1 cup.

Allow the liquid to evaporate before adding broth again as needed.

Once your onions turn jammy and caramelized, stir in the flour and roast briefly.

Deglaze with red wine and reduce briefly.

Add beef broth and simmer until soup has slightly reduced (no more than 1/2 of its original amount), roughly 15 minutes.

Add brandy or cognac to the soup and stir to combine.

Season the soup with salt and pepper. Adjust accordingly and set aside in a warm area.
Croutons:
Brush baguette slices with olive oil on all sides. Season with salt and pepper.

Transfer to the oven and toast until crispy and golden, for roughly 5 to 8 minutes.

Increase oven heat to its maximum setting. Sprinkle half of the cheese onto the toasted baguette slices, then return to the oven and broil until the cheese has melted.
To Serve:
Ladle the onion soup until 2/3's full, then add 3 to 5 baguette slices.

Cover with roughly 4 ounces of cheese.

Using a kitchen torch, heat the cheese until melted and slightly caramelized on the edges.

Garnish with parsley and serve immediately.
Recipe Notes
Broth is slowly added to the onions to release some of the fonds and also aid further in the caramelization process of the onions.
Nutrition
Sugar:

12g

:

Calcium:

1346mg

Calories:

1771kcal

Carbohydrates:

90g

Cholesterol:

125mg

Fat:

118g

Fiber:

7g

Iron:

7mg

Potassium:

1043mg

Protein:

55g

Saturated Fat:

34g

Sodium:

3686mg

Vitamin A:

1087IU

Vitamin C:

17mg
Nutrition Disclaimer
Commonly Asked Questions
Can I make this onion soup in advance?
Yes. Making this onion soup around 2 to 3 days in advance can even magnify its flavors. However, remember not to incorporate the croutons and cheese at this point, or else the bread will get soggy and the cheese will be unappetizing. Store your broth mixture in an airtight container and place it in the refrigerator. To serve, reheat the soup then add the croutons and cheese on top.

What cheese is melted on french onion soup?
We used Emmental or Gruyere cheese for this recipe for its nutty and earthy flavor. But you can use any cheese that melts well like provolone, fontina, mozzarella, or Monterey Jack. You can also use a mix of your preferred cheeses. Just note that fresh mozzarella wouldn't work for this recipe because it ends up runny or watery when melted.
What goes with Panera french onion soup?
Having a lush serving of perfect filet mignon with merlot sauce or lemon herb baked salmon works really well as a main dish to match the luxurious theme of your lunch or dinner. This soup is best to pair with dishes with a mellow sour or bitter taste because it's already very rich and bold flavors. For dessert, our recipe for moist chocolate valentine cupcakes with dark chocolate ganache filling will do great with this recipe.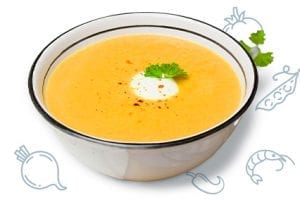 Conclusion
Have a bowl of this Panera french onion soup for a luxurious lunch or dinner with guests. It's rich, savory, and the best part is it's homemade! Taste the flavors of your favorite Panera soup bowl from your own kitchen.
Topics: