Cooking up a slab of meat may be intimidating to some, but it doesn't have to be. This simple beef eye of round recipe uses classic pan-searing techniques to create perfect juicy meat with a crisp outer crust. Eye of round steak comes from the rear end of the cow. 
It is often over-looked by beef or steak enthusiasts, however it is an incredibly tasty piece of meat. Additionally, it is one of the leanest cuts of beef. Meaning that if you're looking to stick to a stricter diet, you can still enjoy this cut of meat.
In this eye of round steak recipe, we stuck to the basics, using butter and a couple of spices and herbs to give you a hearty yet simple meal. If you're new to cooking steak, this is a good recipe to start with.

Tip: As a rule of thumb, for a 1.5 inch steak you can refer to the following times depending on your preference:Rare: 4½ Minutes in total (2¼ minutes on each side)
Medium-rare: 6½ Minutes in total (3¼ minutes on each side)
Medium: 9 Minutes in total (4½ minutes on each side)
How To Make Round Eye Steak
This simple beef eye of round recipe uses classic pan-searing techniques to create perfect juicy meat with a crisp outer crust.
Ingredients
2

tablespoon

unsalted butter

2

garlic cloves

whole

3

rosemary sprigs

2

eye of round steaks

Salt and pepper to taste
Instructions
Prepare all the necessary ingredients to create this succulent round eye steak.

In a heated skillet, drop in a tablespoon of butter. Making sure not to burn the butter.

Season with salt and pepper and sear the eye of round steaks in your skillet. Moving the steaks unnecessarily will make it tough and rubbery.

Sear the edges of your steak until a crisp, golden brown outer layer forms.

Now, drop in another tablespoon of butter to your skillet.

Throw in a few sprigs of fresh rosemary and 2 cloves of crushed garlic. The rosemary-garlic infused butter will add a great depth of flavor to your steak. Remove the steak from the skillet and set aside.

Make a simple gravy from pan drippings with this simple recipe. In the same skillet add ½ a cup of beef broth, a teaspoon each of onion powder and paprika. Add a few tablespoons of balsamic vinegar, cook for 2-3 minutes or until it comes to a boil. Turn the heat to medium-high and mix ½ a teaspoon of cornstarch (or 1 tablespoon of flour) to your gravy and bring to a boil.

Drizzle over your seared medium-rare eye of round steak and Dig in! This decadent slice of heaven is sure to leave you craving for more.
Recipe Notes
If you can't find the cut of meat needed for this recipe, you can always switch it up with a ribeye or a filet mignon, if you feel like treating yourself.
Nutrition Facts
Calories:
200
kcal
|
Carbohydrates:
1
g
|
Protein:
1
g
|
Fat:
11
g
|
Saturated Fat:
7
g
|
Cholesterol:
30
mg
|
Sodium:
2
mg
|
Sugar:
1
g
|
Vitamin A:
350
IU
|
Vitamin C:
1
mg
|
Calcium:
5
mg
Commonly Asked Questions
What is Eye of Round steak?
An eye of round steak is a small, boneless steak from the "round" section or the rear leg of the cow. As one of the most economical cuts of beef, it's leaner and healthier.
Is the round eye steak healthy?
The eye of round steak is one of the leanest cuts of beef meat. When cooked properly, it's a delicious beef steak that is low in fat and calories. Pair it with some greens and you'll have is a balanced meal.
How do I cook my steak to have nice crust?
The best way to achieve the perfect crisp crust on steak is to pat it dry with a paper towel. Repeat this process a couple of times until the paper towel is almost sticking to the meat. Season with salt on both sides of your steak and sear in a hot skillet.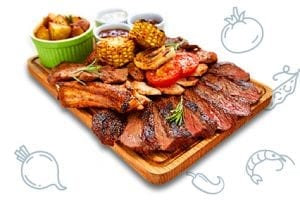 Conclusion
This simple recipe has incorporated techniques applicable to a number of other cuts of beef. It's perfect starting point to learn pan-searing techniques to achieve moist steak with a nice crust to boot.
Additionally, since eye of round steak is often ignored by beef lovers, you can get a decent portion for cheap. Eye of round also makes a fantastic roast, so stock up and try your hand at a variety of recipes.