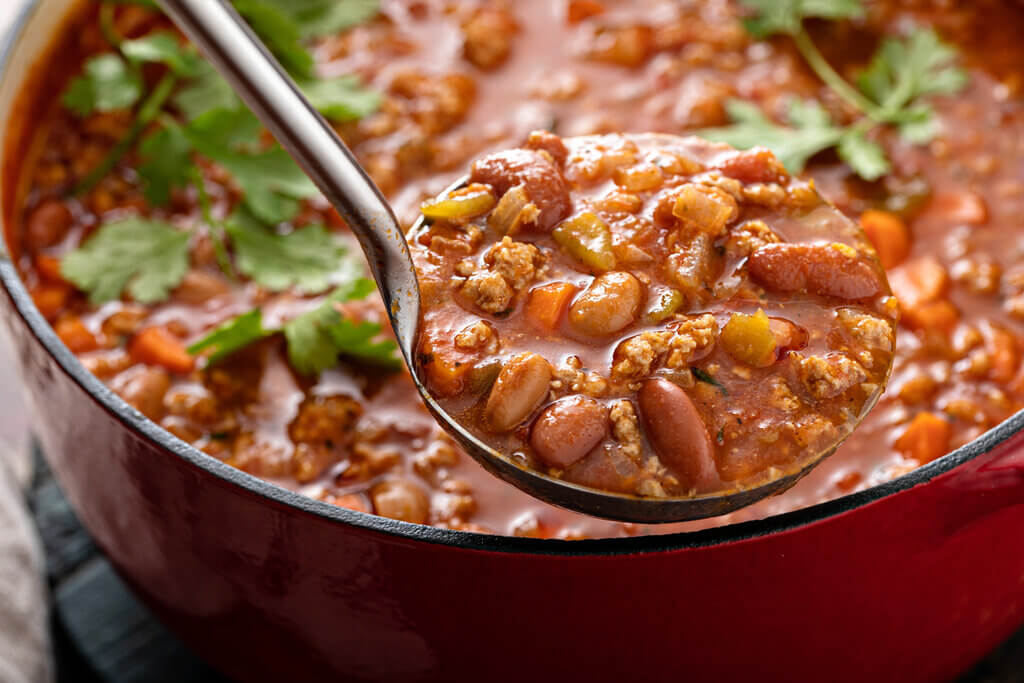 Dutch Oven Chili Recipe
Making homemade chili is one of the best spicy, seasoned dishes I enjoy eating with family and friends. I usually cook my stovetop chili or chili con carne using a regular pot, but recently, I've been experimenting with a Dutch oven. And, let me tell you, it's amazing for making homemade chili. It's a heavy duty pot that is great at braising meats on high heat, and slow cooking food. Since it has thick walls, the heat is evenly distributed which was perfect for my Dutch oven chili recipe. This spicy, savory dish is loaded with seasoned ground beef, beans, bell peppers, and onions that are just so delicious to eat.
It's so easy to make this award-winning (if I do say so myself) chili recipe of mine. Start by getting your own Dutch oven. You won't regret buying one since it's kind of like a multi cooker on its own where you can easily slow cook, roast, boil, and fry food. They're also perfect for camping, especially if you buy those pre-seasoned cast iron coated ones. Dutch oven cooking with charcoal briquettes is a classic cooking method for this all-around pot, and with its tight-fitting lid, it can also be used as a pan since it's made out of the same material. It's a really durable and versatile pot, so you can make some of the best Dutch oven recipes like this chili dish!
I used a 6-quart cast iron Dutch oven, but you can also choose the enamel coated one. With my cast iron pot, I cooked the lean ground beef first until it's brown and then mixed in the vegetables until it's soft. For the meat, you can switch it up with ground turkey, ground pork, or even sliced sausages so it's extra tasty. Adding in other vegetables as well like corn, carrots, or zucchini slices can make the dish stand out even more. That's why I love making this dish because I can customize it a lot of times and it's still delicious and hearty.
After combining the meat and veggies, I mixed in the powdered spices and garlic, and then added in the beans and tomatoes. If you don't have garbanzo beans, then feel free to use any kinds of beans such as cannellini beans, pinto beans, black, white, or red kidney beans. Mix everything together and let the spices blend with the veggies, beans, and meat. Afterwards, I let it simmer and slow-cooked it for about an hour until the broth was thick. I transferred it to a large bowl and seasoned it with sea salt and the chopped cilantro.
Feel free to add in other toppings as well. I personally love adding sour cream and shredded cheeses into my Dutch oven chili. Sometimes, I would even pair this chili with baked potatoes for a much more filling dish. Additionally, if you want a spicier chili dish, then slice up some jalapenos or use chili flakes. There are a lot of ways you can make this dish a lot tastier, and the inclusion of flavorful toppings is one of my favorite ways to make it the best chili recipe ever.
How To Make Dutch Oven Chili
Spice up your weeknights with this Dutch oven chili recipe made with ground beef, beans, tomatoes, and flavorful spices that are cooked slowly until chili is thick.
Cooking:
1 hour 10 minutes
Ingredients
2 tbsp extra-virgin olive oil

1 lb

lean ground beef

, grass-fed

2 large green bell peppers, stemmed, seeded, and finely chopped

1 large yellow onion,

finely chopped

3 tbsp chili powder

2 garlic cloves, finely chopped

, or 2 tsp

garlic powder

1 tbsp paprika

2 tsp ground cumin

2 tsp oregano, dried

2 tsp thyme, dried

1 tsp ground mustard

½ tsp chipotle chile powder

28 oz tomatoes, (1 can), crushed or diced

15 oz garbanzo beans, (1 can)

,

rinsed and drained

4 cups water, filtered

2 tsp sea salt

1 cup cilantro leaves, loosely packed, roughly chopped
Optional Toppings:
Sour cream

Hot sauce,

Ancho chile

, or chili flakes

Jarred jalapenos

Shredded cheese

Green onions, chopped

Chives
Instructions
Heat olive oil in a 6-quart Dutch oven over medium-high heat until shimmering for about 1 minute. Add beef and allow to sear and brown until mostly cooked for about 3 minutes.

Stir in bell peppers and onion. Cook until vegetables are soft for about 4 to 5 minutes. Stir in chili powder, garlic, paprika, cumin, oregano, thyme, mustard powder, and chipotle powder.

Pour in

can of

diced tomatoes

,

garbanzo beans, and water and bring to a simmer.

Cover the pot and reduce heat to medium. Cook slowly until chili has reduced and thickened for about 1 hour.

Season with sea salt and stir in cilantro.

Serve with toppings of your choice, and enjoy!
Nutrition
Calories: 

850.70kcal

Fat: 

38.02g

Saturated Fat: 

10.52g

Trans Fat: 

1.34g

Monounsaturated Fat: 

17.00g

Polyunsaturated Fat: 

5.16g

Carbohydrates: 

87.71g

Fiber: 

20.76g

Sugar: 

20.91g

Protein: 

45.75g

Cholesterol: 

80.51mg

Sodium: 

1251.48mg

Calcium: 

176.35mg

Potassium: 

1958.71mg

Iron: 

10.27mg

Vitamin A: 

257.23µg

Vitamin C: 

102.52mg