Snow crabs are known to be the smaller counterpart of the king crab. However, even though snow crabs are relatively smaller, they boast of unique flavors that will definitely leave you asking for more.
For those who are not yet familiar with snow crabs, these crustaceans were called as such because their meat turns white when cooked. Their taste is also a mix of sweet and salty. In this recipe, we'll guide you through the process of recreating Red Lobster's snow crab recipe.
Make any dinner fancy with this snow crab recipe inspired by Red Lobster. It's flavorful, savory, and definitely filling!
How To Make Copycat Red Lobster Snow Crab Legs
Ingredients
2

lb.

Snow Crab Legs

frozen and rinsed
Instructions
In a large stockpot, bring 3-4 cups of water to a boil.

Place the snow crab legs in a strainer or vegetable steamer small enough to fit inside the stockpot.

Settle the strainer or steamer in the stockpot, making sure it isn't touching the water.

Cover stockpot and steam crab legs for about 5 minutes, or until heated through.
Nutrition Facts
Calories:
127
kcal
|
Protein:
28
g
|
Fat:
1
g
|
Saturated Fat:
1
g
|
Cholesterol:
64
mg
|
Sodium:
1264
mg
|
Potassium:
308
mg
|
Vitamin A:
36
IU
|
Vitamin C:
11
mg
|
Calcium:
70
mg
|
Iron:
1
mg
Ingredients You Need
Commonly Asked Questions
What's the Difference Between King Crabs and Snow Crabs?
Snow crabs are relatively smaller than the king crabs. The former also has textured meat that is why it is easy to rip with fingers. Also, compared to the king crab, the shell of the snow crab is softer. You can even crack it using your hands.
Which Crab is Cheaper?
King Crabs are more expensive than snow crabs because it is rarer. The king crab's harvesting season is short which makes them rarer, hence the higher price value.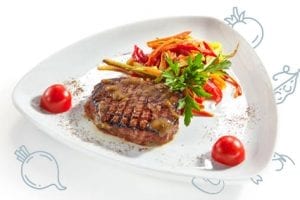 Conclusion
Eating crabs is a filling gastronomic experience. Follow this recipe to have a taste of this Red Lobster-inspired dish. We know you're going to love it!