For your date night, we're taking you straight to the City of Love! Transport your taste buds to Paris with our own take on the classic French favorite, Steak au Poivre. Indulge in a juicy peppercorn-crusted filet mignon that's seared to perfection and slathered with a liquor-infused cream sauce.  
This dish is perfect for a cozy candle-lit dinner for two. We promise that nothing will impress your date better than a perfectly seasoned prime cut of steak. Our easy Steak au Poivre recipe boasts an effortless marriage of flavors. 
You can whip up this show-stopping entrée in a few simple steps. But first, you've got to make sure you only get the best ingredients.
Choosing The Best Ingredients For Steak Au Poivre
It's always a good rule of thumb to use the best ingredients for the main components of your dish if you want to level up your food. Steak au Poivre is French for "pepper steak," so it's best not to skimp on both the pepper and the steak cut.
Tender Steak Cuts Like Filet Mignon Work Best
Steak is the star of this entrée. The cut of meat used for traditional Steak au Poivre is filet mignon. Found on one small end of the beef tenderloin, filet mignon has little connective tissues which makes it more tender than the rest of the beef. This makes filet mignon one of the most sought-after cuts of steak. It makes up only about 8% of the whole cow, too. These two factors make filet mignon a bit more expensive than your ordinary steak. But hey, it doesn't hurt to splurge and treat yourself a little, especially during special occasions like Valentine's Day! 
Compared to other cuts of steak, filet mignon has less marbling. Marbling is the ratio between fat and muscle content in the meat. The amount of marbling on the steak usually corresponds to how tender it will be. Despite this apparent lack of fat, filet mignon has the ability to stay incredibly tender if cooked the right way. Moreover, this unique structure of filet mignon allows it to hold heavy sauces and seasonings. 
Filet mignon also tastes milder than other cuts, making it the perfect canvas for the black peppercorn rub that Steak au Poivre calls for. A good amount of seasoning from the salt and pepper should transform this delicate steak into one that's bursting with meaty flavor and pairs well with our rich au Poivre sauce.
If you can't get your hands on filet mignon, then beef tenderloin is your second best bet. This is also the best option if you're looking for a slightly cheaper alternative. Tenderloin has the same disc-like shape as filet mignon as they come from the same location. The beef tenderloin should also be somewhat similar in terms of taste and texture to filet mignon.
Selecting The Best Peppercorn Variety Is Crucial
The second most crucial component of any pepper steak recipe is peppercorn for the steak's crust. Some people like to make Steak au Poivre with either green or black peppercorn, or a mix of both. For our Steak au Poivre recipe, we recommend using black peppercorn as it has a greater amount of spice and aroma compared to its other variants. 
To maximize the black peppercorn's bite, it's best to purchase whole peppercorns instead of ground and/or pre-crushed ones. Cracking the peppercorns just before using them to coat the steak ensures that your Steak au Poivre gets the full nutty and spicy black peppercorn flavor. It's also important to have the maximum taste from the peppercorns so as to impart flavor to the basting butter and oil. Moreover, you'll also be adding some of them later to the cream sauce to further enhance its flavor. 
Add Cognac To Cream Sauce For Greater Flavor
Besides the two main ingredients, we also can't forget about the sauce. For the au Poivre sauce, it's traditional to infuse the cream sauce with cognac. This French liquor is used for a lot of rich dishes, and it's a staple to the cream sauce of this French recipe. The fruity and spicy notes of cognac should give the Steak au Poivre sauce an extra depth of flavor.
Cognac is also a worthy pairing to your succulent filet mignon as they are both luxurious ingredients, perfect for making just anybody feel like a hundred bucks. If you're on a limited budget, brandy is also a good alternative.
Our Steak au Poivre recipe also calls for a bit of Dijon mustard for the cream sauce. Although this isn't traditional, rich Dijon mustard will marry well with the au Poivre sauce by adding the necessary amount of tanginess to the dish.  
The Basics Of Making Steak Au Poivre
After you've gathered all the ingredients for Steak au Poivre, the next step is to prep them before cooking. Preparing the ingredients is a vital step for this pepper steak recipe because you have to be quick when cooking an ingredient as delicate as steak. With your ingredients prepped and ready, you wouldn't risk burning your steak while fumbling for them.
Preparing Your Steak before Cooking
As mentioned earlier, steak is a delicate ingredient, in particular, the prized filet mignon. Because filet mignon has a lower fat content, it can be pretty easy to overcook. This will make the meat tough. You wouldn't want to waste a high-quality ingredient with this mistake.
The first step of making sure that this doesn't happen is by preparing your steak ahead of time. It's usually best to allow your filet mignon or tenderloin to rest on your countertop for at least 30 minutes before cooking. Cooking room temperature steak will give you the beautiful brown crust and juicy insides you're looking for. 

Tip:
Always let your steak reach room temperature before cooking it so it can cook more evenly.
To season your steak, you should generously salt both sides of your steak making sure that both sides of the steak are completely coated. It may look like a lot, but as filet mignon tastes less pronounced than other steak cuts, it would be just the right amount of seasoning. 

Tip: Crush your peppercorns for maximum flavor and texture!
Afterward, you have to crack your black peppercorns into coarse pieces. You don't have to pulverize the peppers. Coarsely crushed peppercorns make for a crunchier crust on the pepper steak. As with the salt, you also have to liberally coat your steak with the peppercorns for that maximum kick of spice. 
How To Cook The Best Steak Au Poivre and Cream Sauce
Make sure to follow the tips below for the best Steak au Poivre!
Cook Steak au Poivre in a single skillet. While a frying pan should also be able to do the job, we recommend using a cast-iron skillet for this recipe. A cast-iron skillet gets hotter and cooks more evenly. This makes for a browner, more satisfying sear on the steak. 
Ensure the perfect level of doneness by using the right thickness. A cut that's either too thick or too thin might leave you with an undercooked or overcooked steak. We don't want that to happen, so we recommend getting a 1.5-inch thick filet mignon. For a filet mignon this thick, when cooked at 3½ minutes on both sides, you will get the perfect medium-rare doneness. 
Cook down the alcohol in the cream sauce. When making the dijon cream sauce, you'll need to reduce your cognac or brandy by half by cooking it down. This step lessens the alcohol content of the liquor while keeping and enhancing its unique flavors. If you're feeling quite confident, you can put on a show by doing a flambé instead. Flambé is French for "flamed," a trick where you have to set the liquor on fire to burn the alcohol. If you want to know more, check out the recipe notes below. Just remember to always practice caution.
What Sides To Serve With Steak Au Poivre
Don't waste your pepper steak's potential by serving it with bland food. Your juicy, melt-in-your-mouth filet mignon deserves to be served alongside dishes that are equally as delectable. 
Steak au Poivre is traditionally served with a side of vegetables. For special occasions, you'd want to serve something a bit more elevated that complements the pepper steak. Instead of the usual french fries or potato gratins, serve your pepper steak with a side of tasty roasted marble potatoes with rosemary. These potatoes should have just the perfect amount of crispiness to compliment the creaminess of the au Poivre sauce. 
You can also add a pop of color to your dish with some healthy greens like roasted asparagus. A side of asparagus should give a refreshing break from all the richness of the Steak au Poivre. The best part is, it's easy to make. So you don't have to stress over messing up your side dishes.
For dessert, continue to impress your guest with an easy but classy dessert. Serve an indulgent chocolate ricotta mousse in some dainty glasses for some extra flair. Who would say no to a chocolatey fluff? This is the best way to end the meal.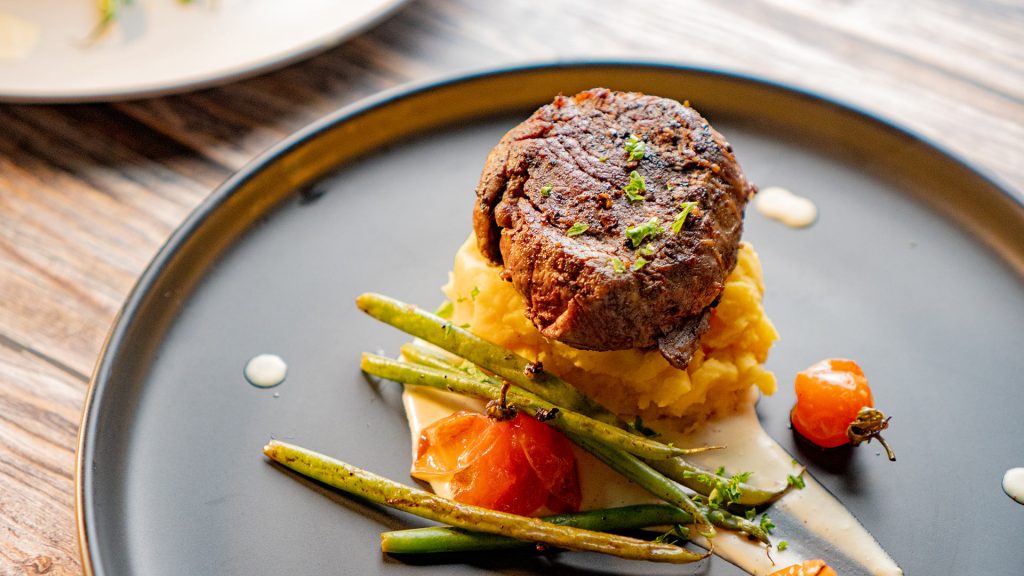 Steak Au Poivre Recipe
How To Make Steak Au Poivre
Make juicy peppercorn-crusted steak topped with a liquor-infused dijon cream sauce using our Steak au Poivre recipe!
Resting Time:
1

hr
5

mins
Ingredients
9

pcs

filet mignon,

or tenderloin, 1.5-inch thick each (6-8 oz)

2

tbsp

kosher salt

5

tbsp

whole black peppercorns,

crushed

2

tbsp

unsalted butter,

divided

1

tsp

olive oil

⅓

cup

cognac,

or brandy

1

cup

heavy cream

1

tbsp

dijon mustard
Instructions
Preheat the oven to 375 degrees F.

Leave steaks to rest at room temperature for 30 minutes to 1 hour. Pat dry with a paper towel and generously season both sides of each steak with kosher salt.

Coat each fillet with your crushed peppercorns.

Over high heat, add the olive oil and butter to your skillet. Once the pan starts to smoke, sear each side of your steak.

Transfer steaks on a baking tray and place them inside a preheated oven and cook to your preferred doneness. Take the steaks out of your oven and rest for 5 minutes.

Reduce the heat to medium. Leave about a tablespoon of leftover fat on the skillet and discard the rest.

Add the cognac and cook it down until it is reduced to half.

Whisk in the heavy cream, dijon mustard, and remaining butter. Keep stirring until the ingredients are completely mixed together and until the sauce thickens enough that a good amount sticks to the spoon. Salt to taste.

Pour sauce over the steaks and serve. Enjoy with your choice of sides.
Recipe Notes
Test if the steak is done by checking its internal temperature using a meat thermometer. For a rare steak, the ideal temperature is 120 to 130 degrees F. To achieve this, sear the filet mignon for 3 minutes on both sides. For medium-rare, the thermometer should read 130-135 degrees F. Cooking time for this doneness is 3½ minutes each side. For medium, 135 to 145 degrees F. Sear for 4 minutes on each side.

Instead of cooking down the cognac to half, you can also flambé to reduce its alcohol content. Do this by carefully igniting the alcohol using a lighter or a match away from the stove. Swirl the skillet gently until the fire subsides.
Nutrition
Sugar:

1g

:

Calcium:

45mg

Calories:

154kcal

Carbohydrates:

4g

Cholesterol:

37mg

Fat:

13g

Fiber:

1g

Iron:

1mg

Monounsaturated Fat:

4g

Polyunsaturated Fat:

1g

Potassium:

106mg

Protein:

2g

Saturated Fat:

8g

Sodium:

1578mg

Trans Fat:

1g

Vitamin A:

498IU

Vitamin C:

1mg
Nutrition Disclaimer
Frequently Asked Questions
What wine goes well with Steak au Poivre?
Steak au Poivre is a rich and creamy steak, which is why we recommend pairing it with wines that can live up to its level in terms of flavor. Go for full-bodied red wines like shiraz.
How do I store leftover Steak au Poivre?
It's always best to eat any kind of steak fresh from the skillet. But if you've made more than enough servings, you should immediately store the extra pieces of steak separate from the extra sauce. Put them in airtight containers and keep them in the fridge.
How do I reheat steak?
One of the easiest ways to reheat steak is by cooking it again on a stovetop. Unlike cooking steak which needs high-heat, you only need to set your stove to medium-low when reheating it. Bring the meat out to warm to room temperature, then put the steak along with a teaspoon of oil in the pan, and cover for a few minutes. Keep checking the steak until it's warm throughout.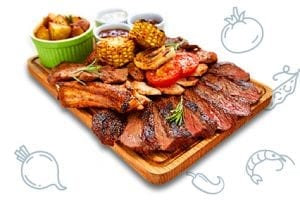 Conclusion
If you're looking to impress someone special, then you should consider making this dish. Nothing says effort more than a tasteful homemade meal. With our easy Steak au Poivre recipe, you no longer have to break your back trying to make good food. Treat yourself and your loved ones today with our yummy Steak au Poivre!