Savor this succulent salmon fish fillet with tangy glaze made of honey, and citrus zests served with stir-fried rice all in one plate. Could a lunch dish get any better than this orange salmon?
In this recipe, we're seasoning then pan-searing salmon fillets to get that golden brown color and crispy exterior, before roasting them while coated with an orange-flavored glaze. For a filling and flavorful dish, serve this savory glazed salmon with a cup of rice cooked with orange juice and mixed with toasted pecans.
To complete your delectable meal, have a slice of our rich and creamy Decadent  Chocolate Cheesecake for dessert after eating this savory orange salmon.
What's In Our Orange Salmon Marinade? 
Salmon fillet is one of the most commonly served seafood dishes in restaurants. It's easy to debone and prepare and suits almost all cooking styles, may it be grilled, pan-fried, or poached. But in this recipe, we're simply roasting the salmon.  Roasting works well with marinated dishes because it allows the meat to soak up all the juices and spices basted on the meat while cooking.
But before the fish goes into the oven we have to prepare the salmon marinade first. For our salmon marinade, we're combining orange juice, grapefruit juice, ginger, garlic, rosemary, lemon zest, and pepper.
Usually, lemon juice is added in making a salmon marinade. But we chose to leave it out because acids like it can actually cook up your salmon and ruin its texture. So for this recipe, we'll be adding lemon zest instead to have that refreshing tangy flavor without compromising the texture of our salmon.
Serving Orange Salmon With Pecan-Citrus Rice
Our salmon with orange glaze sauce is best served with our special pecan-citrus rice.
To achieve the sweetness of this side dish, we're mixing a bit of orange juice in cooking our white rice. Once cooked we top it with parsley and toasted pecans for an earthy flavor and grainy texture which is a great addition to this side.

Tip:
You can also have a grapefruit on the side for a good sour squeeze on your fish meat. The savory glaze on your salmon and rice blends perfectly with the grapefruit's fresh and sour taste.
This delicious orange glazed salmon fillet is surely made complete with our pecan citrus rice, but this protein-packed seafood dish will go wonderfully too with other sides. For a must-try meal suggestion for another day, try pairing our orange salmon with Easy-To-Make Couscous and Steamed Asparagus with Poached Eggs. The sweet and citrusy taste of your orange glaze works wonders with these two.
Your sweet and savory orange glaze can give a dish so many flavors. Try it out for yourself and discover a new seafood favorite that you can add to your regular meal rotation or serve this on your romantic dinner for two.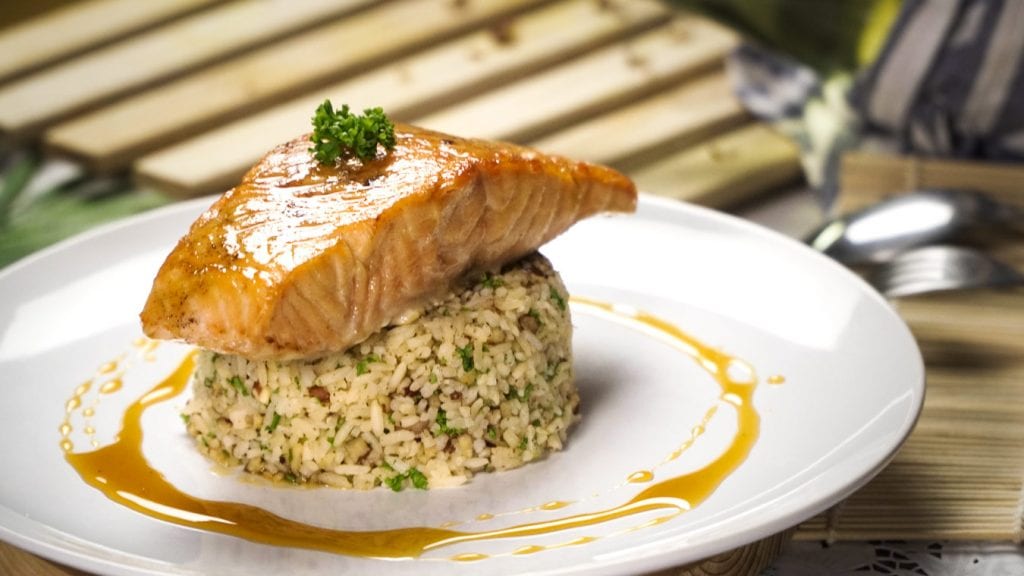 Citrus Glazed Salmon with Pecan-Citrus Rice Recipe
How To Make Citrus Glazed Salmon with Pecan-Citrus Rice
Enjoy an elegant plate of savory glazed salmon over citrusy sweet pecan rice. Try making it and serve a delicious seafood meal for lunch or dinner in less than 2 hours.
Ingredients
For Orange Salmon Glaze:
¾

cup

honey

¾

cup

orange juice

1

tsp

whole black peppercorns,

cracked

1

whole star anise pod

2

tbsp

orange zest

2

tbsp

lemon zest

2

tbsp

grapefruit zest
For Pecan-Citrus Rice:
1

cup

long grain rice

¾

cup

orange juice

¾

cup

water

¼

cup

parsley,

chopped

½

cup

pecans,

chopped and toasted

salt and ground black pepper,

to season
For Salmon Fillets:
4

salmon fillets,

(about 4 oz each), skinless

salt and ground black pepper,

to season

2

tbsp

vegetable oil
To Serve:
Instructions
Orange Salmon Glaze:
Preheat the oven to 400 degrees F. Grease a baking sheet with cooking spray, line with parchment paper, and grease again with cooking spray.

Combine the peppercorns, star anise, honey, orange juices, lemon zest, and orange zest in a saucepot. Bring to a boil, then reduce to a simmer. Continue simmering for at least 20 minutes, or until it is reduced by half and slightly thickened.

Once the glaze has thickened, remove from the heat and set aside to steep for another 15 minutes, then strain and discard all solids. Set aside to cool down completely.
Pecan-Citrus Rice:
Cook your rice next. Combine the rice, water, and orange juice in your rice cooker. Boil until your rice is cooked through, following the manufacturer's instructions. This will be anywhere from 20 to 30 minutes.
Salmon Fillets:
While the rice is cooking, heat up a skillet with oil over medium-high heat. Add the salmon, season with salt and pepper. Sear on all sides until golden brown, roughly 3 minutes per side.

Layer your seared salmon fillets inches apart from each other onto a lined baking sheet.

Brush your glaze all over the salmon fillets, then roast in the oven for roughly 5 to 8 minutes, until the salmon just starts flaking and the glaze has turned golden.

Baste with the glaze as needed while roasting.

Once roasted, set aside onto cooling racks and allow to rest briefly.

Once your rice is cooked, transfer it into a mixing bowl. Add pecans and parsley and mix until combined.

Season with salt and ground pepper to taste and adjust accordingly. Mix to combine.

Serve your salmon with 1 cup of pecan-citrus rice. Garnish with parsley roughly ¼ teaspoon parsley and enjoy.
Nutrition
Sugar:

61g

:

Calcium:

82mg

Calories:

800kcal

Carbohydrates:

104g

Cholesterol:

94mg

Fat:

27g

Fiber:

3g

Iron:

3mg

Potassium:

1211mg

Protein:

39g

Saturated Fat:

8g

Sodium:

86mg

Vitamin A:

599IU

Vitamin C:

64mg
Nutrition Disclaimer
Commonly Asked Questions
How to store cooked salmon fillet?
It's easy. To store your marinated and cooked salmon fillet, wrap it using aluminum foil and refrigerate it for up to 3 to 4 days. Make sure to refrigerate your cooked salmon 2 hours after cooking to make it last.

How to reheat cooked salmon fillet?
To reheat, simply place your salmon fillets in a baking pan and reheat them in the oven for 15 minutes at 275 degrees F.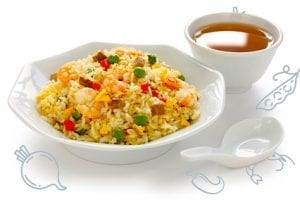 Conclusion
Savor a plate of salmon fish fillet roasted with thick sweet and tangy orange-flavored glaze out of easy-to-find ingredients. Top this on a delicious hot pecan-citrus rice for a complete and memorable meal. This easy-to-cook dish will top your lunch ideas, as it can satisfy even the seafood lover with the biggest appetite. You can even have your favorite veggies on the side drizzled with sweet glaze too.