'Tis really the season of sweetness and love this Valentine's Day. People are giving each other flowers and chocolates to show how much we appreciate one another. Show friends and loved ones just how much you love and cherish them by giving them some homemade raspberry chocolate fudge as a token of appreciation.
Dark chocolate and raspberry make a treat that compels us to keep having more. The sweet tangy taste of raspberries and the rich bittersweet flavor of dark chocolate create a well-balanced flavor. Show someone on your romantic dinner for two that you love them today. Make these addictive delectable bites by trying out this raspberry chocolate fudge recipe.
Chocolate Vs Chocolate Fudge – The Difference
We have our entire lives of familiarity with chocolate. Our childhood basically revolved around chocolate sweets, but what's the difference between chocolate and chocolate fudge? It's kind of confusing when you look at them from afar but their distinctions are pretty clear.
Chocolate fudge is softer.

They are almost spongy in texture, as compared to smooth and hard surfaces of standard chocolates.

Consistency and flavor-wise

, chocolate is silkier and has a stronger cocoa flavor. In contrast, chocolate fudge has a soft and chewy texture with a milkier flavor.

Fudge can be made with chocolate but it's not all chocolate.

It may have chocolate as one ingredient if you want to make chocolate fudge. But fudge can be made with a lot of flavors like peanut butter, graham, or even coffee! It contains other components like butter and milk. Some fudge may not even have chocolate at all.

Chocolate is made with cacao beans,

cocoa butter, milk, and sugar. Besides nuts, dried fruits, and flavorings, the main chocolate would only have those 4 ingredients. The fewer, the better and the more expensive it becomes especially when it has high cacao content.

On the other hand, the fudge itself can be made with various ingredients, with or without chocolate. Modern fudges rely on condensed milk, but the old-fashioned recipe uses marshmallow cream to set the base.
We both love to give and receive chocolates or fudges on occasions like Valentine's Day. But if you're the one giving it away this year, then you might love to know of the chocolate gift box tips we have below.
3 Tips For Arranging Your Fudge Gift Box
A homemade treat is perfect to show appreciation by pouring personal efforts into it. You know how they say that when we cook, we must always have the most important ingredient – Love. Making a meal or a dish for someone we value turns out to be really good, don't you think? Here are some ideas you can use for giving away those chocolate treats you're about to make.
Mix a variety of fudge in your box

. Fudges are very easy to make and customizing flavors wouldn't be a fuss. Make different fudges like a batch of

S'mores Fudge

or the marshmallow cream alternative like 

Kahlua Cream Fudge

. You may also love this inspired version of the famous

Fannie May Chocolate Fudge

, too. Make your gift box fun and exciting by including assorted flavors. Put a small adventure in a box and celebrate love together.

You don't always have to go big and grand.

A box with 3 to 5 pieces of fudge will suffice. But here's a little heads-up: they WILL  want more of these

berrilicious

raspberry fudge after just one bite.

Choose a simple yet elegant-looking box.

A minimalist touch on the outside will definitely surprise them with the full and exciting fudge flavors inside! Finishing it off with a simple ribbon and a note will do the trick. Also, don't forget to put silica gel with it so it absorbs all the extra moisture to keep your chocolate (and other types, if you intend to) fudge fresh.
Tips For Making Raspberry Chocolate Fudge
This chocolate fudge recipe is so easy to make that you can whip it up in 10 minutes. Here are extra tips you can implement when making this fudge recipe this Valentine's Day:
Consider other fudge shapes
Ditch the usual square shapes by chilling your raspberry fudge in heart-shaped molds. In case you don't have it, you can easily craft an improvised one using paper and staples.
Create a heart-shaped paper mold by cutting a piece of thick paper rectangularly. The length and thickness will vary depending on how big you want your fudge to be.
Subsequently, take both ends of the cut paper and staple them together.
Next, take the adjacent circular end and pinch to create the bottom of the heart. Staple it so it won't revert to the circular shape once you put your chocolate fudge in.

Last, fill the paper mold with the chocolate fudge mixture. When filling, do it directly on the tray you're going to put on the fridge to chill. Don't worry, the paper mold will hold just fine.
Sprinkle some extra bites on top
You can also sprinkle some chopped nuts of your choice for added crunch and flavor to your raspberry chocolate fudge. Almonds and hazelnut go well with raspberries and of course, chocolates!
Set forth the season of hearts' spirit by giving away love in each bite of your raspberry chocolate fudge. Happy Valentine's Day!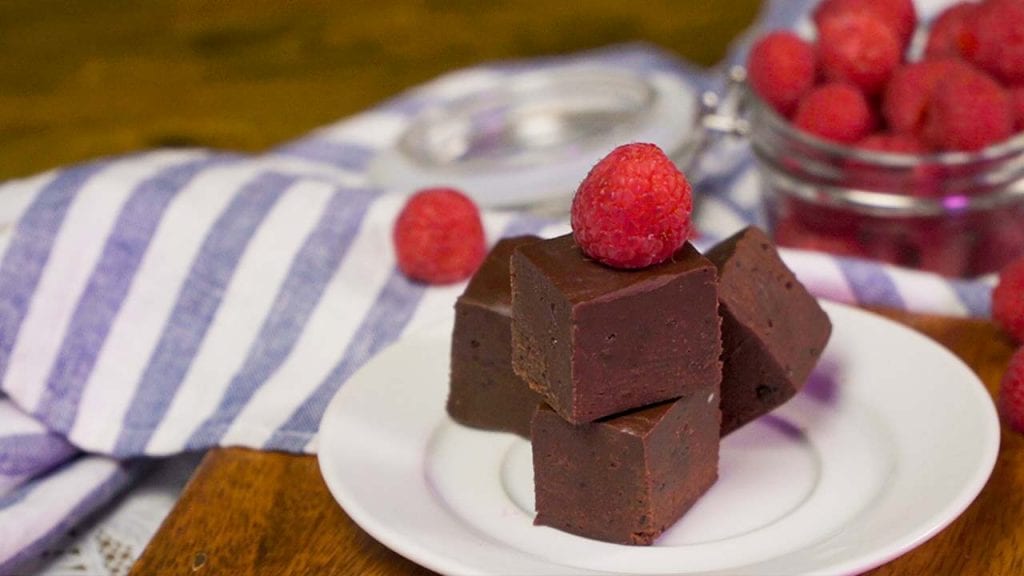 Delectable Raspberry Chocolate Fudge Recipe
Frequently Asked Questions
How long does fudge last?
It's so addictive we doubt that this fudge will even last a day. But you can keep it for at least 2 weeks while still keeping its top quality. This is possible even when kept at room temperature. If refrigerated, the raspberry chocolate fudge will stay good for as long as 3 weeks.
How do you properly store chocolate fudge?
You can store it at a cool room temperature and away from sunlight. If they came in a cardboard box or paper bags, consider transferring them to an airtight container if you will not consume them immediately. Moisture and heat will compromise your fudge's quality.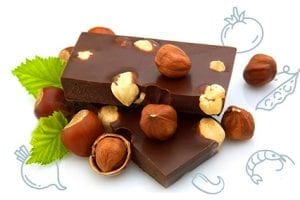 Conclusion
Aside from the fun of creating this very easy raspberry chocolate fudge, it's easy to love this no-fuss recipe because you can easily prepare it in under 10 minutes. In case you will want to make another batch some other time, which we're sure you will, the steps and ingredients are not hard to remember. Celebrate your day of hearts filled with semi-sweet bites of these delectable raspberry chocolate treats.
Topics:
2 Comments
Cheyenne Matses

I made this recipe and my fudge came out more of a caramel consistency. I think I didn't hear it long enough, I don't have a microwave so I just used a pot on my stovetop, I didn't keep it over direct heat the entire time while melting the chocolate because I didn't want to risk burning it. I had it on a medium heat. I'm hoping that I just didn't heat it long enough and I'm going to try again today to see if I can do it properly. I will say that I am in move with the flavor though! It's amazing and the dark chocolate gives the perfect amount of rich but not to sweet flavor that pairs perfectly with the raspberry 🥰 simply in love !

Reply

Recipes.net Team

Thank you for your feedback, Cheyenne. Our team poured our hearts in creating and testing this recipe, and we love it just as much as you do! Right, it should be heated up well. It also helps to mix the condensed milk and dark chocolate well until they're one smooth mixture before adding the other ingredients. We know you'll do well! All the best!

Reply