Fancy up your plain chicken breast for your dinners by trying this sensational sweet and tangy stuffed chicken breast recipe. This baked stuffed chicken breast is stuffed with sweet cranberries, spinach, and creamy brie cheese.
This elegant dish is not only a great go-to recipe when special dinners arise, like Thanksgiving or for a fancy dinner for two, it's also great for those on keto diets. Serve it over healthy vegetables like some steamed broccoli and carrots and your meal is complete.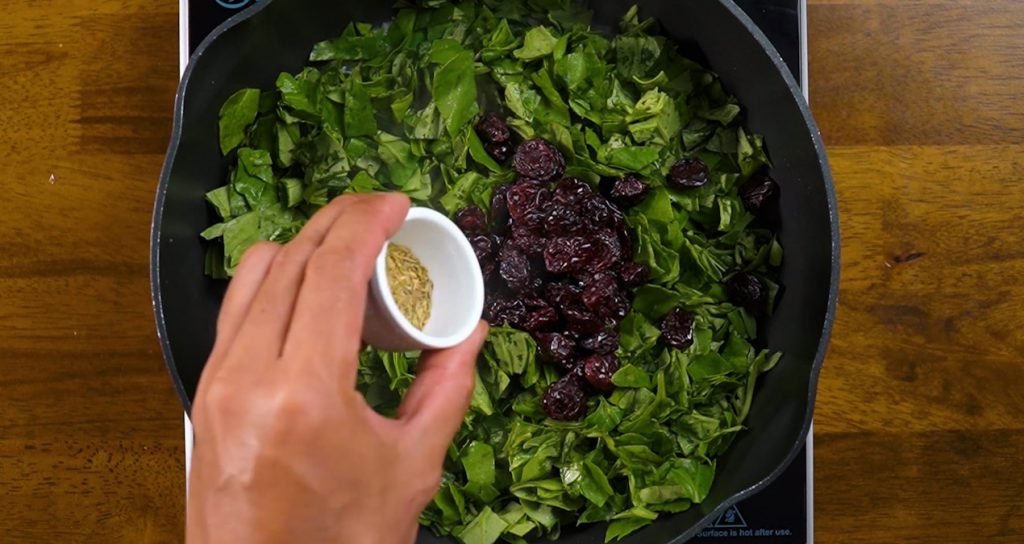 How to Stuff Chicken Breast
Stuffing chicken breasts, however, may seem intimidating for some, but it only involves a simple cut between the meat to create an impressive meal for your guests. In fact, with some practice, you might even find it fun! 
One of the simplest ways you can find in most stuffed chicken breast recipes is by slicing a small pocket in the side of the breast. We usually reserve this method for fairly thick pieces of chicken just like our Spinach-Stuffed Chicken Breast Recipe.
In this recipe though, we're using a cutting style called the butterfly method. We're slicing the breast in half so that it folds open like a butterfly's wings. Afterwards, simply stuff the ingredients in, fold it in half, and secure it with toothpicks. When cut this way, it's easier to pound it using a meat tenderizer or a rolling pin. Cutting our chicken this way makes it cook quicker too.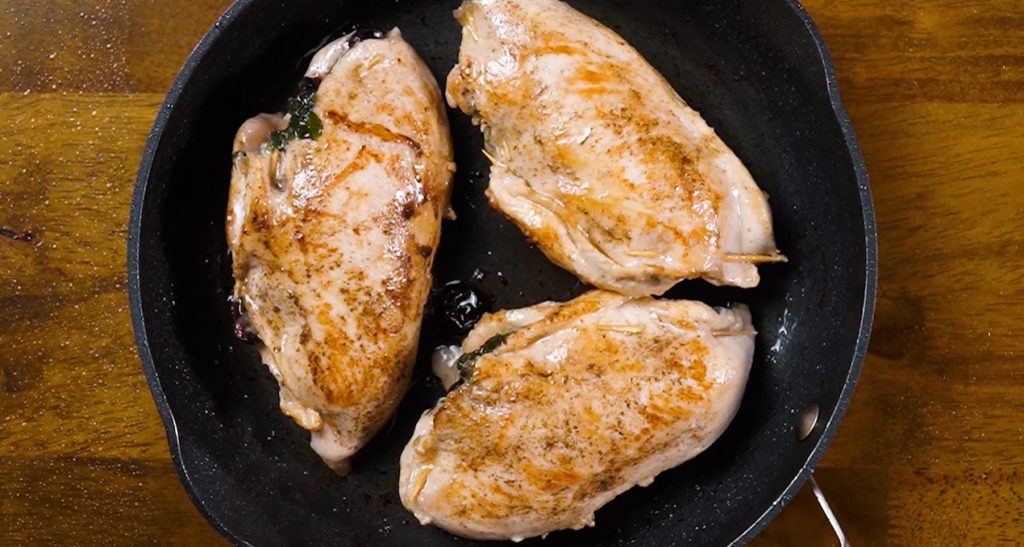 Tips on Making Cranberry And Brie Stuffed Chicken Breast
Wondering how to butterfly a chicken breast? Check out our CAQ section below to know more! Meanwhile, the tips below will aid you in cooking a perfect cheese stuffed chicken breast!
Pat the chicken breasts dry with paper towels.

This method enables it to absorb the flavors of other ingredients easily.

Use a stainless skillet pan

to make your searing easier and faster.

Do not move the chicken when searing.

This helps to keep the meat's moisture intact and prevents us from having raw chicken on the inside.

Let the meat rest for at least 5 minutes before serving. This process lets the juices redistribute throughout the meat and settle. It's so they won't flow out and go to waste once you slice the meat. This works for other meats as well.
This delicious recipe is also included in our 20 Easy Culinary Recipes To Master, take a look at the other delectable meals that you can try!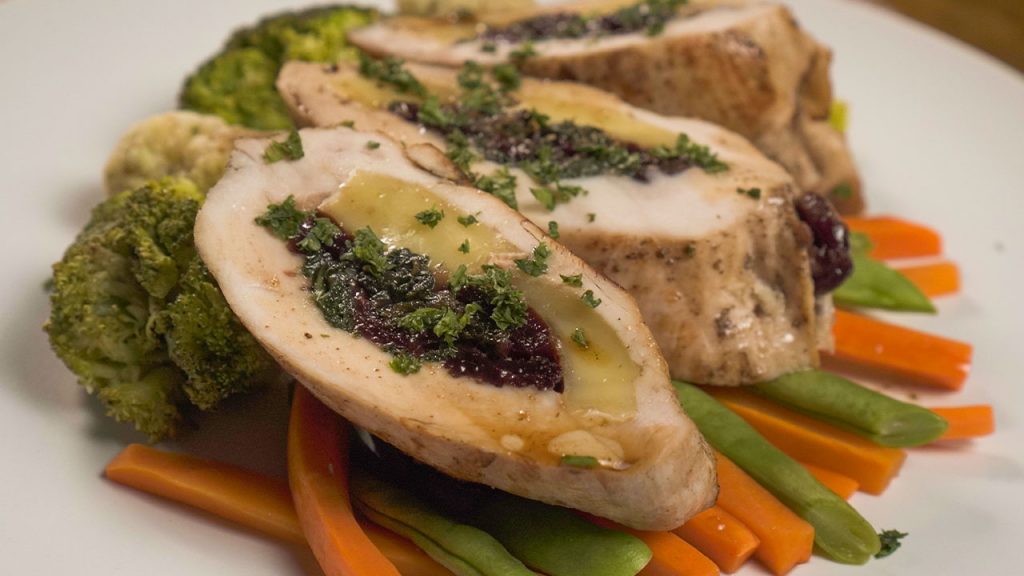 Cranberry And Brie Stuffed Chicken Breast Recipe
How To Make Cranberry And Brie Stuffed Chicken Breast
An easy stuffed chicken breast recipe that gives you an elegant and flavorful chicken. It is stuffed with sweet cranberries, spinach, and creamy brie, and is seasoned well with thyme.
Ingredients
1

lb

chicken breasts boneless and skinless,

butterflied

5

oz

brie cheese ,

cut into 6 long slices

3

oz

red onion,

minced

1

large garlic clove,

minced

5

tbsp

vegetable oil,

divided

6

oz

spinach,

chopped

½

cup

cranberries,

dried

½

tsp

thyme,

dried

Salt,

to taste

Ground black pepper,

to taste
To Serve:
4

oz

steamed vegetables

chopped parsley
Instructions
Preheat the oven to 375 degrees F.

Heat up a skillet with 2 tablespoons of oil. Saute the garlic and onion until translucent, stirring occasionally.

Add the spinach, cranberries, and thyme. Saute briefly.

Season the spinach mixture with salt and pepper. Adjust accordingly then set aside to cool down.

Lightly pound the chicken breasts to tenderize using the flat side of the meat mallet or a rolling pin.

In the middle of an open chicken tender, place 2 slices of brie and 2 tablespoons of spinach stuffing next to it. Fold it in half, tuck in the ends, and seal it with toothpicks.

Season your chicken on both sides with salt and pepper. Return the skillet to medium heat and swirl the remaining 3 tablespoons of oil. Add stuffed chicken and sear for about 3 minutes per side.

If your skillet is oven-proof, remember to cover it. You can also transfer the chicken to a baking dish, cover, and bake for 25 minutes.

Remove it from the oven, let the chicken stand for 5 minutes, and remove the toothpicks.

Serve hot with steamed vegetables, spoon juices on top, and garnish with chopped parsley. Enjoy!
Recipe Notes
Feel free to add sweet and mild chili peppers with olive oil, salt, black pepper, and asparagus to your roast for extra flavor.

You can also turn this into a bacon-wrapped stuffed chicken by tightly wrapping the chicken with bacon before searing and we guarantee that it won't last a minute on your table. Bake your bacon-wrapped stuffed chicken for 25 to 30 minutes at 375 degrees F.
Nutrition
Sugar:

2g

:

Calcium:

157mg

Calories:

558kcal

Carbohydrates:

7g

Cholesterol:

144mg

Fat:

40g

Fiber:

2g

Iron:

2mg

Potassium:

1003mg

Protein:

44g

Saturated Fat:

27g

Sodium:

519mg

Vitamin A:

5642IU

Vitamin C:

22mg
Nutrition Disclaimer
Frequently Asked Questions
How do you butterfly a chicken breast?
To butterfly chicken breasts, start by cutting them in half starting from the thick side, but make sure not to cut all the way through. Just slice until you're able to open it like butterfly wings.
Do you remove the rind from brie?
You actually don't have to remove the rind from brie cheese as it is edible. In fact, it gives an added dimension of earthy flavor to the brie when you eat it. But if you prefer to eat only the inner soft part of the brie, you can choose to remove it before placing it on the chicken breast with the spinach mix.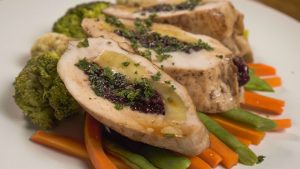 Conclusion
This stuffed chicken breast recipe will give you chicken breasts that are moist, flavorful, and juicy⁠— exactly how we want them. Enjoy this sophisticated meal experience and serve it with a side of green salad or roasted vegetables for even more elegance and added nutrition to this flavorful meal.
Topics: