Your search for the best stuffed chicken breast recipe is over! The sweet cranberries, creamy brie cheese, and aromatic spices of the sauce give the perfect flavor for our chicken stuffing. This recipe will give your chicken a sensational flavor that has a sweet and tangy kick!
This stuffed chicken breast recipe is a must serve for casual lunches or dinners and unforgettable special occasions. There are many stuffed chicken recipes that you can choose from, like our Crockpot Spinach-Stuffed Chicken Breast Recipe and Herb and Cheese-Stuffed Chicken Thighs Recipe. Stuffing your chicken may seem intimidating but you'll be surprised by how quick and easy you can do it! Infusing your chicken with the tempting flavors of the cranberry and brie stuffing is definitely worth it!
This surprising combination will be a showstopper for your next holiday. Impress your friends and family with this quick and easy Cranberry and Brie Stuffed Chicken Breast Recipe and put a tasty and sophisticated dish at your table. Make it a staple dish at your home to make your weeknights extra special.
Cranberry And Brie Stuffed Chicken Breast Recipe
Ingredients
2

lb

chicken breasts

boneless & skinless

5

oz

Brie cheese

cut into 6 long slices

1

small onion

minced

1

large garlic clove

minced

2

tsp

coconut oil

divided

6

oz

spinach

chopped

½

cup

cranberries

dried

½

tsp

thyme

dried

½

tsp

himalayan pink salt

black pepper
Instructions
Cut chicken breasts into 6 tenders. Slice each tender lengthwise in the middle but not through.

Open flat and tenderize a bit. Set aside.

Preheat a large non-stick skillet on medium-low heat and swirl oil to coat.

Add garlic and onion, sauté until translucent, stirring occasionally. Add spinach, cranberries, thyme, salt, and pepper; sauté for another minute. Remove from heat.

Preheat the oven to 375 degrees F.

Divide spinach mixture into 6 piles.

In the middle of an open chicken tender, place a slice of brie and ⅙th spinach stuffing next to it. Fold in half, tuck in the ends and wrap tightly with kitchen twine. Repeat with remaining chicken tenders.

Season your chicken tenders with salt and pepper. Return the skillet to medium heat and swirl remaining 1 tablespoon of oil. Add stuffed chicken and sear for about 3 minutes per side.

If your skillet is oven proof, cover it or transfer chicken to a baking dish and cover, and bake for 25 minutes.

Remove from the oven, let chicken stand for 5 minutes and remove the twine. Serve hot with a side of choice, spooning juices on top.
Commonly Asked Questions
How should I cut the chicken breasts?
Cut large chicken breasts in half to make 2 thinner breasts. Start at the thickest side of the breast and cut towards the thinner end in half horizontally. You can also choose to partially freeze the thinner chicken breasts that you cut to make them firmer and easier to cut.
What other ingredients can I stuff into my chicken breast?
There are types of cheese and other ingredients that you can stuff your chicken with. You can experiment on different stuffing combinations that will bring a unique flavor into your chicken breasts. You can reinvent your typical chicken cordon blue and stuff it with Havarti cheese and thyme. If you feel like exploring, you can also try a Moroccan stuffing with couscous, apricots, and pine nuts. If you want a refreshing, creamy, and healthy stuffing, you can go with some chopped walnuts, lemon zest, and goat cheese. Another easy and balanced stuffing combination is mixing in sun-dried tomatoes, spinach, and cheese. A must-try chicken breast stuffing is mixing in mushrooms, bell peppers, onions, pepper jack cheese, and Cajun seasoning that is flavorful and spicy. Stuffed chicken is the real deal because you won't run out of stuffings to fill into your chicken!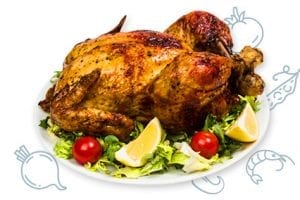 Conclusion
Try out this easy recipe that will give you a sophisticated lunch or dinner and let stuffed chicken recipes up your cooking game! This stuffed chicken breasts recipe will give you chicken tenders that are moist, flavorful, and juicy⁠ — exactly how we want them. Serve it with a side of green salad or roasted vegetables and your healthy, hearty and elegantly flavorful meal is set.