If you're looking for a mouthwatering steak dinner idea that's impressive and easy, try this tenderloin steak on grill recipe. It yields a rich, juicy, and oh-so-delicious grilled steak! The beef tenderloin is made even more sumptuous by a flavor-packed date essence sauce. Served alongside mashed potatoes or potatoes au gratin with gruyere, this dish is perfect for an extravagant dinner.
Grilling is perhaps the best way to cook beef tenderloin. To guarantee that the finished product will taste exquisite, marinate the steak before tossing it onto the grill. It's the secret to many delicious grilled beef tenderloin recipes. Our beef tenderloin marinade is made with balsamic vinegar, olive oil, Italian seasoning, and garlic powder. It's easy to cook this steak recipe outside on a gas grill, charcoal grill, or pellet grill. You can even try using your oven! Either way, your grilled beef tenderloin will come out super delicious. 
What's in Our Grilled Beef Tenderloin?
To make a juicy, mouthwatering grilled tenderloin steak, here are the ingredients you need:
Beef Tenderloin Steak or Filet Mignon –

Beef tenderloin is one of the most tender and most expensive cuts of steak. Opt for USDA Choice grade steaks as they become tender, juicy, and flavorful when cooked. But if you want to splurge, use Prime steak!

Balsamic Vinegar –

It'll help tenderize the meat. You can also use other acidic ingredients you prefer.

Olive Oil –

Use extra virgin olive oil. 

Seasonings

– For our

beef tenderloin marinade

, we used a blend of Italian seasoning, garlic powder, salt, and ground black pepper to add flavor.

Dates –

For better texture, don't forget to remove their pits or seeds.

Yellow Mustard Powder + Apple Cider Vinegar –

These ingredients add a tangy flavor to the dates essence.

Salt and Ground pepper –

Adjust the amount according to your taste.

Cooking Spray –

It's sprayed on the grill to keep the steaks from sticking.
How to Grill Beef Tenderloin Steaks
Here's how to cook tenderloin steak on grill:
1. Prepare the steak marinade. Simply mix balsamic vinegar, olive oil, Italian seasoning, garlic powder, salt, and pepper in a bowl.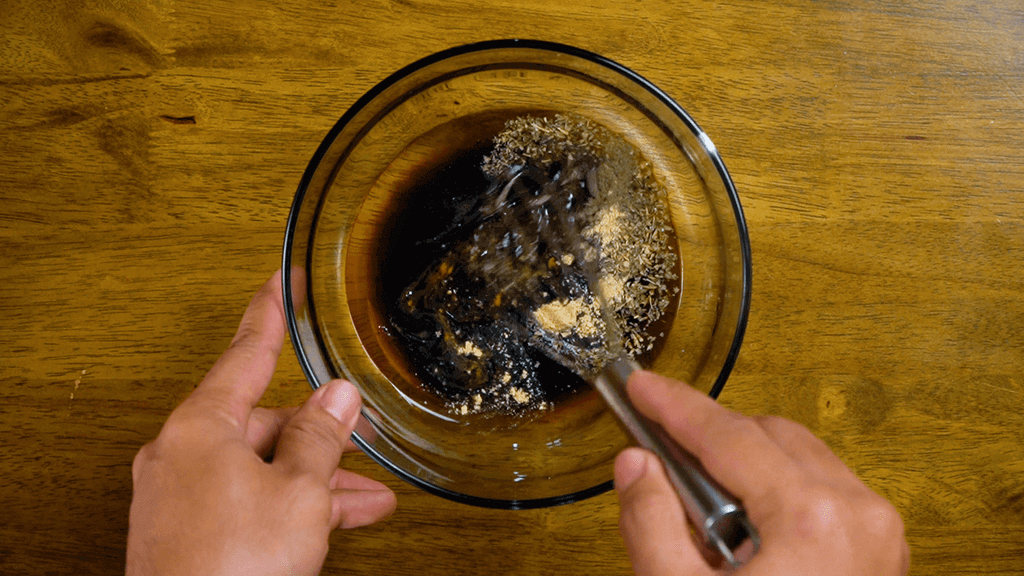 2. Marinate the tenderloin steaks. Put the steaks in a resealable bag, and then pour the beef marinade over the meat. Then, chill and let the beef marinate for at least two hours.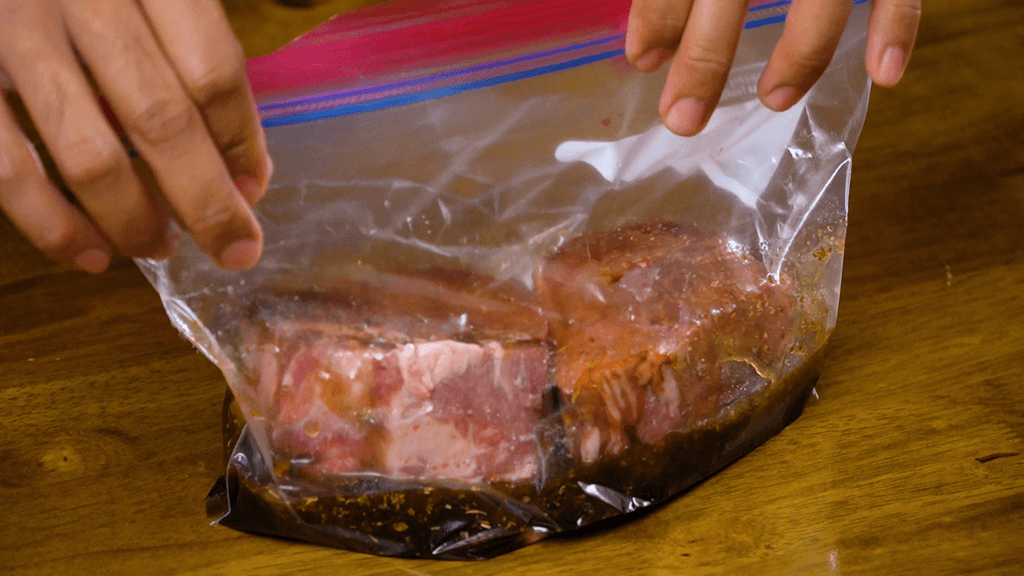 3. While you marinate the steaks, prepare the dates essence. Simply combine all the ingredients for dates essence in a blender or food processor. Then, season with salt and pepper, then set aside.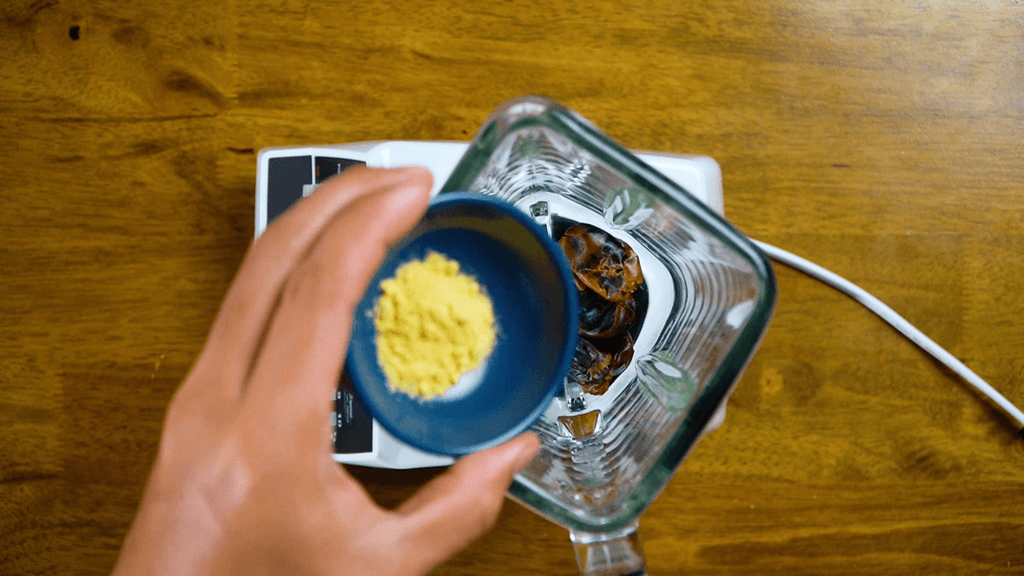 4. Preheat the grill and grease with cooking spray.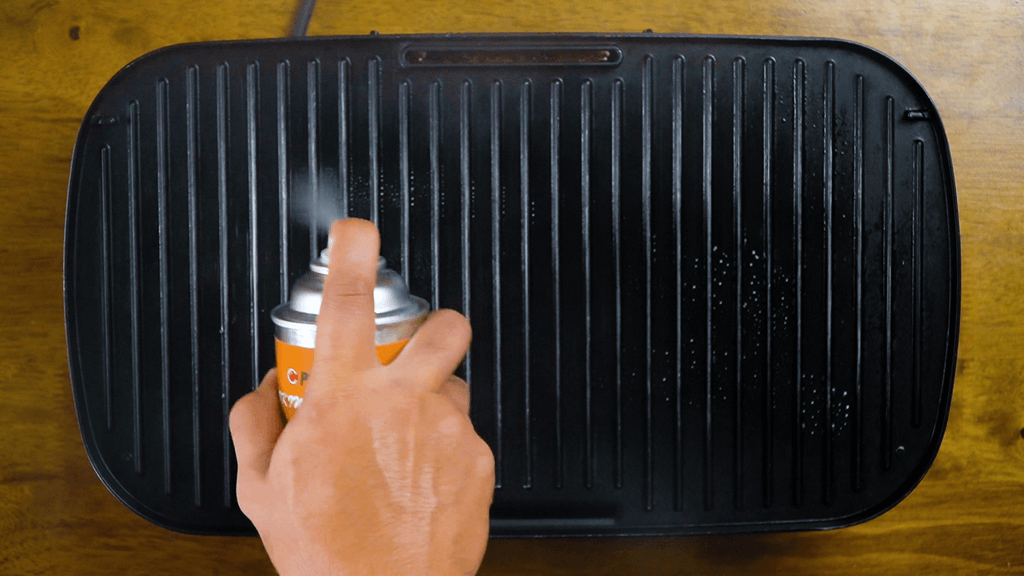 5. Remove the steaks from the marinade and put them on the grill. But be sure to drain off excess liquid before dropping the steak on the grill. Don't discard the marinade!
Generally, the ideal temperature for grilling tenderloin steak on a grill is 450 degrees F to 500 degrees F. For the best outcome, cook the beef within this temperature range. Too much or too little heat might also result in a steak cut with an unwanted gummy texture.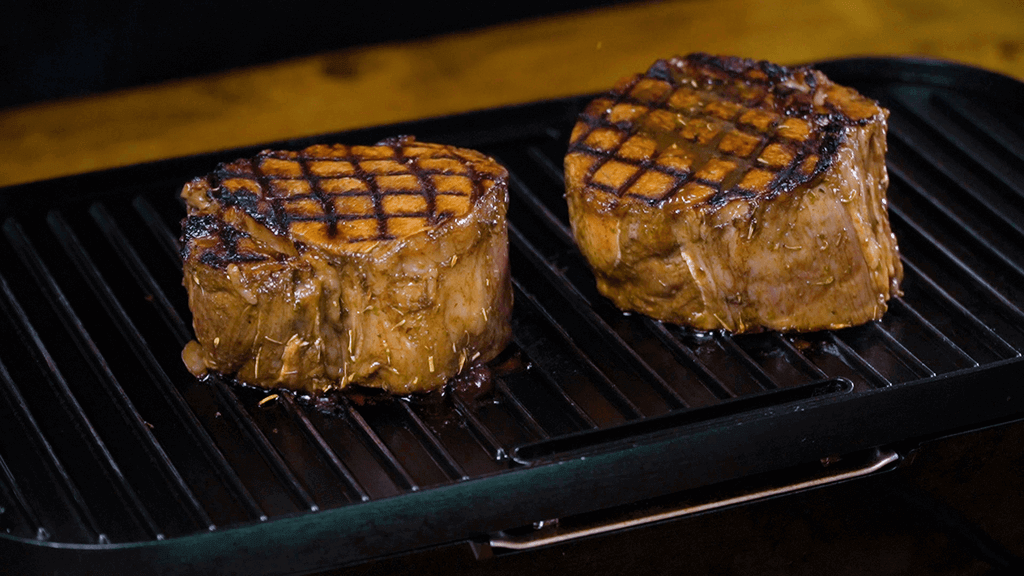 6. Slather the tenderloin steaks with the marinade as they cook. For even cooking, flip the meat over occasionally. Once grilled, let the meat rest for a few minutes.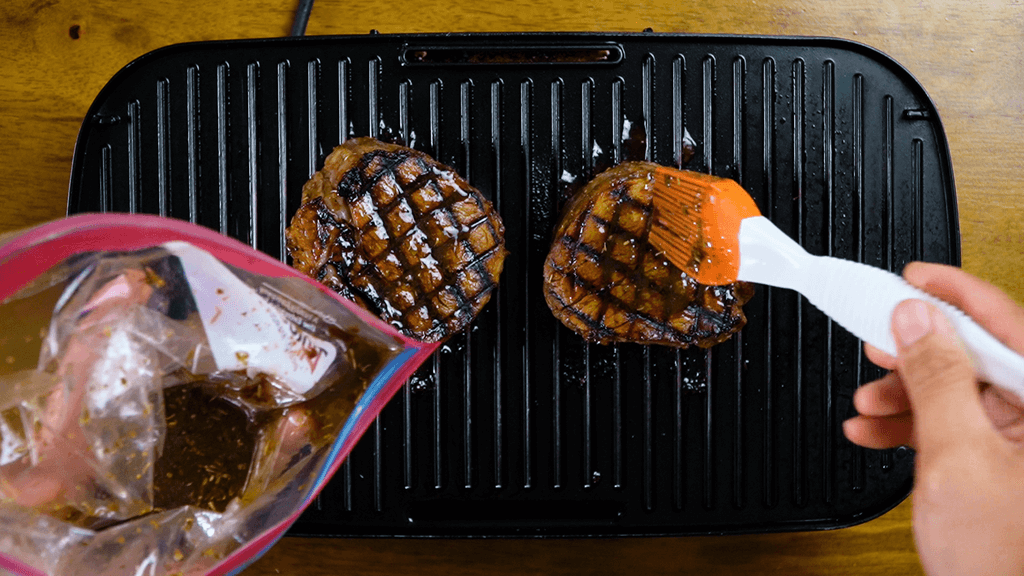 7. Serve the grilled beef tenderloin steaks with your favorite side dish and enjoy!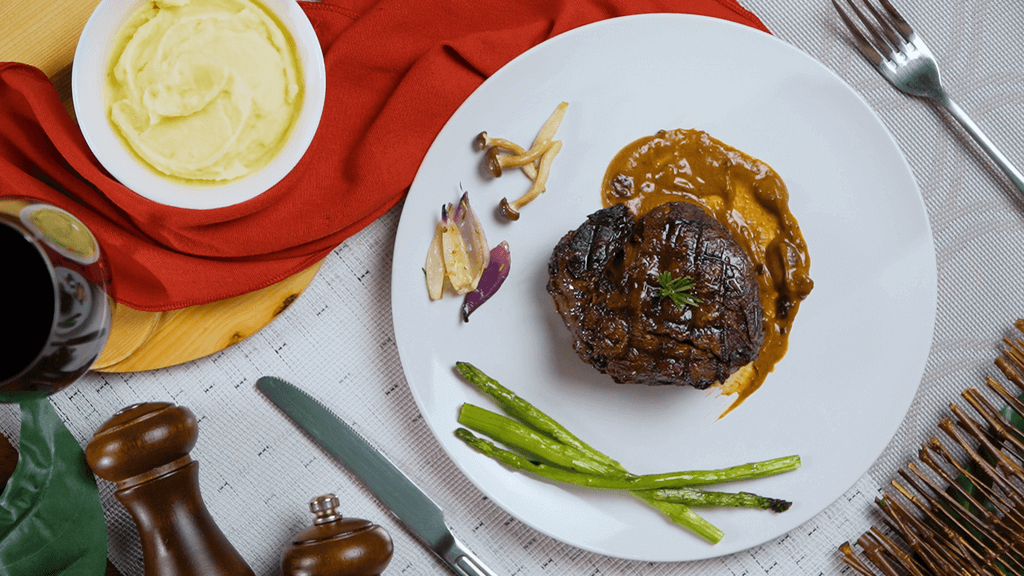 Keep in mind that the grilling time might vary depending on your desired level of doneness. 
To achieve a

rare

steak, grill for 5 minutes on one side and another 3 minutes on the other side until the internal temperature reads 120 to 130 F. 

If you want a

medium-rare

steak, you should grill one side for 5 minutes and the other for 4 minutes. Its internal temperature should be 130 to 135 F. 

Grill one side for 6 minutes and the other for 4 minutes if you prefer

medium

doneness. The steak should reach an internal temp of 140 to 150 F. 

For

medium-well

tenderloin steak, grill one side for 7 minutes, then flip and grill for 5 minutes. The meat thermometer should read 155 to 165 F. 

For a

well-done

1-inch steak, grill each side for around 10 to 12 minutes to an internal temperature of 170 F.
Tips for Cooking Tenderloin Steak on the Grill
The beef tenderloin is deemed the most tender steak cut, and it's also  exceptional for grilling. Cooking such a premium steak might seem intimidating from afar, but don't worry! Our recipe will teach you how to cook beef tenderloin on the grill the right way, so that your steak dinner comes out perfect. 
Here are some handy tips for  preparing and grilling beef tenderloin:
Clean and oil the grill grates.

Make sure that  the grill is clean before grilling the beef tenderloin. You can use a stiff wire brush to remove any residue from previous grilled foods. Moreover, don't forget to coat the grates with oil

to keep the grilled beef from sticking.

Try poking a few holes into the steak cut using a fork

. You may

pierce the meat before marinating so that it will absorb the flavor of the marinade better. Another effective method is to make a crisscross pattern on each side of the steak using a sharp

steak knife

. 

Cover the beef with the marinade evenly

. By doing this, you will get an even fuller flavor in each bite and slice of your

BBQ beef tenderloin

. Put the marinating meat in a resealable bag just like we did in this

steak tenderloin recipe.

Placing it in a bowl covered with plastic wrap will work, too. Whichever method you follow, make sure to flip or stir the meat occasionally.

Marinate the tenderloin steak in the refrigerator

. One rule of the thumb is to always marinate in the fridge and not on the kitchen counter. If left at room temperature, the bacteria can quickly grow on the meat, which can cause foodborne illnesses. 

Bring the steak to room temperature before grilling

.

Before putting the poked or

sliced beef tenderloin on the grill

, you must let the meat rest for at least 15 to 20 minutes at room temp. This is a fool-proof way of producing a juicy and evenly-cooked

grilled tenderloin steak

each time.

Allow the grilled beef to rest after grilling. For the best  result, let the meat sit out for 5 to 10 minutes before you slice and serve it. It allows the steak to recapture the moisture, resulting in a perfectly juicy dish.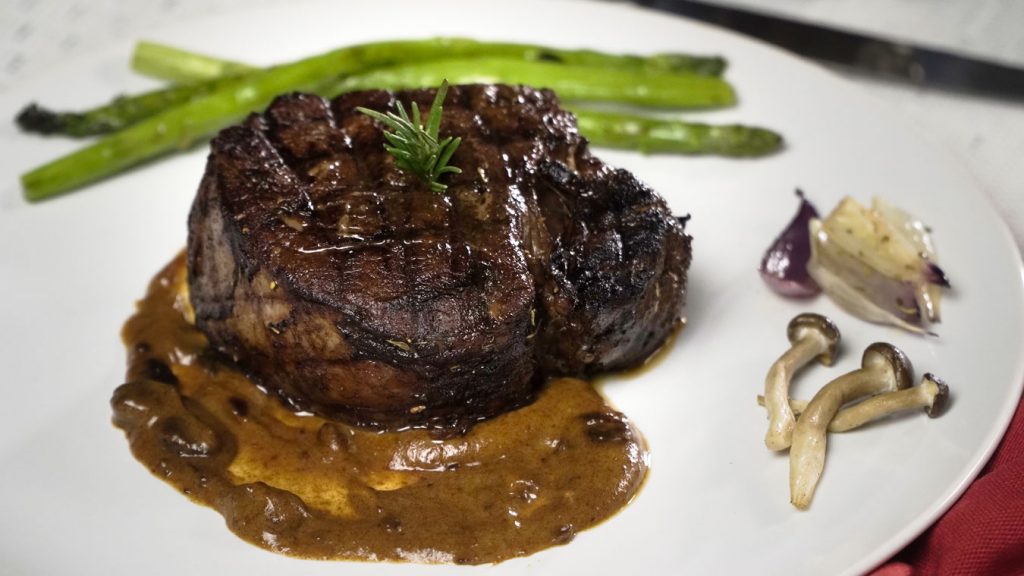 Grilled Beef Tenderloin Recipe
How To Make Grilled Beef Tenderloin
Sink your teeth into this grilled beef tenderloin with a delicious date essence. Marinated in a tasty sauce before grilling, the steak comes out flavorful and oh-so-tender! Serve with mashed potatoes or a bowl of salad for a filling meal.
Ingredients
2

beef tenderloin steaks,

(or filet mignon), (roughly 8 oz each)

cooking spray
For Steak Marinade:
¼

cup

balsamic vinegar

¼

cup

olive oil

2

tsp

Italian seasoning

½

tsp

garlic powder

1

tsp

salt

½

tsp

ground black pepper
For Date Essence:
10

oz

dates,

pitted

1½

tsp

yellow mustard powder

¼

cup

apple cider vinegar

2

tbsp

olive oil

salt,

to taste

ground pepper,

to taste
To Serve:
1

cup

mashed potatoes

2

oz

salad,

done to your preference (or vegetables)
Instructions
Marinating Beef Tenderloin Steaks:
Combine balsamic vinegar, olive oil, Italian seasoning, garlic powder, salt, and pepper in a mixing bowl. Whisk until evenly incorporated.

Place your steaks inside a resealable bag. Then, pour the marinade into the steaks. Seal the bag and transfer it to a chilled area.

Marinate for at least 2 hours, no more than 5 hours.
Preparing Date Essence:
While the steaks are marinating, combine all your ingredients for the dates essence in a food processor or blender. Puree until smooth.

Season to taste with salt and pepper. Adjust accordingly and set aside.
Grilling Beef Tenderloin Steaks:
Preheat the grill and grease with cooking spray.

Drain the steaks from the marinade. Do not discard the beef marinade.

Then, grill the steaks to your desired doneness, roughly 8 minutes for medium doneness.

Baste the steaks with the marinade as needed, and flip over occasionally. Then, grill all sides of the steaks.

Allow the steaks to rest briefly once grilled.
To Serve:
Spread two tablespoons of the date essence per plate. Then, place the steaks next to the sauce for plating.

Serve with potatoes and a side of salad or vegetables of your choice. Enjoy!
Recipe Notes
Serve the grilled beef tenderloin with 1 cup of mashed potatoes and 2 ounces of roasted vegetables per serving, consisting of asparagus, red onions, and brown beech mushrooms.

Use a meat thermometer to determine when the steak has achieved your desired level of doneness.
Nutrition
Sugar:

95g

:

Calcium:

152mg

Calories:

1147kcal

Carbohydrates:

115g

Cholesterol:

145mg

Fat:

56g

Fiber:

12g

Iron:

6mg

Potassium:

1838mg

Protein:

54g

Saturated Fat:

11g

Sodium:

1301mg

Vitamin A:

48IU

Vitamin C:

1mg
Nutrition Disclaimer
Frequently Asked Questions
Are beef tenderloin and filet mignon the same?
Tenderloin and filet mignon, albeit sliced from the same part of the cow, are not the same beef cuts. Basically, tenderloin pertains to the entire tenderloin muscle, whereas filet mignon is only a specific part of the tenderloin. And so, the former is a larger beef cut than the latter. Still, both steaks are much more tender than other cuts of beef.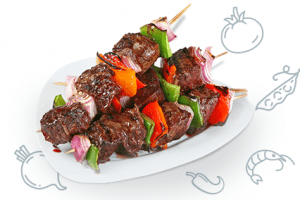 Conclusion
Have slices of fine, juicy, restaurant-quality steaks at home with this tenderloin steak on the grill recipe. To pull off an elegant plate of steak, spread some date essence on the plate and garnish the steak with a rosemary sprig. Prepare this at your next gathering, and you will surely get rave reviews from the guests!