This apple cookies recipe is great for those of you who are trying to cut processed sugars out of your diet. Fruits are an absolutely fantastic way to get some natural sweetness into your desserts.
You are likely to be overwhelmed by the natural sweetness and slightly sour flavor of the apples when you bite into the cookies. If you are looking for a neutrally-sweet snack, this one is for you. In this apple cookies recipe, we are going to guide you through the process of making this delicious snack. If you want to add more texture or dimensions in the flavor of your cookies, simply add more fruits. For instance, dates and raisins can give these cookies an additional chewiness to each bite. Besides raisins and dates, dried oranges also go well with these apple cookies.
Don't worry if you don't have basic experience in baking. Just follow these easy steps and you're good to go. Sprinkle some more cinnamon on top of your cookie to have that savory aroma. Lastly, serve this with a warm beverage to have that chill, late afternoon vibe. We recommend some Assam black tea — that goes perfect with these apple cookies.
Sugarless Apple Cookies Recipe
Ingredients
¾

cup

dates

chopped

½

cup

peeled apple

finely chopped

½

cup

raisins

½

cup

water

1

cup

all-purpose flour

1

tsp

ground cinnamon

1

tsp

baking soda

½

tsp

salt

2

eggs

1

tsp

tagatose
Instructions
In a large saucepan, combine dates, apples, raisins and water.

Bring to a boil; reduce heat and simmer for 3 minutes. Remove from heat and cool.

Combine flour, cinnamon, baking soda, and salt. Stir into apple mixture and mix well.

Add eggs and tagatose to batter and mix well. 

Drop by tablespoonfuls of batter onto a nonstick baking sheet. 

Bake at 350 degrees F for 10 to 12 minutes.
Commonly Asked Questions
What is tagatose and is it safe?
Tagatose is an artificial low-calorie sweetener produced from lactose that is safe for diabetics to consume. It has almost no effect on blood glucose and insulin levels and does not contribute to carbs. Aside from its beneficial effects, it is almost as sweet as real sugar, which makes it a great baking sweetener.
What can I substitute tagatose with in this apple cookies recipe?
While this recipe calls for 1 teaspoon of tagatose, you can substitute it with natural sweeteners like honey or molasses which contain a wealth of nutrients. However, you should still use these sweeteners more sparingly if you are a diabetic, as they are still very high in sugar.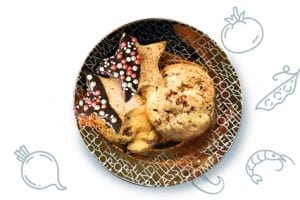 Conclusion
Sweet treats don't always have to mean breaking your diet. These sugarless apple cookies will fit right into a strict diet since they are free from processed sugars. Stop yourself from reaching for a slice of apple pie and satiate your cravings with this recipe instead.