This grilled pork tenderloin recipe is the perfect smoking hot dinner that will perk up your weekend. We're grilling juicy pork tenderloin marinated in sweet and savory teriyaki sauce. It gives our tenderloin that perfect blend of smokiness and silkiness from the sauce that's just heavenly. BBQ nights will be the new family tradition once you try this perfect weeknight dinner.
The secret to our grilled pork tenderloin recipe is in the process— marinating and grilling.  We're soaking pork tenderloins in your favorite teriyaki marinade, honey mustard, and garlic. For the flavor, we try to get the balance of sweetness and saltiness into our sauce and meat. We let our teriyaki marinade do its magic and grill our pork tenderloins to perfection. The good thing about using pork tenderloin is that it's thinly cut and is low in fat. This makes it perfect for grilling. It's also perfect for our teriyaki marinade because our boneless pork tenderloin cut into medallions can easily absorb our rich and flavorful sauce.
You'd love doing this recipe for casual lunches, dinners, and hangouts just because it's easy to prepare and is incredibly delicious! Another great thing about our grilled pork tenderloins is you can easily reheat leftovers and still get the amazing teriyaki flavor. You can easily pair this awesome dish with any side. Complete your meal with some healthy sides like roasted potatoes or roasted vegetables or go full Japanese with edamame beans as your appetizer.
Grilled Teriyaki Pork Tenderloin Recipe
Ingredients
¾

cup

honey mustard

¾

cup

teriyaki marinade

1

lb

pork tenderloin

2

garlic cloves

minced

1

green onion

chopped

sesame seeds for garnish
Instructions
In a small bowl, combine the mustard and teriyaki marinade. Pour 1 cup into a large resealable plastic bag.

Add the pork and garlic; seal bag and turn to coat.

Refrigerate for 6 hours or overnight.

Cover and refrigerate the remaining marinade.

Coat the grill rack with cooking spray before starting the grill.

Prepare the grill for indirect heat.

Drain and discard marinade from pork.

Grill your pork tenderloin covered, over indirect medium heat from 25 to 30 minutes or until temperature is at 160 degrees. Pour or brush reserved teriyaki marinade over pork while cooking and turning occasionally.

Let it stand for 5 minutes before slicing.

Sprinkle your teriyaki pork tenderloin with onion and sesame seeds and you're ready to dig in.
Commonly Asked Questions
How can I tell if pork tenderloin is done?
It's best to check the temperature of your pork tenderloin to make sure it's cooked. But based on its appearance and texture, it should be tender, juicy and has a touch of pink.
What are the best pork cuts to use for grilling?
It's best to grill bone in pork chops that are at least 1-inch thick. If you can't buy one, you can ask pork to be cut 1 ½ or 2 inch bone-in center cut rib chop or loin chop at the meat counter.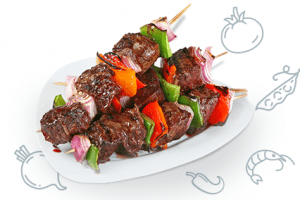 Conclusion
Grill a great weeknight dish for your family and friends. The best way to end a long day is serving a sensational meal that everyone will love. Try out this grilled pork tenderloin recipe and savor the sweet and smoky goodness of grilled pork tenderloin in sweet and flavorful sauce that you can taste in every bite.