Lobster is a dish we usually get to a fancy restaurant for special occasions or for a romantic dinner for two. It's a high maintenance crustacean—hard to raise, difficult to ship, and best cooked when it's alive. But this simple lobster tail recipe will let you enjoy juicy and savory lobster tails for a sensational dinner. In fact, all you need to do is cook the lobster with 5 common kitchen ingredients in a frying pan. Dedicate fifteen minutes of your time and you got yourself a fancy lobster dinner. Plus, it's not as costly too. This Butter Sauteed Lobster Tail recipe is a mouth-watering dish that can easily impress with hassle-free steps.
How to Cook Lobster Tails
Apart from being an accessible and affordable part of the lobster, cooking lobster tails are by far the easiest to handle. Crack it open and you'll get more meat than you bargained for. And, there are multiple ways on how to cook lobster tails as well. You can bake, poach, boil, and grill lobster tails to your heart's desire. Despite serving sauteed lobster tail for this recipe, you can easily broil lobster tail with minor adjustments. Learn how to make broiled lobster tails by reading on our CAQ section down below!
If you possibly want to try other cooking methods, our Creamy Crockpot Lobster Bisque recipe teaches you how to prepare lobster tails in a slow cooker. Our Lobster Salad is also one of the best lobster recipes, offering a healthier and creamier alternative to the dish. Serve lobster tails with a side of lemon wedges, chives, or melted butter. A little goes a long way especially something that's rich in flavor. And, with our lobster tail recipe, you'll be getting an incredibly flavorful dish indeed with easy steps to follow.
Now, before we delve into cooking lobster tails, there are a few preparations to be done. A method to opening a lobster tail is called 'Butterfly' where we cut the tail into two, revealing the delicious meat inside. This helps cook the lobster evenly for a soft and flavorful interior. Apart from the presentation, butterflying your lobster tail ensures that it is evenly cooked and makes it easier to eat. It also saves you from the hassle of cracking it open while you eat on the dinner table.
If you happen to buy fresh lobster, good for you! Lobster season is usually during the first 6 months and the last three months of the year. Just store them beautiful lobster tails in the fridge and take them out when you're about to cook. The shell turns orange when friend lobster tails have finished cooking. If not, continue to sear your lobster until it does.
However, for those who have frozen lobster on hand, as much as we want our dinner ready in a flash, you won't be able to enjoy a delicious lobster if you cook it frozen. As tempting it is to just let it thaw during frying, we recommend defrosting your lobsters first else they end up rubbery and we don't want that. If you're using frozen lobster, worry not, because we'll guide you on how to defrost lobster tails in our Recipe Notes just after the instructions. A word of warning: do not use a microwave to defrost seafood. It will toughen the meat since it's partially cooked when you expose it to heat. Moreso, microwaving the lobster might affect the flavor and texture of the meat.
Making Buttery Sautéed Lobster Tails
Once you've done all the needed preparations, you're ready to saute your lobster tails with a light yet zesty butter and lemon juice mixture. The butter enhances the flavor of the lobster as it cooks while the lemon juice adds a slight tang. Sauteed lobster tails ensured juicy and tender meat while infusing creamy flavors. The tangy element balances the incredibly rich flavor of the lobster, making sure it doesn't result in an overpowering dish. Visually, you are presenting a glossy, buttery finish to the dinner table.
With lobster tails, you can easily find a delicious pair to go with it like, say, light salads potato salads, coleslaw, and even pasta salads. Corn on the cob works or mac and cheese works great for family dinners but the best lobster tail side dish is clams and mussels. Check out our Spicy Tomato Slow Cooker Mussels recipe, a recommended favorite for a perfect lobster tail dinner.
It's a simple recipe that results in an elegant dish. To top it all off, pair it with some heavenly dose of liquor. See our Pear Brandy Champagne Cocktail recipe to make the most out of such an extravagant meal. We have more pairing suggestions to give you! So scroll down to our CAQ section to know more about what to serve with lobster tails and more!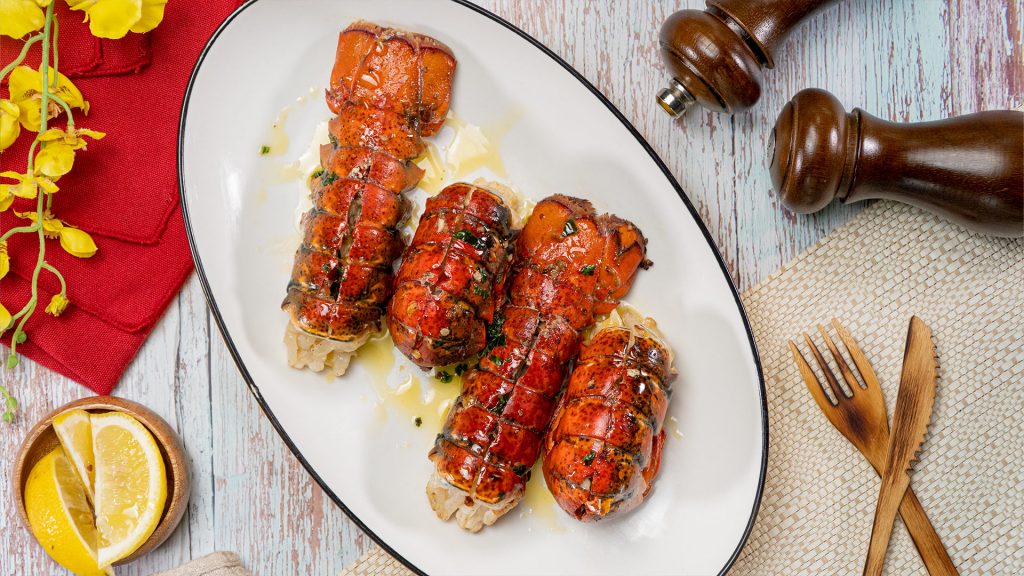 Buttery Sautéed Lobster Tail Recipe
How To Make Buttery Sautéed Lobster Tail
Indulge in a Buttery Sauteed Lobster Tail with a zesty touch. Have a bite of flavorful lobster tails smothered in creamy butter in just 15 minutes with simple and hassle-free steps!
Ingredients
4

pcs

lobster tails,

smalled, shelled

4

tbsp

unsalted butter

1

tbsp

garlic,

chopped

salt and ground black pepper,

to taste

2

tbsp

lemon juice,

to taste
For Serving:
Instructions
Butterfly your lobster tails and season them with salt and pepper.

In a large frying pan, melt the butter over medium-high heat. Add chopped garlic and lobster tails.

Sauté the lobster tails for 5 minutes. Constantly flip the lobster tails and cook them for 2 minutes on each side. Add lemon juice.

Use a spoon to baste the pan juices over the lobster meat. Once cooked, take it off the heat.

Serve them warm with leftover hot butter and lemon juice over each tail.

Garnish with a lemon wedge and chop parsley. enjoy your mouth-watering lobster tails!
Recipe Notes
To defrost lobster tails, you can place them in the fridge the night before to thaw them out or a bowl of cold water if you happen to do this last minute.
When thawing in the fridge, remember to place them in a closed container or wrap them in plastic.

When thawing in cold water, remember to place them in a leak-proof plastic bag before submerging it in water and change the water every 30 minutes until defrosted.
Pat them dry with a towel and make sure they feel flexible before cooking.
Nutrition
Sugar:

1g

:

Calcium:

8mg

Calories:

106kcal

Carbohydrates:

1g

Cholesterol:

31mg

Fat:

11g

Fiber:

1g

Iron:

1mg

Monounsaturated Fat:

3g

Polyunsaturated Fat:

1g

Potassium:

21mg

Protein:

1g

Saturated Fat:

7g

Sodium:

6mg

Trans Fat:

1g

Vitamin A:

351IU

Vitamin C:

4mg
Nutrition Disclaimer
Commonly Asked Questions
I don't have lemon juice on hand. Can I use lime instead?
Yes! If you want to stay true to that citrusy flavor, lime juice is the next best thing. Orange juice works as well though it's sweeter and less tart. White wine is great for savory dishes, which is why it can also work for this lobster tail recipe.
 How can I broil lobster tail?
 Apart from searing, broiling is the next best way to cook lobster tail. Preheat your oven to 500 degrees F and mix your butter and lemon juice ahead of time. Evenly brush them on the lobster tail and set them 5 inches away from the broiler. Bake until the lobster has turned an opaque color with a white center. The time to broil your lobster depends but the measurement is typically one minute per ounce.
How do I butterfly lobster tails?
First things first, you need a sharp pair of kitchen scissors. Use your non-dominant hand to hold the lobster. Cut through the upper shell up to the end of the tail, leaving the tail fan untouched. Gently pry open the shell, loosening it from the meat. Carefully pull the meat up, leaving the base attached to its tail. Rest the meat on top of the shell and do the same for the other lobster tail.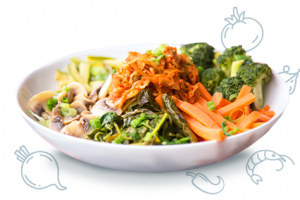 Conclusion
Lobster is known for being a romantic dish and what better way to spend your date with a homemade meal. All it takes is a seafood staple seasoned with basic kitchen spices, lemon juice, and melted butter seared evenly on both sides. Beautiful orange shell and a white, meaty soft interior, this lobster tail recipe is an aromatic dish that would melt in your mouth. Cook this up in a flash and you got yourself an exquisite lobster tail dinner!