I made this ridiculously delicious galette using my homegrown savory, aromatic heirloom tomatoes, and I don't know how many times I've made this tomato eggplant galette since their season started.
Because of the pandemic, like many other things, picking seeds and seedlings was weird this year. Everything was on remote, online, and "unknown ". But somehow I managed to pick the best variety of heirloom tomatoes. And till now, I'm still harvesting the delicious, juicy, tasty, and beautiful tomatoes from our veggie garden.
In my opinion, the best way to enjoy precious heirloom tomatoes is directly warm off the vine, sliced, served in a bed of fresh herbs and greens, seasoned with sea salt, freshly ground pepper, and a sprinkle of feta crumbles. Voila, simple yet delicious.
The second best is this slowly roasted caramelized tomato eggplant galette. Especially if you serve it along with creamy roasted tomato pepper soup. Double the taste, it won't hurt, we have to make the most of them before the season ends, and you can not taste more of a summer than this.
When tomatoes and eggplants are slowly caramelized, magically they lose their acidity and turn into a piece of candy. Sweet and savory, earthy and fruity, and soft and crunchy. So meaty and satisfying that 100% sure everyone will be happy to eat a slice or two of this beauty. Irresistibly delicious. Enjoy this healthy recipe in your dinner parties or romantic dinner for two!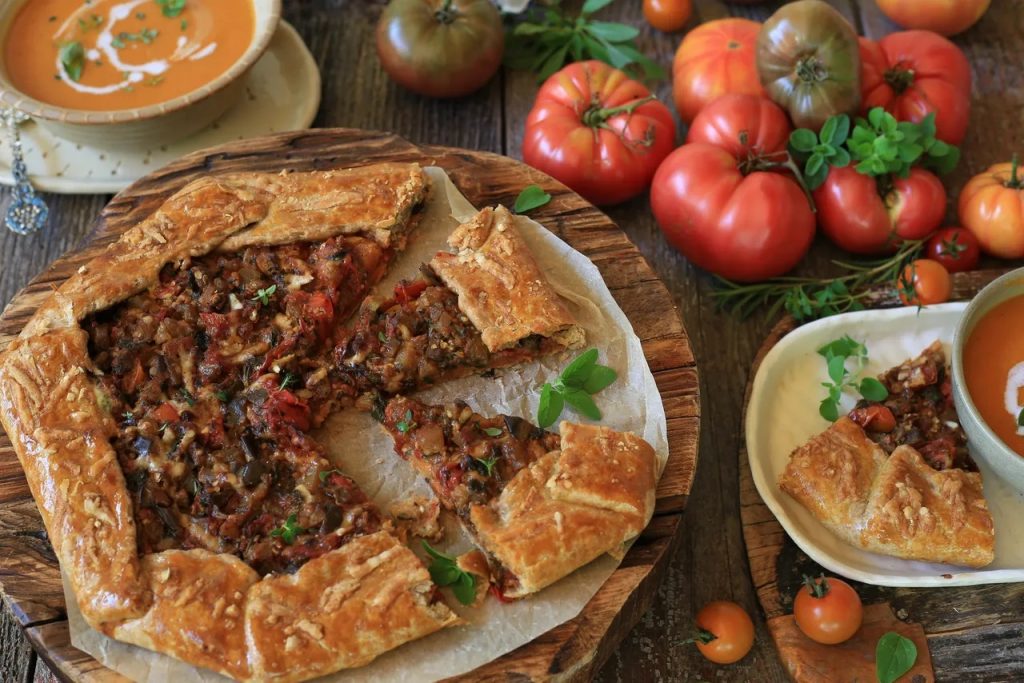 Slow Roasted Tomato Eggplant Galette Recipe
How To Make Slow Roasted Tomato Eggplant Galette
This version of the roasted galette is an elegant yet fuss-free recipe that uses tomato and eggplant to make a delicious vegetable pie.
Ingredients
For Galette:
3

cups

all-purpose flour

1

tsp

fine salt

1

tsp

sugar

5

tbsp

unsalted butter,

sliced

16

tbsp

icy cold water

1

cup

grated parmesan cheese for garnish
For Slow Roasted Tomato Eggplant:
4

pcs

heirloom tomatoes ,

or any kind tomatoes, cored and thinly sliced

1

eggplant,

medium; skin peeled like a zebra, sliced in rounds

2

tbsp

balsamic vinegar,

aged

1

tbsp

olive oil

1

tsp

garlic powder,

organic

1

tsp

onion powder,

organic

1

smoked paprika,

organic

1

tsp

sugar

¼

cup

dried herb mixture,

such as basil, oregano, and thyme

¼

cup

fresh herb mixture,

such as Thai basil, oregano, thyme, lemon verbena, pineapple sage

½

tsp

Sea salt,

to taste

½

tsp

freshly ground pepper,

to taste
Instructions
Galette:
Preheat oven to 400 degrees F.

In a food processor, add flour, sugar, and salt, mix until combined. Add cold butter slices, pulse until turn into the coarse sand texture.

Add cold water, pulse just enough to form a crumble dough. Cover dough with plastic wrap then put pieces together with your fingers. Transfer dough into a fridge and let it chill for 30 minutes.

Transfer dough onto a lightly floured surface, using pastry roll, roll out dough. Transfer dough onto parchment paper-lined baking sheet. Sprinkle half of the parmesan cheese on the bottom first, then spread roasted tomato-eggplant mixture evenly. Fold edges over itself randomly.

Brush edges with egg yolk, sprinkle rest of the parmesan over. Bake galette for 45 minutes. You may need to cover the top with aluminum foil on the last 15 minutes of baking time.
Slow Roasted Tomato Eggplant:
Preheat oven to 400 degrees F.

In a large baking dish, add all the ingredients together, lightly mix until coated evenly.

Roast tomatoes and eggplants for 50 to 55 minutes or until they lose most of the liquid and eggplants are tender.
Nutrition
Sugar:

4g

:

Calcium:

157mg

Calories:

329kcal

Carbohydrates:

42g

Cholesterol:

30mg

Fat:

13g

Fiber:

3g

Iron:

3mg

Potassium:

216mg

Protein:

11g

Saturated Fat:

7g

Sodium:

634mg

Vitamin A:

602IU

Vitamin C:

4mg
Nutrition Disclaimer