Valentine's day is the best time to show your loved ones how much they mean to you, and these sweet chocolate valentine cupcakes will surely melt their hearts. In under an hour, you'll be able to whip up half a dozen of these chocolate lava cupcakes. Pair them with a box of chocolate-covered strawberries for another cupid's day classic that you and your beau can enjoy together.
Tips on Making Moist Valentine Cupcakes
The two secret ingredients for these moist valentine cupcakes are oil and yogurt. Trust us, these two work wonders! Even more, this chocolate cupcake recipe is easy-to-follow, especially for beginners. Meanwhile, here are some of the things you should take note of making this recipe:
Use room temperature ingredients

. This ensures that the ingredients will incorporate well, and the power of the eggs to trap air is at the maximum. As a result, your cupcakes will rise beautifully and have the best texture.

Measure the ingredients properly.

Fluff up dry ingredients using a fork and then spoon them into a measuring cup. Then run the straight edge of the knife to level the surface.

Sift all the dry ingredients together.

Doing this will break up any clumps of flour or

cocoa powder

before you mix them into your batter. This excludes sugar which has a high amount of moisture, making it a wet ingredient.

Do not overmix or undermix.

Doing either will cause your cupcakes to toughen and deflate after baking. Mix just until everything is well combined. 

Use a measuring spoon or ice cream scoop

to uniformly fill your cupcake liners to about ¾ of the way full, just enough space for your cupcakes to rise without overflowing.

Allow your chocolate cupcakes to cool before frosting.

Otherwise, the

frosting

will melt. 

Use room-temperature chocolate ganache for piping. Too hot and it gets runny, and too cold it will be hard to squeeze. It is more manageable at room temperature.
Get creative with your cupcake design ideas.

Use candy hearts,

chocolate chips

,

heart

sprinkles, and marshmallows.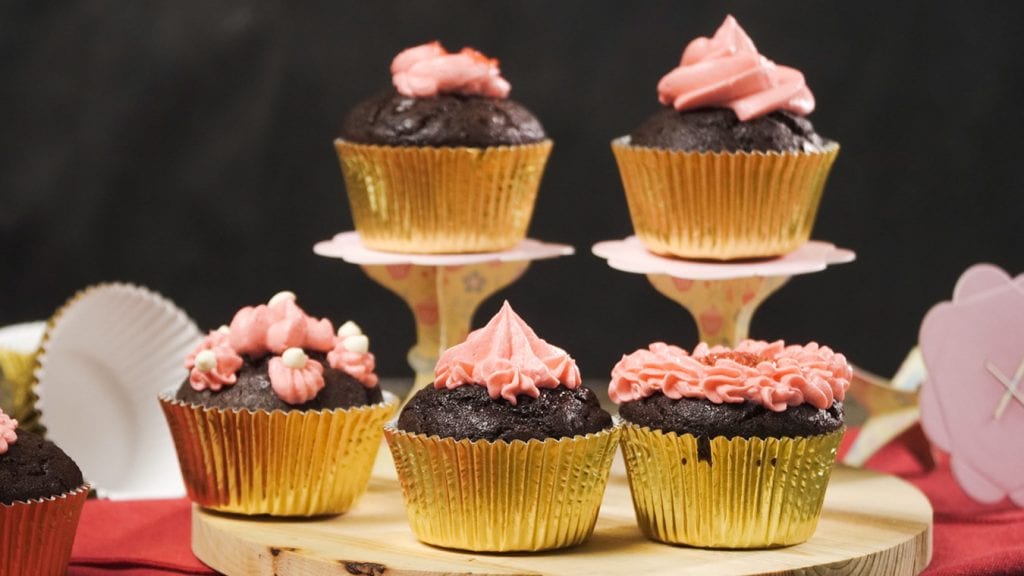 Be My Valentine Cupcakes Recipe
How To Make Be My Valentine Cupcakes
These moist valentine cupcakes are filled with dark chocolate ganache, finished with vanilla buttercream frosting, and decorated with playful candy toppings that will surely melt the heart of your loved ones.
Ingredients
For Cupcakes:
⅓

cup

cocoa powder

¾

cup

all-purpose flour

¾

cup

brown sugar

¾

tsp

baking soda

⅓

tsp

baking powder

⅓

tsp

salt

1

egg,

room temperature

⅓

cup

hot water

⅓

cup

yogurt

1½

tbsp

vegetable oil

½

tsp

vanilla extract
For Vanilla Buttercream Frosting:
¾

cup

unsalted butter,

room temperature

3

cups

confectioners sugar

½

tbsp

vanilla extract

⅔

cup

heavy cream

¼

cup

milk

red food coloring
For Molten Ganache Filling:
¼

cup

heavy cream

5

oz

dark chocolate chips
To Serve:
white chocolate chips

red sanding sugar
Instructions
Cupcakes:
Preheat the oven to 350 degrees F. Line your cupcake tin with cupcake liners. Set aside.

In a large bowl, sift together cocoa powder, flour, baking soda, baking powder, and salt. Set aside.

Add eggs, brown sugar, warm water, buttermilk, oil, and vanilla in a large mixing bowl. Beat until the sugar has dissolved and the mixture has turned light and fluffy, for about 6 to 8 minutes.

Fold sifted flour mixture into the egg mixture until evenly incorporated.

Fill each cupcake liner approximately ⅔ full. Transfer to the oven.

Bake for 20 minutes or until the tops spring back when touched lightly. Do not overbake.

Transfer to a wire rack and let it cool completely.
Molten Ganache Filling:
In a small bowl and using a microwave, heat cream over medium-low heat in 15-second intervals until steaming hot but not boiling.

Pour chocolate chips into the hot cream and stir it until smooth. This will take a couple of minutes, while the heat of the cream melts all of the chocolate. You may also need to reheat using the microwave as needed.

Transfer your ganache into a tipped piping bag.

Fill up your cool cupcakes by injecting the tip into the tops of cupcakes. Squeeze gently to push the chocolate filling into the cake, while slowly lifting your piping bag. It will be filled up once you see it overflow slightly on top. Repeat for all cupcakes.
Vanilla Buttercream Frosting:
In a bowl of a stand mixer, cream together butter and sugar until light and fluffy.

Add cream, milk, and vanilla extract. Continue creaming until evenly incorporated, and double in volume, for about 6 to 8 minutes.

Transfer to a tipped piping bag, then frost your cupcakes as desired.

Garnish with your choice of edible decorations. Serve and enjoy!
Recipe Notes
This recipe makes 3 cups of vanilla buttercream frosting and 1⅓ cups of molten ganache.

For the garnish, you can use either or any combination of the following: sanding sugars, candy sprinkles, heart-shaped sugar flowers, marshmallows, or chocolate chips.
Nutrition
Sugar:

95g

:

Calcium:

182mg

Calories:

920kcal

Carbohydrates:

117g

Cholesterol:

141mg

Fat:

50g

Fiber:

3g

Iron:

2mg

Potassium:

358mg

Protein:

7g

Saturated Fat:

34g

Sodium:

388mg

Trans Fat:

1g

Vitamin A:

1316IU

Vitamin C:

1mg
Nutrition Disclaimer
Frequently Asked Questions
What is the secret to moist cupcakes?
Use brown sugar instead of white, because it has higher moisture content that gives baked goods a luscious mouthfeel. In addition, use oil instead of butter because it lessens gluten formation that makes cakes tough. Switch from milk to sour cream or yogurt because they add creaminess and their slight acidity helps activate the baking soda, which makes the cupcakes rise. Our recipe makes use of all these three so be sure to follow the recipe and tips and you'll be making super moist chocolate cupcakes every time.
Why are my cupcakes so dense?
Dense cupcakes could be caused by various factors. First, you might have added too much flour. Prevent this from happening by measuring the ingredients properly. Use a kitchen scale if available. Secondly, you might have missed adding baking soda and baking powder, or the ones you added might have already expired and therefore have lost their leavening power. Lastly, avoid over mixing as this results in dense cupcakes.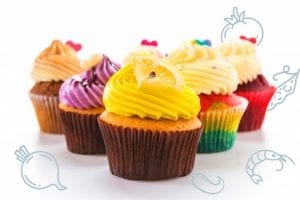 Conclusion
Whip up a batch of these decadent moist valentine cupcakes for your loved one! Not only do they taste great, but they also have a dainty and aesthetic feel. Box these desserts up for a heartwarming homemade gift or have them served as a sweet ending to your memorable dinner.
Topics: