Valentine's day is the best time to show your loved ones how much they mean to you. For that special someone, why not bake these Be My Valentine Cupcakes? After all, what could be more heartwarming than a token of love that you've made yourself?
A box of these chocolate-oozing cupcakes will make a great last-minute Valentine's gift idea too, as it doesn't require much time and resources. In under an hour, you'll be able to conjure up half a dozen of these chocolate lava goodies. On the side, you can also make a box of chocolate-covered strawberries for another cupid's day classic that you and your beau can enjoy together.
What To Expect With These Valentine Cupcakes
This Be My Valentine Cupcakes recipe melds together two sweet treats we love having for cupid's day: cupcakes and chocolate. Because of that, you can expect to yield a dainty dessert that possesses the best qualities of its two main components.
Cupcakes are charming and endearing. You can expect these valentine cupcakes to be moist and cloud-like. The quintessential chocolate cupcake flavor we all love and the chocolate ganache that oozes out of the cupcake, with a red-colored vanilla frosting, makes these valentine cupcakes rich in flavor, yet well-balanced so these treats don't end up too cloying.
What Is Chocolate Ganache?
Each bite of these valentine cupcakes will be pleasantly surprised. You'll be greeted with gooey dark chocolate lava that bursts upon each bite. Coupled with the moist chocolate cupcake, the chocolate lava must make for a sinfully delicious dessert.
This molten chocolate component is called chocolate ganache. For this recipe, the ganache is made of dark chocolate chips and heavy cream, which is standard for most ganache recipes. The chips are continuously stirred until they marry into the cream for a satisfying silky consistency.
To achieve that signature ooze of chocolate lava, the chocolate ganache will be injected into the cupcakes before being frosted. For the perfect execution, the ganache has to have a thick-paste consistency at room temperature. Truly, you and your beau will enjoy these homemade molten cupcakes!
Tips For Baking Moist Valentine Cupcakes
This cupcake recipe is pretty much straightforward. It's relatively easy, and with a gentle nudge in the right direction, you will be able to make them even if you have little experience in the kitchen. Here are some of the things you should take note of to guarantee cupcake baking success:
Sift Together Dry Ingredients
Next to preheating your oven, the first step in handling the ingredients for this valentine cupcakes recipe is to sift together the flour, cocoa powder, baking soda, baking powder, and salt. In doing so, you'll be combining the dry cupcake ingredients without much effort. This step allows you to distribute the dry ingredients evenly. Sifted ingredients should be lighter and therefore easier and faster to mix with the wet ingredients, so this step should save you time.
Use Oil Instead Of Butter
A standard fluffy cupcake recipe calls for butter as one of its main ingredients. For this lava cupcake recipe, the fat component required is oil instead of butter. Oil has a relatively higher fat content than butter, and it reduces gluten formation. Upon using this ingredient, you can expect your cupcakes to be perfectly moist, a great complement to the molten ganache filling.
Use Yogurt Instead Of Milk
Typically, a cupcake recipe would call for milk or water as a liquid component used to bind the ingredients together. In this recipe, these are replaced with a combination of yoghurt and water. This should also aid in making gratifyingly moist cupcakes.
Use Room Temperature Ingredients
For these valentine cupcakes, we highly suggest allowing your ingredients to come up to room temperature before even proceeding with the first step. Do this for the ingredients that are usually kept in the fridge, like eggs and yoghurt. Bakers swear upon this technique to ensure that their cakes achieve the best texture. Having room temperature eggs and yoghurt should help form a better emulsion that holds air better. The presence of these air pockets should make for cupcakes that are well-risen.
When the ingredients are warmer, they will be easier to use and manipulate compared to frozen ones. Combining room temperature ingredients should be more effortless. This should reduce the risk of overmixing the cupcake batter, and the texture of the cupcake should be more even.
Don't Mix Your Batter Too Much
As with any baked goods, it's never a good idea to overmix your batter. This is probably one of the most used baking reminders, and for good reason. Mixing your batter too hard or for too long can ruin a perfectly good cupcake.
If we haven't emphasized this enough, we want our cupcakes to be fluffy. We beat the cupcake batter to create air pockets to get this result. When you overmix your batter, you'll either make your cupcake batter too airy and unstable, or you'll form too much gluten and make your cake too dense and chewy.
It's always a good rule of thumb to mix the batter just until all the ingredients are evenly incorporated. Beating for more than that spells disaster.
How To Perfectly Frost Your Chocolate Cupcake
After you've filled the cupcakes with ganache, the next step is to frost the cupcakes. This step can be a bit messy, so it helps to know a bit about what works best.
First off, you have to choose how you want your frosting to look. There are a lot of piping nozzle options out there. For these valentine cupcakes, we suggest using a star nozzle as it is the standard among most pretty cupcakes. Afterwards, insert the nozzle into the piping bag.
To fill it with frosting, hold the piping bag with one hand and fold back the top. Carefully scoop the frosting into the bag using a spatula. Once done, push the frosting a bit to the tip of the bag, so you can seal the back by twisting it. Hold the sealed end of the bag to keep the frosting from escaping.

Tip: if you don't have a piping bag, you can use a ziplock bag. Just cut off one corner of the bag, and insert the piping tip inside.
Before you start applying the frosting, hold the piping bag perpendicular to the cupcake at a distance of about half an inch. Apply pressure on the bag so that the frosting comes out of the tip of the nozzle. When squeezing the frosting, stay in place up until the frosting has started to spread outward. Don't worry if the tip is slightly buried in the frosting.

Tip: To get a more consistent look, maintain even pressure when piping the cupcakes.
Slowly lift your piping bag upward just when the frosting moves towards the edge of your cupcakes. Once your cupcake is sufficiently covered, gently stop squeezing the piping bag and then lift the bag so that the nozzle detaches from the frosting on the cupcake.
Pairing Suggestions For Valentine Cupcakes
A box of these sweet cupcakes is great to give as a gift. However, you can also serve them as a dessert over lunch or picnic date.
The dark chocolate component in the ganache of this lava cupcake calls for us to be picky when it comes to pairing with wines. Because dark chocolate has a slight bitterness and is not too sweet, the recommended pairings are wines with notes of sweetness to balance out the flavors, like shiraz. Pop a bottle of shiraz and make red-wine sangria to serve on your date night! Its reddish hue will also add sultriness to your romantic dining ambience.
If you're craving that absolute coffee and cupcake pairing, you can try pairing this dessert with a cappuccino martini instead. This gives you that familiar bitter coffee taste with a kick from the alcohol that should perfectly complement the sweetness of the cupcakes. Caffeine keeps you invigorated, and alcohol strips off your inhibitions. This is perfect if you want a confidence boost to impress your lover.
Be My Valentine Cupcakes Recipe Video
How To Make Be My Valentine Cupcakes
These moist cupcakes are filled with sticky dark chocolate ganache, finished with vanilla buttercream frosting, and decorated with playful candy toppings.
Ingredients
Cupcakes:
⅓

cup

cocoa powder

¾

cup

all-purpose flour

¾

cup

brown sugar

¾

tsp

baking soda

⅓

tsp

baking powder

⅓

tsp

salt

1

egg,

room temperature

⅓

cup

hot water

⅓

cup

yogurt

1½

tbsp

vegetable oil

½

tsp

vanilla extract
Vanilla Buttercream:
¾

cup

unsalted butter,

room temperature

3

cups

confectioners sugar

½

tbsp

vanilla extract

⅔

cup

heavy cream

¼

cup

milk

red food coloring
Molten Ganache Filling:
¼

cup

heavy cream

5

oz

dark chocolate chips
Instructions
Cupcakes:
Preheat the oven to 350 degrees F.

Line your cupcake tin with cupcake liners. Set aside.

In a large bowl, sift together cocoa powder, flour, baking soda, baking powder, and salt. Set aside.

Add eggs, brown sugar, warm water, buttermilk, oil, and vanilla in a large mixing bowl. Beat until the sugar has dissolved & the mixture has turned light & fluffy, roughly 8 minutes.

Fold sifted flour mixture into the egg mixture until evenly incorporated.

Fill each cupcake liner approximately ⅔ full. Transfer to the oven.

Bake for 20 minutes or until the tops spring back when touched lightly. Do not overbake.

Transfer to a wire rack and let cool completely.
Filling:
In a small bowl & using a microwave, heat cream over medium-low heat in 15-second intervals until steaming hot but not boiling.

Pour chocolate chips into hot cream & stir the chocolate until smooth. This will take a couple of minutes, while the heat of the cream melts all of the chocolate. You may also need to re-heat using the microwave as needed.

Transfer your ganache into a tipped piping bag.

Fill up your cool cupcakes by injecting the tip into the tops of cupcakes. Squeeze gently to push the chocolate filling into the cake, while slowly lifting your piping bag. It will be filled up once you see it overflow slightly on top. Repeat for all cupcakes.
Frosting:
In a bowl of a stand-mixer, cream together butter and sugar until light and fluffy.

Add cream, milk, and vanilla extract. Continue creaming until evenly incorporated, & double in volume, roughly 8 minutes

Transfer to a tipped piping bag, then frost your cupcakes as desired.

Garnish with your choice of edible decorations. Serve.
Recipe Notes
To fill the cupcakes with ganache, aim to inject about ¼ cup of filling for each. 

The ideal amount of buttercream frosting for each cupcake is roughly 3 oz. 

For added flair, you can add sanding sugars, candy sprinkles, heart-shaped sugar flowers, marshmallows, or chocolate chips to your liking. White chocolate chips and red sanding sugar were used for this recipe. 

 Use 2 teaspoons each of chocolate chips and sanding sugar for each cupcake.
Nutrition
Calcium:

182mg

Calories:

920kcal

Carbohydrates:

117g

Cholesterol:

141mg

Fat:

50g

Fiber:

3g

Iron:

2mg

Potassium:

358mg

Protein:

7g

Saturated Fat:

34g

Sodium:

388mg

Sugar:

95g

Trans Fat:

1g

Vitamin A:

1316IU

Vitamin C:

1mg
Nutrition Disclaimer
Commonly Asked Questions
How do I store cupcakes?
Before storing your valentine cupcakes, make sure that they have cooled off. This will ensure that the cupcakes retain the best texture. Put them in an airtight container that has the right amount of width and height for frosted and unfrosted cupcakes, and keep them at room temperature in your kitchen. If it's too hot, you can keep them in the fridge.
How long do these valentine lava cupcakes stay good?
Cupcakes with a ganache filling can be stored at room temperature for up to 2 days. Refrigerated cupcakes can last for up to a month. However, let the chilled lava cupcakes stand at room temperature for approximately 30 minutes before serving.
Will chocolate ganache make the cupcakes too sweet?
This recipe calls for dark chocolate chips in making the ganache. Therefore, the filling shouldn't be too sweet compared to a regular milk chocolate-chip ganache.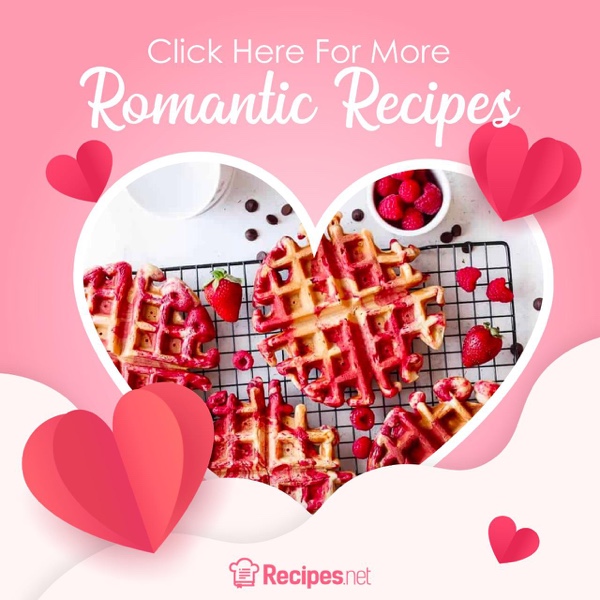 Conclusion
For Valentine's Day, whip up a batch of these decadent Be My Valentine cupcakes for your loved one! Not only do they taste great, but they also have a dainty and aesthetic feel. Box these desserts up for a heartwarming homemade gift, or have them paired with fun cocktails for your date.
Topics: