Indeed, The Cheesecake Factory is known for its classic signature cheesecakes. Among their variety of cheesecakes, the luscious cheesecake with strawberry topping is the ultimate cake dessert worth recreating at home.
In this copycat strawberry cheesecake recipe, we provide the necessary tips to easily recreate The Cheesecake Factory's original cheesecake. Hence, this cheesecake recipe will guide you in making the graham cracker crust, the sweet strawberry glaze topping, as well as the velvety cheesecake filling that never disappoints. A dessert that is surely perfect for a fancy dinner for two!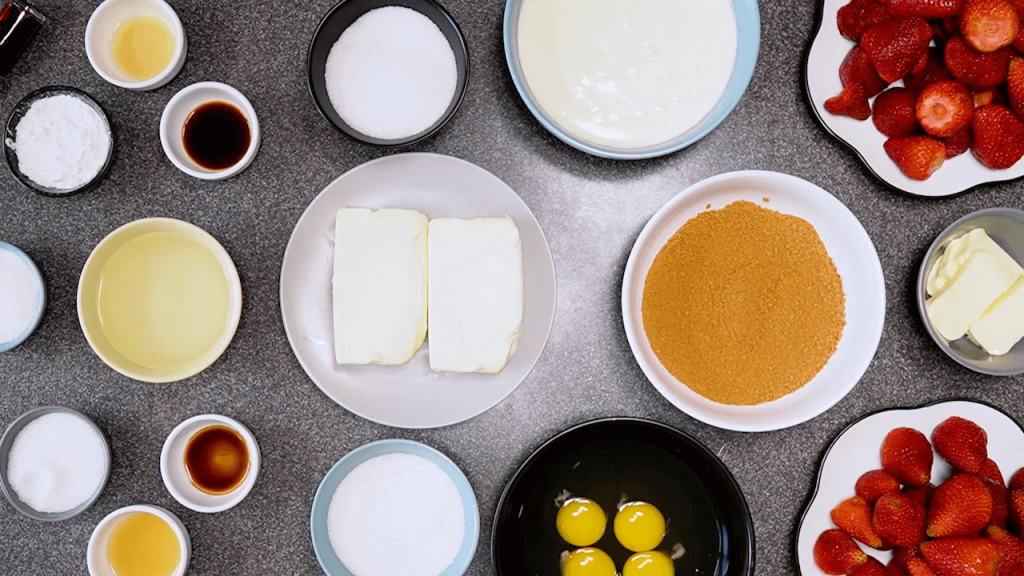 Make The Strawberry Cheesecake One Day In Advance
The process of making cheesecakes are different yet much simpler. Unlike regular cake recipes, a cheesecake is known for its moist, soft, and creamy texture. It doesn't have the foam-like texture and appearance of a cake. In other words, you won't have to worry whether your cheesecake will rise or sink as you would with standard cakes.
Undoubtedly, this strawberry cheesecake recipe is easy to follow. Nevertheless, it does take some time for the cheesecake to chill and settle. We're talking at least one day in advance before it is ready to be packed or served to guests. Therefore, remember to set aside one or two days before the gathering to make the cheesecake.
Moreover, this copycat strawberry cheesecake is the perfect dessert to serve with wine, coffee or tea. Alternatively, you can make yourself a cup of strawberry milkshake with leftover strawberries from working this recipe.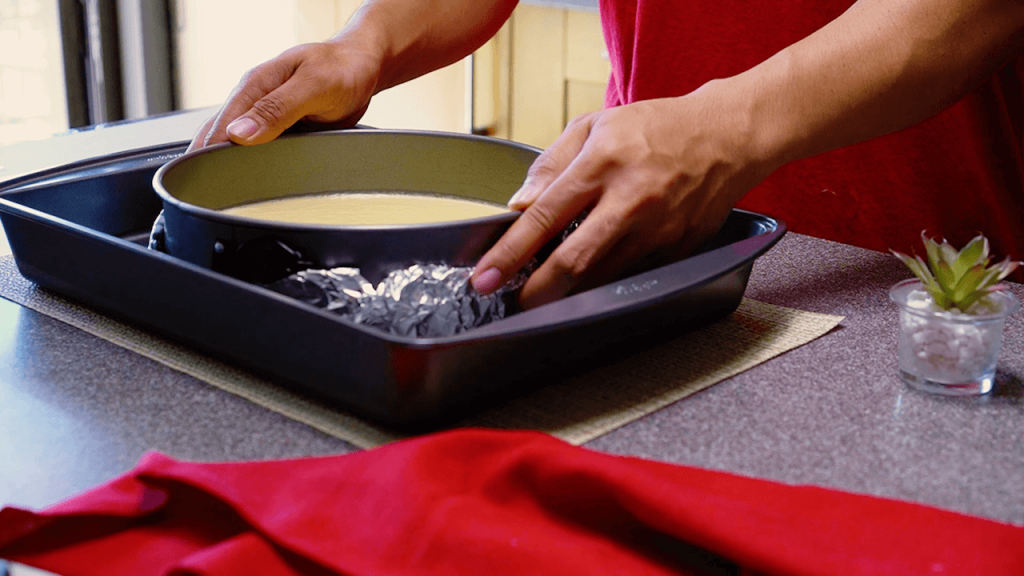 What's In This Strawberry Cheesecake Recipe?
Most cheesecakes, except for plain ones, have the same three components: 
Crushed cracker crust

– Clearly, this refers to the slightly salted and crumbly cheesecake base. Besides supporting the luscious cheesecake filling, it provides the contrasting taste to balance out the richness of a heavy cheesecake. Furthermore, the butter and sugar added to the mix enhance the flavor of the crust. 

Tip: To save time, place the graham crackers inside a ziplock bag. Then, use a rolling pin to crush them until it's turned into fine crumbs.
Cheesecake cream cheese filling

– Unquestionably, this layer makes up the mass of a cheesecake. Also, the ingredients used for this middle layer dictates the cheesecake's flavor and texture. It's usually made of cream cheese, sugar, eggs, and vanilla extract. Since this is a copycat cheesecake recipe from The Cheesecake Factory, we have also added lemon juice to the batter. Simply mix well and you'll achieve that creamy cheesecake batter, just like that of the famous restaurant's.

Toppings or glaze

–  Lastly, the sour cream topping combined with our strawberry glaze. This gives the cheesecake the additional flavors and beautifies the whole cheesecake's appearance. The sour cream topping has sugar, sour cream, and vanilla extract for an added warm and comforting aroma.
Making a homemade cheesecake is not as complicated as you might think. Any cheesecake recipe made from scratch, like the Key Lime Cheesecake and Caramel Swirl Pumpkin Cheesecake, is a dessert worth trying.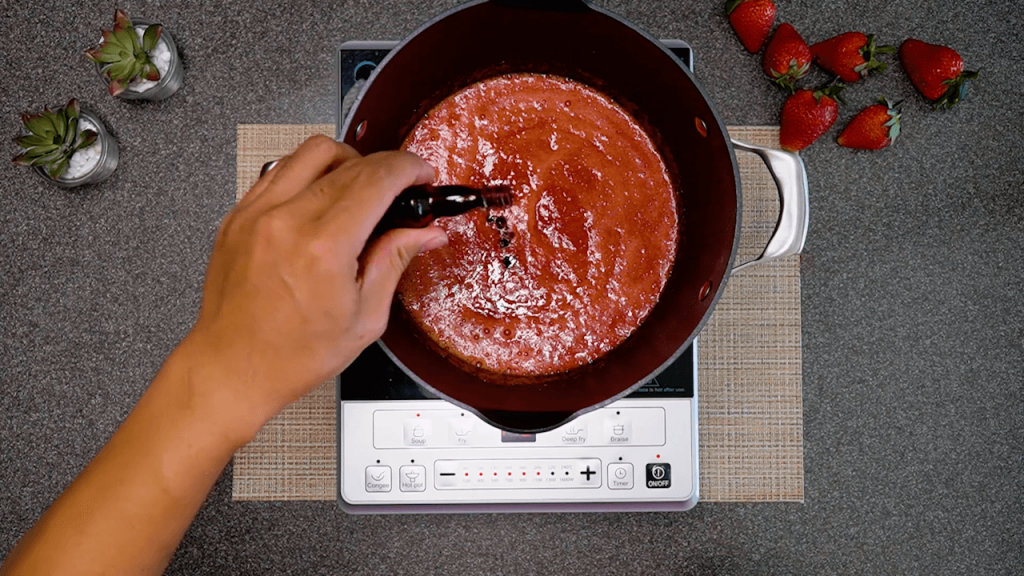 Making Our Sweet Strawberry Glaze Topping
Cheesecakes are still delicious even if it's plain. However, you can make it even better by drizzling some strawberry sauce. Strawberry glaze poured on top of the classic sour cream topping is a flavor combination that you have to taste. 
The strawberry glaze in this recipe consists of simple ingredients. Thus, preparation is convenient and simple. The strawberry glaze combines fresh strawberries with the sweetness of sugar, and the zest of the lemon juice. Subsequently, it is then mixed with cornstarch and water to achieve its jam-like consistency. This strawberry glaze recipe is all about blending until it's smooth, and then simmering to get the desired thickness. 

Tip: When making the sauce, pay attention to the simmering process since this affects the thickness of the strawberry glaze.
Finally, set aside to cool and pour the glaze on top of the cheesecake. This is the part where your strawberry cheesecake will look extra heavenly as the glaze topping decorates the cheesecake with its beautiful red sauce. 

Tip:
The strawberry glaze thickens more as it cools down. If it's too thick, add a small amount of water (about 1 tsp) to loosen up and adjust the consistency. Remember not to overdo it. Only add a small amount of water one at a time.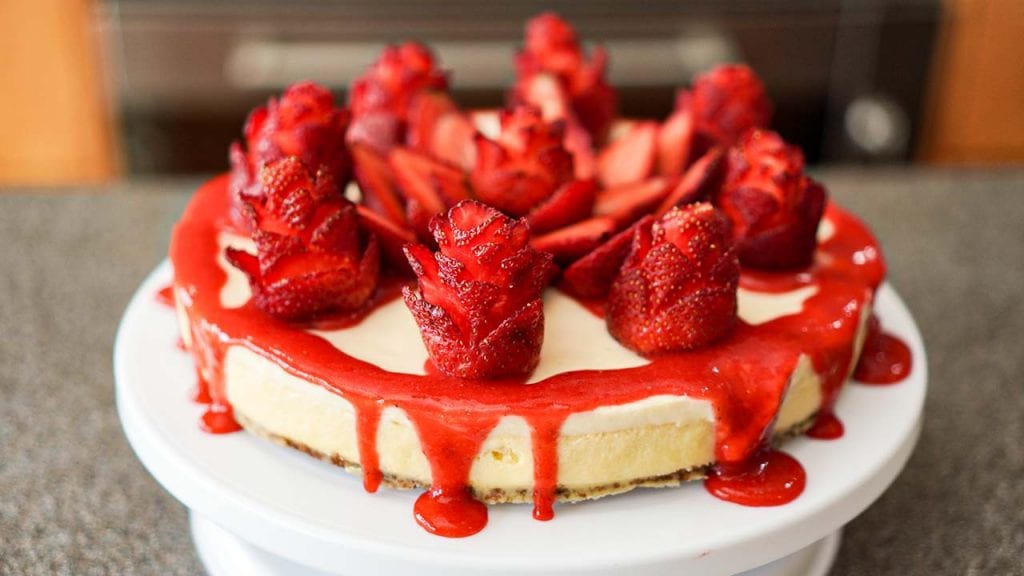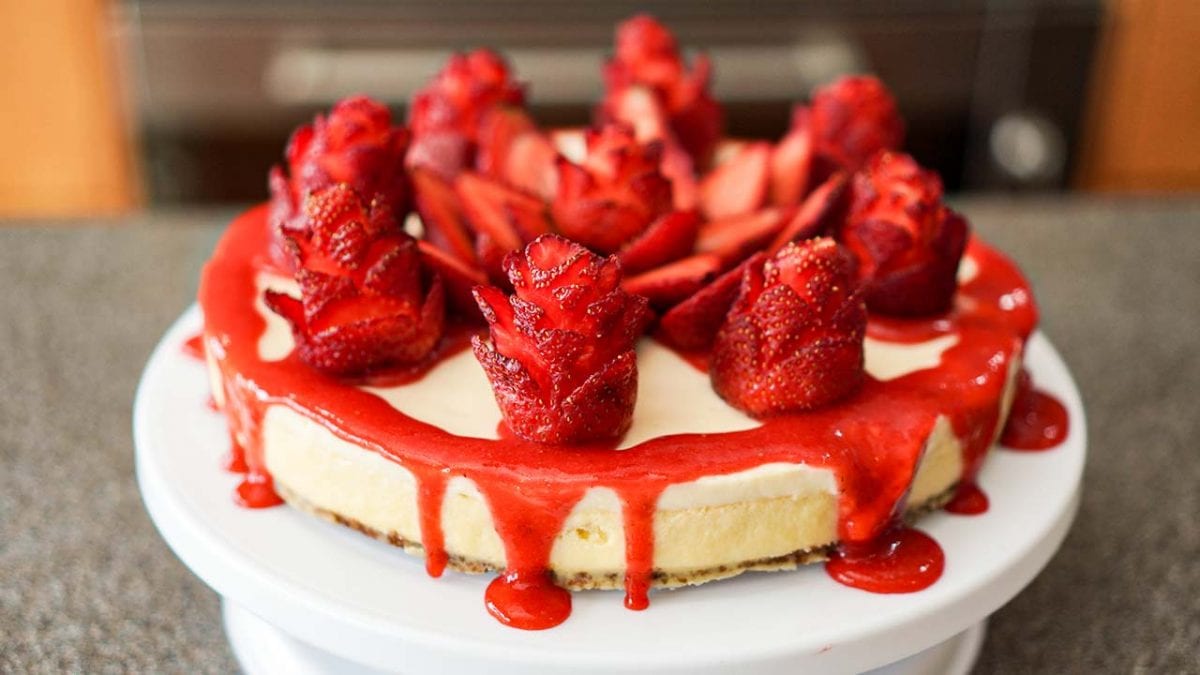 Fresh Strawberry Cheesecake Recipe by The Cheesecake Factory
How To Make Cheesecake Factory Original Cheesecake with Strawberry Topping
Our homemade strawberry cheesecake recipe promises the sweet and soft taste of the cream cheese filling combined with the thick strawberry glaze topping that's dripping with delicious goodness.
Total:
1

days
1

hr
30

mins
Ingredients
Graham Cracker Crust
6

tbsp

butter,

room temperature

1¼

cup

graham crackers,

crushed (1 sleeve worth)

¼

cup

sugar
Cheesecake filling
2

pkg

8 oz cream cheese,

softened

4

eggs

1

tbsp

lemon juice

1

cup

sugar

2

tsp

vanilla extract
Sour Cream Topping
2

cups

sour cream

¼

cup

sugar

1

tsp

vanilla extract
Strawberry Glaze
1

quart

strawberries

3

tsp

lemon juice

3

tbsp

cornstarch

1

cup

water

1

cup

sugar

red food coloring
Other
Instructions
Preheat oven to 350 degrees F.
Graham Cracker Crust
In a small bowl, mix graham cracker crumbs, soft butter, and sugar. Then,

Place the mixture onto a 9-inch springform pan and press the graham crackers down until the pan is fully covered.
Cheesecake Filling
Use a hand mixer to thoroughly mix the softened cream cheese and sugar. Blend until creamy. Add lemon juice and vanilla extract. Blend again.

Add eggs and mix again.

Pour filling into a springform pan.

If you would like, make your water bath by covering the bottom of the springform pan with foil and put into a larger pan with hot water underneath.

Bake cheesecake for 55 minutes. Check the center with a toothpick and make sure it comes out clean. If not, place back into the oven, checking every 5 minutes until done.
Sour Cream Topping
Add sour cream, sugar and vanilla extract into a bowl and blend until creamy.

When the cheesecake is finished cooking, add the sour cream topping right away, smoothing out the top and place back into the oven for 5 minutes.

Remove cheesecake from the oven and let cool for 30 minutes before placing into the fridge for 12 to 24 hours.

Hull strawberries and decorate the top of the cheesecake. Start on the outside and work your way in.
Strawberry Glaze
Place remaining strawberries into a food processor and blend until pureed.

Place the puree into a saucepan on the stovetop, on medium heat, adding lemon juice and sugar.

In a small bowl, whisk together water and cornstarch and add to the pan. Add your red food coloring (to desired amount) .

Whisk sauce mixture until thickened and simmering.

Remove from heat and strain. Let cool.

Once the strawberry glaze has cooled, place into a pastry bag and cut a small amount off the tip to complete the decoration of the cheesecake. Glaze in between each strawberry and around the sides, you may even place the glaze over each individual strawberry.

Place into the fridge until time to serve.
Nutrition
Sugar:

54g

:

Calcium:

122mg

Calories:

547kcal

Carbohydrates:

67g

Cholesterol:

116mg

Fat:

29g

Fiber:

4g

Iron:

2mg

Potassium:

387mg

Protein:

7g

Saturated Fat:

14g

Sodium:

307mg

Vitamin A:

1107IU

Vitamin C:

94mg
Nutrition Disclaimer
Frequently Asked Questions
What goes best with cheesecake?
Without a doubt, desserts are best paired with delicious beverages. With this strawberry cheesecake recipe, pair with wine, coffee or tea. For a cool drink, pair with crisp white wine. Alternatively, you may pair with a cappuccino if you prefer a non-alcoholic beverage. Creamy desserts go well with a coffee beverage as it balances the flavors between bitter and sweet. If you prefer tea, we'd suggest pairing your cheesecake with black tea. Similarly, tea balances the sweetness of heavy cheesecakes with its distinct earthy flavor.
How to store cheesecake?
Cheesecakes can be kept in the fridge. Importantly, cover the cheesecake with aluminium foil or plastic wrap. This helps to prevent outside moisture from affecting the cheesecake. Baked cheesecake can be stored in the refrigerator for up to 3 days. Furthermore, it can also last up to a week when placed in the freezer. When ready to consume again, thaw the cheesecake before serving.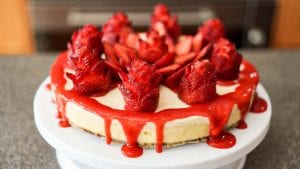 Conclusion
You can never go wrong with a classic strawberry cheesecake recipe that has a delicious strawberry glaze topping. It's a strawberry cheesecake recipe that has simple ingredients which makes it easy to make and fun to prepare. This delicious cake is overflowing with soft and creamy goodness which makes every bite a heartwarming cheesecake experience.
Topics: