Are you looking for a deliciously sophisticated dish for your next dinner party? Then a plate of pork braciole is the right meal to serve up. It's a dish of pig skin, or cotonne in Italian, stuffed with a savory filling. The skin is then rolled, fried, then braised in mouth-watering tomato sauce for hours.
This meal is similar to our healthy chicken roulade that also makes the perfect main dish at any special gathering. But in this recipe, we'll be making crispy pork skin braciole in Italian tomato sauce. 
What Is Pork Braciole?
Braciole, or Braciola in the singular form, is an Italian dish made of thinly sliced meat wrapped around a seasoned filling. The meat can vary depending on your preference, but the most popular meat used for this recipe is beef or pork. 
In this recipe, we're using tasty pork rinds. It follows the same idea as the classic beef braciole, however, you'll get a much more velvety texture from the pork skin. And instead of braising it in wine, we're smothering our delicious pork rolls in a flavorful tomato sauce. 
You'll find that pork skin is inexpensive compared to usual meat cuts used in beef braciole recipes. Meanwhile, if you've got any leftover pig skin, don't throw them away. Make hearty, stuffed braciole instead to impress your guests at your next classy gathering. If we've piqued your interest, then keep going to get a few tips and tricks on how to cook braciole.
Tips in Making Pork Braciole
Prepping up our pork braciole may need a bit of work, but cooking it is certainly made easy by our recipe. As far as fillings go, we came up with a simple mix of parmesan cheese, breadcrumbs, and herbs. But, there is no limit to what you can put inside this stuffed braciole, so we suggest trying the following:
Toss in a bit of ham in your filling

if you're craving a meatier flavor.

Not really a fan of parmesan cheese?

Try some grana padano or pecorino.

Add in vegetables like bell peppers and mushrooms

to make it a bit healthier. 

Be creative and try to add some of your favorite fillings. 
To sum up, we want you to enjoy rich, tender, pork skin braised in a flavorful tomato sauce for the best meal. It will be the best comfort food for a Sunday night with the family or a simple dinner party. Even more, you can easily make it ahead of time! Check out our CAQ section down below to find out how. Meanwhile, for more pork skin recipes you can try, check out our Italian porchetta recipe.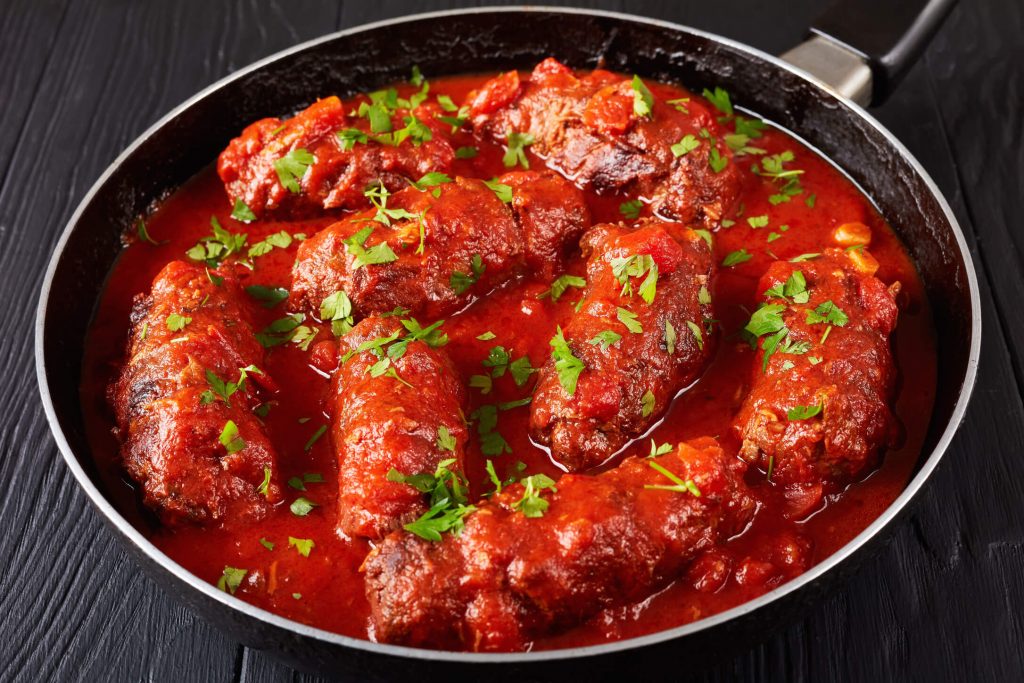 Pork Braciole in Tomato Sauce Recipe
How To Make Pork Braciole in Tomato Sauce
A rich and velvety pork skin braciole smothered in a flavorful tomato sauce. Serve this up at your next special gathering for the best Italian meal!
Ingredients
3

pcs

pig skin,

from the belly, not tripe long enough to roll at least 3 times

½

cup

breadcrumbs

¼

cup

Parmesan cheese,

grated

black pepper

⅛

cup

oil,

canola or vegetable

2

tsp

onion powder

butter,

optional

1½

cup

Italian tomato sauce
Instructions
Place skins in warm water to clean for about 10 minutes.

Rinse and pat dry with paper towels.

Lay the skins out, soft side up.

Score with a knife and, if using, lightly spread butter on the surface.

Sprinkle breadcrumbs, onion powder and cheese, equally divided among each piece.

Rub black pepper lightly over each skin.

Roll skins like a log and tie string from one end to the other. Knot string to secure the shape of the meat.

In a deep saucepan, fry the pork skins until crispy and brown. Once cooked, take it off the pan then set aside.

Using the same pan, pour in the Italian tomato sauce and let it simmer for 5 minutes.

Add in the rolled pork skins and let it simmer on low for about 2 hours.

Once tender, remove from the sauce. Cut off the strings and then slice.

Coat with a bit of sauce, and serve!
Recipe Notes
If you're aiming for a softer texture that will still give you a bit of bite like al dente pasta, try cooking it longer. A good additional 2 or 3 hours more on the lowest heat will make all the difference.
Nutrition
Sugar:

6g

:

Calcium:

154mg

Calories:

303kcal

Carbohydrates:

22g

Cholesterol:

6mg

Fat:

21g

Fiber:

3g

Iron:

2mg

Potassium:

457mg

Protein:

9g

Saturated Fat:

2g

Sodium:

908mg

Vitamin A:

596IU

Vitamin C:

9mg
Nutrition Disclaimer
Commonly Asked Questions
What do I serve with pork braciole?
For something as well seasoned as this, we recommend a delicious bowl of buttermilk mashed potatoes. Or if you want to go for a proper Italian classic, try using the Italian Braciole as the meat and sauce of your spaghetti. Lastly, you can make this copycat meatball recipe inspired by Olive Garden's and toss them into our sauce with the simmering pork skin.

Can I make pork braciole ahead of time?
Yes! You can make it a day before serving by storing it in the fridge covered. Or you can freeze it in a sealed container for several months. Make sure to thaw your frozen pork braciole overnight before cooking.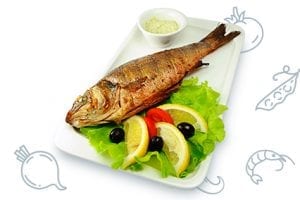 Conclusion
You don't need to go to a restaurant to get an authentic Italian meal. Just grab a few, simple ingredients, and you're off to making your own pork braciole right at home. Serve these up with some tasteful wine or on top of spaghetti for a heartier delectable meal.