Inspired by artichoke dip recipes, the Artichoke Bruschetta Recipe is another great twist to the classic Italian staple. For this version, we made use of marinated artichokes, combined it with mayonnaise, cheese, and other ingredients to make the delicious topping! We also made a creamy Tomato and Egg Bruschetta Recipe if you want to check it out!
The key to a perfect Artichoke Bruschetta Recipe largely depends on the bread. Rustic Italian loaves or sourdough bread are almost everyone's favorite. Both types of bread have crumbs that are coarse enough to absorb plenty of olive oil. Keep in mind that the right thickness is neither too thin nor too thick. You also want to pay particular attention to the artichokes. Remember to drain them well before adding the rest of the ingredients. Add artichokes that are too watery and you'll ruin the consistency of the mixture. If you find red onions too piquant, try soaking them in cold water first to soften its sharp flavor. Then, drain before adding them into the mixture.

Tip: If using red onions is too strong for your taste, try soaking them in a cold bath first to lessen the pungent taste. Then, drain before adding in the mixture.
Just like what we did in this recipe, you are free to use whatever combination of toppings you prefer, making bruschetta a highly customizable antipasto. Serve it before a meal of lasagna, or spaghetti. Or have bruschetta on its own, prepared in a platter, to complement a generous glass of Chianti, Zinfandel, or Sauvignon Blanc.
How To Make Artichoke Bruschetta Recipe
This Artichoke Bruschetta Recipe uses marinated artichoke hearts, mayonnaise, and cheese bringing out a new twist to the classic Italian bruschetta.
Ingredients
6.5

oz

jar marinated artichoke hearts

drained and chopped

1/2

cup

romano cheese

grated

1/3

cup

red onion

finely chopped

5

tbsp

mayonnaise

1

French baguette

cut into 1/3 inch thick slices
Instructions
In a medium bowl, mix marinated artichoke hearts, Romano cheese, red onion, and mayonnaise. Give the mixture a final stir. You may add salt and pepper to taste.

Using a serrated knife, slice the baguette crosswise into small, circular pieces.

Assemble the French baguette slices in an oven tray, topping each slice with equal amounts of the artichoke heart mixture

Arrange slices in a single layer on a baking sheet

In a preheated oven, broil the baguette slices for 2 minutes, or until the sides are slightly golden and the toppings are bubbly and lightly browned. Remove them from the heat and let cool.
Nutrition Facts
Calories:
170
kcal
|
Carbohydrates:
17
g
|
Protein:
5
g
|
Fat:
9
g
|
Saturated Fat:
2
g
|
Cholesterol:
10
mg
|
Sodium:
322
mg
|
Potassium:
49
mg
|
Fiber:
1
g
|
Sugar:
1
g
|
Vitamin A:
26
IU
|
Vitamin C:
1
mg
|
Calcium:
92
mg
|
Iron:
1
mg
Commonly Asked Questions
How do you keep bruschetta from getting soggy?
To keep bruschetta from getting soggy, add the toppings as close to your serving time as possible. Too much exposure of the bread with the toppings will get it soggy. Also, when serving bruschetta ahead, store the toppings and the bread separately. If using tomatoes, scoop out the seeds and the juice before adding them in the mixture.

What is the difference between bruschetta and a crostini?
The difference between bruschetta and a crostini the the bread used. Bruschetta refers to the whole wide slices of rustic Italian bread. Crostini, on the other hand, are bread slices from a smaller fine-textured bread.

Should Artichoke Bruschetta be served warm or cold?
Traditional bruschetta is served hot and straight from the grill. From the name itself, bruschetta or "to roast over coals" is best consumed when it is hot as the heat brings out the aromatic taste from the oil. However, with the innovative twists these days, more and more new toppings are incorporated in the side dish. So, serving it either warm or cold does not matter anymore. Hence, you can serve bruschetta either warm or cold, it's totally up to you!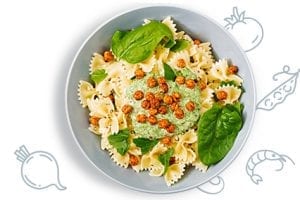 Conclusion
Make any meal an experience with this easy-to-make Artichoke Bruschetta Recipe! Just pick a rustic French bread, some good gourmet meat, and fresh vegetables of choice, and you have yourself a scrumptious appetizer. Serve it to tantalize your guests for an amazing main course.