Enjoy a delicious salad meal with refreshing avocado and rich cottage cheese! Our Fresh Avocado And Cottage Cheese Salad Recipe is as nutritious as it is yummy. Alone, avocado's fresh and smooth taste is already heavenly. But paired with cottage cheese's soft texture and mild flavor, this salad recipe is taken to a whole other level! This salad recipe is perfect for any dinner party or a romantic dinner for two!
Years ago, this salad would have been a meal you could only enjoy during avocado's harvest season, from spring until summer. However, nowadays, avocado has become such a popular fruit that it's practically available all throughout the year. If you're tired of the avocado toast trend, fear not! There are actually many other ways to enjoy it, and salad is one of them! The fresh taste of avocado is actually better enjoyed in cold dishes, from ice cream to salads and even soup, like our Chilled Avocado Soup. Other than its delicious taste, another reason to eat avocado is because of its health benefits. This green fruit is a great source of nutrients and is even considered as a superfood. It has all kinds of vitamins and minerals, and is high in fiber and fatty acids good for the heart.
While this avocado salad is easy to make like your typical salad dishes, it's definitely not your usual mix of lettuce leaves and dressing. Together with fresh spinach and tomatoes, our recipe makes use of avocado in a different way. Instead of chopping it up, we stuff the green fruit with the other salad ingredients, similar to a stuffed avocado dish. Once you've tried our recipe, we're sure that this will be your go-to lunch for a long time. Nothing beats an easy-to-make and quick-to-prep meal, after all. If you liked this avocado salad recipe, we suggest you give our Avocado Appetizers a try!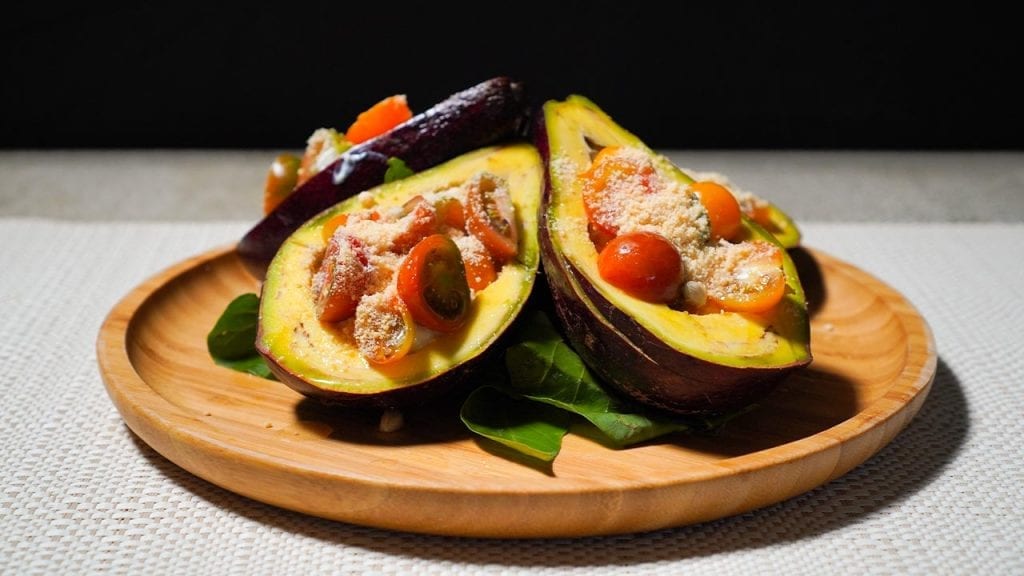 Fresh Avocado And Cottage Cheese Salad Recipe
How To Make Fresh Avocado And Cottage Cheese Salad
Fresh avocados stuffed with tasty cottage cheese and refreshing spinach and tomatoes—our Fresh Avocado And Cottage Cheese Salad Recipe makes for a quick and healthy lunch that doesn't lose out on deliciousness.
Ingredients
4

ripe avocados,

halved and pitted

1

lb

carton cottage cheese,

1 carton

16

oz

cherry tomatoes,

halved

2

cups

spinach

½

cup

parmesan cheese

1

lime
Instructions
Fill each half of an avocado evenly with cottage cheese.

Divide the fresh spinach into 4 plates.

Lay the avocados on top of the spinach.

Place the tomatoes on top of the avocado salad.

Sprinkle parmesan cheese on top.

Squeeze lime all over the salad. Serve and enjoy!
Nutrition
Sugar:

5g

:

Calcium:

199mg

Calories:

340kcal

Carbohydrates:

19g

Cholesterol:

19mg

Fat:

25g

Fiber:

10g

Iron:

2mg

Potassium:

968mg

Protein:

15g

Saturated Fat:

6g

Sodium:

434mg

Vitamin A:

1674IU

Vitamin C:

37mg
Nutrition Disclaimer
Frequently Asked Questions
What else can I add to my avocado salad?
Other staple salad ingredients like cucumber and nuts, such as almond and walnuts, will be great additions to your avocado salad. Cucumber has a neutral, fresh taste that won't compete with the cottage cheese or avocado, while the nuts can add a crunchy texture.
How can I keep avocados fresh in a salad?
Avocados can turn brown after a couple of hours when not eaten immediately after they're cut. However, there are ways to keep it fresh. For one, you can brush its green skin with lemon or lime juice after it's halved and pitted. Although, keep in mind that it might give the salad a different taste. While the easiest way to keep the fruit fresh is to cut the avocado only before assembling your salad, there's another method that you can also try. A famous scientist found that blanching the avocado before cutting it can prevent the "browning process" for several hours. To do this, simply boil the avocado for 10 seconds and let it cool in a bowl of ice water. Once cooled, dry the fruit with a kitchen towel and use it for now or store for later.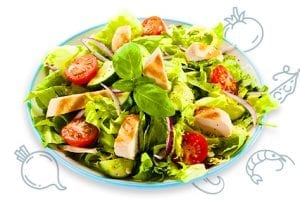 Conclusion
Our easy peasy avocado salad recipe will change the way you look at salads forever! Our Fresh Avocado And Cottage Cheese Salad is a quick and easy way to make a refreshingly healthy and yummy salad. This recipe is also a great chance for you to experiment with the way you have your salad dishes.