Make the best homemade meatballs recipe for your comfort food fix! We're bringing you a copycat meatballs recipe of the famous Olive Garden meatballs that's originally served in rich marinara sauce to top their spaghetti. Serve flavorful and perfectly cooked pan-fried meatballs that's tender and juicy on the inside. We're having a meat feast by frying our meatballs with sausages to make it extra! Make the best homemade meatballs to top your pasta or serve them as an appetizing snack at home.
Olive Garden has been bringing Italian flavors at our tables, making it a family favorite. They're known for their crazy good baked bread sticks, garden salad, homemade soups and sauces. This Italian restaurant has been serving our favorite comfort foods home cooked style. If you're looking for recipe ideas to up your home cooking skills or to impress your date on your dinner for two, this meatballs recipe is a perfect addition to your list!
You might think that making meatballs is intimidating, but we'll make it quick and easy for you in this meatballs recipe. We're making seasoned compact meatballs that are juicy and tender to make the best homemade meatballs ever! You can serve your delicious meatballs with savory tomato sauce to top your pasta, or with a healthy side of mashed potatoes or roasted vegetables.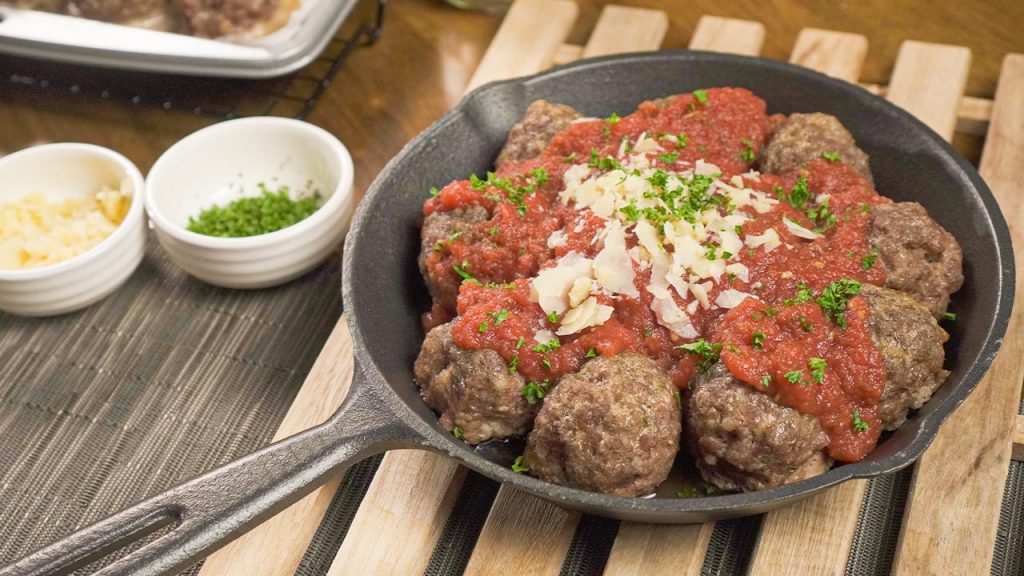 Copycat Olive Garden Meatballs Recipe
How To Make Copycat Olive Garden Meatballs
An exceptional meatballs recipe that matches the Italian flavors of Olive Garden's meatballs. It will give you perfectly cooked pan-fried meatballs with a flavorful browned exterior and succulent interior.
Ingredients
1½

lb

ground beef,

preferably chuck

½

lb

ground pork

2

pcs

eggs

¾

cup

breadcrumbs,

plus more as necessary

1

tbsp

Italian seasoning

½

tsp

garlic powder

¼

tsp

onion powder

⅛

tsp

dried oregano

1

tbsp

parsley,

fresh, chopped

¼

cup

red wine,

preferably Chianti

¼

cup

parmesan cheese,

grated or powdered

salt and ground black pepper,

to taste

cooking spray
To Serve:
1

cup

marinara sauce

1

tbsp

parmesan cheese,

grated or powdered

1

tsp

parsley,

chopped
Instructions
Preheat your oven to 360 degrees F and grease a roasting tray.

In a mixing bowl, combine all the ingredients together. Mix until well combined. You may need to add more breadcrumbs as needed. Fry a sample to taste, and adjust salt and pepper as necessary.

Cover and transfer to a chilled area to marinate for an hour.

When ready, shape your mixture into meatballs using your preferred method.

Arrange neatly onto your greased roasting pan.

Transfer to the oven, and roast until meatballs are cooked through, roughly 35 minutes. Drain any excess oil as necessary.

When ready, ladle your warm marinara sauce on top of the meatballs. Garnish with parsley and parmesan cheese. Serve.
Nutrition
Sugar:

2g

:

Calcium:

99mg

Calories:

362kcal

Carbohydrates:

10g

Cholesterol:

84mg

Fat:

25g

Fiber:

1g

Iron:

3mg

Monounsaturated Fat:

11g

Polyunsaturated Fat:

1g

Potassium:

459mg

Protein:

23g

Saturated Fat:

10g

Sodium:

369mg

Trans Fat:

1g

Vitamin A:

220IU

Vitamin C:

3mg
Nutrition Disclaimer
Frequently Asked Questions
Why is my meatball falling apart?
You might be having problems with the binder you used. Binders are ingredients that will hold your meatball together. In this recipe we used eggs and bread crumbs as binders. Be gentle in forming your meatballs. Remember to grease your hands before shaping them so the mixture won't stick. While frying, remember to gently scrape the bottom of the pan so your meatballs won't break apart.
How do I avoid making dry and tough meatballs?
Remember to mix your meat with the other ingredients just until they take shape and are intact to avoid over-mixing. Over-working your meat will give you solid, dense and dry meatballs.Make evenly-sized meatballs because smaller ones end up overcooked and dry, while large ones can be undercooked. You can use an ice cream scoop or any measuring tool to make sure that your meatballs are roughly the same size. You can also cook your browned meatballs in tomato sauce for another 20 minutes to give them more moisture.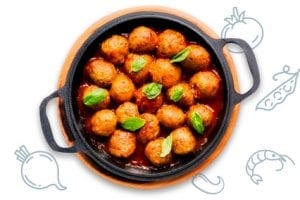 Conclusion
This easy meatballs recipe will give you well seasoned and perfectly cooked meatballs that you'll love making! Your pan-fried meatballs will be a hit in family gatherings and casual hangouts at home. The best thing about making this recipe is that you can pair your meatballs with anything or eat them as is. You'll surely enjoy your every bite! It's a recipe that the whole family will love and it's perfect for sharing. Make this dish at home and get your comfort food fix with a dish of flavorful meaty goodness.