Some days, you can't help but crave for some good 'ol Classic Crunchy Fried Chicken. After all, who can resist its crispy, deep-fried skin and tender meat? The trouble starts the next day, when all you have are cold leftovers that are no longer as addictingly crunchy. But don't worry! In this article, we'll show you how to reheat fried chicken so it stays nice and irresistibly crispy.
How To Reheat Fried Chicken: 5 Easy, Fail-Proof Ways
There are five easy ways to reheat fried chicken so it's crispy again, all without drying it out. Each method varies, depending on the cooking appliance you have at home.
Using An Oven
The first way you can reheat your leftover chicken is to use an oven.
Preheat the oven to 400 degrees F. While waiting, remove the chicken from the refrigerator.
Place a wire rack on a baking sheet and put the chicken on the rack in a single layer.
Let the chicken come to room temperature for at least 10 to 30 minutes. This is a must because it allows the chicken to be heated through evenly
Once the oven is preheated, bake the fried chicken for about 15 to 20 minutes, or until the skin turns crispy again.
Note: 
Some people use a foil-lined baking sheet instead of a rack when reheating their leftover chicken. However, using a rack heats up the food a lot better. It elevates the chicken so that it's easier for the oven's hot air to reach all of the chicken's parts.
Using An Air Fryer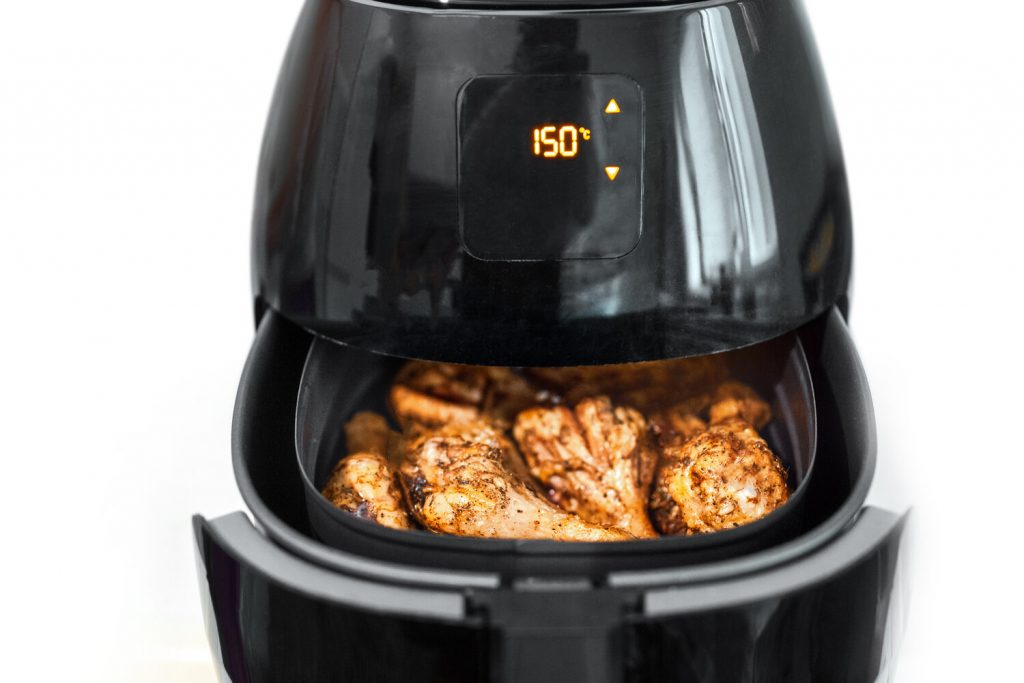 Another way to reheat your cold, leftover chicken is to use an air fryer. You'll be amazed to find that air fryers are great not just for cooking chicken wings or chicken BBQ. You can also utilize this handy cookware to heat up some of your leftover dishes.
Preheat the air fryer to 375 degrees F.
Remove your fried chicken from the refrigerator and let it come to room temperature for around 10 to 30 minutes.
Arrange the chicken on the air fryer basket so that's in a single layer.
Cook it for 4 minutes, flipping once to make sure it cooks evenly.
Note:
Like with the oven method, you must reheat the poultry in a single layer. Doing this makes sure the chicken comes out with crispy skin. Air fryers are often smaller than conventional ovens. So, you may have to cut the chicken in half or in parts to make sure it's in a single layer. However, don't be discouraged! Once you're done, your food will come out looking like it's freshly fried.
Using A Toaster Oven
Little do foodies know that they can also use a handy toaster oven to heat up leftover chicken. It's not just good for warming small food like muffins, pizza slices, or sandwiches. Though compact, don't underestimate the toaster oven's power to bring life back to your cold leftovers. Do keep in mind that you'll also be needing a microwave to do this method.
Line the toaster oven's baking sheet with aluminum foil.
Preheat the toaster oven to 400 degrees F. Put your chicken on a plate, then cover it with a paper towel.
Microwave the chicken for around 1 minute to 2 minutes.
After, transfer the chicken to the aluminum foil-lined baking sheet and heat for about 2 to 3 minutes.
Let the chicken stand until it turns just slightly warm.
Note:
The paper towel sucks in some of the excess moisture and prevents the food from getting too soggy before baking.
Using A Microwave
Although it's not as recommended, you can also reheat your leftover chicken using a microwave. Keep in mind that this method won't exactly give you a crispy plate. To add, it might also dry your chicken out. Still, it's an alternative method you can always try.
Remove your chicken from the refrigerator and let it sit for about 10 minutes to 30 minutes, or until it comes close to room temperature.
Put the chicken on a plate, then place a paper towel over it.
Microwave in 30-second intervals, or until it becomes warm. Remember: don't overheat or it will turn out too dry.
Using a Frying Pan or Skillet
Don't have any of the cooking appliances mentioned? You can always just use a frying pan or skillet as a last resort. Some call this the "double-frying" method and is heavy on labor when it comes to reheating fried chicken. So, only give this method a try if you have enough time and energy on your hands.
Let the chicken sit and come to room temperature for 10 to 30 minutes.
Warm a large skillet with oil with medium-high heat. Make sure the oil reaches 300 degrees F.
Using tongs, fry the chicken for 2 to 3 minutes on each side. Don't overcrowd the pan as it will lower the oil temperature.
Once done, place the chicken on a wire rack to drain excess oil as it cools.
Note:
This way of reheating gives you an oilier fried chicken compared to the other methods. So, if you're avoiding oily food, then it's best to try the other ways mentioned above first.
What's The Best Way To Reheat Fried Chicken?
Using a conventional oven is the best way to reheat your leftover fried chicken. The food will get back its crispy skin, and it won't be dried out either. It's also easy and won't require too much preparation.
Is It Safe To Reheat Chicken?
Is reheating chicken bad? Some say that it's unsafe to eat reheated chicken since you might get food poisoning. The truth is that it's actually safe to eat reheated chicken, just as long as you do it correctly.
And the proper way to do that is to make sure that every part of the chicken is warmed through. Its internal temperature should reach at least 175 degrees F so that all harmful bacteria is removed. Lastly, make sure that it hasn't been stored for more than 3 days. If it has, then consider throwing it away (just to be on the safe side).
Dos and Don'ts of Reheating Fried Chicken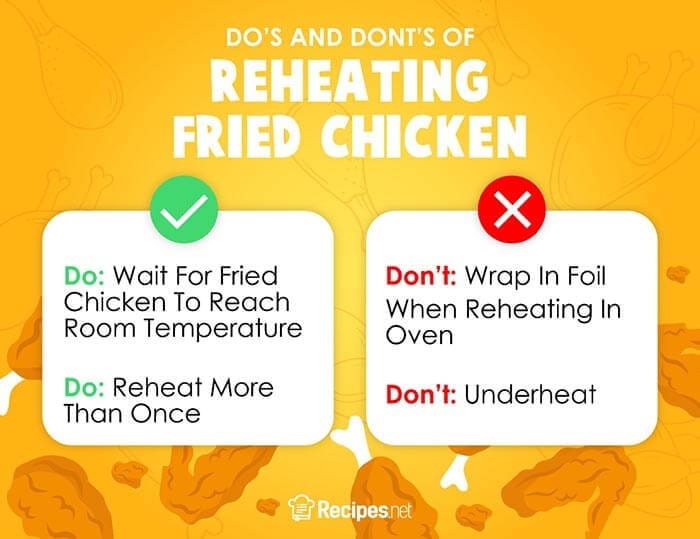 What are the dos and don'ts of reheating fried chicken? We've listed things you should always keep note of when warming delicious poultry.
Do: Wait For The Fried Chicken To Come To Room Temperature
As previously mentioned, it's important to let the fried chicken come to room temperature first before you place it into the oven or air fryer. That's because this allows the food to be properly warmed all throughout, with no parts left cold. So, don't be too hasty and learn to be patient. You'll need it in cooking.
Don't: Wrap In Foil When Reheating In The Oven
Don't wrap the chicken in aluminum foil before putting it in the oven. Others might do this thinking that it's better for insulation and that this warms the poultry more efficiently. However, this only traps steam that, in turn, turns its skin wet and soggy. So, if you want your leftover chicken crispy, avoid foil at all costs.
Do: Reheat More Than Once
Others claim that it's unsafe to reheat chicken more than once. However, experts say that you actually can! Just make sure it's warmed throughout with an internal temperature of 175 degrees F.
Don't: Underheat
As such, what's not allowed is to underheat or undercook your chicken when you're warming it through. If it doesn't reach those required internal temperatures, then don't eat the meat at all.
To Sum It Up
Fried chicken is a classic dish that everyone loves. You'll often come across times when you've got some leftovers in your fridge. And when those times come, you'll know the 5 easy ways to reheat your leftover fried chicken.