Pasta dishes have flavors that never fail to excite our taste buds! You might be familiar with pasta recipes using a marinara sauce just like this chicken penne pasta. But we have another classic Italian pasta favorite that you shouldn't miss—pasta pomodoro.
Pasta pomodoro may be similar to marinara, but we just love it even more for its simple ingredients and authentic Italian flavors. So, if you're not familiar with it yet, read on as we take you on a twirly and tangled ride of flavors!
What is Pasta Pomodoro?
Our pasta al pomodoro looks absolutely regal on a plate and you might start thinking about what makes a pomodoro pasta sauce. It's a healthy pasta sauce made of staple Italian ingredients like tomatoes, basil, and olive oil.  It has a natural Italian flavor brought by fresh tomato juices and the minty savory taste of basil.
We'll be using spaghetti in this recipe because rod-shaped pasta works incredibly well with the tomato sauce and olive oil combination. However, you can totally enjoy this fresh tomato sauce with any pasta of your choice. You can use fettuccine or pappardelle pasta or make a capellini pomodoro, which is an Olive Garden favorite. 
Tips on Making Pasta Pomodoro
Spaghetti al Pomodoro is a simple dish, but you can't have too many tricks up your sleeve, right? Here are some of the pomodoro-making tips that would come in handy when you make this recipe:
Salt your pasta water

for a full-bodied flavor. Adding salt to your pasta water will give the spaghetti a much-needed flavor. 

Use real basil leaves.

We recommend fresh basil leaves instead of dried ones. So if you have a basil plant in your garden, it's their time to shine. We suggest using them for this pasta pomodoro recipe.

Adjust the heat

according to your preference. In this recipe, we added chili flakes for extra flavors. If you wish to make it spicier, you can add more hot pepper flakes or more garlic and pepper.

 

Add 2 tablespoons of butter in place of olive oil in the end

. This is if you prefer the rich and creamy flavor of butter for your tomato pasta.
You can now make this easy pomodoro recipe with these tips in mind. Serve this for lunch or dinner to feel like you're dining in the streets of Italy!
How To Make Pasta Pomodoro
An elegant yet simple pasta dish made with spaghetti, fresh tomatoes, and minty savory basil. This easy pasta pomodoro recipe will definitely be the highlight of your day!
Ingredients
30

oz

roma tomatoes,

diced

1

tbsp

tomato paste

15

oz

spaghetti pasta

5

tbsp

olive oil

2

cup

sweet basil,

leave ½ cup for garnish

4

clove

garlic,

crushed and with the skin on

2½

tbsp

salt,

divided

1

tsp

ground pepper

1

tsp

chili flakes

4

tbsp

parmesan cheese,

grated
Instructions
In a pot, boil water with salt. Once the water is boiled, start cooking your pasta by following the cooking instructions on the packaging.

When done, transfer your pasta to a bowl using a colander. Toss them with a dash of olive oil, then set them aside. Do not throw away the pasta water because you will need it for the tomato sauce later on.

Pour olive oil into a deep saucepan over medium heat. Sauté your garlic until golden brown, then mix in your tomato paste and Roma tomatoes.

Using your hands, tear up the basil leaves and add them in with your tomatoes. Season with salt, pepper, and chili flakes, and then stir for at least 3 minutes.

Turn your heat low, then gradually add 1 to 1½ cups of pasta water to your tomato mix. Simmer for 8 to 10 minutes.

Remove the garlic, then puree your tomato and basil mix using a vegetable mill or a blender. Leave about a cup of chopped tomato chunks in the pan.

Transfer your puree back to the pan and continue simmering if you want to get a thicker consistency. When ready, carefully mix in your spaghetti with the tomato sauce.

Transfer your pasta to a plate, top it with grated parmesan, a dash of olive oil, and basil leaf. Serve while hot and dig in!
Nutrition
Sugar:

9g

:

Calcium:

138mg

Calories:

620kcal

Carbohydrates:

90g

Cholesterol:

3mg

Fat:

21g

Fiber:

7g

Iron:

3mg

Potassium:

851mg

Protein:

18g

Saturated Fat:

4g

Sodium:

4499mg

Vitamin A:

2655IU

Vitamin C:

33mg
Nutrition Disclaimer
Frequently Asked Questions
Does spaghetti pomodoro have meat?
Pasta pomodoro is a healthy pasta sauce made only with diced tomatoes, basil, and olive oil. Thus, a classic pasta pomodoro has a vegetarian tomato-based sauce. It can also be easily made vegan by excluding the grated parmesan cheese topping.
What is the difference between pomodoro sauce and marinara sauce?
While both make amazing sauces for pasta, these two are not the same. Marinara is a chunky, runny sauce seasoned and simmered with herbs and spices. On the other hand, pomodoro sauce is a silky smooth and thick sauce  made of fresh ingredients. Marinara is also brighter in color as it is cooked over a short period whereas pomodoro is a darker red due to its longer cooking time.
How do I use leftover pomodoro sauce?
You can reheat your sauce and have it as a dip for your grilled cheese or use it in making other tomato-based pasta dishes like spaghetti and meatballs.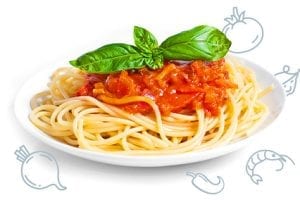 Conclusion
There's definitely nothing fresher than a plate of pasta pomodoro. Serve this to your casual family dinners and see everyone enjoy an authentic Italian experience. If you live by "less is more", then this simple pasta recipe is definitely for you.
Topics: