Pasta dishes never fail to excite our taste buds! You might be familiar with pasta recipes with marinara just like this chicken penne pasta. But we have another classic Italian pasta favorite that you shouldn't miss — it's the pasta pomodoro. The highlight of this dish is the authentic Italian tomato pasta sauce that's absolutely timeless.
Pasta pomodoro sauce may be similar to marinara, but its unique recipe definitely sets it apart. So, if you're not familiar with this kind of sauce yet, read on as we take you on a twirly and tangled ride of flavors!
What's in our Pasta Pomodoro?
Here are the ingredients that complete this dish:
Spaghetti

– We used spaghetti noodles in this recipe because rod-shaped pasta works well with the light tomato sauce. However, you can totally make this dish with any

type of pasta

that you like. 

Diced tomatoes & tomato paste

– These are key to an authentic pomodoro sauce. 

Garlic

– Used in most dishes to add flavor, a few cloves of garlic can spice up this pomodoro pasta. 

Parmesan cheese

– You won't go wrong with topping off your pomodoro pasta recipe with some grated parmesan cheese. This will add more flavor to your pasta pomodoro. Here are some recommended

cheese graters

for you to use.

Basil – To serve, garnish it with basil leaves.
Tips on Making Pasta Pomodoro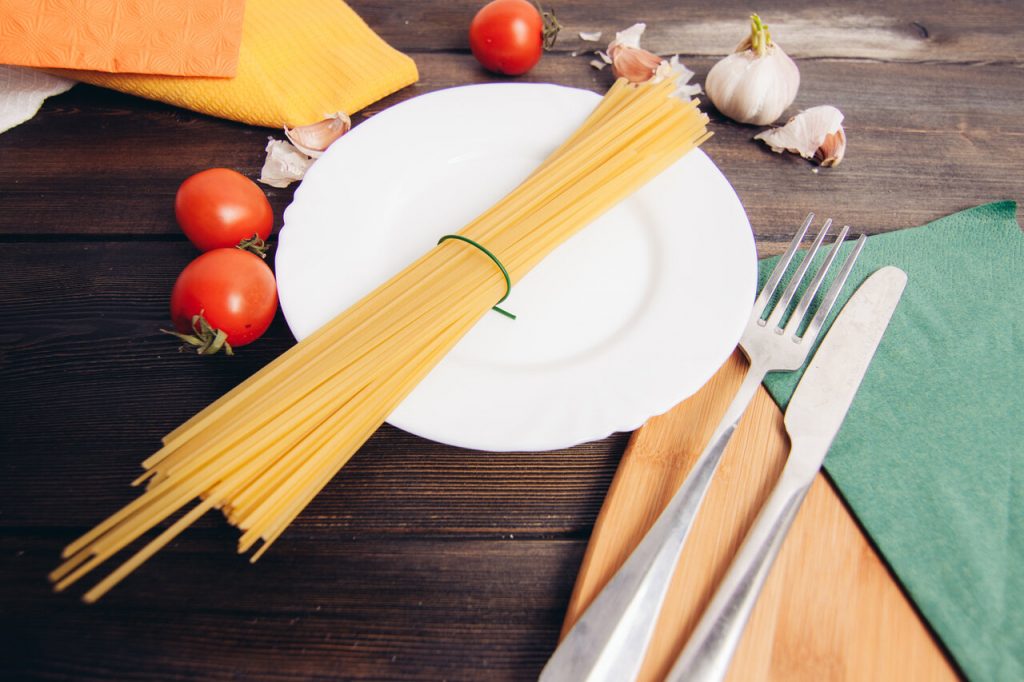 Spaghetti al Pomodoro is a simple dish, but you can't have too many tricks up your sleeve, right? Here are some of the pomodoro-making tips to help you make the best pasta pomodoro:
Salt your pasta water for better flavor.

This will enhance the taste of the spaghetti noodles for your pasta pomodoro. 

Use fresh basil leaves for a yummier pomodoro sauce.

These compliment the flavor of pasta dishes better than dried basil. So if you have basil plants in your garden, it's their time to shine. Toss in a few fresh leaves into your

saucepan

to make this pasta pomodoro recipe.

Add more pepper flakes, garlic, or pepper to make the sauce spicier.

You can absolutely adjust the heat of your pasta pomodoro according to your taste. 

Drizzle melted butter instead of olive oil over the dish.

About 2 tablespoons of it will make your

tomato-based pasta

totally rich and creamy! 

Cook the pasta noodles until al dente.

When you say al dente, it means that the pasta is cooked in a way that the slight chewiness of the pasta is retained (not mushy or undercooked). Approximately, you should cook it for around 8 to 10 minutes. Make sure to check it from time to time, and stir it as well so the noodle's don't stick to the bottom of the pan. 
You can now make this easy spaghetti pomodoro recipe with these tips in mind. Serve this for lunch or dinner to feel like you're dining in the streets of Italy!
Frequently Asked Questions
Is pomodoro sauce healthy?
Yes, it is! Tomatoes are the main feature of pomodoro sauces. The Italian word pomodoro actually means "tomato" after all. These fruits are rich in lycopene, a natural antioxidant that produces the red color in tomatoes. It promotes good oral health, bone health, and blood pressure. Tomatoes are also naturally rich in vitamins, so your pasta pomodoro recipe is definitely extra healthy.
What's the difference between pomodoro, arrabbiata, and bolognese sauce?
Pomodoro sauce is light, fresh, and it's made with fresh tomatoes. Arrabatia sauce is also a tomato-based sauce, but it's way spicier because it's made with red chili peppers and extra garlic. Meanwhile, bolognese is a kind of meat sauce that's loaded with ground beef or pork.
What is the difference between pomodoro sauce and marinara sauce?
While both are amazing sauces for pasta, these two are not the same. Marinara is a chunky, runny sauce seasoned and simmered with herbs and spices. On the other hand, pomodoro sauce is a silky smooth and thick sauce made of similar fresh ingredients. Marinara is also brighter in color as it is cooked over a short period whereas pomodoro is a darker red due to its longer cooking time.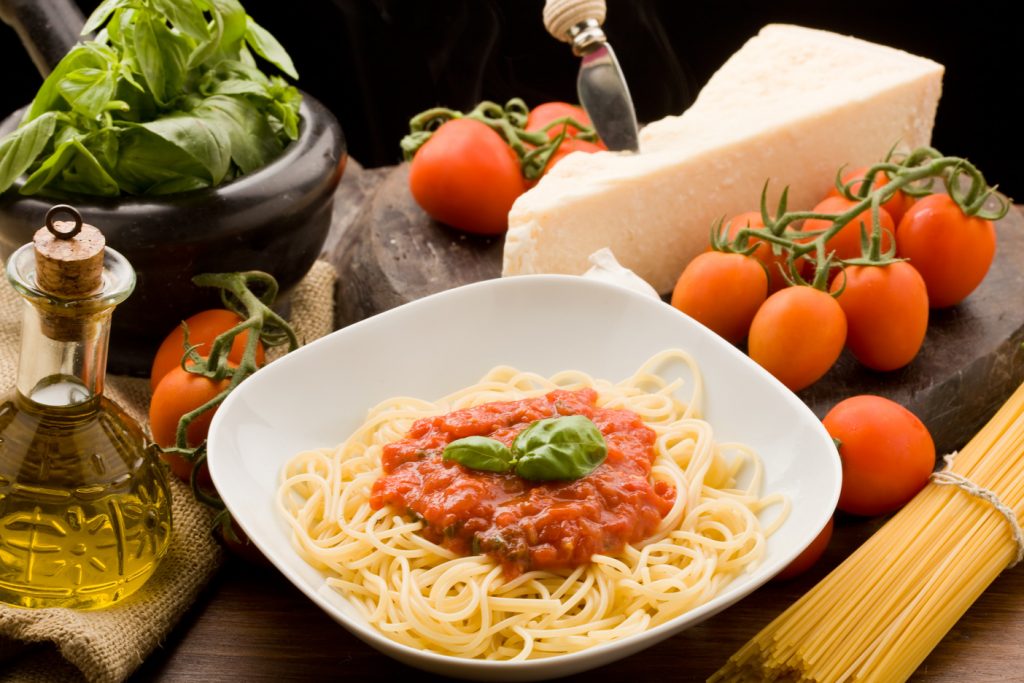 Pasta Pomodoro Recipe
How To Make Pasta Pomodoro
Enjoy an elegant yet simple spaghetti dish made with fresh tomatoes and basil. This easy pasta pomodoro recipe will definitely be the highlight of your day!
Ingredients
2½

tbsp

salt,

divided

15

oz

spaghetti

5

tbsp

olive oil

4

cloves

garlic,

crushed, skin-on

1

tbsp

tomato paste

30

oz

roma tomatoes,

diced

2

cups

basil leaves,

sweet

1

tsp

ground black pepper

1

tsp

chili flakes

4

tbsp

parmesan cheese,

grated
Instructions
In a pot, boil water with 1½ tablespoons of salt.

Once the water starts boiling, start cooking your spaghetti by following the cooking instruction on the packaging.

Drain the pasta on a colander.

Toss the pasta with 2 tablespoons of olive oil and transfer to a bowl. Set aside.

In a deep saucepan, heat 2 tablespoons of olive oil over medium heat. Then, sauté garlic until golden brown.

Afterward, add the tomato paste and Roma tomatoes.

Tear up 1½ cups of the basil leaves and add it to the sauce mixture.

Season the sauce with salt, pepper, and chili flakes. Stir for at least 3 minutes.

Turn the heat down. Then, gradually add 1 to 1½ cups of pasta water to your tomato sauce. Let it simmer for 8 to 10 minutes.

Take out the garlic from the mixture.

Transfer all but a cup of the tomato mixture from the saucepan to a blender. Puree until smooth.

Transfer the tomato puree back to the saucepan. Continue simmering if you want to get a thicker consistency.

When ready, carefully toss the cooked spaghetti into the pomodoro sauce. Transfer your pasta to a plate.

Top each serving with grated parmesan, a dash of olive oil, and basil leaves. Serve while hot and dig in!
Recipe Notes
Instead of using a blender to puree the tomato sauce, you may also use a vegetable mill.
Nutrition
Sugar:

9g

:

Calcium:

138mg

Calories:

620kcal

Carbohydrates:

90g

Cholesterol:

3mg

Fat:

21g

Fiber:

7g

Iron:

3mg

Monounsaturated Fat:

13g

Polyunsaturated Fat:

3g

Potassium:

851mg

Protein:

18g

Saturated Fat:

4g

Sodium:

4499mg

Vitamin A:

2655IU

Vitamin C:

33mg
Nutrition Disclaimer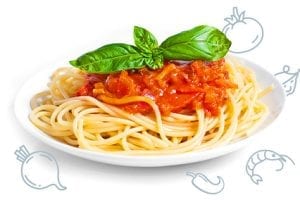 Conclusion
Pasta pomodoro is truly a timeless dish that delivers comfort on a platter. You can't go wrong with the classic combo of spaghetti and fresh tomato sauce! And despite being simple and easy enough to make, it's a kind of meal that you can be proud to serve during a dinner with guests.
Comments
placed on Boamp.com, a French government run contract posting website

Comment is awaiting moderation.

makale çevirisi

Comment is awaiting moderation.

noter onaylı çeviri

Comment is awaiting moderation.

yeminli çeviri bürosu

Comment is awaiting moderation.

yeminli çeviri bürosu

Comment is awaiting moderation.

noter onaylı tercüme

Comment is awaiting moderation.

yeminli tercüman istanbul

Comment is awaiting moderation.

yeminli çevirmen

Comment is awaiting moderation.