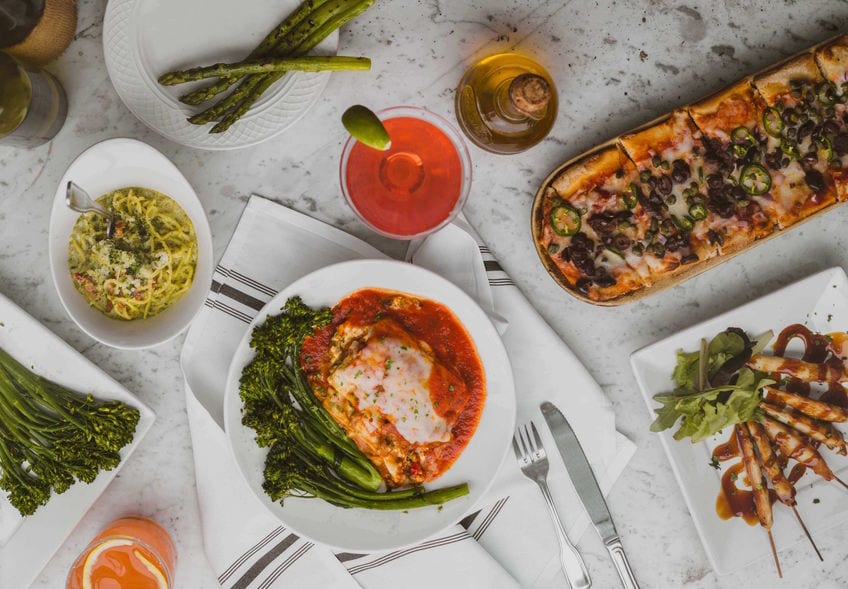 70 Authentic Italian Recipes That'll Take You to Italy
It's no question that Italian cuisine is widely known around the world. They have gourmet-level dishes that are crafted to perfection with carefully selected ingredients. And somehow, even the simplest of food items can also be transformed into an exceptional dish. So if you're just beginning your foray into the tasteful world of Italian cooking, you'll be glad to know that there are lots of authentic Italian recipes that you can make at home!
While we truly enjoy famous Italian dishes, now's the time for authentic recipes to shine. Continue reading and discover real Italian recipes that'll surely wow every foodie's taste buds.
---
Authentic Italian Main Dishes
Let's start with the centerpiece of every meal: the main dish. Make the best main course from one of these authentic Italian recipes. Here are some of the most sumptuous meals to make at home: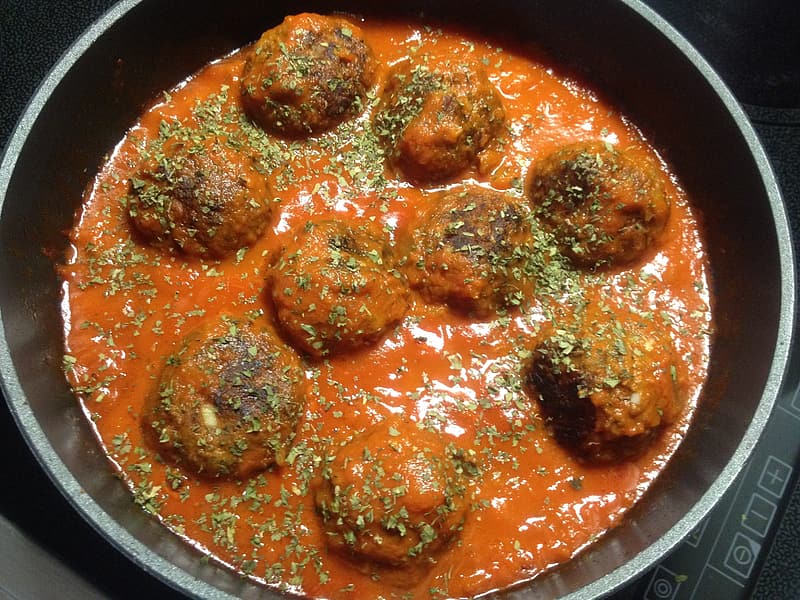 01 of 70
Italian Meatballs
Italian meatballs loaded with Parmesan cheese make for an appetizing dish. A sprinkle of fresh parsley and spices intensifies the flavor of each piece. They're incredibly tender and easy to make! Simply serve the dish with arrabbiata sauce for an easy dinner.

Try Recipe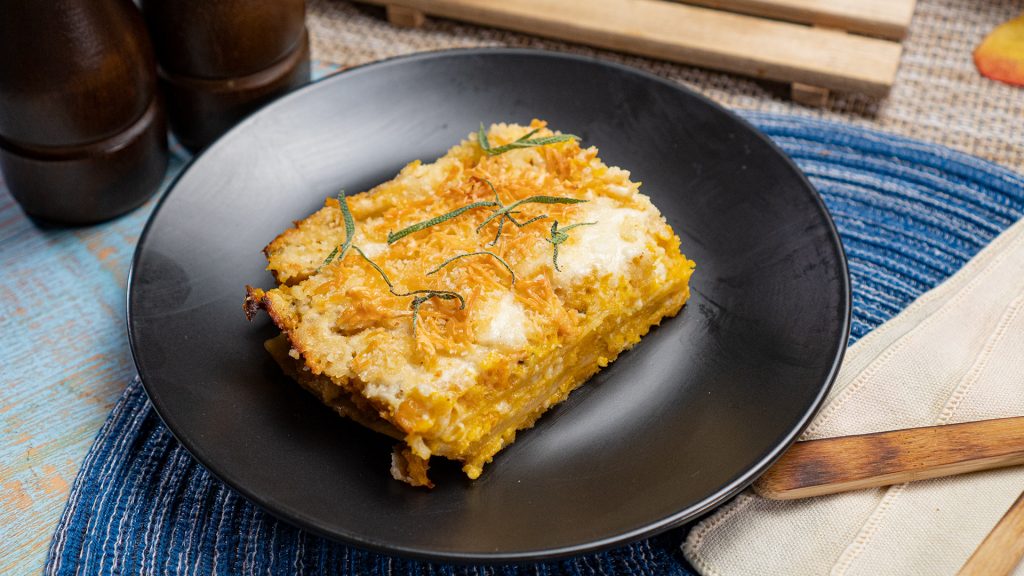 02 of 70
Lasagna
Impress your guests with this delightfully cheesy Italian appetizer. Classic lasagna is great, but it's even better with creamy goat cheese and pumpkin puree. Enhanced with a variety of herbs, this will absolutely elevate your Italian-style dinner. Serve alongside a mixed green salad for a healthy, well-balanced meal.

Try Recipe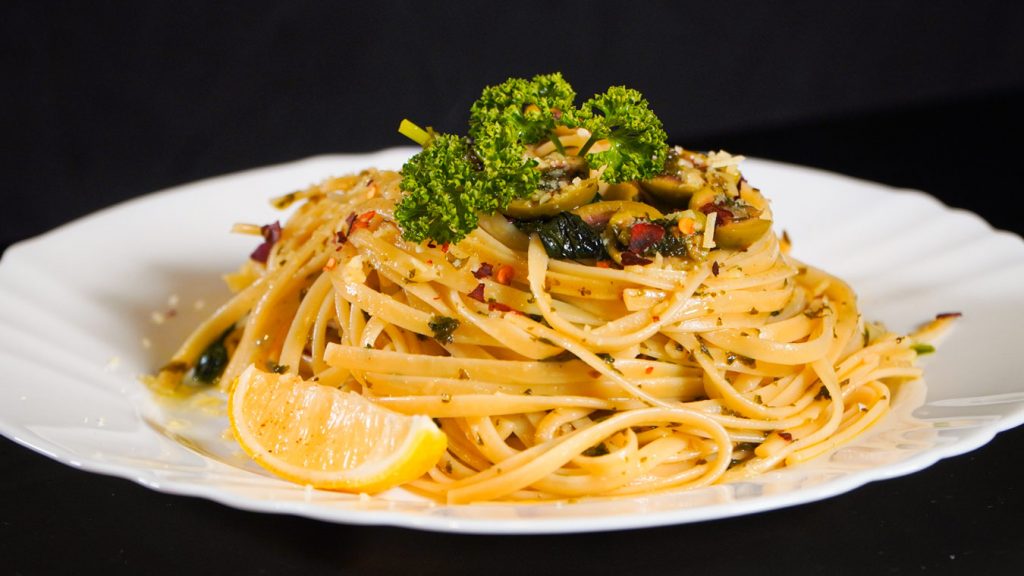 03 of 70
Linguini Aglio e Olio
Linguini aglio e olio simply means pasta with garlic and oil in Italian. It's basically made by sauteing finely chopped garlic in olive oil. As simple as it may seem, this Italian pasta recipe is certainly a delicious staple! Plus, you only need basic ingredients you probably have in your pantry. Garnish with parsley or Parmesan cheese if you like. 

Try Recipe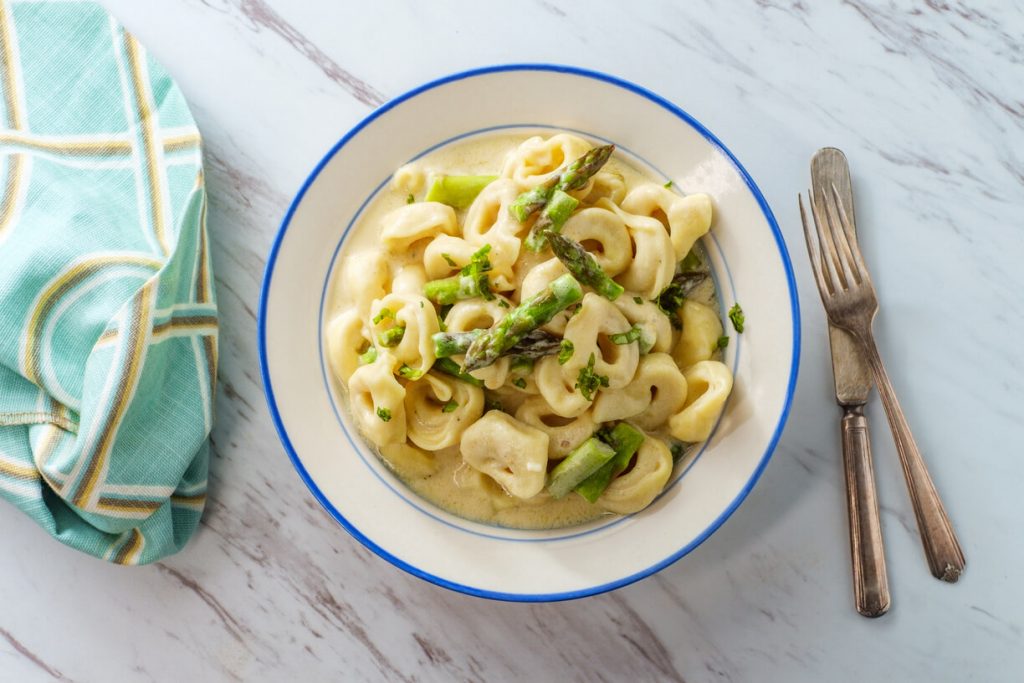 04 of 70
Tortellini With Cream Sauce
This Italian recipe gives the tortellini pasta a hearty spin! It showcases tortellini and asparagus coated in a tasty cream sauce. This dish comes together fast, so you'll be having a delicious feast in no time. It also tastes amazing with a light dish on the side.

Try Recipe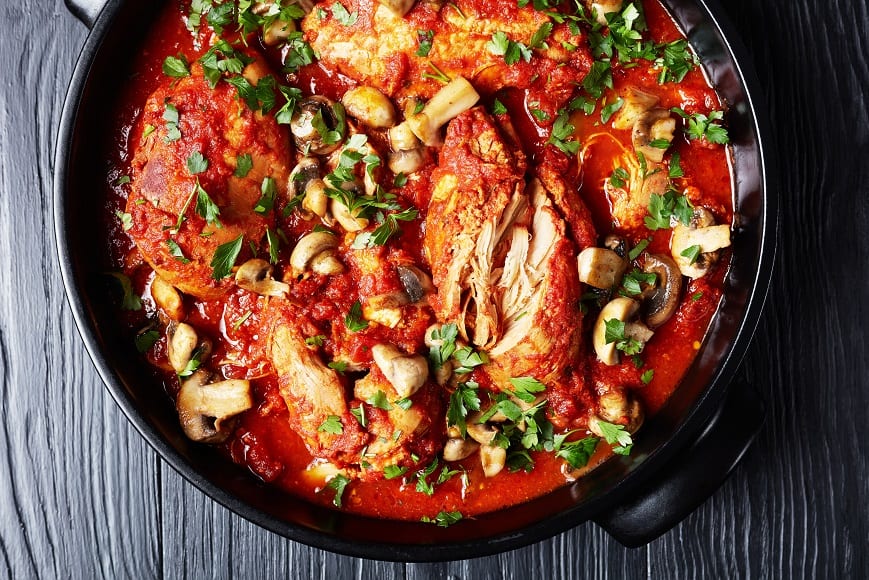 05 of 70
Chicken Cacciatore
If you're looking for authentic Italian recipes with chicken, then this chicken cacciatore is a must-try. Cacciatore means "hunter" in Italian. Therefore, chicken cacciatore is a chicken dish that is prepared alla cacciatore or "hunter-style." It's loaded with lots of greens and a flavorful Italian tomato sauce. You'll absolutely love this Italian classic with its comforting aroma and Italian flavors.

Try Recipe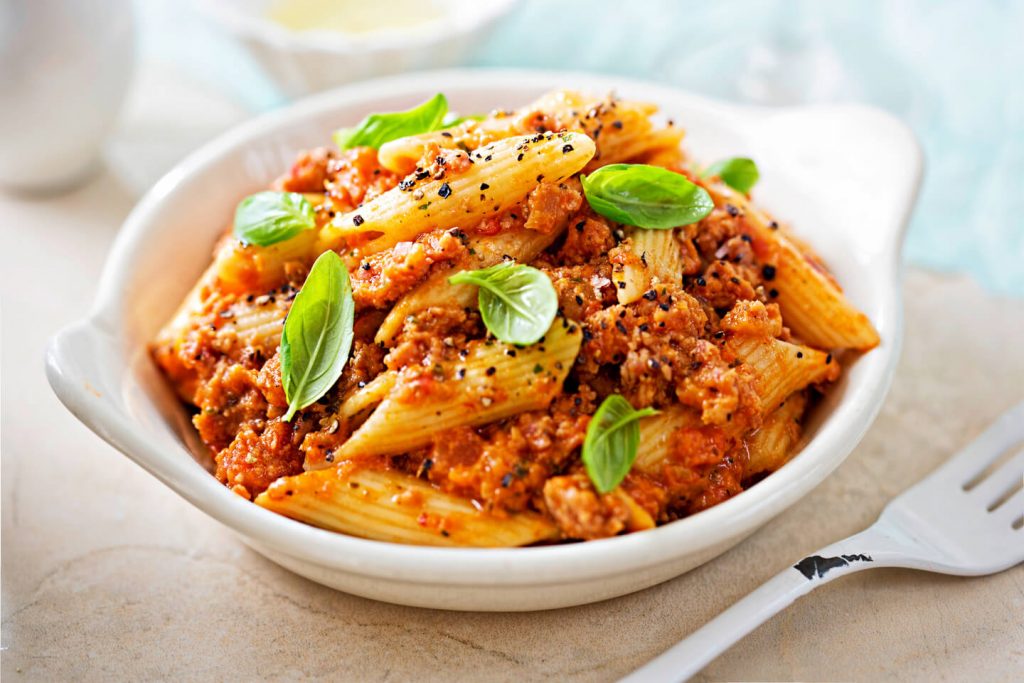 06 of 70
Italian Sausage Pasta
For this Italian sausage pasta, noodles are tossed with peppery pork sausage in cream sauce. It's a delicious combo, so it's no wonder that this appetizer is another Italian favorite. Authentic Italian recipes with sausage are just as filling as the other Italian recipes, too. The best part is, you need just a handful of ingredients for this recipe. If you haven't tried it yet, now's the time to include this on your menu.

Try Recipe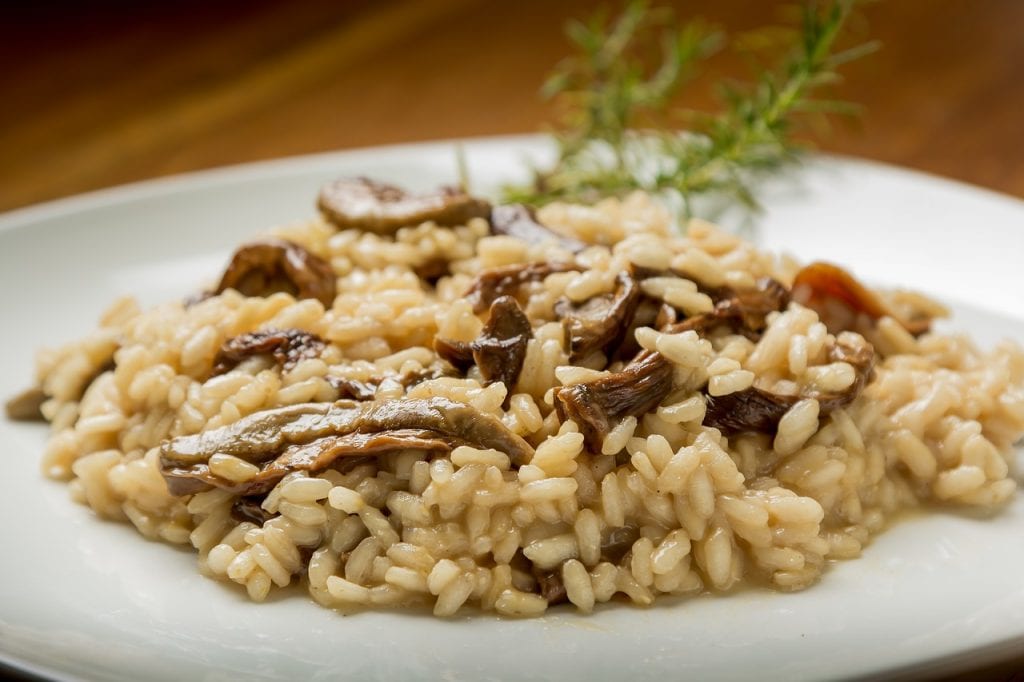 07 of 70
Mushroom Risotto
Italy is well-known for its delicious risotto recipes 一 they did invent it, after all. This rice dish is one of those authentic Italian recipes that offer a surprising range of flavors. For one of the most delicious variations to try, we have this creamy mushroom risotto! So if you're up to it, bring Italian flavors straight to your kitchen with this vegetarian dish.

Try Recipe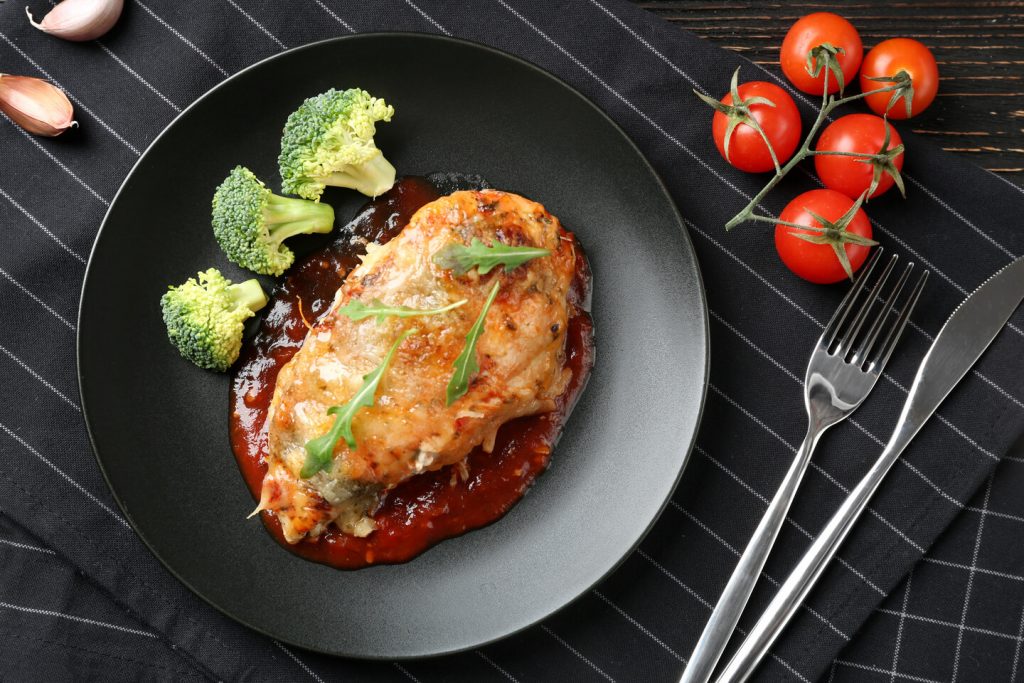 08 of 70
Chicken Parmesan
This is one of the most popular authentic Italian recipes that use chicken. With only a handful of ingredients, achieve crispy, breaded chicken cuts smothered with marinara sauce and melted cheese. All things considered, this chicken Parmesan dish is truly delicioso.

Try Recipe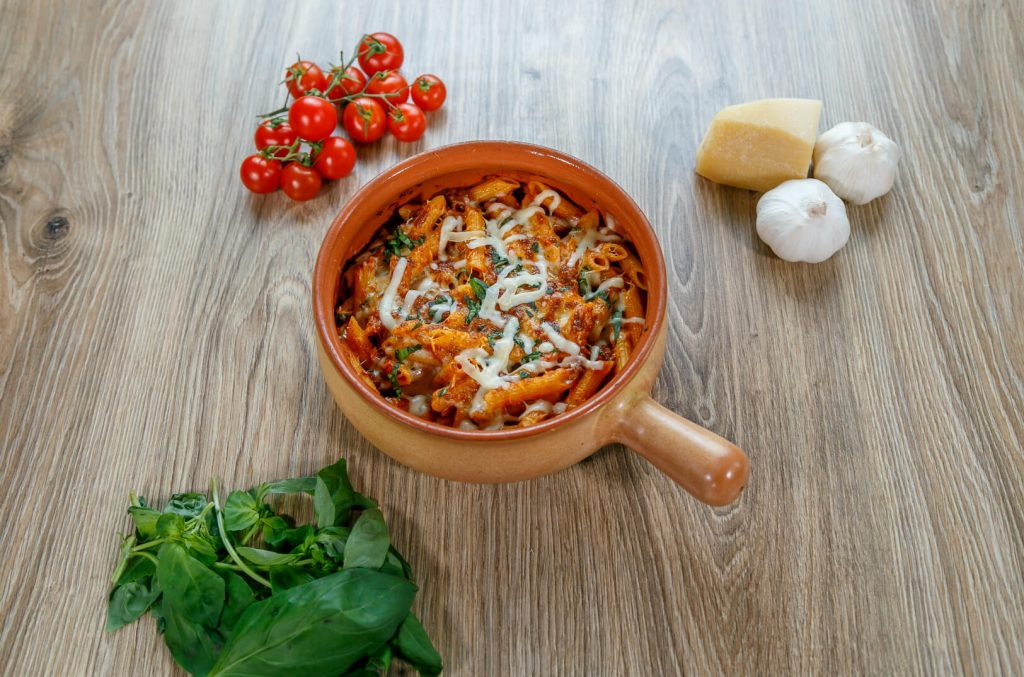 09 of 70
Pasta al Forno
Pasta al Forno is Italy's version of baked pasta. This particular Italian recipe is uses rigatoni pasta and sausages, cooked in a meaty marinara sauce. Then, it's baked to perfection with lots of cheese on top! Garnished with parsley to finish, this deliciously baked pasta is perfect for a gathering. 

Try Recipe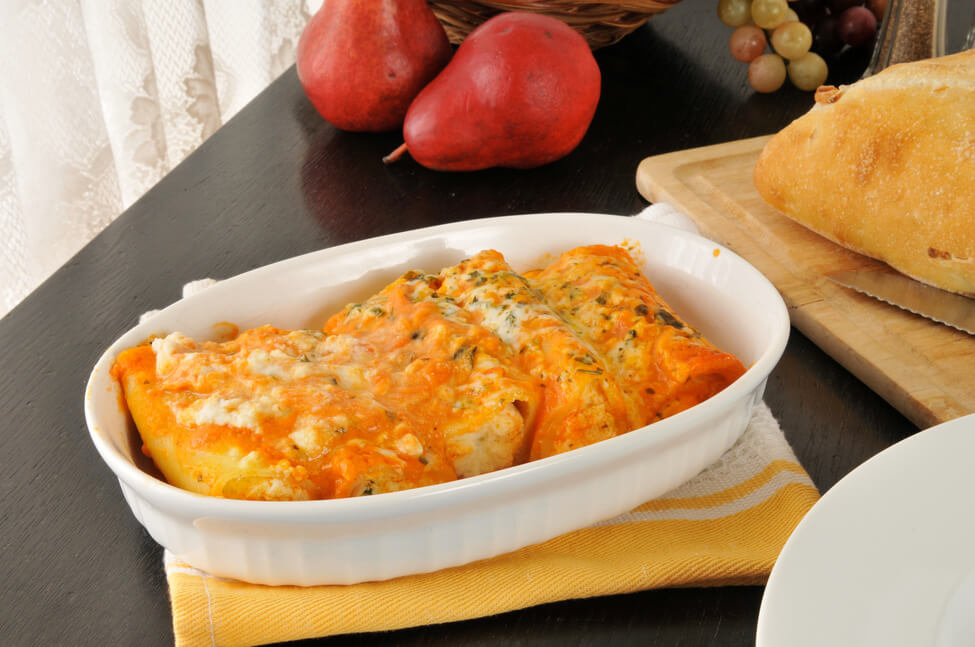 10 of 70
Manicotti
This manicotti recipe is yet another Italian classic. It makes for a hearty dish that's full of rich Italian flavors.  Think of hollow noodles stuffed with hearty sausage and three kinds of cheese, then slathered with marinara sauce. This recipe is easy enough for quick weeknight meals, and it's also perfect for special occasions.

Try Recipe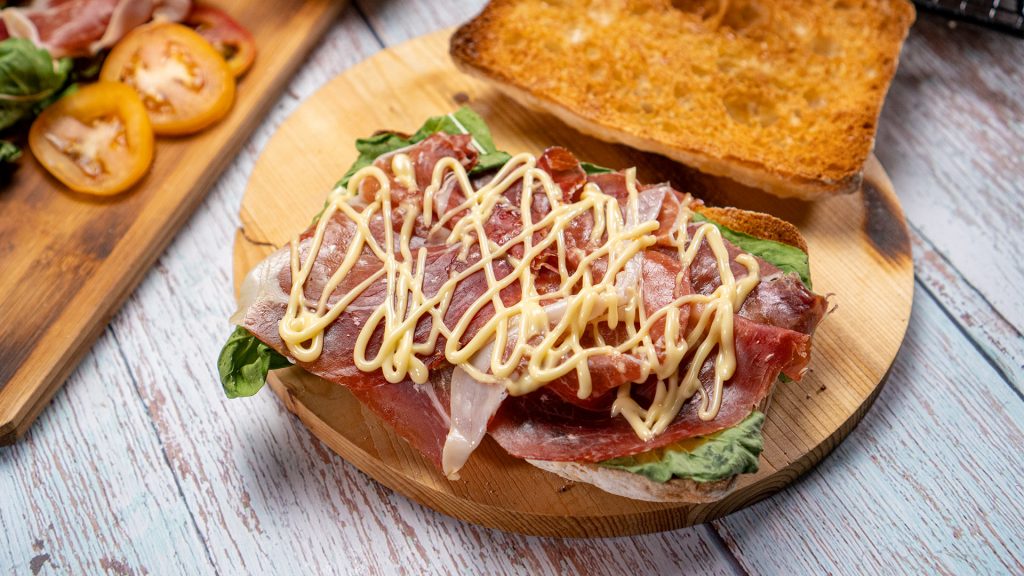 11 of 70
Prosciutto on Ciabatta
Level up your deli sandwiches with this prosciutto on ciabatta recipe. Cured ham, arugula, and freshly sliced tomatoes just taste so good together! Since it only takes 10 minutes to prepare this delicious sandwich, you can have an Italian-style snack in no time!

Try Recipe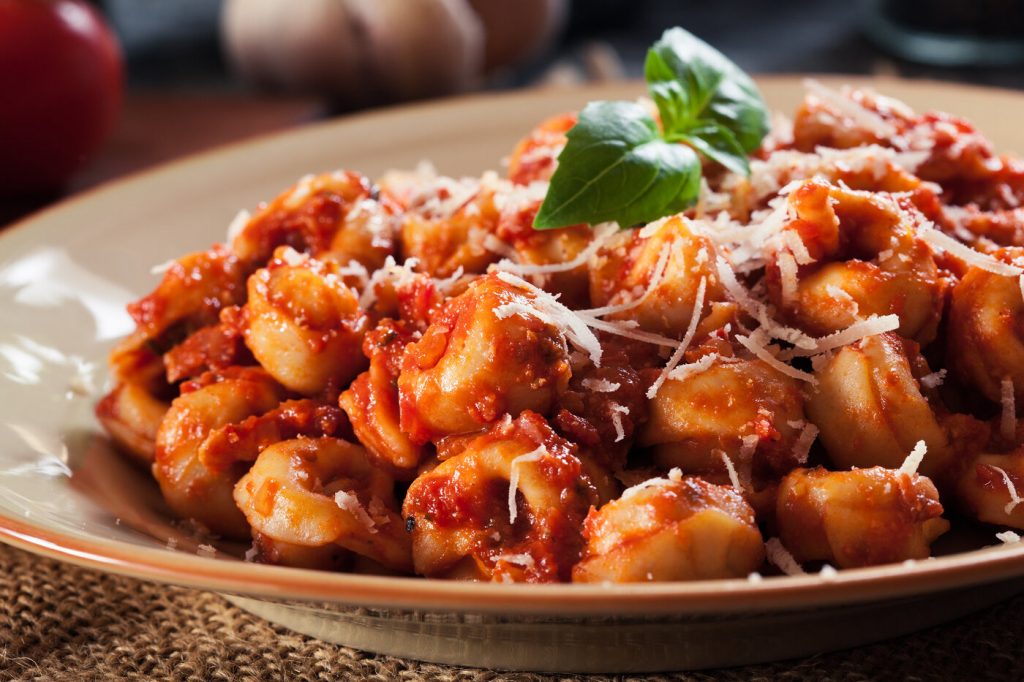 12 of 70
Cheese Tortellini
You'll definitely love the cheesy goodness of this Italian dish. In this recipe, cheese-stuffed tortellini noodles are cooked in a hearty marinara sauce. Ground beef is then tossed into the mixture to elevate it even more. Sprinkled with parsley and more grated cheese, this is the perfect meal for all pasta and cheese lovers alike.

Try Recipe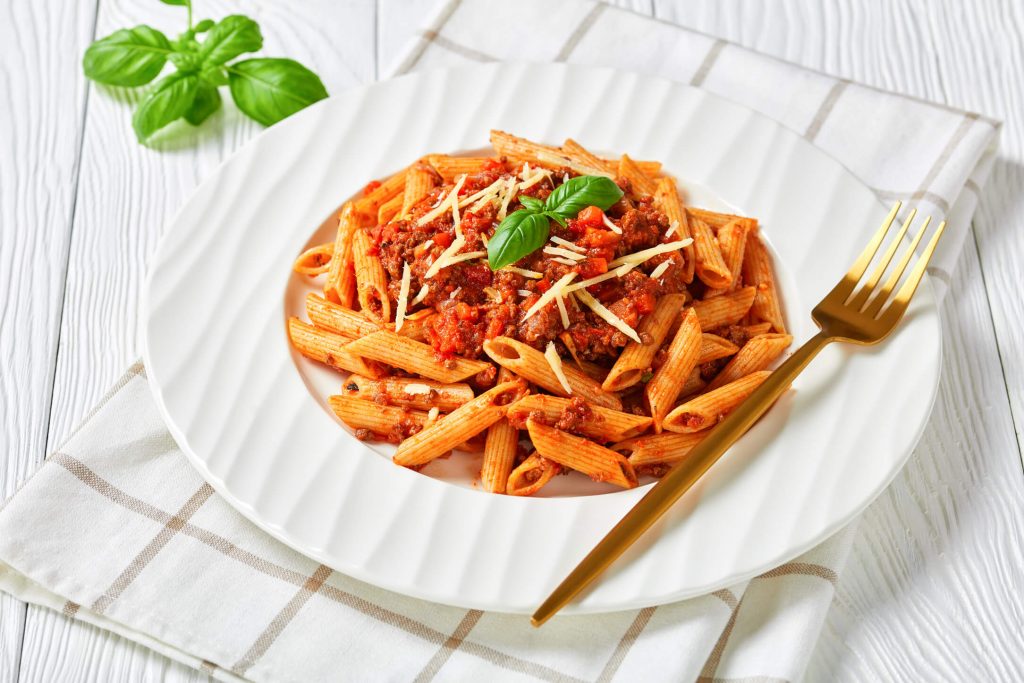 13 of 70
Penne Bolognese
In this recipe, penne pasta is tossed into a delish ragu alla bolognese (bolognese sauce). Ground beef, pancetta, and vegetables are combined to make it. Red wine is also an essential ingredient as it gives the sauce rich flavors. Jazz this pasta dish up by adding Parmesan and fresh basil as garnish.

Try Recipe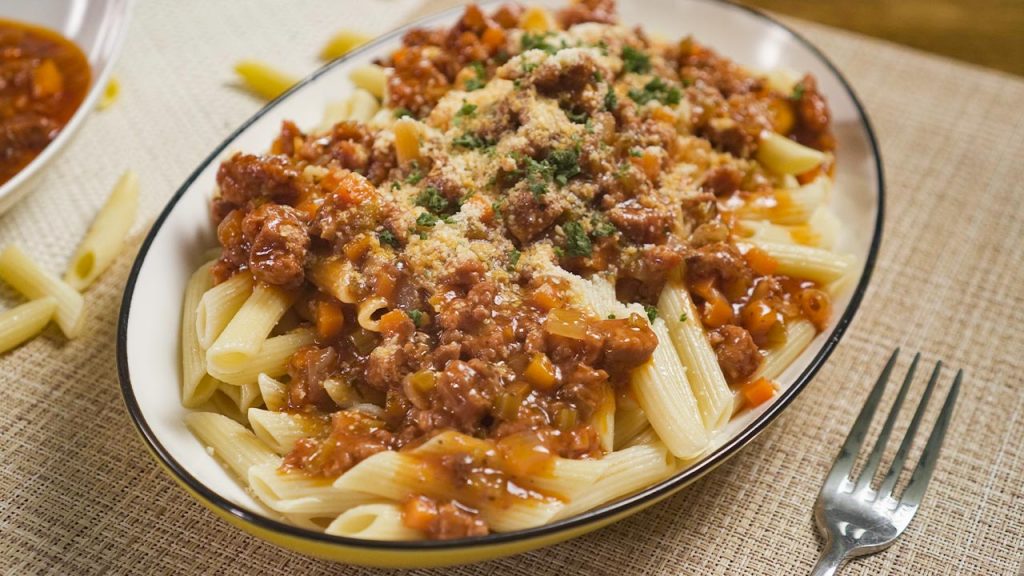 14 of 70
Mostaccioli
Considering the popularity of authentic Italian recipes, your options are endless. Well, if you want a hearty, flavorful, and filling meal, then this mostaccioli pasta recipe is the way to go! The noodles are mixed with a meaty sauce that tastes just like lasagna — without the frills. 

Try Recipe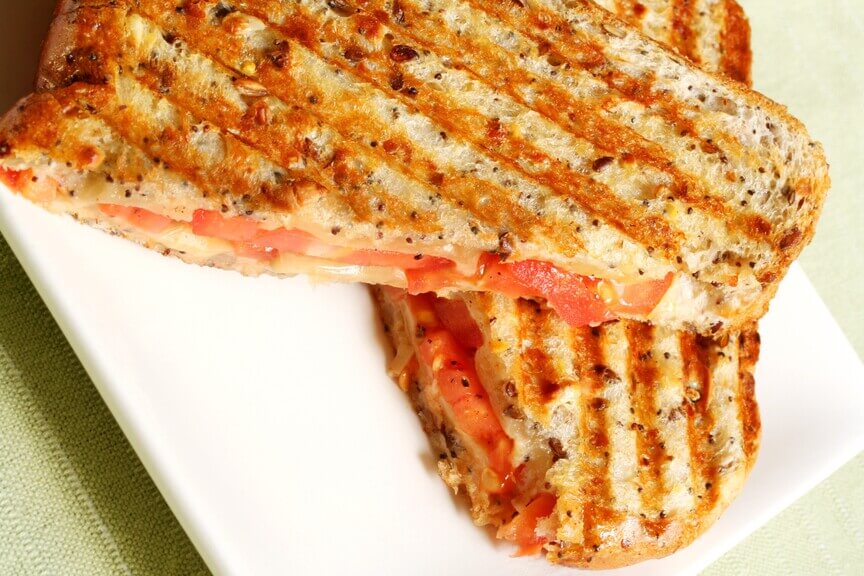 15 of 70
Grilled Cheese Sandwich
Sometimes, only a slice of grilled cheese sandwich can satisfy our craving when it strikes. However, the same basic grilled sandwich can be pretty tiring, too. So, why not take the dish to another level? Say, give it a little Italian twist? Basil leaves and tomato slices provide a tart and minty depth to this cheesy dish. 

Try Recipe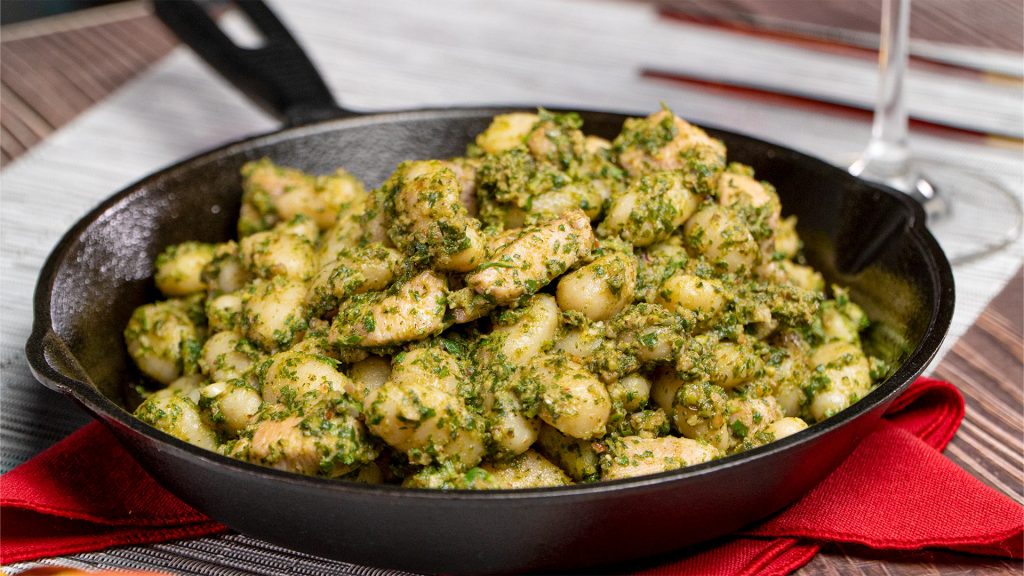 16 of 70
Gnocchi
Whether you're in a time crunch, you would still want to have a delicious meal on the table. Now, what could you possibly prepare without spending hours in front of the stove? This pesto-flavored gnocchi, that's what! Italian seasoning, garlic powder, and chili flakes intensify the flavors of this dish even more. Ready in just 16 minutes, this is the perfect dinner for busy weeknights.

Try Recipe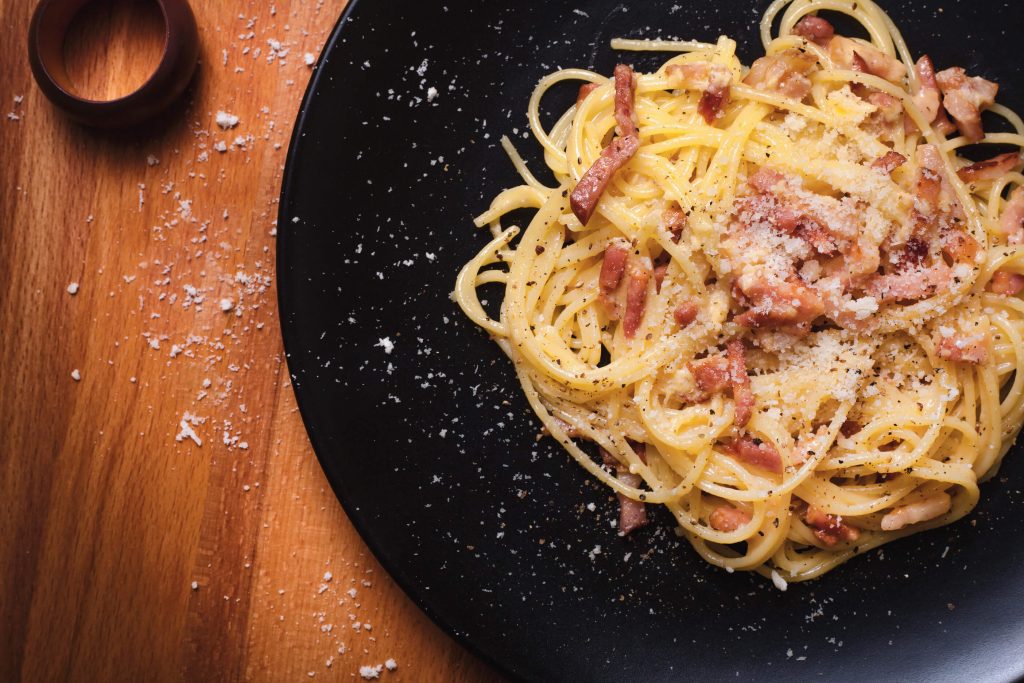 17 of 70
Spaghetti Carbonara
Make your next weeknight dinner feel like you're dining in Italy al fresco style with this classic spaghetti alla carbonara recipe. This Italian dinner meal couldn't be any easier to prepare. It only requires a handful of ingredients, including spaghetti pasta noodles, pancetta (or bacon if you don't have it), Parmesan cheese, and eggs. Even more impressive is that this dish comes together quickly!

Try Recipe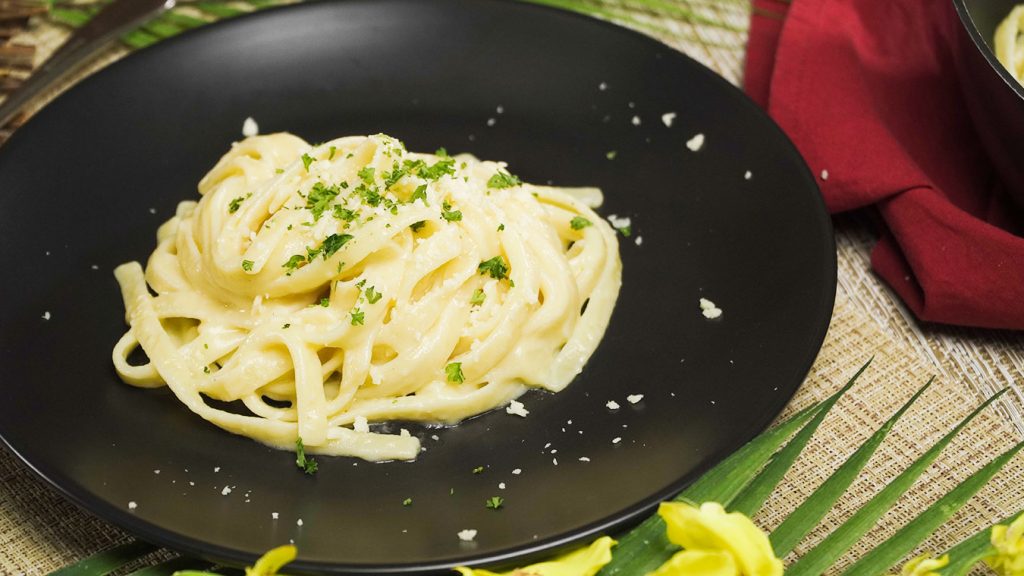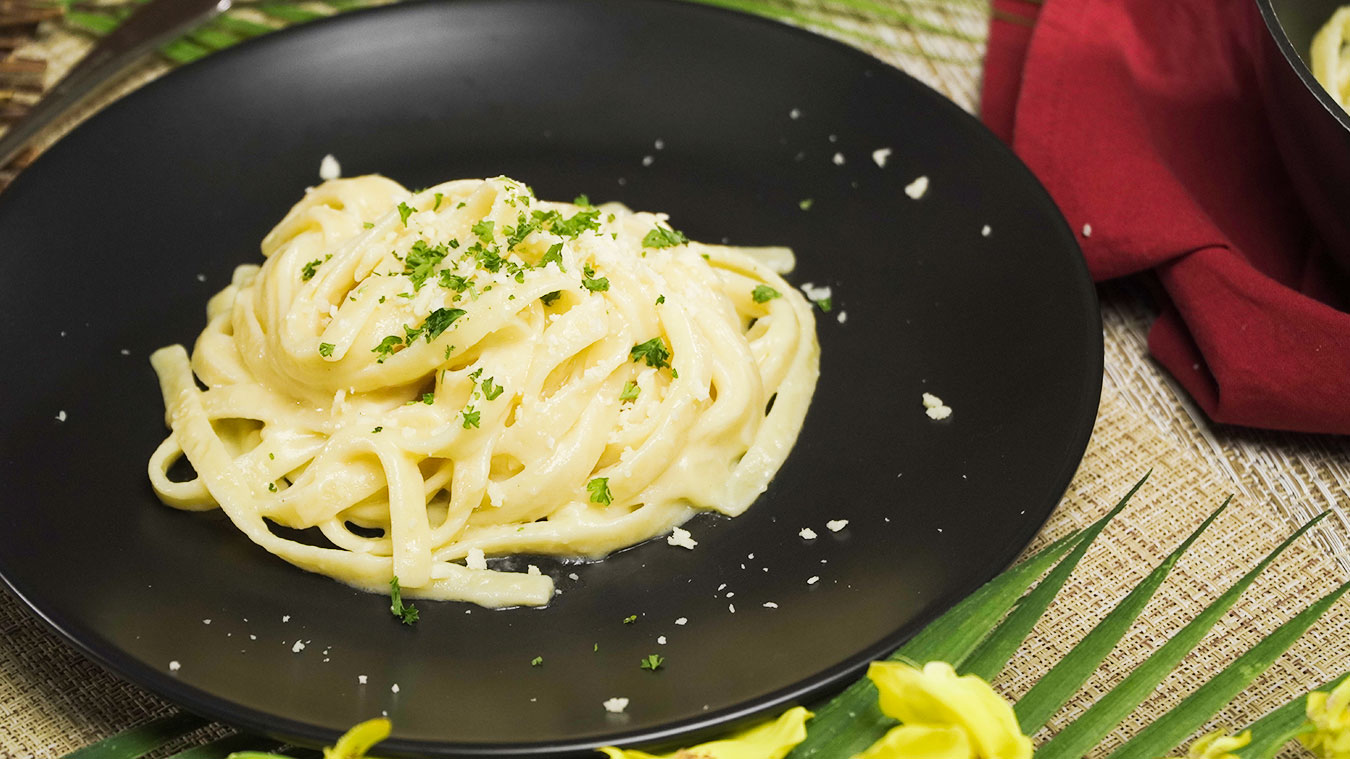 18 of 70
Fettuccine Alfredo
Are you looking for an authentic Italian experience for dinner? You can never go wrong with fettuccine tossed in creamy alfredo sauce! Based on fettuccine al burro, the base of this dish is thick pasta noodles and butter. Then, the clever addition of delectable Parmesan cheese creates a truly unforgettable pasta meal. But if you don't have access to Parmigiano-Reggiano, then you can always just use normal Parmesan cheese, just like in this recipe.

Try Recipe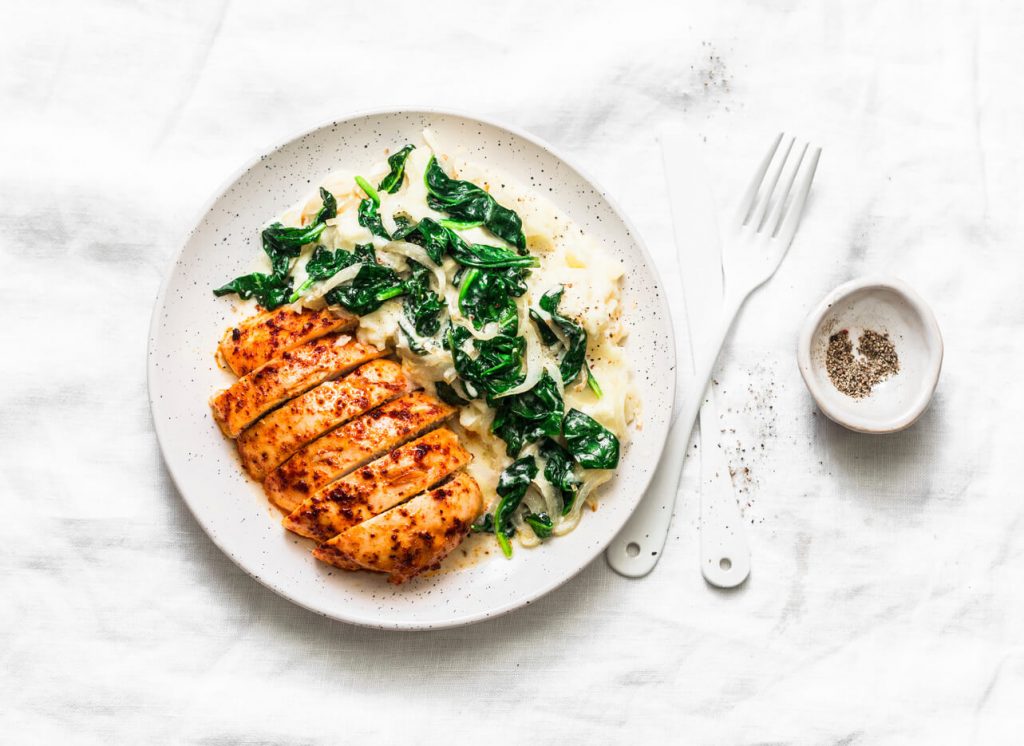 19 of 70
Chicken Florentine 
Coming all the way from the region of Florence, chicken Florentine is another one of those authentic Italian recipes that you should not miss! This drool-worthy dish showcases tender chicken breasts cooked in the flavorful creamy sauce of your dreams.  

Try Recipe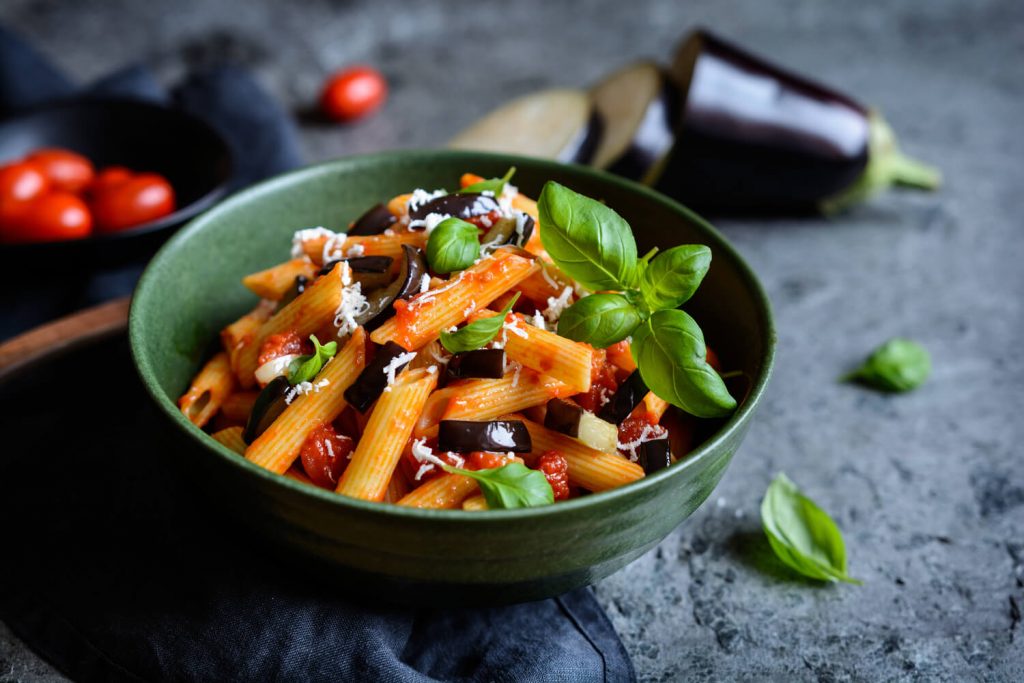 20 of 70
Pasta alla Norma 
Here's a dish that's fitting for a picky Italian palate: the tasty pasta alla norma. This is a classic Sicilian combination of al dente pasta noodles and baked eggplant pieces. These ingredients are then tossed together in a tart marinara sauce to finish. 

Try Recipe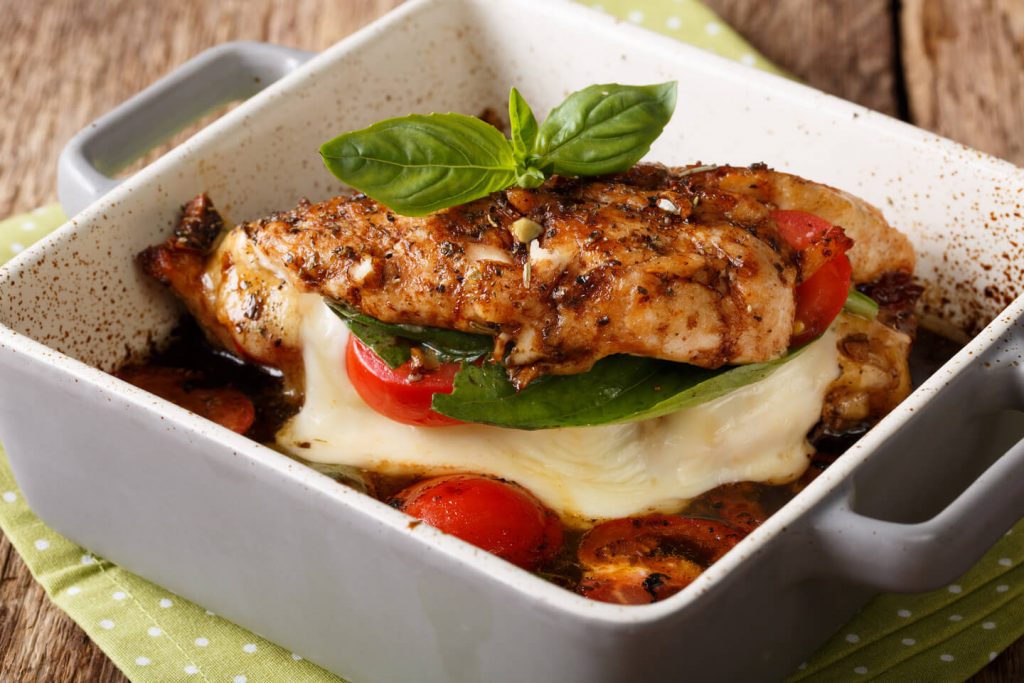 21 of 70
Caprese Chicken
If there's one thing health buffs and Italian people can agree on, it's that caprese chicken is definitely top tier! This rendition is just a cut above the regular salad, since the fresh mozzarella, tomatoes, and basil leaves are baked together with lean chicken breasts.  

Try Recipe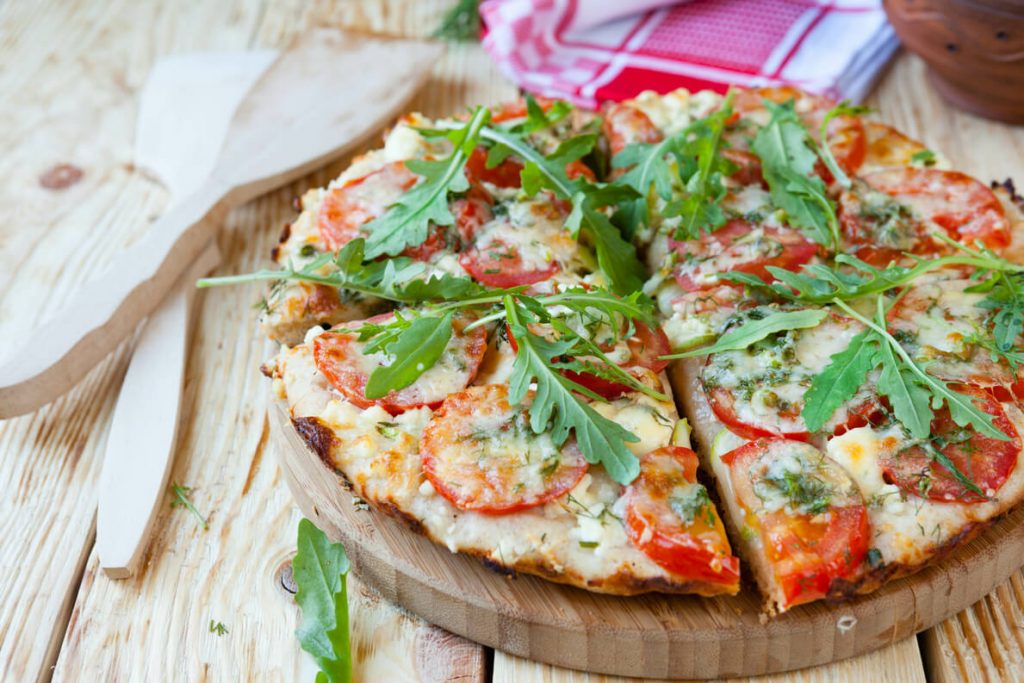 22 of 70
Arugula Pizza
If you've never tried arugula pizza before, now is the time to do it. You can't go wrong with fresh tomato slices and goat cheese baked over a crispy hand-tossed pizza crust. Layer this with crisp arugula leaves and you're golden! 

Try Recipe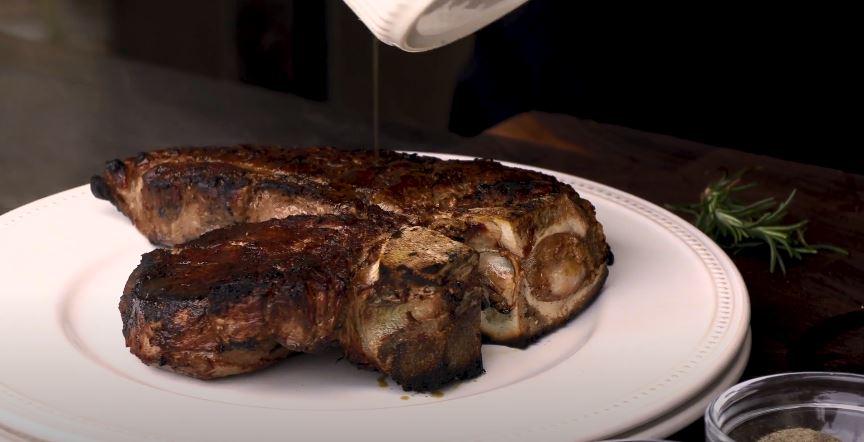 23 of 70
Florentine Steak 
The flavors of this Florentine steak will take you on a sojourn to Central Italy, all without having to leave the comforts of home. It's a memorable steak dish with an extra layer of oomph, thanks to a special balsamic vinegar and rosemary marinade. 

Try Recipe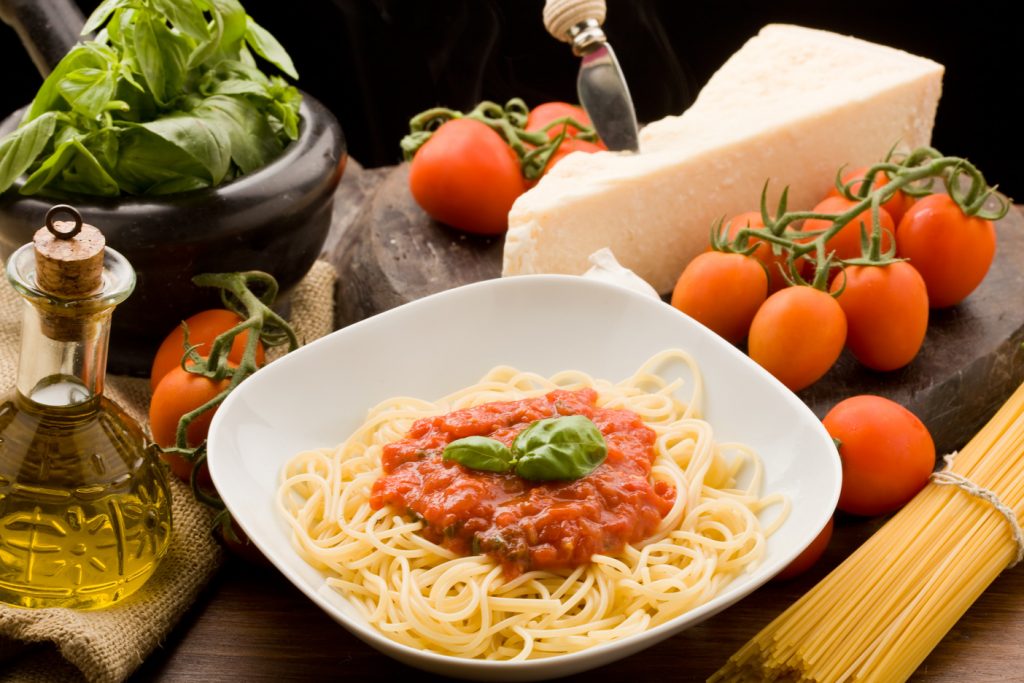 24 of 70
Pasta Pomodoro
Simple, yet satisfying. That's exactly what pasta pomodoro is all about. Enjoy a classic combination of firm spaghetti noodles drowned in fresh tomato sauce. This just goes to show that you don't really need to do much to make the tastiest dishes out of authentic Italian recipes. 

Try Recipe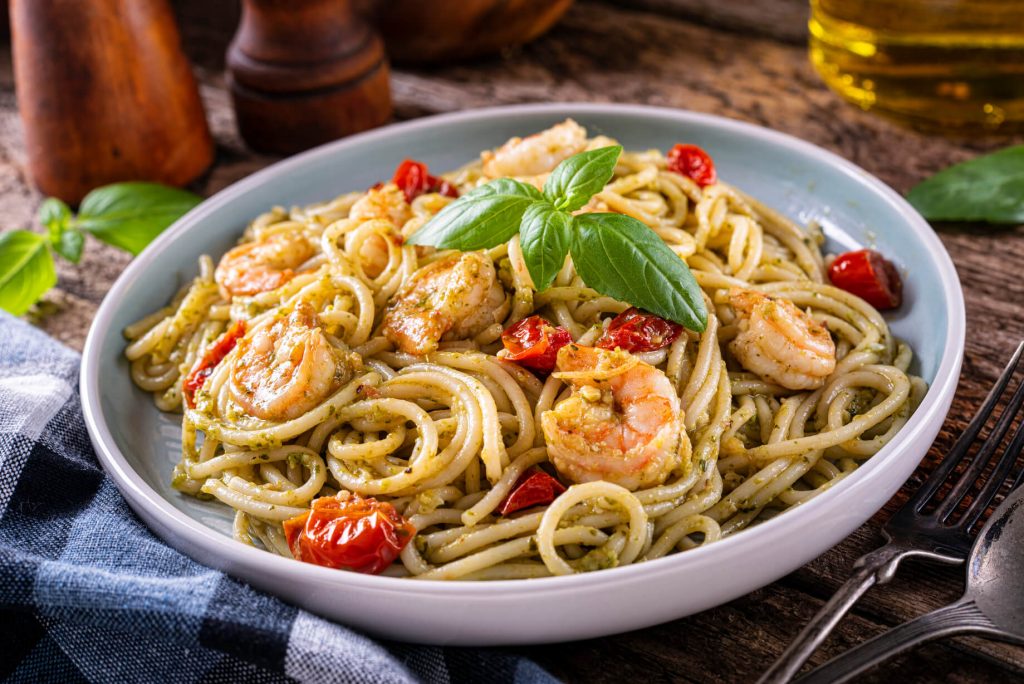 25 of 70
Pesto Pasta 
Pesto pasta is a dish that needs no introduction. The pairing of al dente pasta noodles and an earthy-flavored green sauce just makes sense! The sauce for this seafood-inspired version is made with basil leaves, shrimp, juicy cherry tomatoes, and Parmesan cheese.

Try Recipe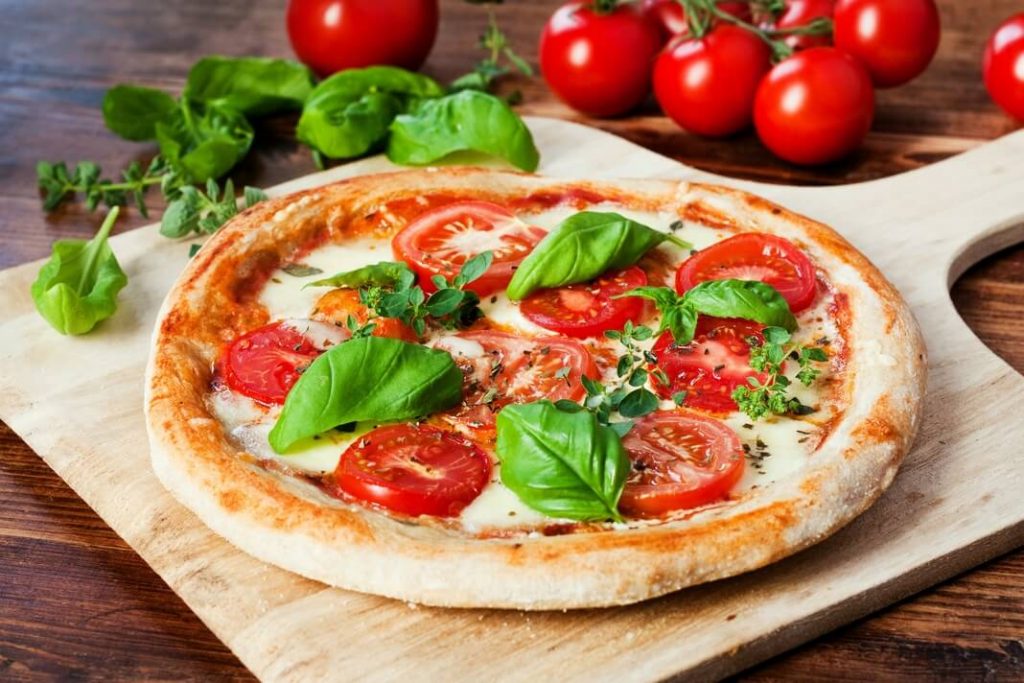 26 of 70
Neapolitan Pizza
Time and time again, the classic Neapolitan pizza never fails to impress! This Southern Italian staple is known for its signature toppings of fresh tomato sauce, mozzarella cheese, and basil leaves. Served over an airy hand-tossed crust, it's not hard to see why everyone loves it.

Try Recipe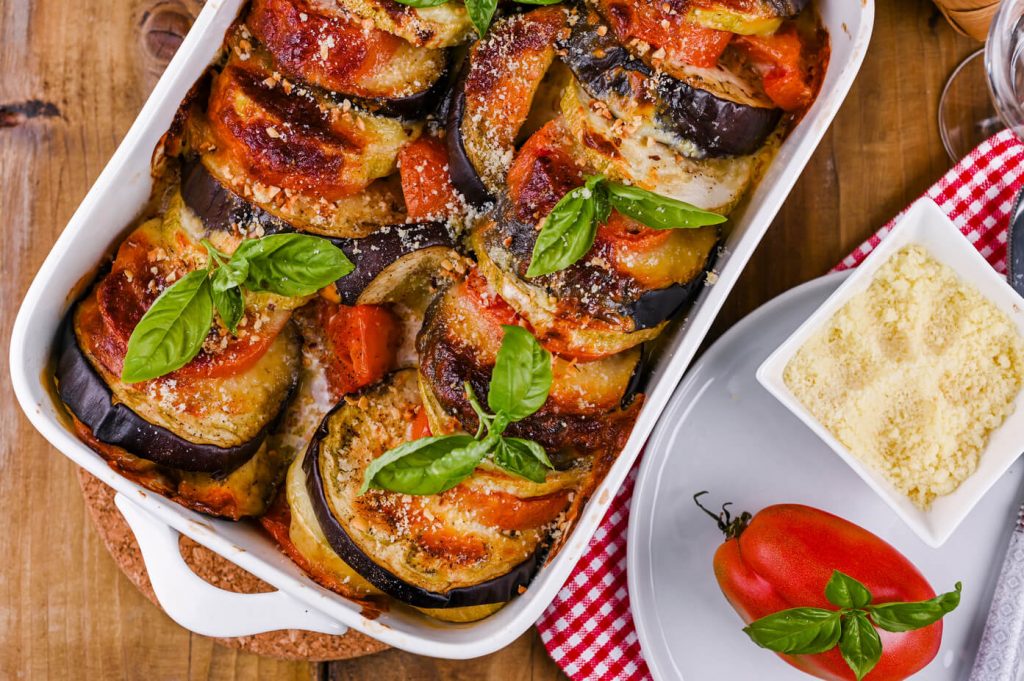 27 of 70
Eggplant Parmesan
Southern Italy is home to some of the best authentic Italian recipes that we can think of, including this keto-friendly eggplant Parmesan dish. Make this hearty baked casserole, and enjoy layers upon layers of crispy breaded aubergines with pasta sauce and melted cheese.

Try Recipe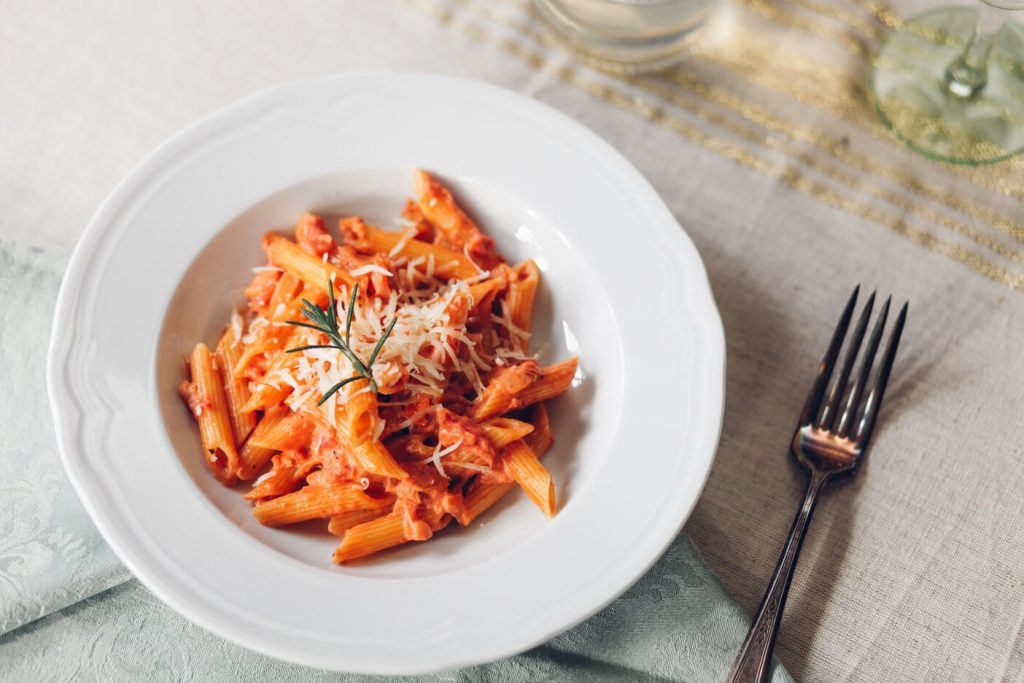 28 of 70
Penne alla Vodka
Penne alla vodka is an adult-approved pasta dish that's perfect for an Italian-themed dinner. And of course, its true crowning glory is none other than the flavorful vodka sauce. Cooked with tomatoes, heavy cream, and cheese, this component takes the noodles to a completely different playing field!

Try Recipe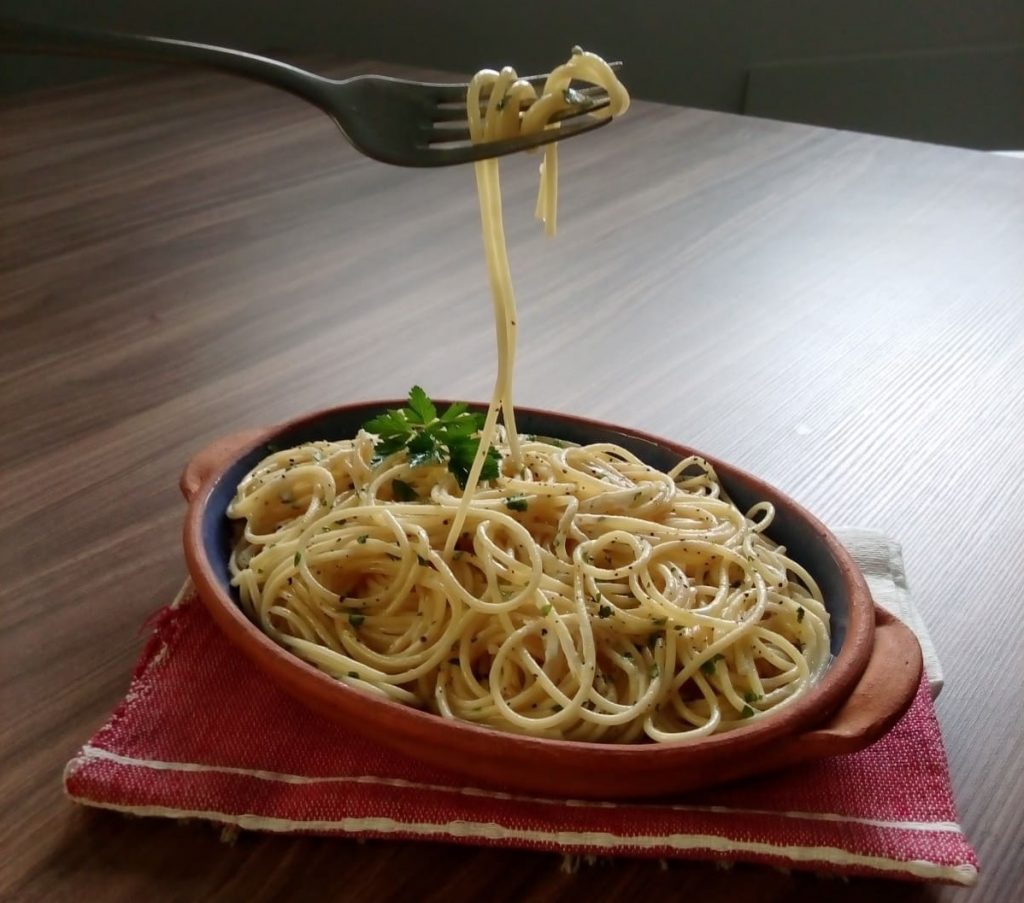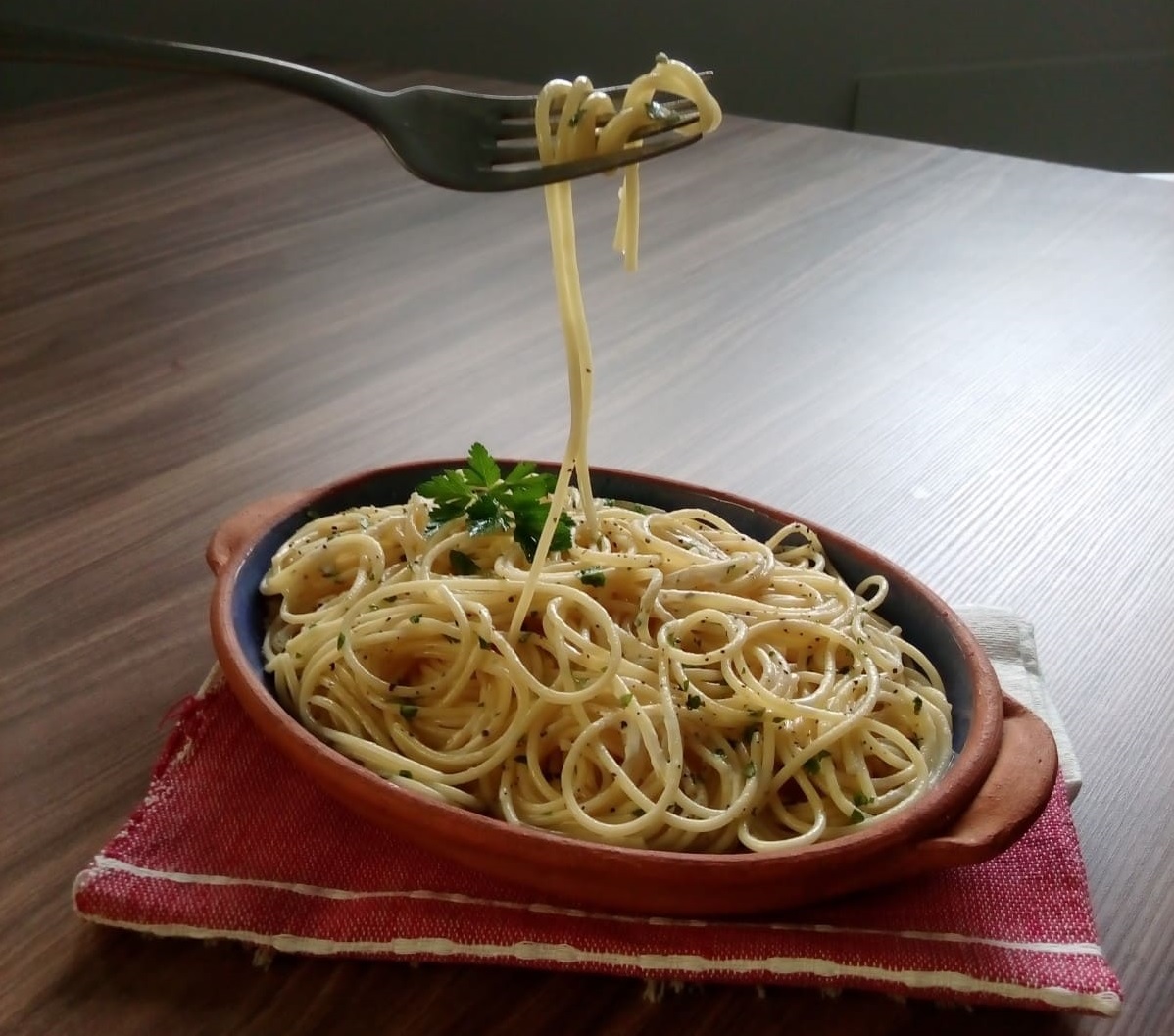 29 of 70
Cacio e Pepe
Digging into a serving of this creamy cacio e pepe is the next best thing to a dinner in Rome! This authentic Italian recipe sticks to tradition, mixing only butter, black pepper, and Pecorino Romano cheese to flavor the pasta noodles.  

Try Recipe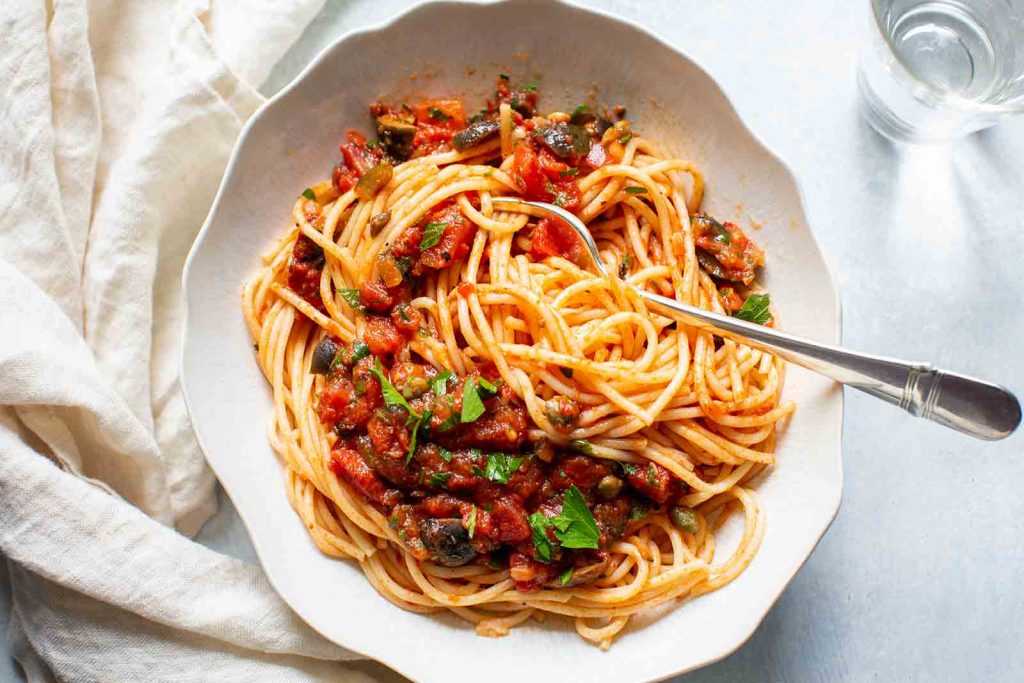 30 of 70
Spaghetti alla Puttanesca
Got more spaghetti noodles in your pantry? Lucky for you, because it's the perfect base for this Neapolitan favorite! Al dente pasta simply tastes glorious with a traditional puttanesca sauce. It's made with a scrumptious hodgepodge of tomatoes, olives, capers, and of course, anchovies. 

Try Recipe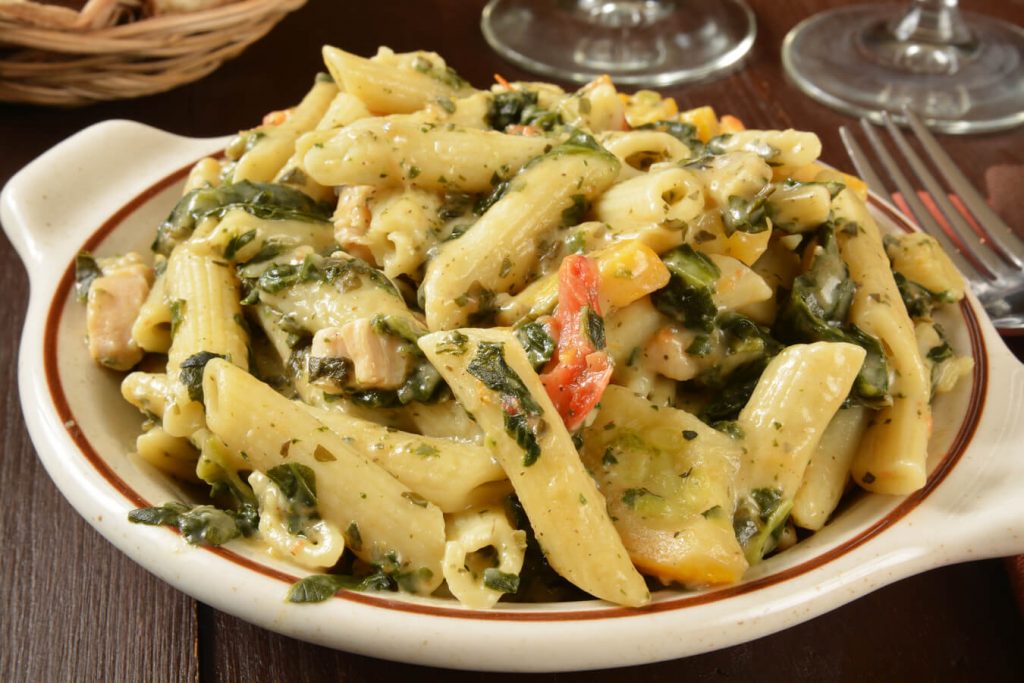 31 of 70
Florentine Pasta 
Noodles and cream is basically the dream team. Take inspiration from this luscious Italian dish that combines penne pasta, chicken strips, cheese, and spinach leaves with a homemade pesto-alfredo sauce. For a tasty and filling meal, this comes together rather quickly.  

Try Recipe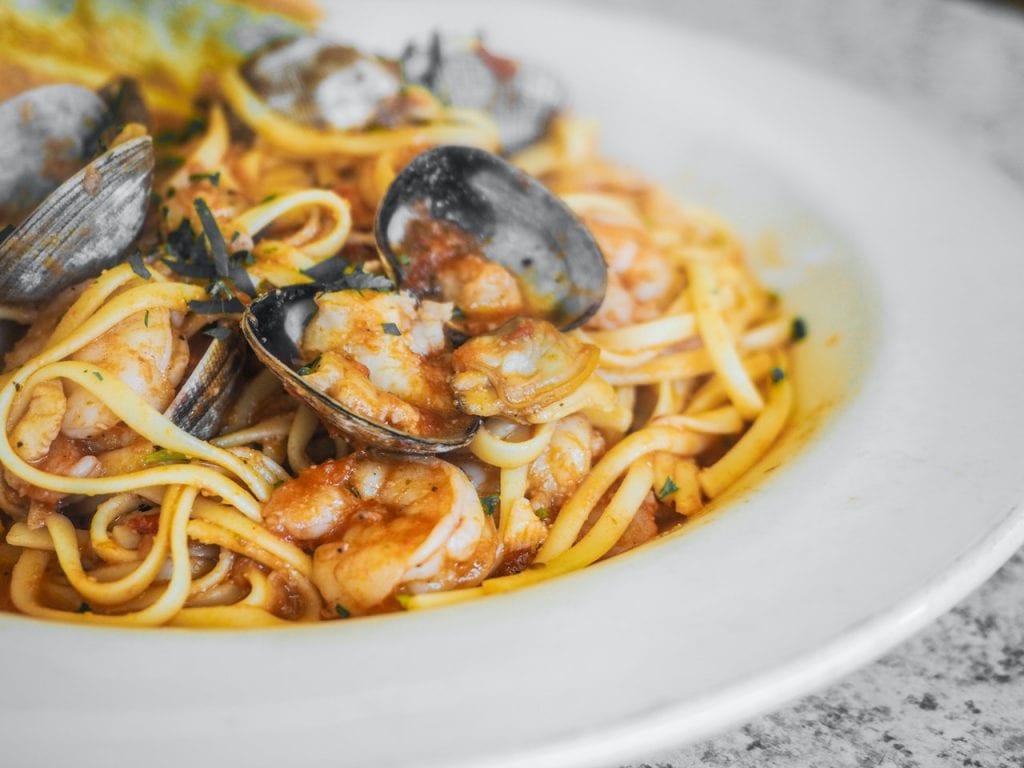 32 of 70
Frutti di Mare
Frutti di mare means "fruit of the sea" in Italian. In this recipe, clams and mussels  are simmered in a rich-tasting arrabiata sauce. You can also make use of other seafood for it, such as calamari, salmon, crabmeat, or lobster. Serve it over al dente linguine noodles for the full experience.  

Try Recipe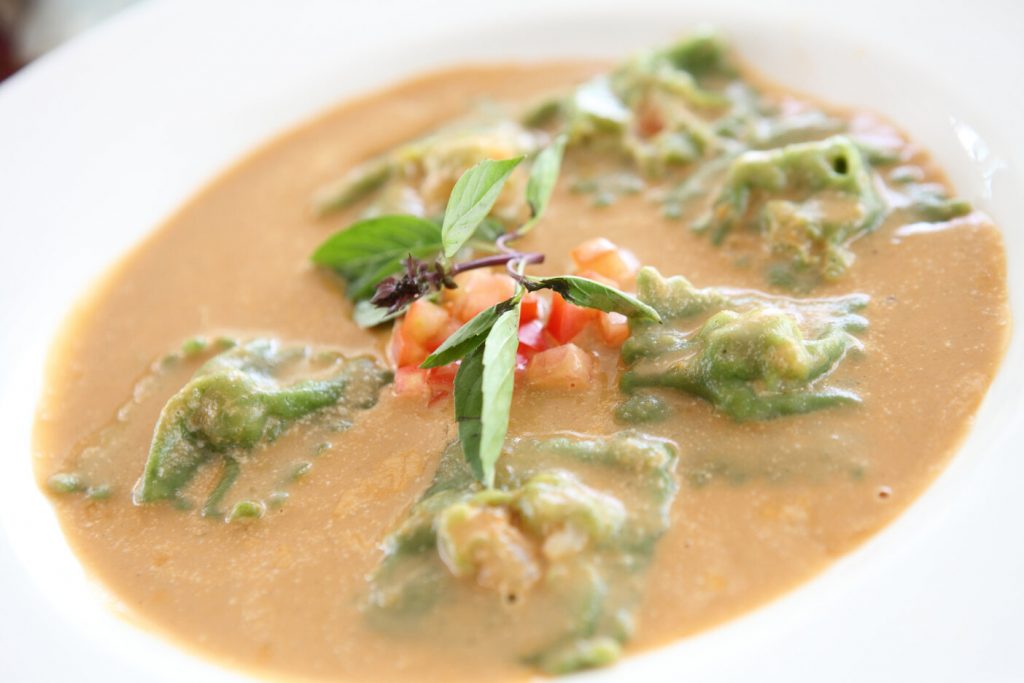 33 of 70
Lobster Ravioli
Everybody loves a good ravioli dish, and this version is for all the seafood lovers out there! This authentic Italian recipe boasts a unique spinach-flavored dough for the pasta itself. Encasing a tasteful lobster filling, the pieces of filled pasta perfectly complement the dish's accompanying lobster reduction and saffron emulsion. 

Try Recipe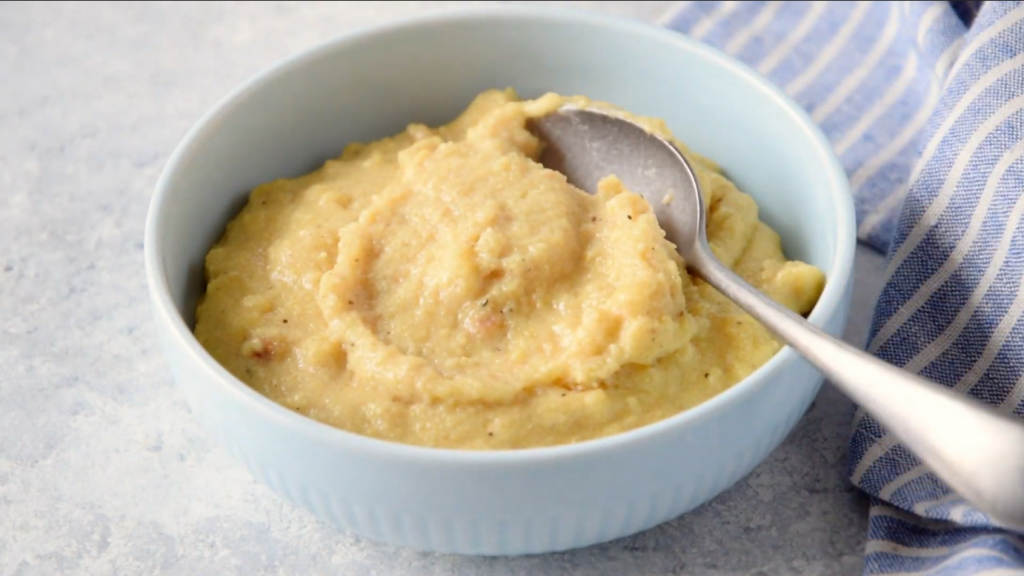 34 of 70
Polenta
This polenta recipe uses only a single appliance, so it's as effortless as easy authentic Italian recipes can get. Simply throw the ingredients together, and the Instant Pot will take care of the rest. In as quick as 10 minutes, you'll get to serve bowls of deliciously cheesy polenta. 

Try Recipe
---
Authentic Italian Appetizers
No Italian feast would be complete without some tasty appetizers. They'll absolutely prepare you for the big meal! Take your pick below to kickstart  your Italian-style dinner.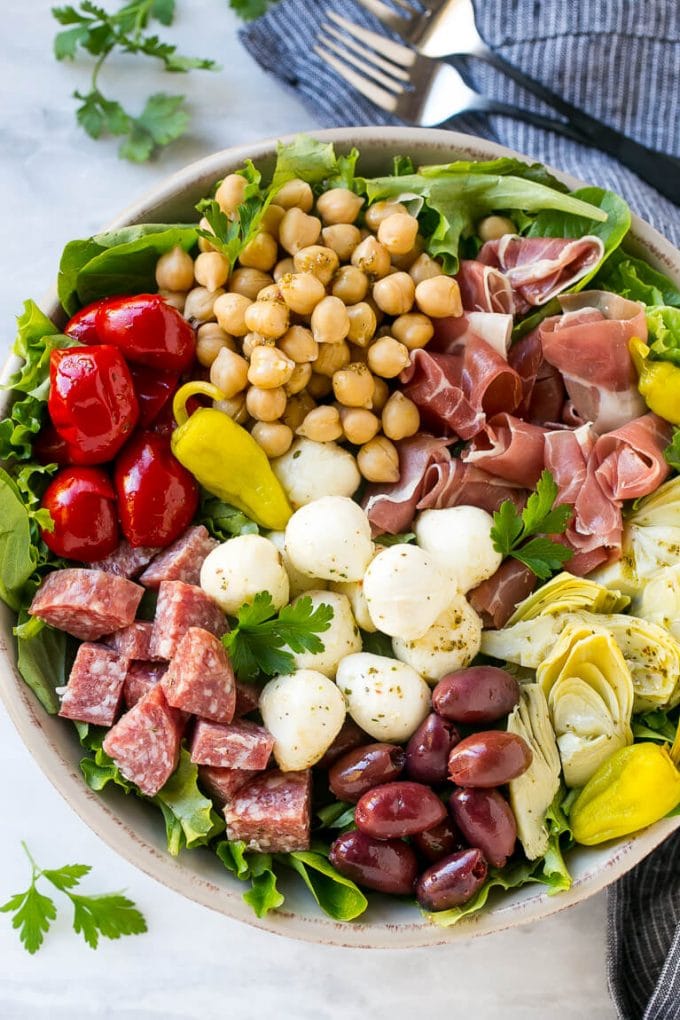 35 of 70
Italian Antipasto
Italian Antipasto has been a part of every Italian meal since the 16th century. One of the most well-known authentic Italian recipes, antipasto is a colorful plate of Italian meats, cheese, and either fresh fruits or pickled vegetables. This dish embodies the true taste of Italy in all of these ingredients combined. And what's an elegant meal without some fine Italian wine, right? 

Try Recipe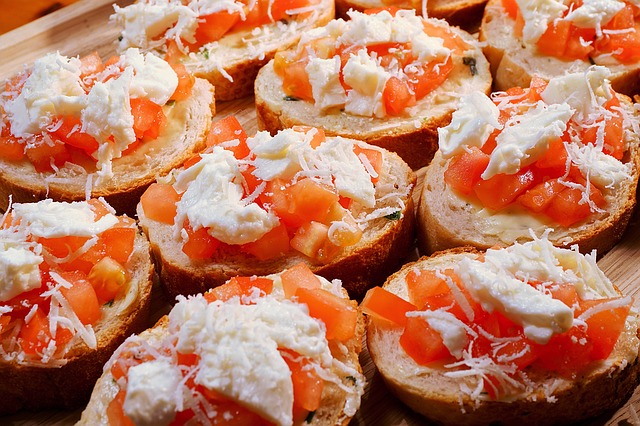 36 of 70
Artichoke Bruschetta
Originally a peasant dish, bruscetta has become an iconic starter in Italy. There are many variations of this classic Italian appetizer, and this is one of the best ones to try. It showcases crispy French baguettes broiled with marinated artichoke hearts, mayonnaise, and gooey cheese on top.

Try Recipe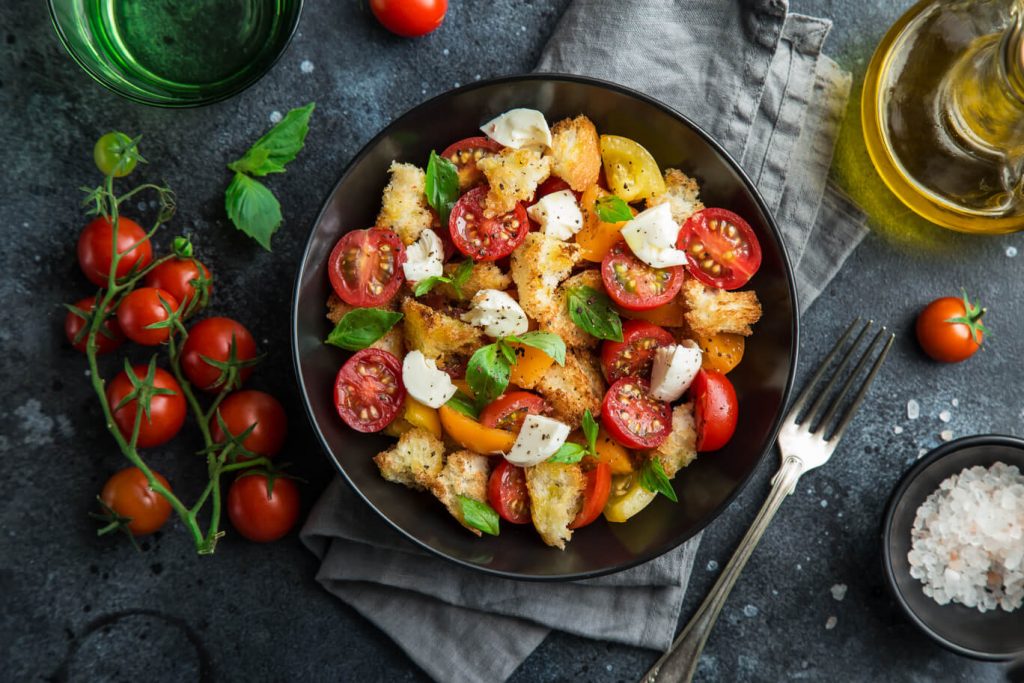 37 of 70
Panzanella Salad
Put your gone-stale Italian bread to good use by making this refreshing Tuscan salad. Crisped up into croutons, the bread pieces will add a satisfying crunch to the combination of freshly-cut tomatoes, cucumbers, kalamata olives, basil leaves, and cheese. All you need is a simple vinaigrette dressing to tie this tasty dish together. 

Try Recipe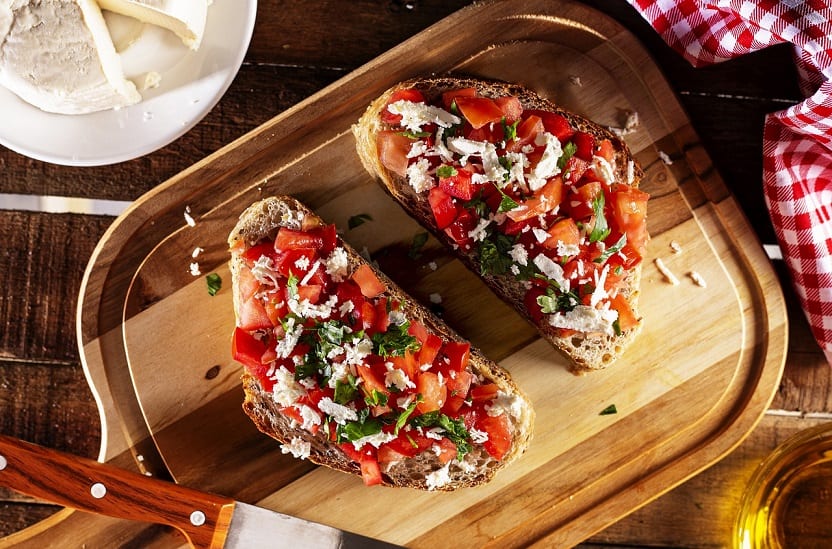 38 of 70
Caprese Bruschetta
Creamy mozzarella, ripe tomatoes, and fresh basil come together to make this impressive antipasto. Besides being delicious, its vibrant colors are just as lively as a bright summer day in Southern Italy. On the whole, this is the perfect appetizer for an Italian-themed dinner party!

Try Recipe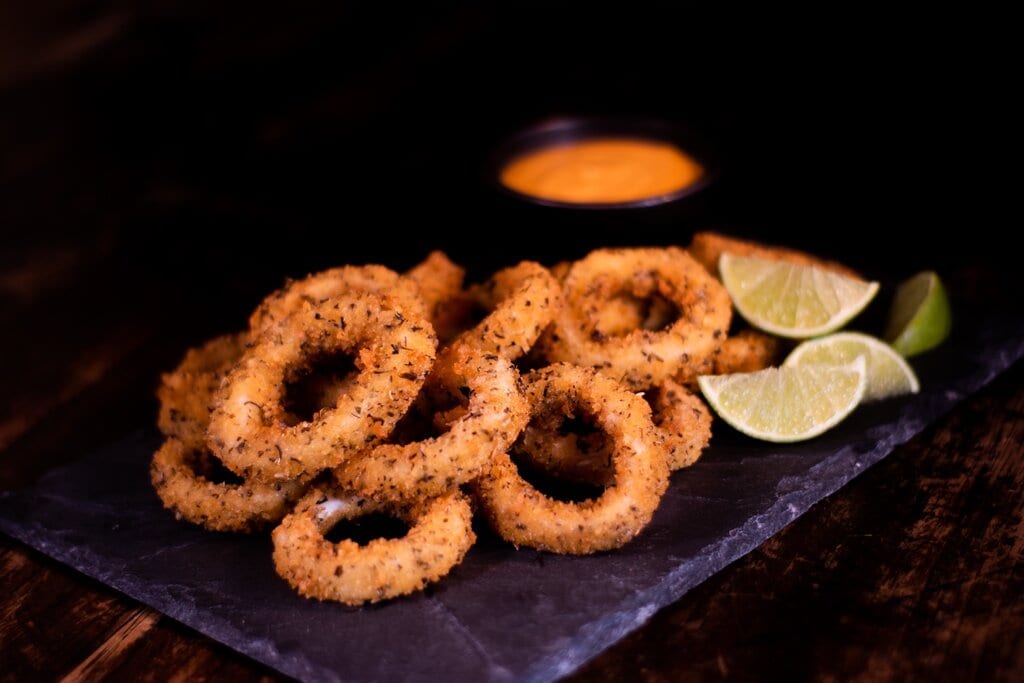 39 of 70
Calamari Fritti
Start your dinner party right with this indulgent Italian seafood appetizer. Thin rings of squid are fried to crispy golden-brown perfection for it. Truly, every bite of this calamari fritti gives out a satisfying crunch. To elevate your guests' pre-dinner experience, serve this alongside lemon wedges and marinara sauce for dipping. 

Try Recipe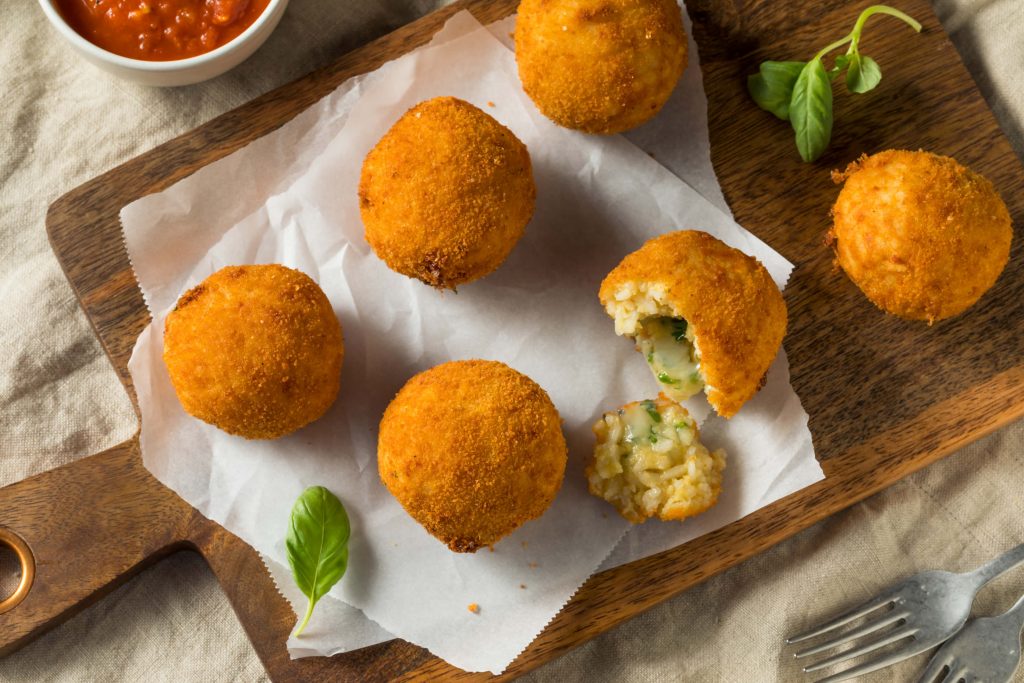 40 of 70
Arancini Balls
Arancini are tasty treats from Sicily. For this rendition, the deep-fried rice balls are stuffed with gooey mozzarella, pistachio nuts, and peas. All of these ingredients combine to make a creamy and cheesy appetizer that's sure to have your guests asking for seconds and thirds! 

Try Recipe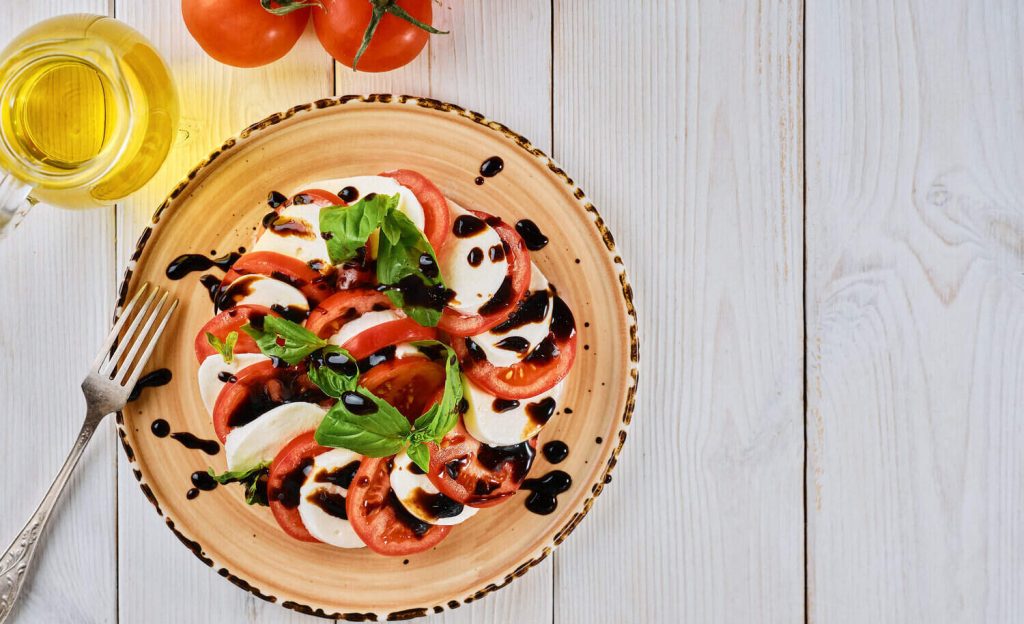 41 of 70
Caprese Salad
No list of authentic Italian recipes is truly complete without mentioning the iconic caprese salad. Who knew that a simple combination of tomatoes, fresh mozzarella cheese, and basil leaves could taste this memorable? It's a no-cook dish that only needs a drizzle of olive oil, balsamic reduction, salt, and pepper to complete. 

Try Recipe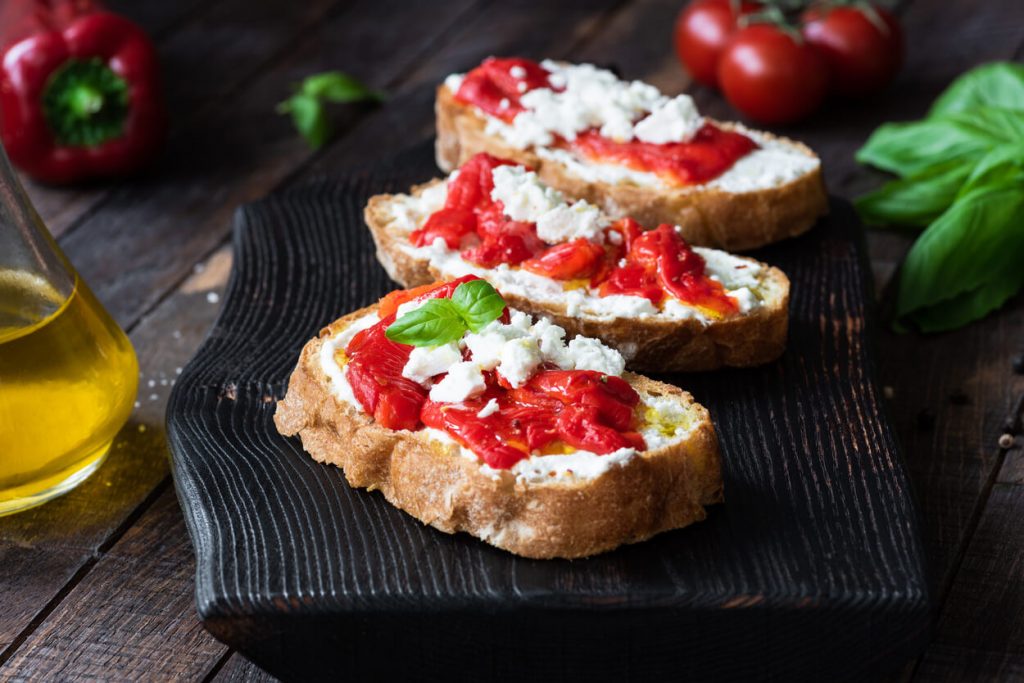 42 of 70
Crostini
This crostini recipe takes less than twenty minutes to recreate! Indulge yourself in crispy baguette bites, smeared with creamy cheese in a cinch. Topped with peppers, chives, salt, pepper, and a drizzle of olive oil, this dish is a classic. 

Try Recipe
---
Authentic Italian Desserts
An Italian feast wouldn't be as fulfilling without a delicious finish. Here are authentic Italian treats that anyone at your dinner table is bound to love.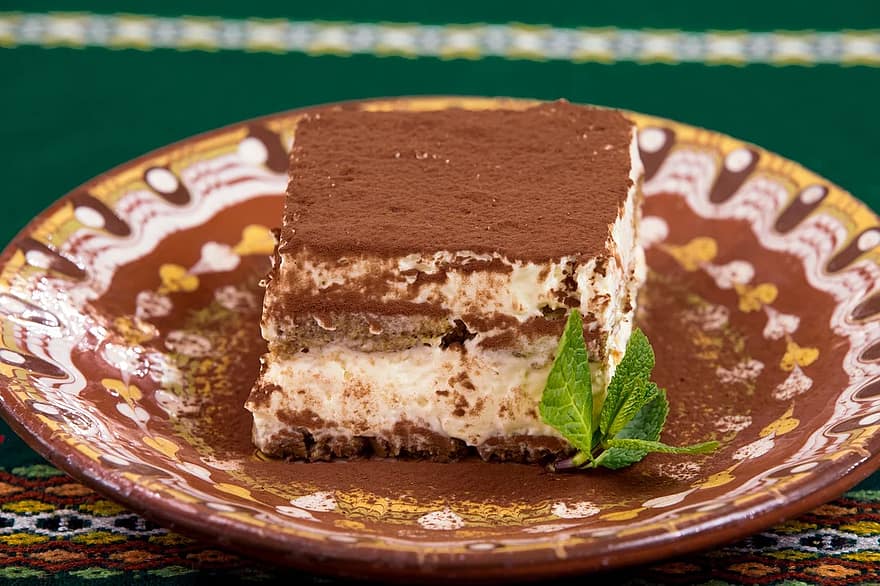 43 of 70
Tiramisu
Tiramisu is probably the most famous of all Italian desserts. If you like the taste of chocolate and coffee, you'll love the indulgent flavor of this Italian treat. Who can truly resist coffee-dipped ladyfingers with sweetened mascarpone cream? To make it even better, it's also brimming with chocolatey goodness from the dusting of cocoa powder.

Try Recipe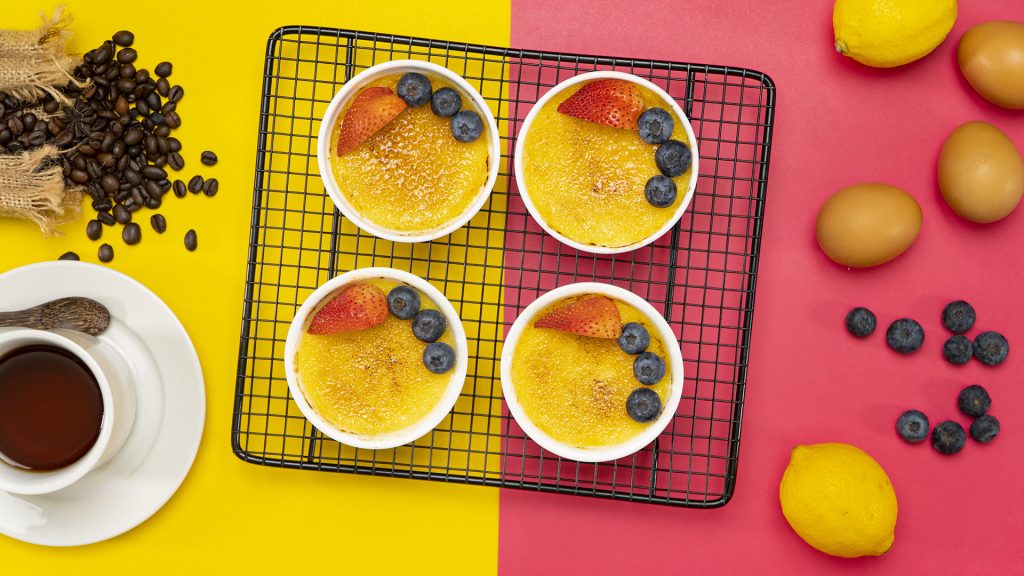 44 of 70
Creme Brulee
Indulge in a serving of classy creme brulee! This stunning dessert has a creamy custard filling that is topped with a thin layer of caramelized sugar. Although it's often served at fancy restaurants, this luxurious sweet treat is actually easy to prepare. Relish the satisfying experience of breaking through the crusty topping with our simple recipe.

Try Recipe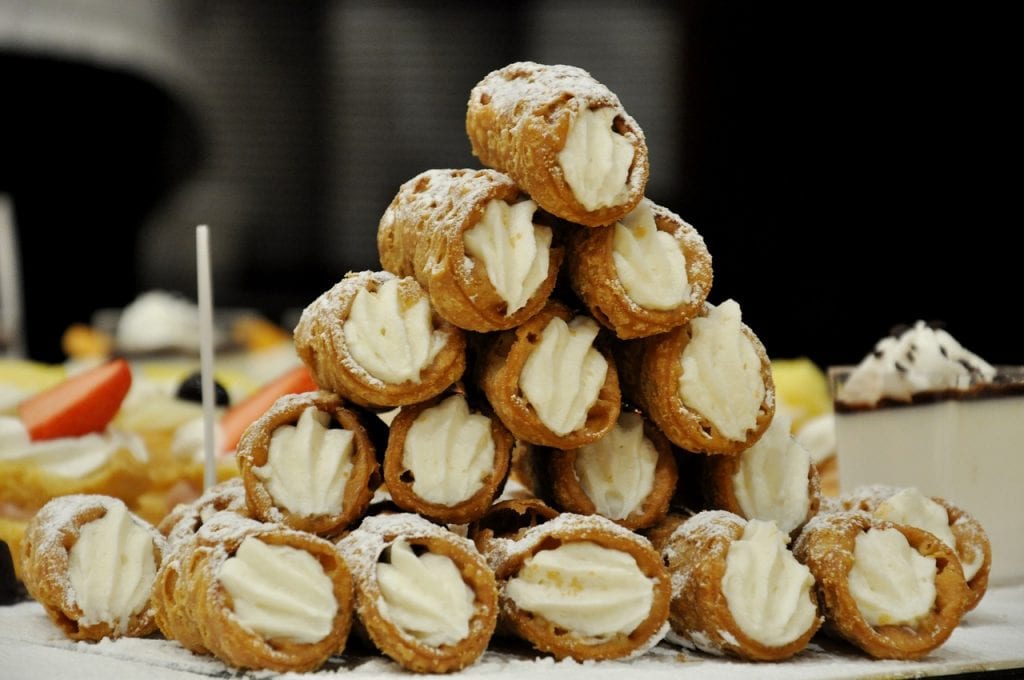 45 of 70
Cannoli
This Italian dessert is one of the most popular authentic Italian recipes from Sicily. Cannolu, which means "short tube," is the name of a cylindrical mold used to wrap the dough. The result is a crunchy tube-shaped pastry, filled with creamy ricotta for the perfect balance. Dip either end of the dessert in crunchy pistachios to achieve one of the best real Italian recipes with ricotta.

Try Recipe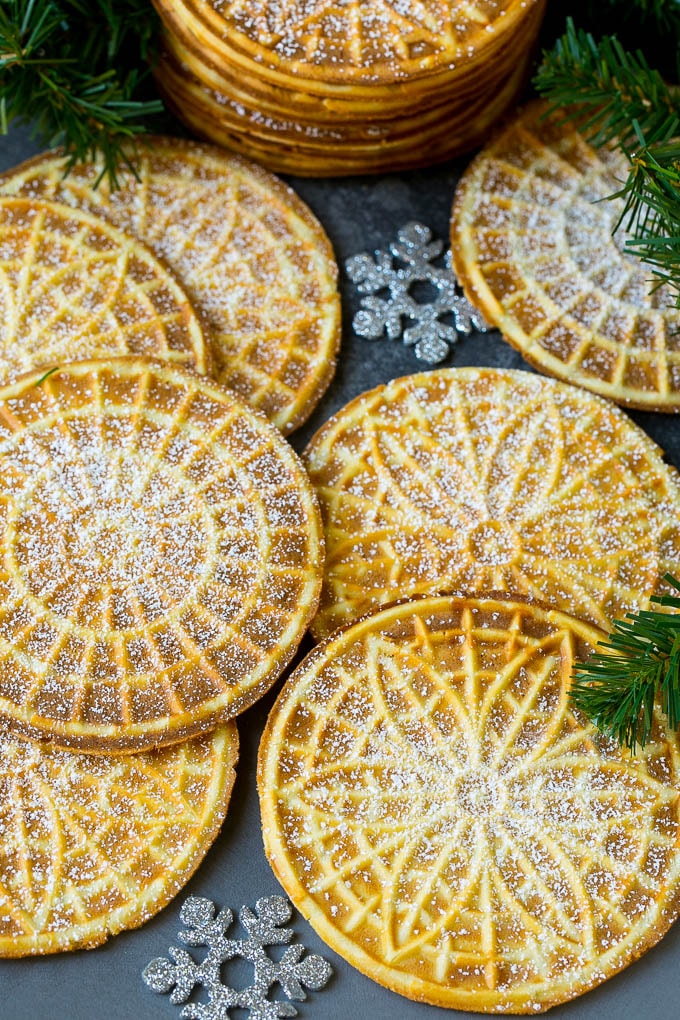 46 of 70
Pizzelle
Pizzelle is a sweet, vanilla-flavored cookie that's dusted with powdered sugar. This Italian dessert is incredibly decadent, you'll be surprised to know that it's so simple and easy to make! Plus, it requires only a few ingredients that you might already have  in your kitchen. On the whole, it's light, crispy, and perfect with a steaming cup of coffee. 

Try Recipe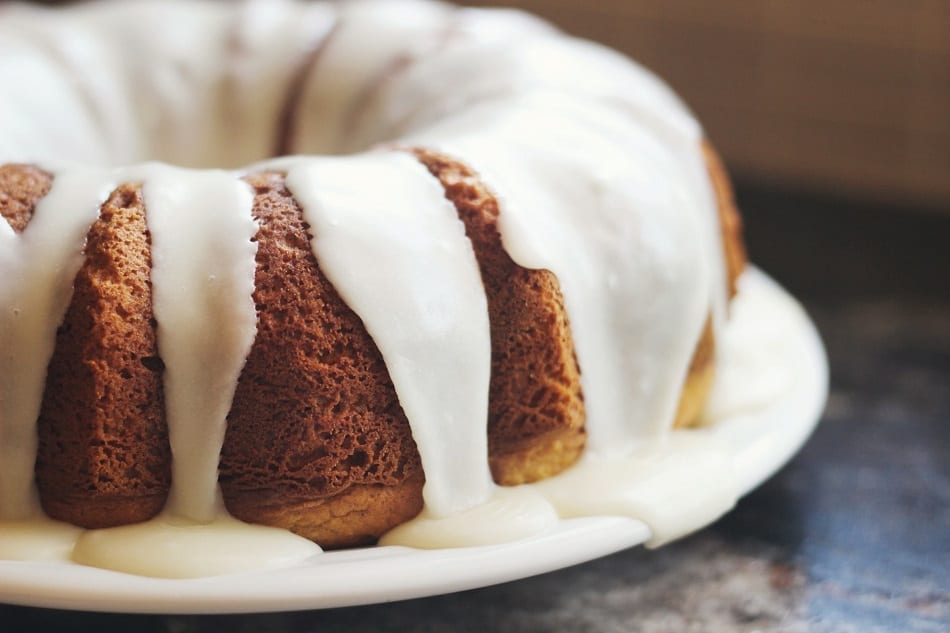 47 of 70
Penuche Frosting
Looking for a heavenly frosting for your next bake? Then you might want to try your hand in this delectable penuche frosting! It's made with sugar, vanilla extract, and cream of tartar. With its velvety and fluffy consistency, penuche or panucci make for a delightful topping to any baked good! Plus, it only takes less than an hour to whip up this delish Italian treat.

Try Recipe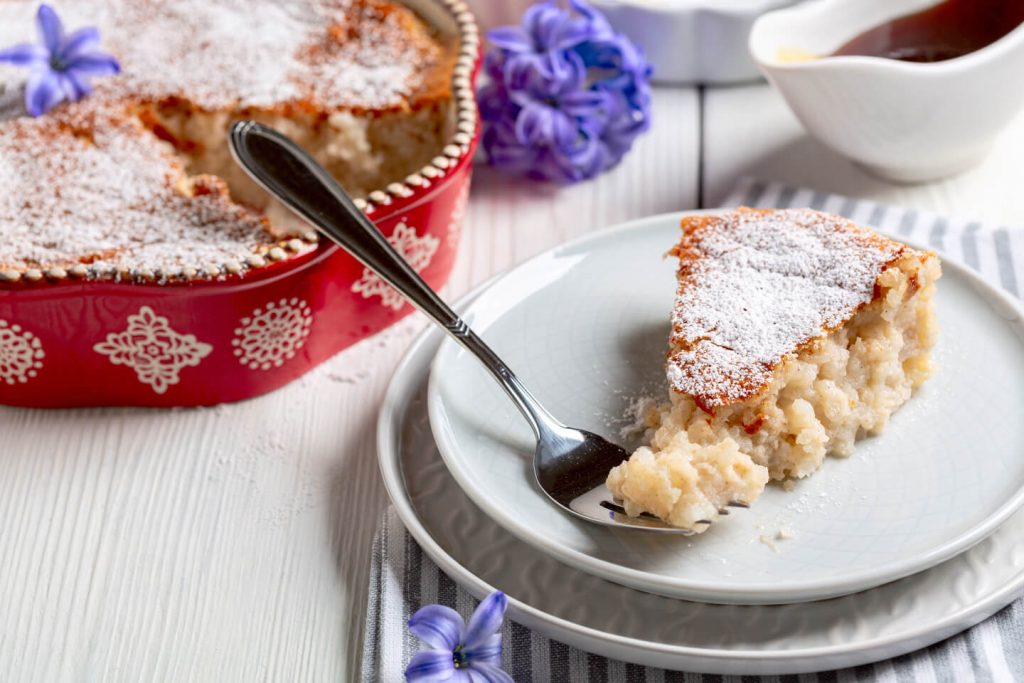 48 of 70
Easter Rice Pie
Grace your dinner tables with this delicious Italian Easter dessert! The combination of rice and ricotta makes for a filling sweet rice pie. And you'll surely enjoy the sweetness of the crust and the richness of the filling. Plus, you only need a handful of ingredients to whip it up.

Try Recipe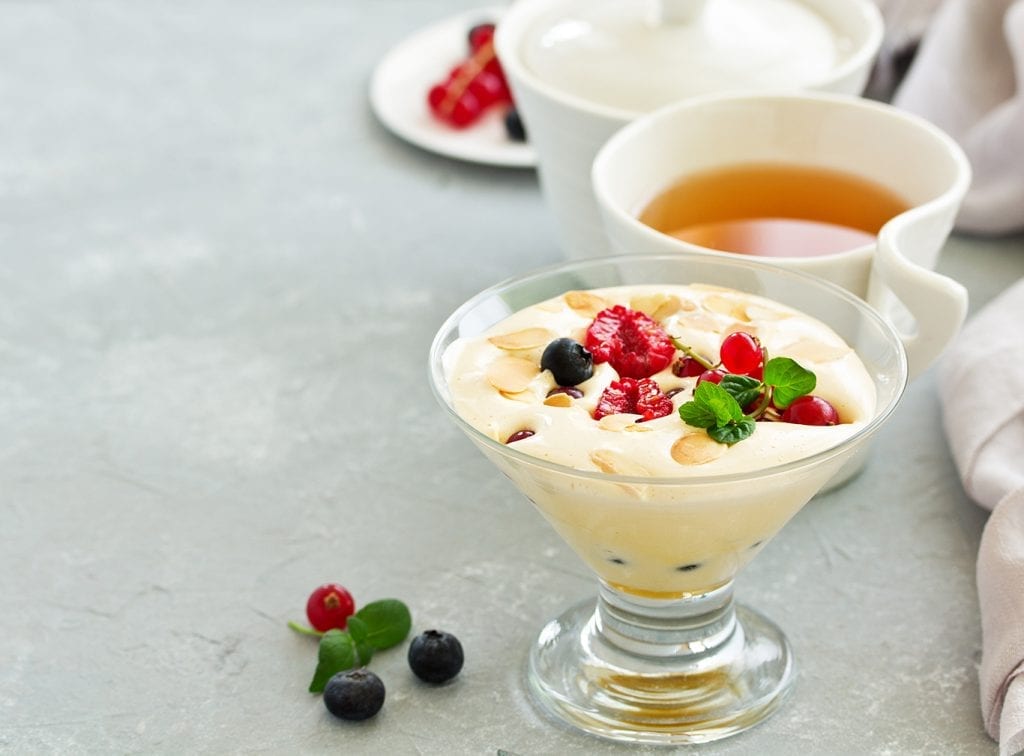 49 of 70
Zabaglione
There's no sweeter ending to a steak dinner than this delectable Italian custard. As fancy as it may look, this recipe is easy to make. The name zabaglione literally translates to "foam" in Italian, so you can expect that this dessert is just as light and airy. It's garnished with whipped cream and fresh berries to finish. With such a beautiful presentation, it's no wonder this sweet treat makes for an excellent choice for either regular weeknight dinners or lavish dinner parties. 

Try Recipe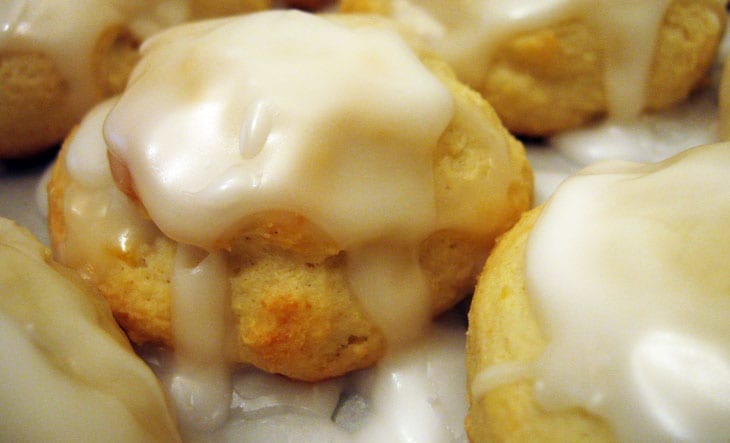 50 of 70
Easter Knot Cookies
These puffy Italian cookies are a staple for Easter celebrations, but you're welcome to bake some for other special occasions as well. Also called uncinetti, anginetti, taralli dolci, or love knot cookies, these traditional Italian treats have a subtly sweet and bright flavor. Top them with colorful sprinkles if you like. 

Try Recipe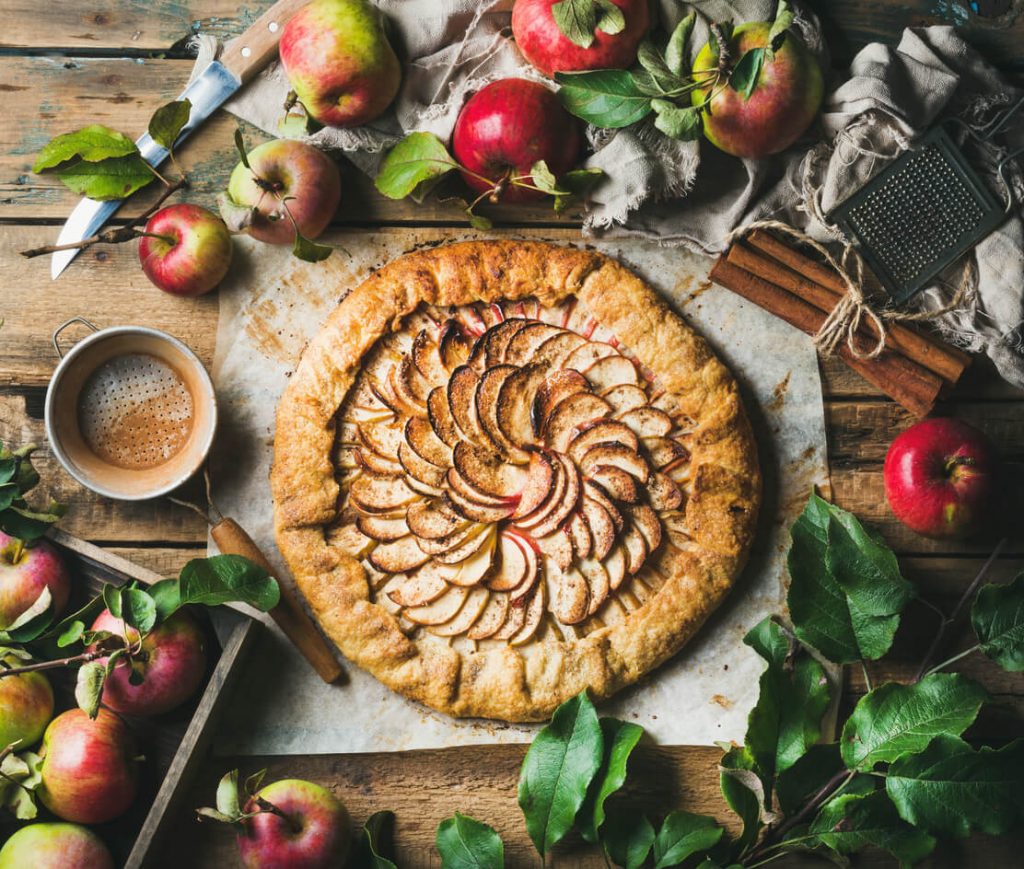 51 of 70
Crostata
Crostata, or coppi in some parts of Italy, is also among the most popular authentic Italian recipes. Perhaps every Italian bakery or pastry shop has this baked pie on display. Though it's widely available, why not make and have this sweet treat at home? After all, whipping up your own dessert doubles the fun! In the end, you'll get to serve a rustic apple and cinnamon-flavored tart for your third course. 

Try Recipe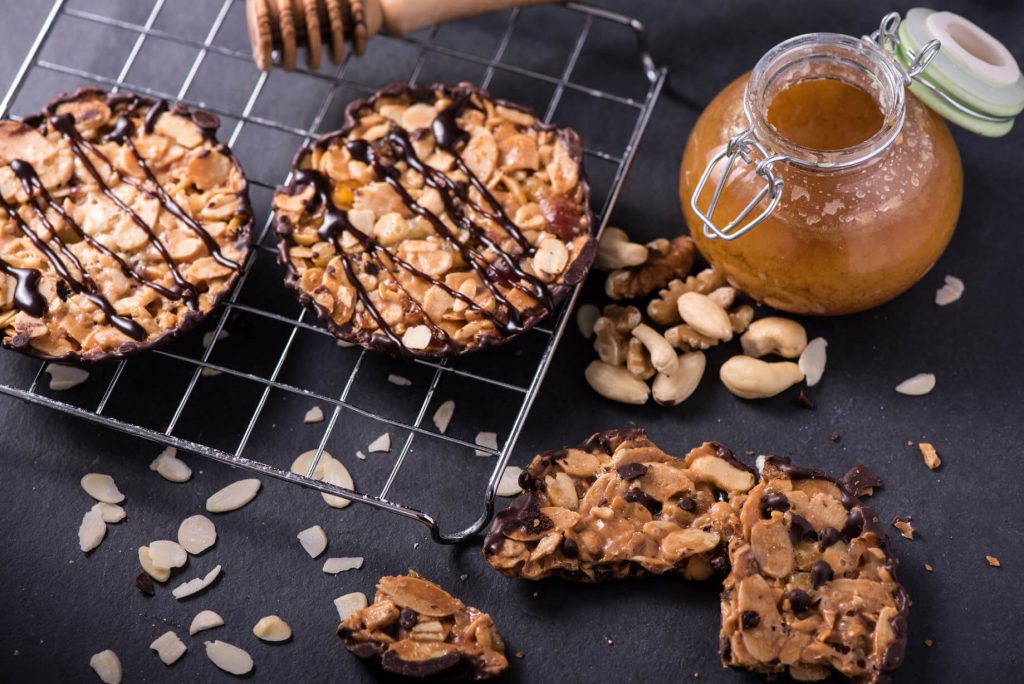 52 of 70
Florentine Cookies
Not only is Italy prized for pasta dishes and pizzas, but for their cookie recipes as well. Take this Florentine cookie recipe for example. It has the crispy and chewy goodness that we all want in a holiday sweet! Each piece is packed with chopped almond nuts for extra flair.  Then, it's drizzled with chocolate toppings. Surely, kids and grown-ups alike won't be able to resist these thin, crispy treats! 

Try Recipe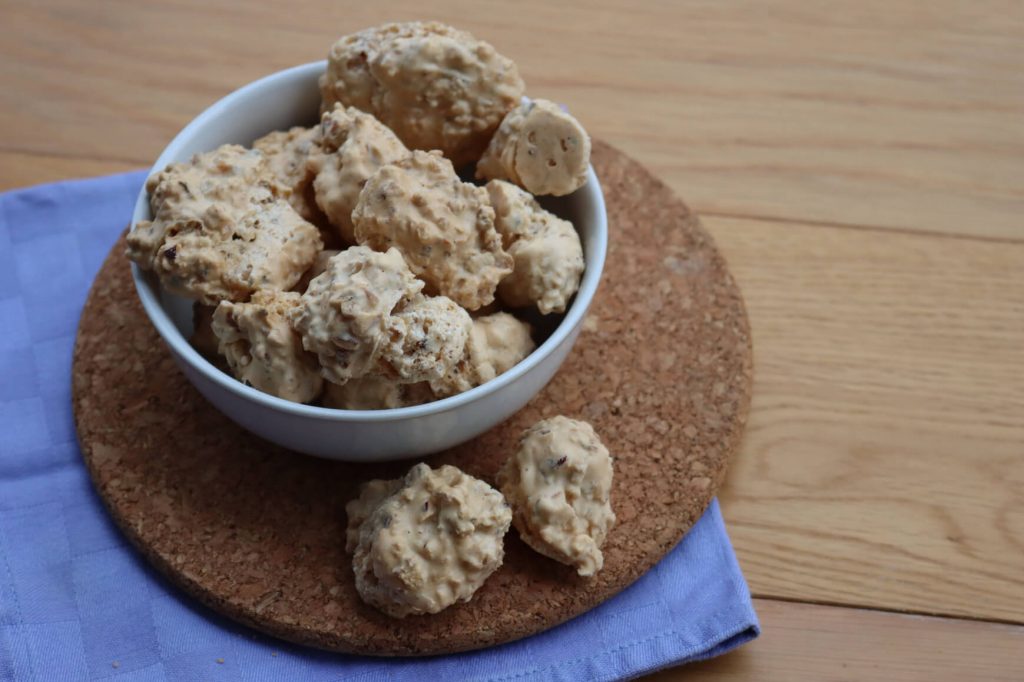 53 of 70
Brutti Ma Buoni
For yet another one of the best authentic Italian recipes to try, we have brutti ma buoni! With a name that literally means "ugly but good", it's true that these are not the prettiest-looking desserts around. Despite this, they are delightfully crunchy and chewy just the same! Plus, you only need five ingredients to make this holiday staple.

Try Recipe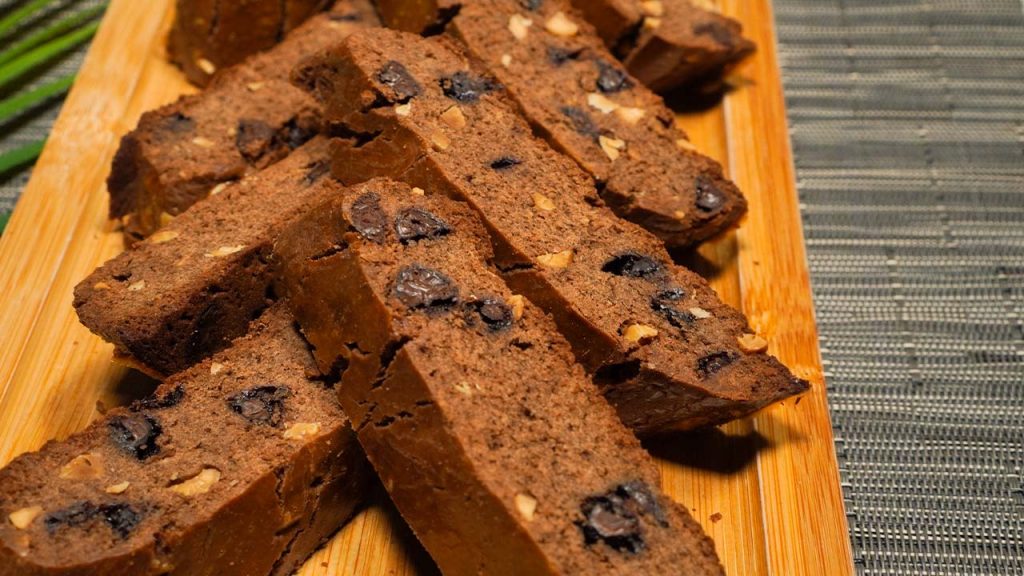 54 of 70
Brownie Biscotti 
If you're looking for authentic Italian recipes to jazz up your baking routine, then might we suggest this brownie biscotti? This special dessert is among the most festive treats out there. There is no doubt that the decadent chocolate-y spin takes this Italian dessert several notches higher.

Try Recipe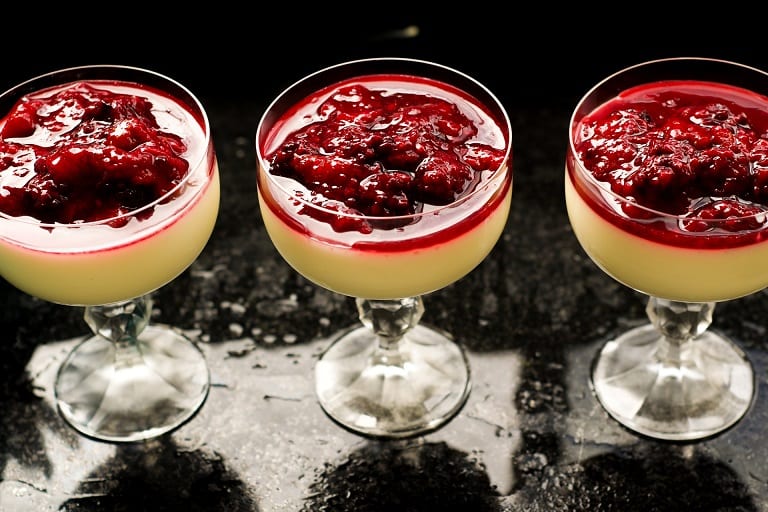 55 of 70
Panna Cotta
Looking for an elegant dessert to impress your guests? Flavor and appearance-wise, this Italian panna cotta will surely have you and your guests feeling all fancy! It's made by layering sweet berry compote over a velvety cream mixture. And if you want it all jiggly, remember not to boil the gelatin. Serve this dessert in a martini glass to enjoy its melt-in-your-mouth deliciousness. 

Try Recipe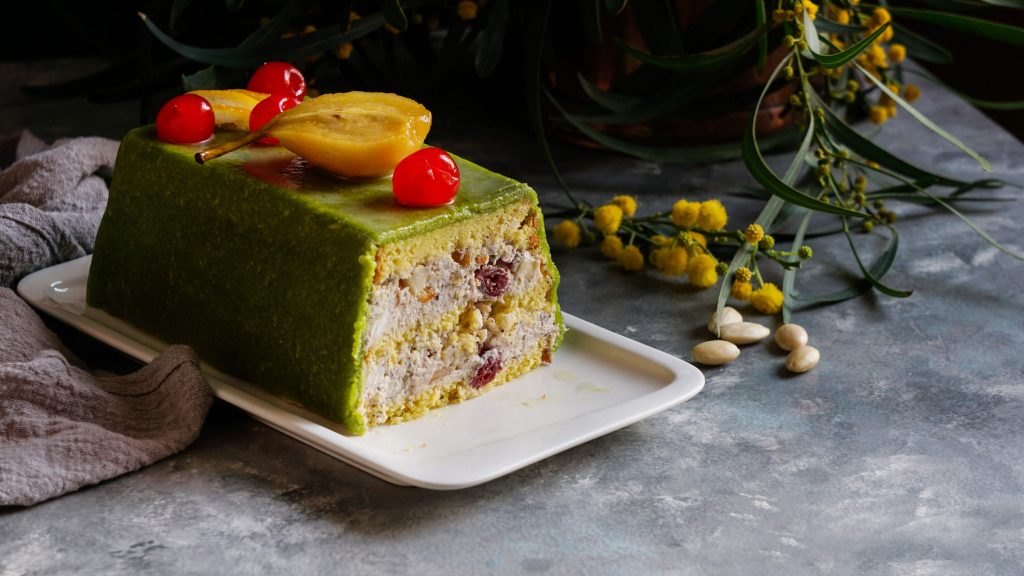 56 of 70
Sicilian Cassata Cake
We can only describe this authentic Italian treat in one word: heavenly. A sweet way to end your Italian feast, this dessert contains a sponge cake soaked with orange liqueur and a sweet ricotta cheese filling. It's made even more delightful by decorating it with candied fruits. Pro-tip: it's best to refrigerate the finished cake until ready to serve. 

Try Recipe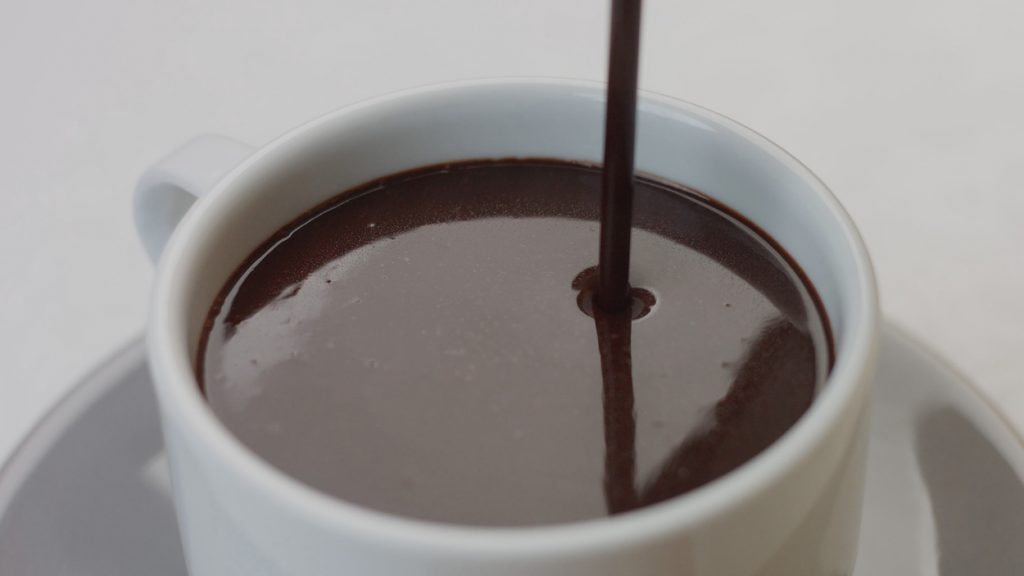 57 of 70
Italian Hot Chocolate
Italian hot chocolate is not your regular cup of cocoa. This comforting dessert drink is unlike anything you've ever tried before, because it's rich, creamy, and incredibly thick. The secret ingredient? Cornstarch stirred into the luscious dark chocolate concoction.

Try Recipe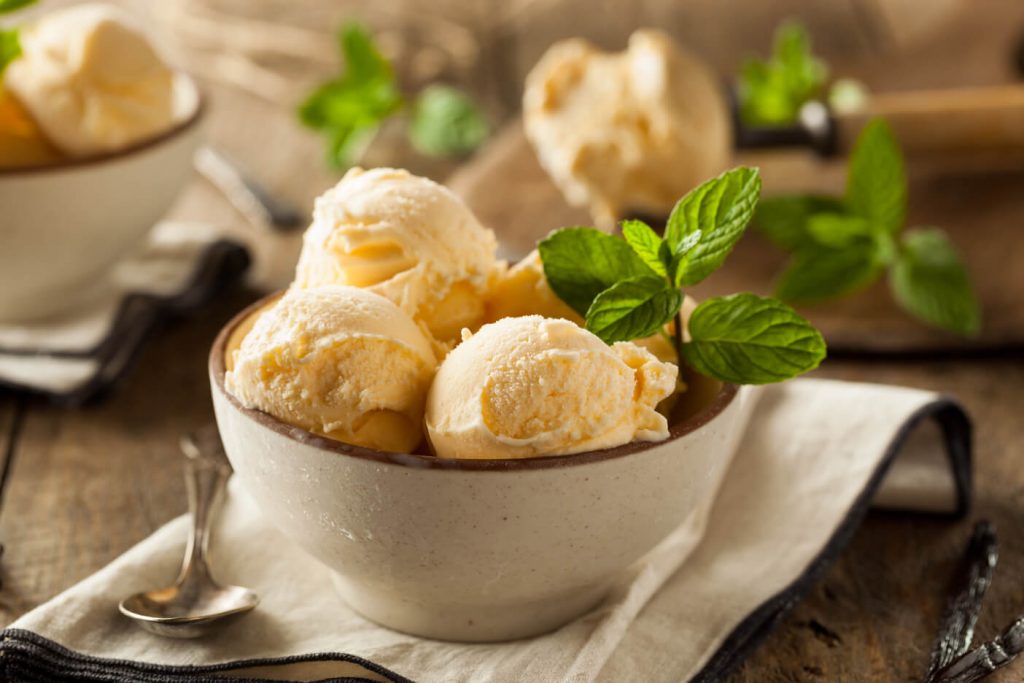 58 of 70
Gelato
While they may look similar, ice cream and gelato are two different things. This Sicilian dessert is a lot denser overall, but also incredibly silky. Make this frozen treat in a cinch, with only four main ingredients needed! 

Try Recipe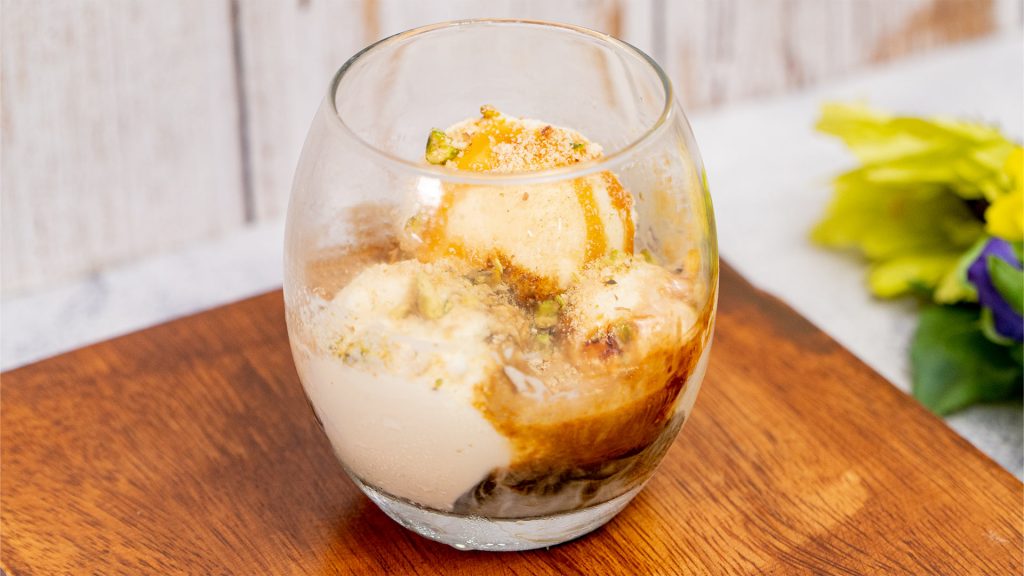 59 of 70
Affogato
It's no secret that Italy is home to some of the most popular types of coffee in the world. And if you love coffee as much as the next person, then affogato is a must-try! This decadent Italian dessert is basically an espresso shot that's sweetened with a scoop of creamy gelato. 

Try Recipe
---
Authentic Italian Soups
What better way to step up your soup game than making Italian classics? After all, this cuisine also features a lot of hearty and filling soups. So, cozy up your dinner with these warming authentic Italian recipes, ranging from traditional minestrone to pasta e fagioli.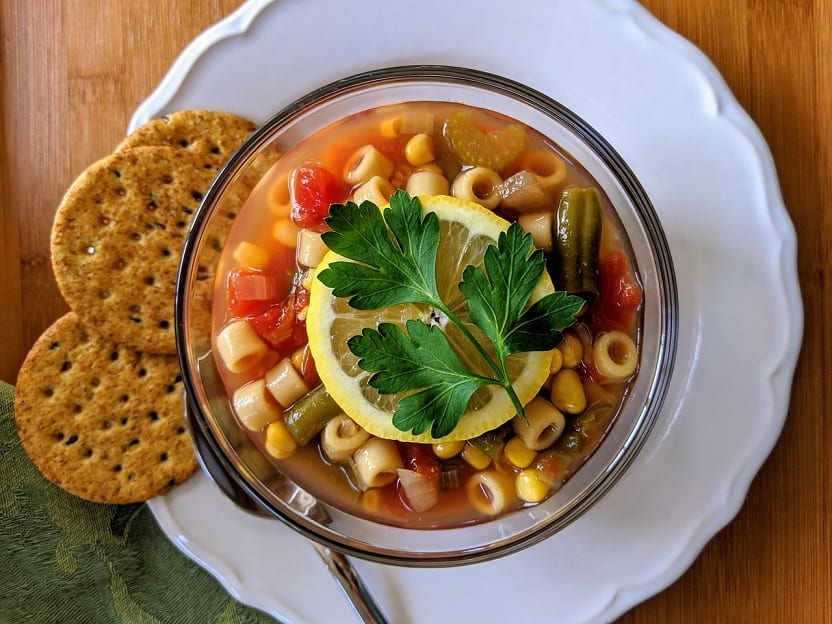 60 of 70
Minestrone Soup
This authentic Italian minestrone soup recipe is hearty and satisfying. The broth is packed with  vegetables, beans, kale, and ditalini pasta. The complex Italian flavor of this soup works well with grilled garlic bread. You bet this pair will surely fill you up.

Try Recipe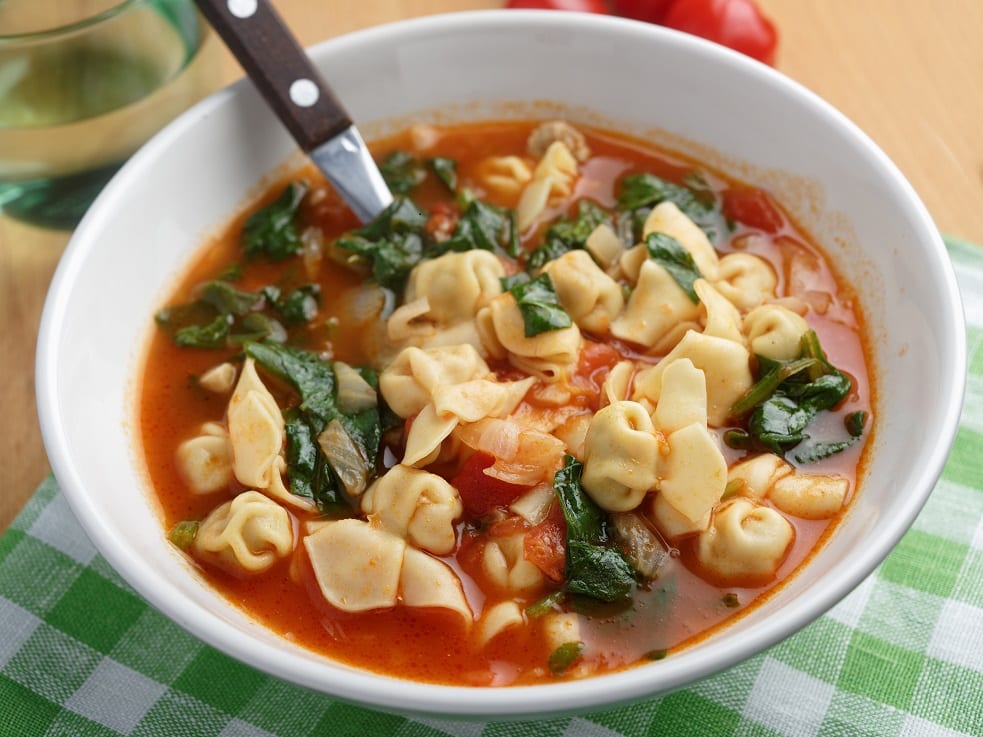 61 of 70
Vegetable Tortellini Soup
This tortellini vegetable soup bursts with delicious Tuscan flavors. This easy soup recipe consists of fresh greens, tender white beans, and cheesy tortellini. Plus, it's kid-friendly and perfect for chilly winter nights.

Try Recipe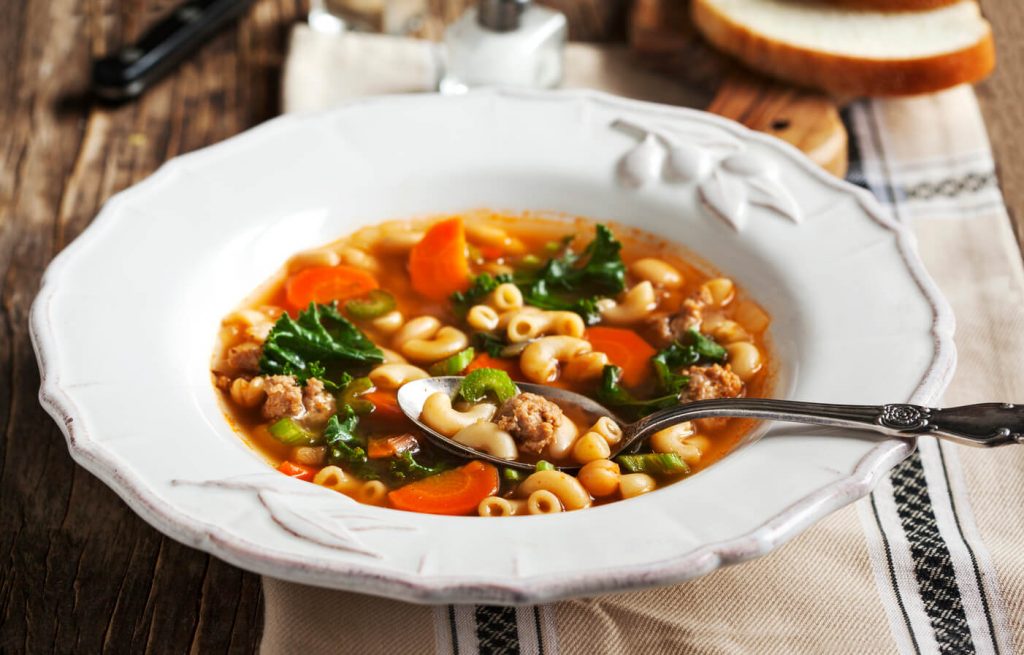 62 of 70
Italian Sausage Soup
This savory Italian soup will absolutely warm you up during cold nights. Italian sausages, shell pasta, and other tasty foodstuffs team up to make this filling comfort dish. In addition, this soup has a slight kick coming from the spicy Italian sausage. A loaf of crusty bread is a wonderful pair for this sausage soup.

Try Recipe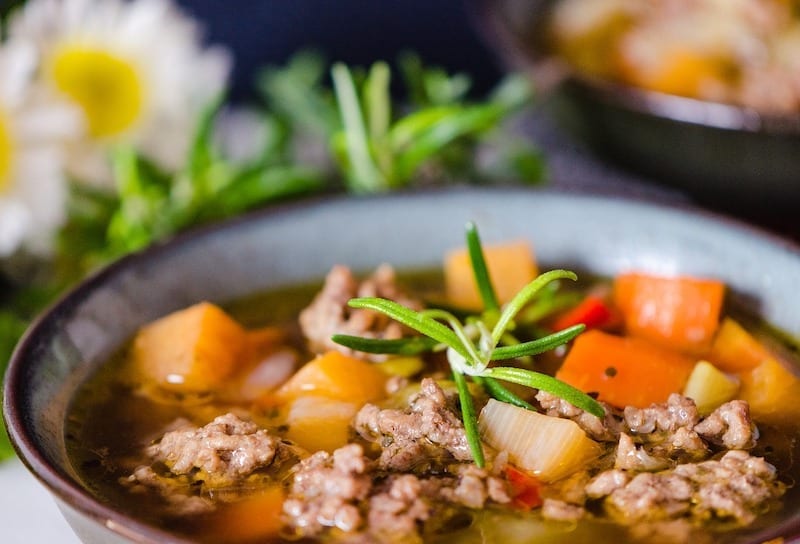 63 of 70
Meatball and Tortellini Soup
Each sip of this Italian soup bursts with savory flavors. With a bunch of three-cheese tortellini noodles and seasoned meatballs in the broth, this dish is definitely one for a hearty meal. Each serving is jazzed up with thin slices of pepperoni and freshly grated Parmesan cheese, too. It's also perfect with warm garlic bread on the side. 

Try Recipe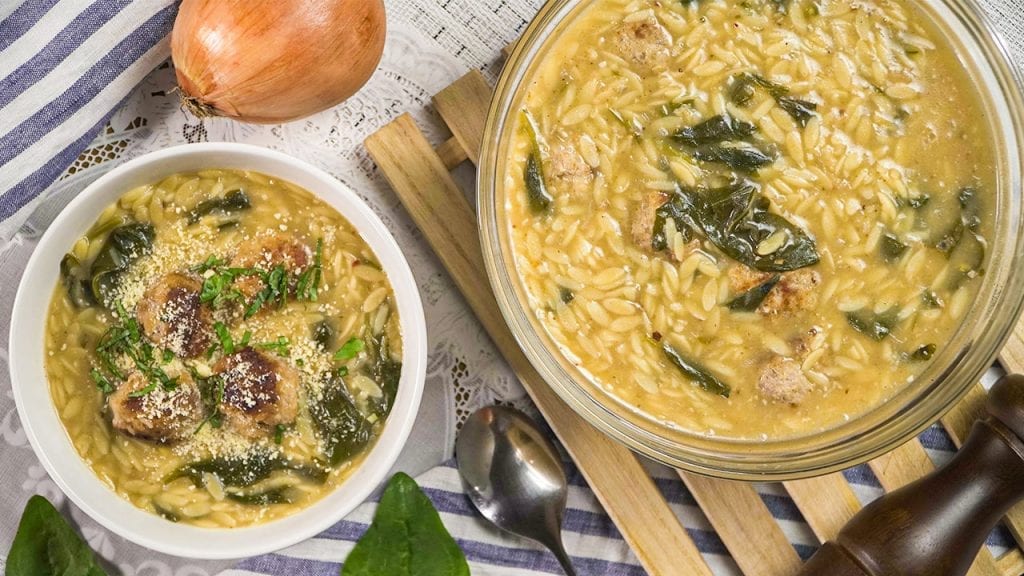 64 of 70
Wedding Soup
The marriage of meatballs, vegetables, and other delicious ingredients takes this hearty Italian soup to the next level. This easy recipe is inspired by the flavorful bowl of Italian wedding soup at Copycat Olive Garden. Sprinkled with Parmesan cheese and basil leaves for serving, this classic dish makes for a perfect companion for the cold weather.

Try Recipe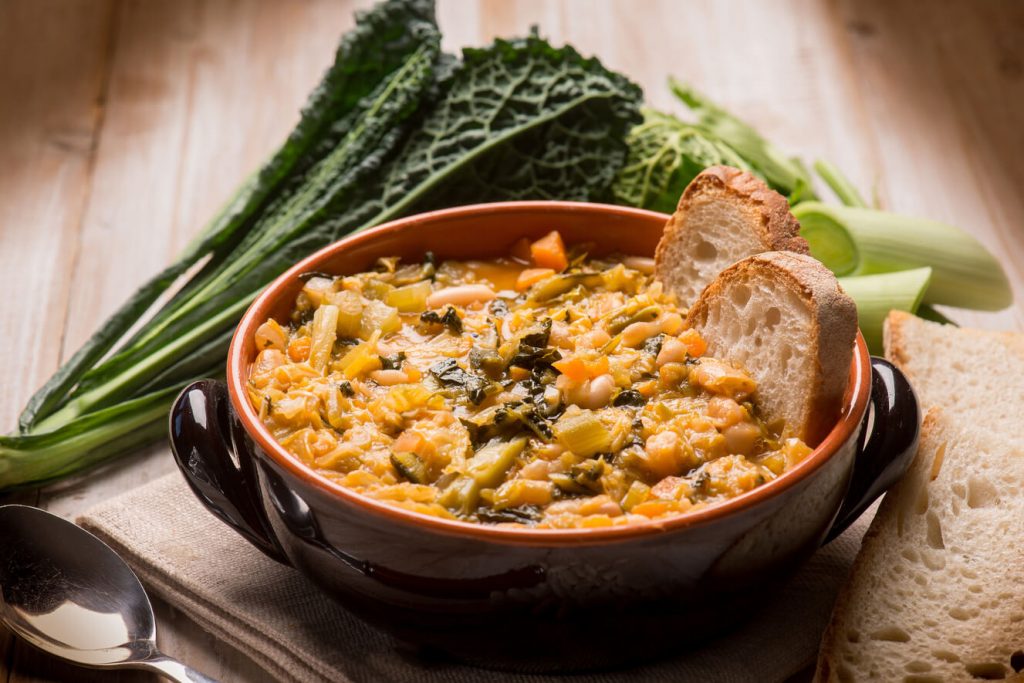 65 of 70
Ribollita
During chilly nights, nothing is more comforting than a bowl of this flavorful Italian soup. It's made with crusty bread and vegetables cooked in a flavorful tomato broth. Without a doubt, this delicious soup is simply the perfect cold-weather classic. Plus, leftovers are just as filling!

Try Recipe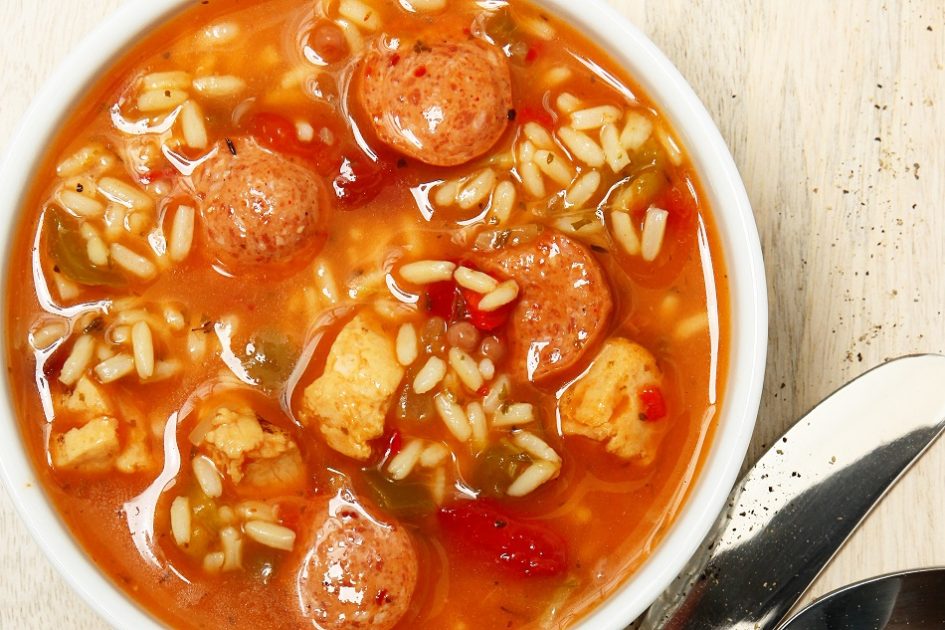 66 of 70
Italian Gumbo
This palatable dish is synonymous with well-known Italian flavors. After all, delicious Italian ingredients combine to make this filling soup. We simply love everything about this dish, from the Italian sausages to the Italian-style diced tomatoes! Add a dash of Italian seasoning, and it's the perfect company during those long, chilly nights. 

Try Recipe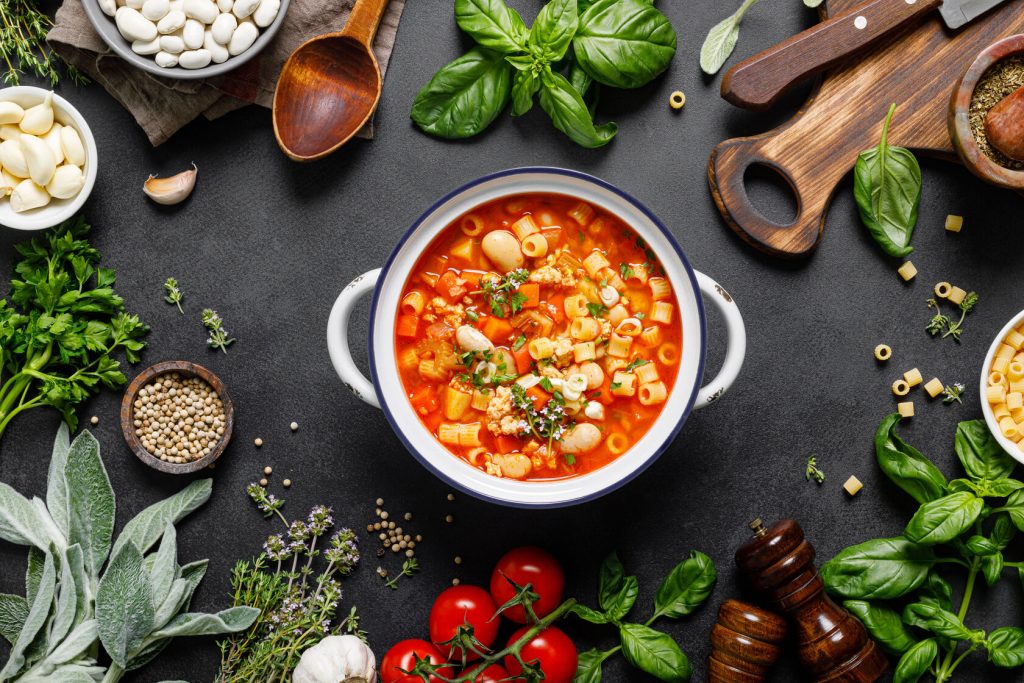 67 of 70
Pasta e Fagioli Soup
This soothing Italian recipe proves that soups taste so much better when simmered for hours. Pasta, beans, ground beef, and flavorful veggies are slowly cooked in tomato-flavored broth for this one. And let's not forget about the tasty herbs that make this dish even more delicious. So, bust out your slow cooker and prepare to whip up this Italian comfort food.

Try Recipe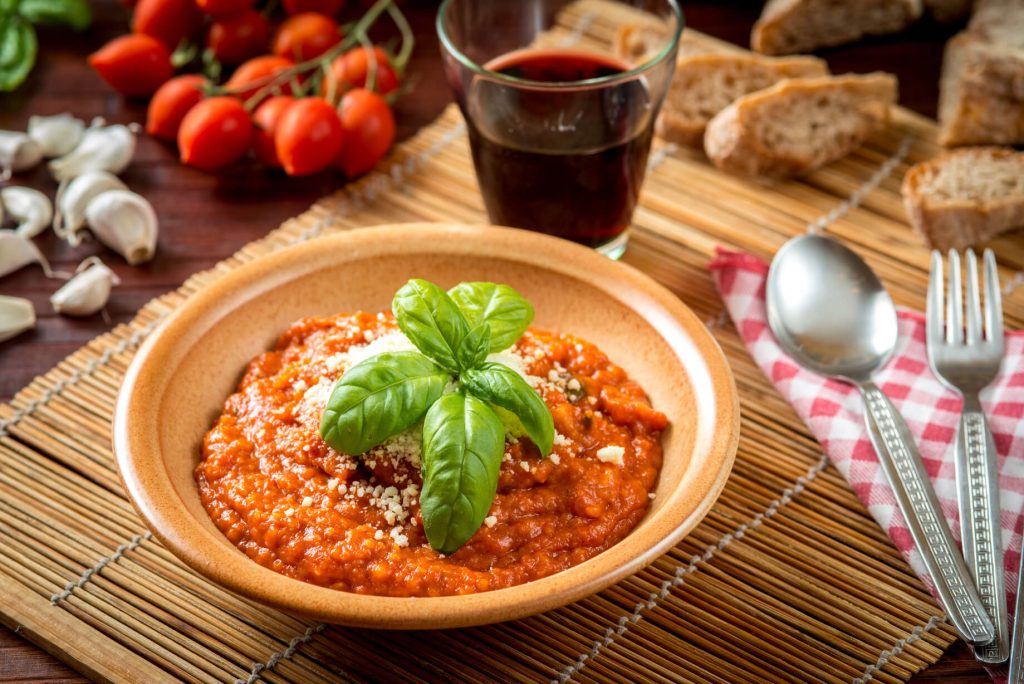 68 of 70
Pappa al Pomodoro 
Did you know that you can transform stale Italian bread into a comforting soup too? That's absolutely possible with this traditional recipe for pappa al pomodoro. The bread itself is mashed into thick tomato broth to achieve this flavorful Tuscan staple. 

Try Recipe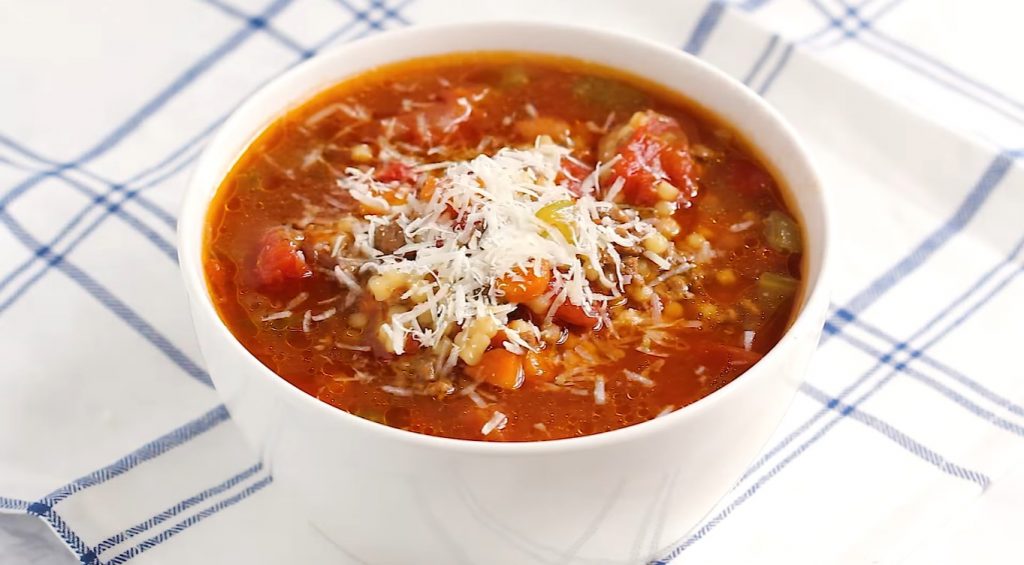 69 of 70
Acini di Pepe Soup 
A serving of this acini di pepe soup will definitely fill you up. Its broth is basically a treasure trove of hearty ingredients because it's loaded with pasta niblets, ground beef, tomatoes, and veggies. The best part is, you can make this dish using three different methods! 

Try Recipe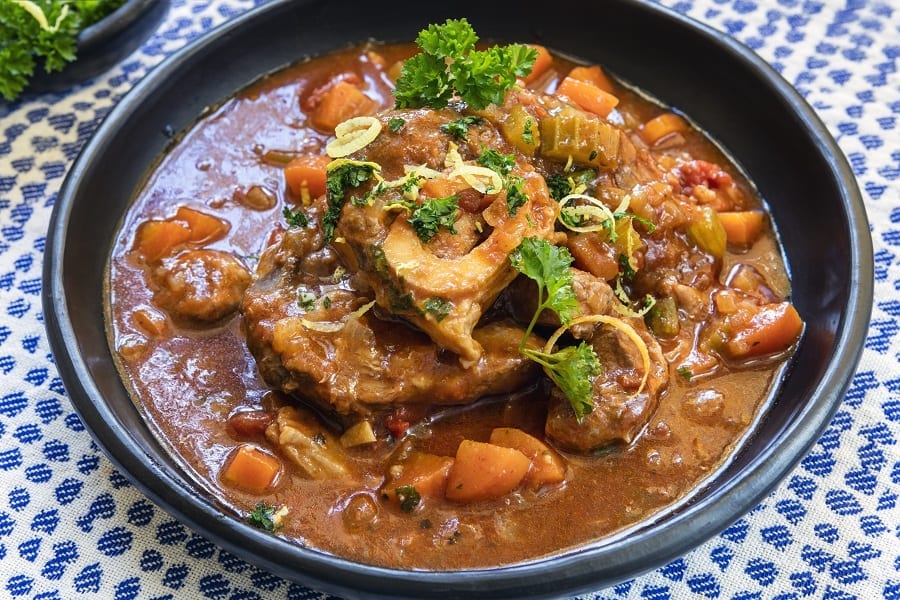 70 of 70
Ossobuco alla Milanese 
For something different, make this rich and meaty Italian stew called ossobuco alla Milanese. It's a mouthwatering braised dish that consists of fall-apart tender veal shanks, veggies, and a thick beef broth. Authentic Italian recipes like this will surely leave you wanting more.

Try Recipe