While believed to have originated in Naples, numerous versions of this dish can be found all over Italy. Linguine Aglio e Olio, is one of easiest dish to make whenever hungry for pasta but short on time.
Linguine Aglio e Olio, (pronounced ah-li-yo eh oh-li-yo) sounds fancy, but when translated from Italian it simply means pasta with garlic and oil. This dish is the ultimate, grown-up version of buttered noodles, a classic childhood favorite. It is quick to prepare and can be easily modified to suit one's taste.
There are certain dishes that just aren't worth messing with, and spaghetti aglio e olio is one of them. As with all of the best authentic Italian recipes, this one has got to be straight out the best one out there. Take a couple of basic ingredients from the pantry: dry spaghetti, extra-virgin olive oil, fresh garlic, red pepper flakes,  and together they become one of the simplest yet most satisfying pasta dishes on the planet.
You can use spaghetti or linguine pasta, as long as it works best for this dish. In addition to garlic and olive oil, the recipe calls for incorporating crushed red pepper flakes, fresh parsley, olives and a good Italian hard cheese, like Pecorino Romano or Parmesan, freshly grated.
To make this simple dish, keep in mind these few tips to ensure success. The first, and probably the most important, is not to overcook the garlic. Now, a healthy amount of garlic will give this dish its signature punch of flavor. Although it can be rather tempting to just mince the garlic, it is preferred to cut them into thin slices. This will allow the garlic to soften and melt into the olive oil as it cooks.
Olive oil is the next major flavor component, so extra-virgin is a must for the dish. Next, be sure to reserve at least 2 cups of water from the cooked pasta before draining to create the sauce. The reserved pasta water is arguably the key to this dish, because the starch helps thicken the sauce, adds moisture while softening the garlic as it simmers, so it almost melts into the linguine. For more flavor, a quarter cup of wine, such as Chardonnay or Sauvignon Blanc, can be added before or at the same time as the pasta water.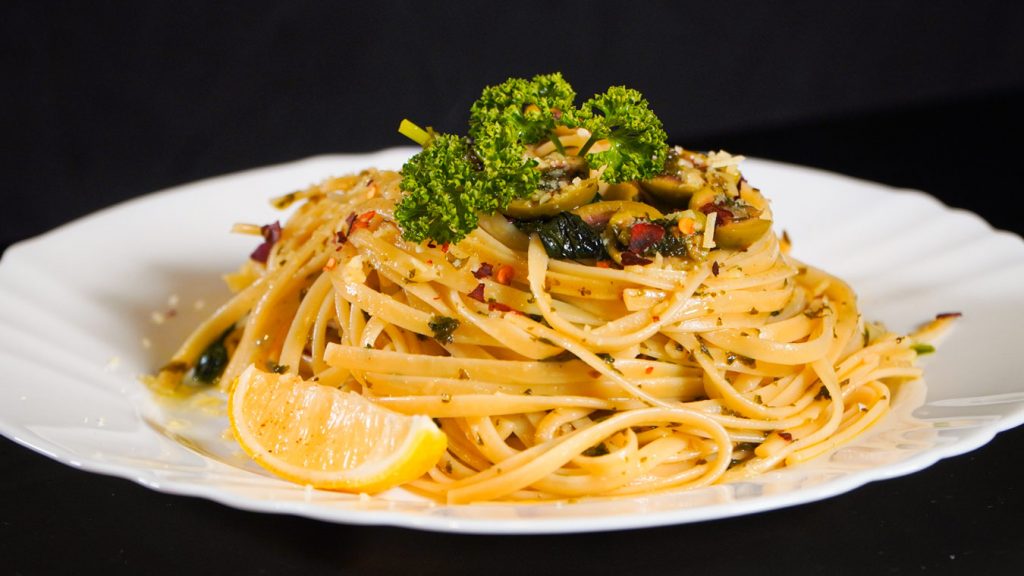 Linguini Aglio Olio Recipe
How To Make Linguini Aglio Olio
Bring a little part of Italy to your table today! This classic pasta recipe is rich, fragrant and full of flavor, perfect for dinner. Not only that, but it can be easily customized to suit vegans and vegetarians!
Ingredients
12

oz

linguine pasta

¼

cup

extra virgin olive oil

8

garlic cloves,

chopped finely

1

cup

parsley,

chopped

3

tbsp

unsalted butter,

cut into pieces

1

cup

green olives,

halved and pitted

¼

tsp

red pepper flakes,

crushed

1

cup

basil leaves

2

tsp

lemon juice with zests

¼

cup

white wine

salt and pepper,

to taste
Instructions
Cook pasta in a large pot of boiling salted water, cook pasta until al dente, about 2 minutes less than the package directions.

Heat up ¼ cup of oil in a large Dutch oven or other heavy pot over medium heat. Saute chopped garlic until translucent.

Add parsley and cook for about 5 minutes, stirring occasionally, until the parsley releases some of its liquid and slightly darkens in color.

Toss in the olives and red pepper flakes then cook for another minute to let the flavors meld.

Deglaze with white wine, flambé, and reduce briefly.

Add the pasta with the butter, and ½ cup of pasta water. Toss to coat for about 4 minutes, adding more pasta water as needed and until each strand is coated and pasta is al dente.

Turn off heat and toss in the basil leaves, lemon juice with zest. Taste and season with salt as needed.

Divide among pasta bowls and drizzle with olive oil before serving!
Recipe Notes
There should be enough olive oil in the pan to thoroughly coat your linguini when you add it to the skillet. If 1/4 cup isn't enough, you can always add more.
If you don't have linguini in your pantry, you can always opt for other long pasta noodles like fettuccine or spaghetti. For cheese alternatives, try pecorino cheese.
If you are trying to eat healthily, go ahead and add your choice of cooked or raw vegetables to this recipe. You can also include some protein in your Linguini Aglio Olio like grilled chicken breast or marinated grilled shrimp.
Frequently Asked Questions
How can I get my pasta to be al dente?
Different brands might have different cooking durations for their pasta. Follow the directions on the box for best results. However, a good average is around 10 minutes.
What kind of white wine should I use?
The best kind of white wine for cooking is anything that is crisp and dry. Rich-tasting wines can end up with a bitter aftertaste, whereas sweeter wines can caramelize or add unnecessary sweetness to a dish.
Can I cook Linguine Aglio Olio without olive oil?
Do not substitute olive oil for vegetable oil when: Substituting vegetable oil in cold dishes or oil-based recipes (e.g Linguine aglio e olio) will only result in a bland flavor. No amount of salt and pepper can take the place of the fruity olive oil when used as part of these types of dishes.
Is this dish good for a diet?
A healthier option would be a lighter sauce such as the olive oil-based one in aglio olio, which is rich in good fat and cooked with fresh ingredients like garlic and chili.

What to do if my pasta is too dry?
The pasta will continue to absorb the sauce so make sure you have enough in the pan. If it gets too dry, add more pasta water and you could also finish with a bit more oil.
What type of olive oil is good for making this dish?
Extra Virgin olive oil is the flavor you want. Extra Virgin means it's the best flavor, in a way. Other olive oil varieties can be substituted, but Extra Virgin will taste the best!

Can I make this dish in advance?
For a make-ahead meal, refrigerate to serve later, then just rewarm in a skillet. Either way, the pasta tastes fresh-from-the-pot good. Toss 'em together with some hot pasta water, just enough to keep it all moist.

How do you store leftovers?
Place the cooked pasta in an airtight container. If you're storing your pasta in a Ziploc bag, squeeze as much air out of the bag as you can before sealing and stashing it. Make sure to refrigerate leftover pasta within two hours of preparing it to keep it from going bad prematurely.
Can I boil the pasta a day ahead?
You can cook your pasta hours before serving time. All you need is some olive oil, a large Ziploc bag, and your favorite pasta. With a bit of oil, a Ziploc bag, some water, and your favorite pasta, you can cook pasta a day in advance and forget about them until a few minutes before serving.

How do I ensure that my pasta is not sticking?
Make sure your water is boiling before you add your pasta. Stir your pasta. A lot. DO NOT add oil to your pasta if you plan on eating it with sauce. Rinse your cooked pasta with water, but only if you're not eating it right away.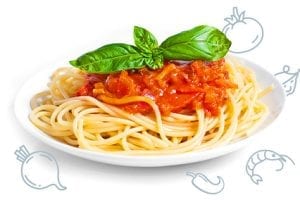 Conclusion
If you're not a fan of creamy pasta dishes, Linguine Aglio Olio is the perfect recipe to try! It packs a punch with the spices and flavors while still having some of that richness to balance it out. You can easily pair it with other side dishes like blackened chicken; caramelized onions and sausages; peperoncino and sweet pork sausages or even leftovers from the previous night, for a filling, home-cooked meal. This dish is perfect as a light supper, side dish, or a starter course and can be enhanced with additional ingredients to make it a heartier meal on its own. Add a protein like pancetta, bacon or shrimp, which can be cooked first in the same pan as the sauce for even more flavor. This humble Italian dish has its roots in Naples but has become a worldwide favorite. And this easy-to-make pasta recipe is sure to become a favorite in your home too. So go ahead and bring a little part of Italy to your table today!