If the heavenly taste of the classic tiramisu dessert delights you, then you will surely swoon over this tiramisu cake! This decadent take on the staple Italian treat has cake layers brushed with espresso syrup and filled with mascarpone cream. It might be intimidating to make at a glance, but this This Italian layered cake actually easy to pull off. The finished cake looks stunning and is next-level delicious! Enjoy a slice with a glass of sweet wine to make your eating experience more tasteful than it already is.
What Is Tiramisu?
Tiramisu is a classic Italian dessert made with ladyfingers, mascarpone cheese, Marsala wine, and rum. The options are limitless, too, when it comes to the toppings. You can go classic with a sprinkle of cocoa powder. Or if you're feeling indulgent, touch it up  with fruit slices and chocolate shavings. 
Best of all, this Italian treat has many variations. Swap out the mascarpone with cheese, and you have a tiramisu cheesecake. Tiramisu mousse, meanwhile, brings together the rich coffee flavor of tiramisu and the airy texture of mousse. Or, replace the ladyfingers with sponge cake instead to transform it into a layered cake, just like what we did in this tiramisu recipe. 
Tips on Making Tiramisu Cake
Tiramisu cake is one of the most delightful confections we've ever encountered. Here are some tips and tricks to make the best tiramisu cake:
For best results, bring the ingredients to room temperature before baking the cake.

Otherwise, you will end up with a lumpy batter. 

To elevate your homemade Italian cake, add fillings between the layers.

As a nod to the classic tiramisu, you can fill each layer with coffee-soaked ladyfingers. Or, crumble up some for the fillings and the topping as well.

Adding a dash of liqueur to the coffee syrup gives this mascarpone dessert an intoxicating twist.

You can use any coffee-flavored liqueur or dark rum.

Try various tiramisu decoration ideas. Decorate your homemade tiramisu layer cake with cocoa powder or chocolate curls. You can also never go wrong with a cake crowned with whipped cream!
Frequently Asked Questions
Can I freeze tiramisu cake?
Yes, you can freeze tiramisu cake. Chill the cake in the refrigerator for 2 hours up to overnight until firm enough. Then, slice it into smaller pieces. Wrap each slice in two layers of airtight plastic wrap or foil, and store in the freezer. If frozen, this Italian cake can last for up to 2 months.
How long can a tiramisu cake last?
If stored properly, tiramisu cake can last for 4 days in the refrigerator and up to 2 months in the freezer. Store the cake in an airtight container to keep it as fresh as possible.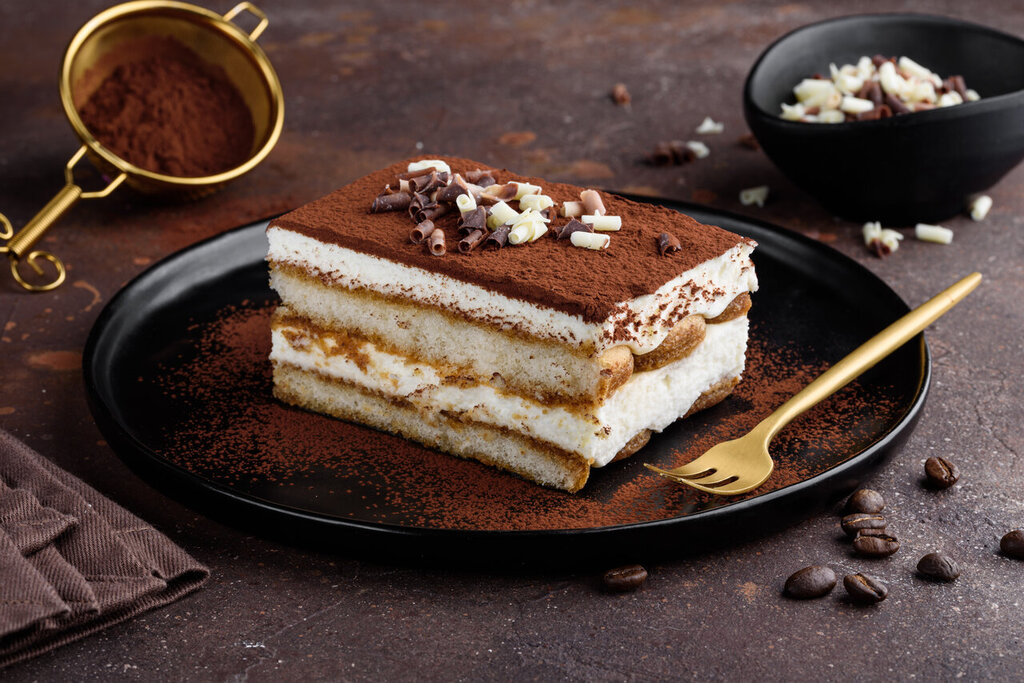 Tiramisu Cake Recipe
How To Make Tiramisu Cake
Indulge yourself in this irresistible tiramisu cake that's soft and creamy. You'll love the creaminess of the mascarpone filling that deliciously matches the boozy coffee flavor. Top with whipped cream, chocolate curls, or cocoa powder.
Ingredients
For the Cake:
butter,

melted, for brushing pan

6

eggs,

separated

½

cup

granulated sugar

1

cup

cake flour,

sifted
For the Mascarpone Cream:
6

egg yolks

1

cup

granulated sugar

¼

cup

Marsala

¼

cup

brandy

2

lb

mascarpone cheese,

at room temperature
For the Espresso Syrup:
1

cup

espresso,

freshly brewed

3

tbsp

brown sugar

1

tbsp

granulated sugar

1

tsp

lemon juice

1

tsp

vanilla extract
For Garnish:
½

cup

bittersweet chocolate,

grated
Instructions
Preheat the oven to 350 degrees F.

Butter a 12x16-inch rimmed baking sheet and line it with parchment paper.

Then, brush the parchment paper with butter.
Cake:
In a mixing bowl, combine the yolks with half of the sugar. Then, using a handheld electric mixer on medium speed, beat until the mixture is light in color and forms a ribbon when the beaters are lifted. Set aside.

In another bowl, whip the egg whites to soft peaks using clean beaters.

Then, slowly pour the remaining sugar into the egg white mixture. Continue beating until the whites form slightly drooping peaks when the beaters are lifted.

Sift the flour again.

With a rubber spatula, fold half of the flour into the yolk mixture.

Fold in half of the whites. Then, fold in the remaining flour. Finally, fold in the remaining whites.

Finally, fold in the remaining whites.

Pour the mixture into the prepared baking sheet and, with a spatula, carefully spread to fill the tray.

Bake for 12 to 15 minutes until golden.

Remove from the oven and let cool to room temperature.
Mascarpone Cream:
In a medium heatproof bowl, whisk together the yolks and sugar.

Add the Marsala and brandy.

Place over a pan of boiling water. Make sure that the bottom of the bowl doesn't touch the water. Cook until the mixture reaches 160 degrees F on a cooking thermometer.

Continue cooking and stirring for about 5 minutes, until the mixture resembles a thick paste.

Remove and place the bowl inside a larger bowl of ice water.

Stir occasionally until the mixture cools to room temperature.

Put the mascarpone in another bowl. With an electric mixer on medium speed, beat until it forms soft peaks.

With a rubber spatula, fold thoroughly into the yolk mixture.
Espresso Syrup:
In a heatproof bowl, stir together the espresso, brown and granulated sugars, lemon juice, and vanilla until the sugars dissolve completely.

Set aside.
To Assemble:
Cut the sheet of cake into two 8x10-inch portions.

Divide the mascarpone cream into 3 equal portions and the espresso syrup into 2.

Spread a portion of the mascarpone cream over the bottom of a deep 8x10-inch dessert dish.

Top with one sheet of cake. Drizzle one portion of syrup evenly over the cake.

When it has soaked in, repeat with another layer of mascarpone cream, another cake sheet, and more syrup.

Top with the remaining mascarpone cream and sprinkle with grated chocolate.

Cover and refrigerate for at least 2 hours.

Serve with a cup of hot coffee or a glass of wine. Enjoy!
Recipe Notes
Mascarpone cream can be made up to 4 hours in advance. Cover it, then store in the fridge.

Don't overmix the cake batter, or you'll end up with a tough and chewy cake.
Nutrition
Sugar:

33g

:

Calcium:

139mg

Calories:

619kcal

Carbohydrates:

44g

Cholesterol:

256mg

Fat:

42g

Fiber:

1g

Iron:

1mg

Potassium:

124mg

Protein:

11g

Saturated Fat:

24g

Sodium:

83mg

Vitamin A:

1307IU

Vitamin C:

1mg
Nutrition Disclaimer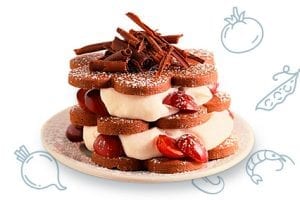 Conclusion
Transform the classic Italian tiramisu dessert into a delectable layer cake with this tiramisu cake recipe! It's brushed with a coffee mixture and filled with mascarpone cream. Sprinkle the top with your favorite toppings. Then, serve with a cup of coffee or a glass of wine!