If two of your favorite things are vodka and pasta, then you'll love this penne pasta recipe! It makes use of penne pasta, coats it with an aromatic vodka sauce, and adds ground beef for a comforting and fulfilling dish that requires minimal preparation. Instead of meatballs and spaghetti, which we all love as a kid, it uses penne pasta, ground beef, and vodka, putting an adult spin on one of our favorite childhood classic recipes.
To make a delicious penne pasta recipe, the trick is to cook the sauce down. This will help render the alcohol mute while intensifying the flavors and balancing the acidity from the tomato sauce. Although relatively flavorless, make sure to find plain vodka, without the flavors. Additionally, remember to follow the recommended amount of vodka as more may give it an alcoholic dry texture. For an additional kick that just makes this recipe a whole lot better, we're also using chili flakes which we found brings a balanced heat in creamy recipes. If you want the sauce to seep into the pasta better, feel free to switch to a fatter type of pasta like rigatoni tubes as they catch more sauce than penne pasta. 
We found that penne pasta and some Grilled Beer Chicken makes a fulfilling dinner combination. Again, just go easy on the alcohol!


Tip: Make sure to simmer the sauce for an extended time to fully remove the alcoholic aftertaste!
Penne Pasta With Ground Beef And Vodka Sauce Recipe
Ingredients
1

chopped

onion

1

can

crushed tomatoes

4

cups

penne pasta

½

cup

vodka

1

lb

ground beef

2

tbsp

olive oil

½

tsp

chili flakes

½

cup

heavy cream

1

Parmesan cheese

1

Salt

1

Pepper
Instructions
In a large pot over medium-high heat, heat oil. Then add the chopped onions.

Add beef. Season with salt and pepper.

Cook until the ground beef is cooked through, breaking up the meat when necessary.

Add tomatoes, chili flakes, and vodka.

Increase the heat and let the meat sauce simmer until it reduces by half.

Add the cream and pasta. Stir well.

After 10 minutes, remove from the heat, add parmesan cheese and serve.
Commonly Asked Questions
What does vodka do in pasta sauce?
Vodka, as the main ingredient in pasta, serves mainly as a flavor enhancer and emulsifier. It encourages a more aromatic flavor when mixed with tomato sauce rather than just using tomato sauce alone. Being naturally acidic, tomatoes require a stabilizer. What vodka does is inhibits the cream from curdling, helping it separate during the cooking process.
What is the best vodka to use for this penne pasta recipe?
While there's not much preference on brands, make sure you aren't using flavored vodka. We also recommend using a newly bought bottle, not one stored in the cupboards for a while.
Can you get drunk off of penne pasta recipe with vodka sauce?
The short answer is no. While adding vodka in recipes does give out a boozy kick, it doesn't get the same effect when cooked through. In pasta recipes like this, the alcohol gets burned off during the cooking process. It will leave only a trace of a tangy flavor that infuses with the pasta. It's safe to say, therefore, that the kids (and even pregnant women) can enjoy this recipe without getting drunk.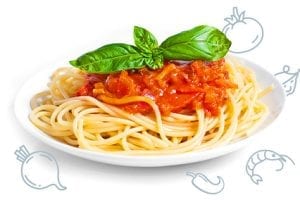 Conclusion
A comfort penne pasta recipe that puts an adult spin on the childhood favorite. It is a deliciously satisfying yet cheap and affordable dish to make any day of the week! Serve over dinner sprinkled with lots of parmesan cheese or grated sharp cheddar. Its best shared on weeknight gatherings while reminiscing the old days!