Copycat Portillo's Italian Beef Sandwich Recipe
Recipes.net Team
Published
October 1, 2020
A nice picnic out on a warm day would be dull without a hearty sandwich. Luckily, we have the perfect Italian beef recipe that will tickle your tastebuds. In this recipe, we'll be showing you how to make Portillo's Italian beef sandwich. Famous for its savory and hearty flavors, one can never go wrong with a sandwich like this. You don't have to leave your house for a slice of this mouthwatering sandwich! Grab a pan, and we'll show you how to make Italian beef sandwiches at home.
Italian beef is a sandwich that originated from Chicago. Since many Italians have settled there, they've made this beef sandwich quite popular. And who wouldn't love it? It's beef simmered in a bunch of tasty spices and served au jus on a long roll. You can enjoy it while dining in or if you're rushing to work. But we recommend enjoying your Italian sandwich seated and dipped in scrumptious beef gravy. It's one of the most unique ways to enjoy a sandwich and is definitely more flavorful than the usual.
Why We Love Portillo's Italian Beef
You may be wondering what all the fuss is about Portillo's Italian beef. Apart from the fact that it's served fresh daily, the perfected flavor lies in their slow-roasting the beef. Their beef is slow-roasted for four hours in thin slices. This ensures the Italian roast beef slices absorb the seasoning more than your average whole beef. And they never snub the leftover beef broth, because that's where their beef gravy is made from. It is highly recommended that you dip the sandwich onto the gravy for added richness. But that's not all! This sandwich would not be as tasteful without their hot giardiniera peppers. It adds a nice kick to your savory beef, and they're homemade.
Portillo's has been perfecting their Italian beef for years. To this day, it is still one of their most beloved menu items. That's why we've made a copycat Portillo's Italian beef that you can easily recreate at home.
Making A Beef Sandwich Just Like Portillo's
One of the biggest factors that give our dish added texture and umami is the way we season the whole beef. The simple seasoning of mustard, salt, and pepper truly gives the beef that robust taste, especially after searing the flavors in. Before serving, we do a little trick of gently warming the beef in beef broth to make it extra juicy. With those easy steps, you're guaranteed to get the perfect Italian sandwich. You won't even be able to tell the difference between Portillo's and how we make it!
This recipe makes 2 hoagie sandwiches that you can divide into 6 slices. But you can definitely make more for friends and family by adjusting the ingredients in this recipe! You'll never have a dull picnic again with one of our Italian beef recipes! Serve these with some ice-cold lemonade and a side of chips for a full meal. Give these a shot for your next picnic gathering.
How To Make Copycat Portillo's Italian Beef Sandwich
Recreate your own Italian beef sandwich just like Portillo's in the comfort of your own home! It comes with slow roasted beef, a generous amount of beef gravy and spicy peppers.
Preparation Time:
10

mins
Total Time:
5

hrs
10

mins
Ingredients
2

lbs

stewing beef,

preferably rump roast, eye of the round, top round, bottom round, chuck or chuck shoulder

½

tsp

dried oregano

½

tsp

dried basil

½

tsp

onion powder

½

tsp

dried dill

½

tsp

dried rosemary

½

tsp

garlic powder

½

tsp

dried thyme

1

bay leaf

5

oz

red onions,

quartered

3

oz

carrots,

cut into chunks

3

oz

celery,

leaves and stalks, cut into chunks

5

tbsp

prepared mustard

4

cups

beef broth,

plus more as needed

3

tbsp

vegetable oil,

or rendered beef tallow

Salt and ground black pepper to taste,

to taste
To serve:
2

Hoagie Rolls

¼

cup

piquillo peppers,

can use pepperoncini peppers, sliced into strips

Prepared mustard

Mayonnaise

Side of the cooking broth
Instructions
Heat up a skillet with oil & sear the meat on all sides until evenly caramelized.

Season evenly on all sides with salt & pepper while searing

Transfer to a clean working area & brush the mustard around the stewing beef.

Make a vegetable bed inside your crockpot by adding the red onions, celery, & carrots.

Add all the spices into the crockpot & layer the seared beef on top of the vegetables.

Pour enough beef broth to both cover the beef.

Cover and cook on low for 10 - 12 hours, or on high for 5 - 6 hours, until beef is tender enough to be pulled & shredded

You may need to add more broth to cover the beef while being slow cooked

Once done, set aside the beef & transfer all other contents into a sauce pot

Reduce the sauce to half & strain once done. Discard all other solids

Layer your cooked beef onto a flat surface. You have a couple of options for this. Either shred or pull apart using a pair of forks, or thinly slice the beef. Set aside

When ready to serve, slice your hoagie rolls into half lengthwise & toast.

Spread mayonnaise & mustard on separate sides of the bread

Heat up a pan & add your preferred beef potion with a little cooking broth. This will warm up your beef.

Drain, & layer your warmed beef into the sandwich

Finally, layer your pepper strips around the sandwich & seal

Serve together with a little of the cooking broth. Enjoy by dipping the sandwich briefly in the broth between bites
Recipe Notes
Double-check your beef while slow-cooking, as you may need to add more broth to cover the beef.
Another stewing beef you may use is the eye of the round, top round, bottom round, chuck, or chuck shoulder.
For a thicker beef gravy, try heating 2 cups of your remaining beef broth and gently stir in ¼ cup of all-purpose flour. Stir constantly until you get your desired gravy consistency.
Nutrition
Calcium:

63mg

Calories:

371kcal

Carbohydrates:

17g

Cholesterol:

94mg

Fat:

16g

Fiber:

2g

Iron:

8mg

Potassium:

736mg

Protein:

38g

Saturated Fat:

8g

Sodium:

969mg

Sugar:

4g

Vitamin A:

2539IU

Vitamin C:

9mg
Commonly Asked Questions
Which cut of meat should I use for Italian beef?
You can always choose the cut of your choice in making Italian beef. But for our recipe, we recommend using stewing beef. Stewing beef are tough and lean cuts that become tender and flavorful when slow-cooked in liquid. These cuts are found from either the front shoulder or the rear end. In this recipe we prefer using rump roast, but other options also include eye of the round, top round, bottom round, chuck or chuck shoulder. To change it up you can also use the same cuts in lamb, goat, or venison. But do note that other types of meat tend to have different flavors, nutritional values, and preparations needed.
Can I freeze Italian beef?
If you're looking to cook this recipe in batches and wish to store them, you can! Place your slow roasted beef and some bit of the beef broth in an air-tight container or a freezer bag. This will ensure your beef does not get freezer burn and will still taste juicy. This can last in the freezer for 2 to 3 months. To thaw, simply take them out of the freezer, then thaw in the refrigerator overnight.

What can I use in place of piquillo?
You may use some store-bought giardiniera peppers like Portillo's do. Another option is pepperoncini peppers or any sweet peppers of your liking. All options will still get you that tangy, spicy kick you would with your Italian beef.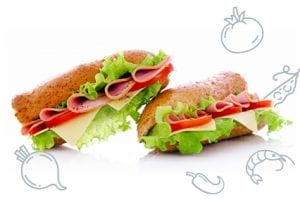 Conclusion
Our copycat Portillo's Italian beef will make the perfect picnic meal to have with friends and family! You no longer have to wait in line to grab a bite of this pot roast sandwich. Everyone will definitely be wanting seconds after devouring this juicy dish.