Portillo's Italian beef sandwich is famous for its savory and hearty flavors. One can never go wrong with a sandwich like this. This iconic sandwich is made by simmering beef in aromatic spices then served on a bread roll with a beef broth gravy – or, alternatively, an au jus (drippings of cooked meat) – on the side. While it is called Italian, it actually didn't come from Italy. Rather, it originated from Italian immigrants in Chicago. Grab your pan and crockpot, and we'll show you how to make this Portillo's Italian beef recipe. Pair it with some beer cheese fries for an indulgent fast food fix.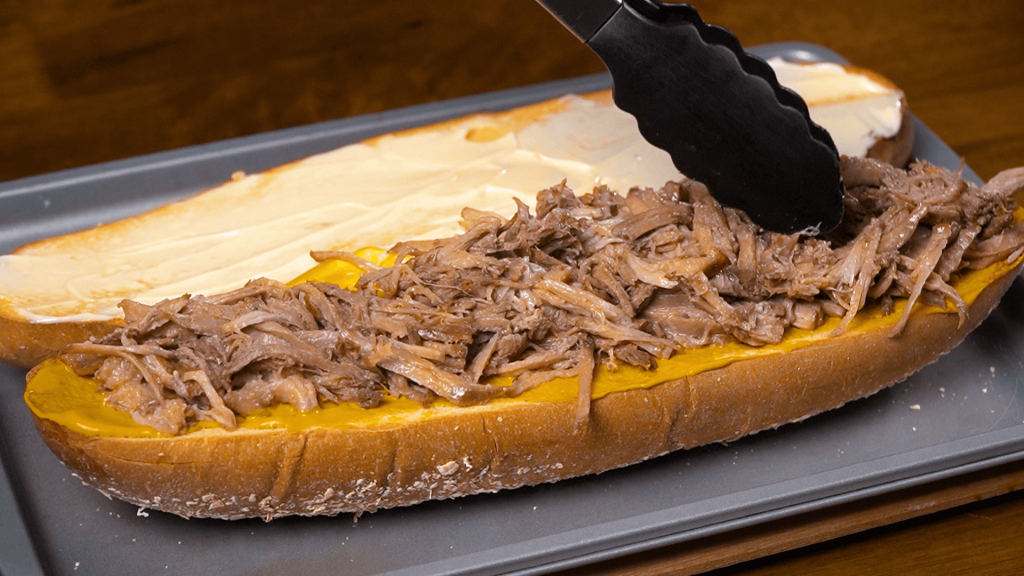 Tips on Making Italian Beef Sandwiches Like Portillo's
Apart from the fact that they are served fresh daily, you may be wondering what all the fuss is about Portillo's Italian beef sandwiches; so here it goes. Let's start recreating the best Chicago Italian beef sandwich.
Slice the beef as thin as possible.

This allows you to pile on the meat slices which can then soak up the au jus, making the sandwich more flavorful.

Season the whole beef to bring out its umami. The simple seasoning of mustard, salt, and pepper gives your meat a great boost, especially after searing all the flavors in.
Slow cook the well-seasoned thin-sliced beef in beef broth.

This ensures that the beef absorbs the flavors more than the average whole beef cuts.

Don't forget to top it with hot peppers.

It adds profile and spice to every bite of this most filling sandwich. You can use pepperocini or giardiniera peppers. If you prefer less spice, you may tone down the heat by replacing hot peppers with sweet peppers. Try topping your sandwich with piquillo or banana peppers instead.

Choose the right bread.

In this case, the right bread means a bread that can withstand the juices of the beef and the savory beef gravy dip. You can use Turano rolls or hoagie rolls.

Tip:
Do a little trick before serving by gently warming the beef in the au jus to make it extra juicy.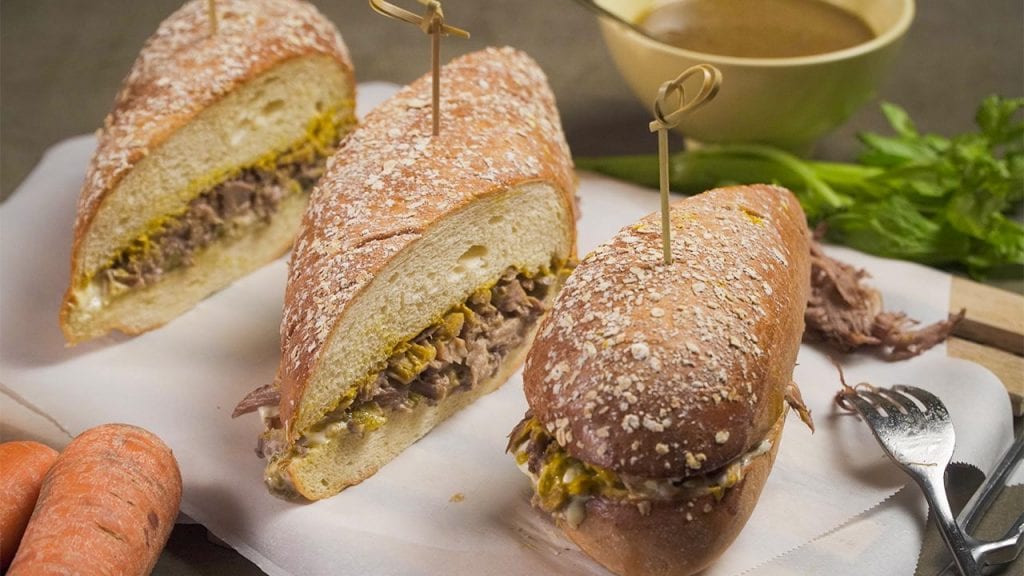 Copycat Portillo's Italian Beef Recipe
How To Make Copycat Portillo's Italian Beef
Recreate Portillo's Italian beef recipe in the comfort of your own home. It has thin-sliced slow-roasted chuck roast beef covered in a generous amount of rich savory beef gravy, and topped with sweet piquillo peppers.
Ingredients
2

lb

stewing beef,

preferably rump roast, eye of the round, top round, bottom round, chuck, or chuck shoulder

½

tsp

dried oregano

½

tsp

dried basil

½

tsp

onion powder

½

tsp

dried dill

½

tsp

dried rosemary

½

tsp

garlic powder

½

tsp

dried thyme

1

bay leaf

5

oz

red onions,

quartered

3

oz

carrots,

cut into chunks

3

oz

celery,

with leaves and stalks, cut into chunks

5

tbsp

prepared mustard

4

cups

beef broth,

plus more as needed

3

tbsp

vegetable oil,

or rendered beef tallow

salt and ground black pepper,

to taste
To Serve:
2

hoagie rolls

¼

cup

piquillo peppers,

pepperoncini, or giardiniera peppers, sliced into strips

prepared mustard,

(Optional)

mayonnaise,

(Optional)

cooking broth
Instructions
Heat up a skillet with oil and sear the meat on all sides until evenly caramelized.

Season evenly on all sides with salt and pepper while searing.

Transfer to a clean working area and brush the mustard around the stewing beef.

Make a vegetable bed inside the crockpot by adding the red onions, celery, and carrots.

Add all the spices and bay leaf into the crockpot, then layer the seared beef on top of the vegetables.

Pour enough beef broth to cover the beef.

Cover and cook on Low for 10 to 12 hours, or on High for 5 to 6 hours, until the beef is tender enough to be pulled and shredded. You may need to add more broth to cover the beef while being slow-cooked.

Once done, set aside the beef and transfer all the other contents into a saucepot.

Reduce the sauce by half and strain once done. Discard all other solids.

Layer the cooked beef onto a flat surface. Either shred or pull apart using a pair of forks, or thinly slice the beef. Set aside.

Heat up a pan and add your preferred beef portion with a little cooking broth to warm up the beef.
To Assemble:
When ready to serve, slice the hoagie rolls into half lengthwise and toast.

Spread 2 tablespoons each of mayonnaise and mustard on separate sides of the bread.

Drain the meat and layer the warmed beef into the sandwich.

Finally, layer the pepper strips around the sandwich and seal.

Serve together with roughly ½ cup of cooking broth. Enjoy by dipping the sandwich briefly in the broth between bites.
Recipe Notes
Double-check your beef while slow-cooking, as you may need to add more broth to cover the beef.
Nutrition
Sugar:

4g

:

Calcium:

71mg

Calories:

485kcal

Carbohydrates:

17g

Cholesterol:

107mg

Fat:

32g

Fiber:

2g

Iron:

8mg

Monounsaturated Fat:

14g

Polyunsaturated Fat:

1g

Potassium:

641mg

Protein:

31g

Saturated Fat:

12g

Sodium:

986mg

Trans Fat:

2g

Vitamin A:

2552IU

Vitamin C:

9mg
Nutrition Disclaimer
Frequently Asked Questions
What cut of meat is used for Italian beef?
You can always choose the cut of your choice in making Portillo's italian beef recipe. But as we are using a slow cooker to cook, we recommend using a tougher cut like chuck roast beef. Chuck can be found at the lower neck and upper shoulders of a cow. It's a tough and lean cut with a slight amount of fat. It becomes tender and flavorful when slow-cooked in liquid. Alternatively, you can also use rump roast, eye of the round, top round, bottom round, or chuck shoulder.
Can I freeze Italian beef?
If you're looking to cook this Italian beef in batches and wish to store them, you can! Place your slow-roasted beef and some bit of the beef broth in an air-tight container or a freezer bag. This will ensure your beef does not get freezer burn and will preserve its juices. This can last in the freezer for 2 to 3 months. To thaw, simply take them out of the freezer, then thaw in the refrigerator overnight.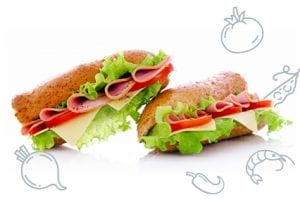 Conclusion
Our copycat Portillo's Italian beef recipe will make the perfect picnic meal to have with friends and family! You no longer have to wait in line to grab a bite of this Chicago-style Italian beef sandwich. Everyone will definitely be wanting seconds, so make sure you prepare enough!