Calamari Fritti translates to fried squid. It is the Italian version of the classic fried calamari rings recipe. It's a delicious squid appetizer that's easy to make and even more delightful to eat. You can choose between a classic marinara sauce or a tartar sauce for that tangy and sweet combination to complete the dish. Grab your pan, gather your ingredients, and join us in making the best fried calamari recipe ever!
Tips for Making Italian Calamari Fritti
You might be one of the many who are wondering how to make fried calamari tender and better. Here are some tips that might help you make this classic Italian calamari fritti the best among your favorite calamari recipes:
Tenderize squid by soaking them in kiwi or lemon juice.

Alternatively, you can

soak them in milk overnight

before using them the next day. This is because the acid in the mentioned citrus fruits and the lactic acid in milk helps in tenderizing squid. Just like how they work their magic with other types of meat.

Do not overcook calamari fritti

. If you fry them for too long, they will have a rubbery and chewy texture. Fry them under the instructed time. We can only either cook them fast under high heat or slowly under low heat to achieve a soft texture.

Pat the squid dry before rolling them over the breading.

We use paper towels to dry them up. We advise that you do not skip this step so the breading won't clump and fall off later on.

Your homemade calamari should be lightly breaded

. A thick breading is most likely to fall apart as it will clump.

Enjoy it with your favorite side dishes and sauces.

If you're wondering what to serve with fried calamari, we recommend serving them fish or

shrimp ceviche

, or a side of fresh

couscous salad

. As for

dipping sauce for calamari fritti

, if you're out of marinara and tartar sauce, have it with

cocktail sauce

or apricot dijon sauce as substitutes.
You can also check out what is calamari and the delicious ways you can cook it.
How to Make Calamari Fritti (Italian Fried Calamari)
Our quick and easy calamari fritti lets you enjoy an appetizer that's deliciously crispy and chewy. Serve them with a sweet and tangy dipping sauce and salad on the side to complete the ensemble.
Ingredients
1

lb

whole squid,

cleaned and sliced into thin rings

2

cups

all-purpose flour

3

eggs,

beaten

5

tbsp

semolina flour,

for coating

Vegetable oil,

for frying

Salt and pepper,

to taste
Instructions
Transfer the squid rings into a plate. Make sure that the squid rings are completely dry before the coating process. Pat with a paper towel if necessary.

Prepare a large pot for deep-frying. Then, pour vegetable oil into the pot at least several inches deep. Set the heat to medium-high, and wait until the oil is hot.

Set up a coating station for the calamari rings. Get 3 bowls and place the all-purpose flour into the first bowl, the beaten eggs into the second bowl, and the semolina flour into the third bowl.

Dredge the first squid ring into the all-purpose flour. Remove excess flour then dip into the egg mixture next. Lastly, coat the squid ring with the semolina flour.

Coat evenly, and repeat the process for all the remaining squid rings.

Next, fry the squid into the large pot for about 4 to 5 minutes, or until golden brown.

Remove the fried calamari rings and pat away excess oil with a paper cloth.

Season with salt and pepper, then serve with a dipping sauce and lemon wedges on the side. Enjoy!
Nutrition
Sugar:

1g

:

Calcium:

67mg

Calories:

446kcal

Carbohydrates:

65g

Cholesterol:

387mg

Fat:

6g

Fiber:

2g

Iron:

5mg

Potassium:

426mg

Protein:

31g

Saturated Fat:

2g

Sodium:

98mg

Trans Fat:

1g

Vitamin A:

216IU

Vitamin C:

5mg
Nutrition Disclaimer
Frequently Asked Questions
How can you tell if calamari fritti is cooked?
If curling in the edges starts to form then it's a sign that your calamari is cooked. You can also notice how the coating will turn golden brown once it's ready. Keep an eye on your deep fried calamari as it cooks swiftly.
Why does my calamari taste fishy?
A strong fishy taste and smell of squid indicates that it had gone bad. Fresh squid should almost have no smell or a small hint of saltwater. It is best to replace them with new ones before you use them. If cooked, calamari should also not taste fishy. Instead, it should have a mild flavor.
How long can raw calamari stay in the fridge?
After purchasing raw squid, we should keep it in the coldest and farthest corner of the freezer covered rather tightly inside a container. We can only freeze calamari for 3 months tops. After they are thawed, we must not freeze them again for food safety reasons. It is important to cook and use them after thawing.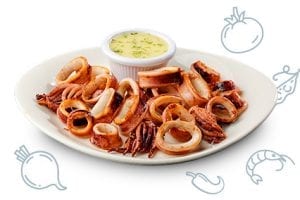 Conclusion
The search for the best recipe for calamari is over! Italian calamari fritti will definitely set your appetite in a good mood and excite you with its crunchy crust and soft squid meat underneath. Serve it with marinara sauce and take mouthfuls of mild squid flavor elevated by the sweet and tangy sauce.
Topics: