This calamari fritti will hit the spot when the craving for seafood dishes comes. But what is calamari fritti? In Italian, calamari is squid, and fritti means fried, which all translates to fried calamari. You can use this Italian fried calamari in different kinds of dishes such as pasta and salads. It's one of the most versatile proteins that you can use. Our calamari fritti recipe yields tender on the inside, and crunchy on the outside snacks every time. The squids are cut into rings, coated in breading, then deep-fried until golden.
This fried calamari dish can also be served with a tangy or creamy dipping sauce on the side. You can often find these pieces of fried squid served in many restaurants. And now, you will see that this dish is not only delicious, but easy to make at home! 
Calamari alone is very versatile, and this is just one of many calamari recipes to try. If you love this dish, try out some of our other recipes like this calamari pasta and our Olive Garden fried calamari copycat recipe.
What's In Our Calamari Fritti (Italian Fried Calamari)?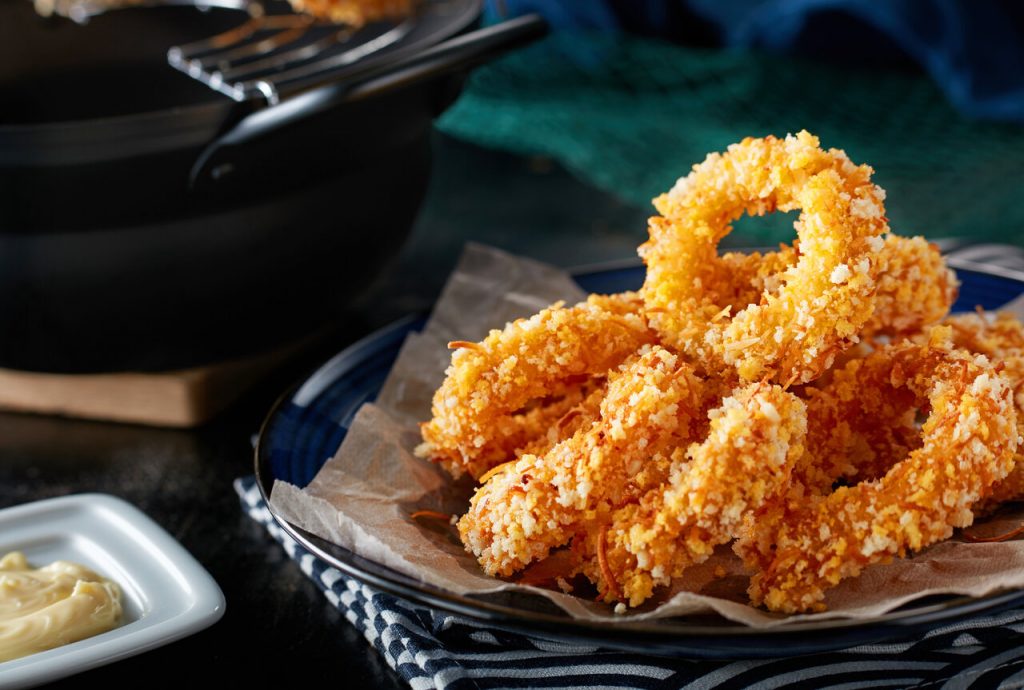 You don't have to go to fancy Italian restaurants to get an awesome calamari fritti. This homemade recipe will certainly show you how to make a yummy seafood dish in a snap!
Here are the calamari fritti ingredients you need:
Squid –

The star of the show. You can use either fresh or frozen calamari. Just remember to clean up the squid by removing the membrane, the plastic-like piece of cartilage inside the head, and the beak.

Seasoning –

A little goes a long way, and will bring out the taste of the calamari. We use salt and pepper to make the recipe as easy as possible. But you can use other seasonings, like garlic or onion powder.

Vegetable Oil –

This is what you're cooking the squid in. You can use any you have. But for deep-frying, it's best to use vegetable or canola oil.

Semolina Flour –

Coating the squid in this will make it crunchy and golden. This adds great texture and flavor to your dish. But if you have none on hand, you may also just use all-purpose flour.
Tips for Making Italian Calamari Fritti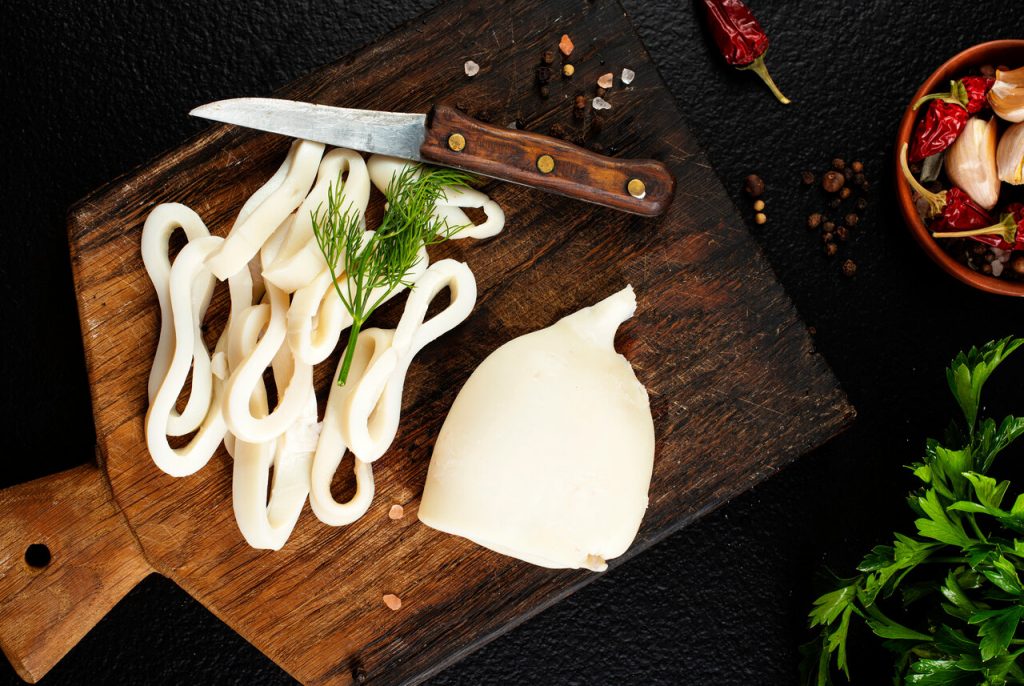 Take our advice on this fried calamari recipe, and will get a scrumptious snack every time. Improve your results in making this squid calamari dish by trying out these pro-tips!
Soak the squid in lemon or kiwi juice for 15 minutes.

This will make the squid tender. Additionally, the acid will also help break down the tough flesh of the squid. Alternatively, you can soak the squid in milk and a little salt overnight.

Pat the squid dry before rolling them in breading.

This will prevent the flour from clumping up and burning in the oil. At the same time, it will keep away any bitter taste. To dry the squid, just pat them with paper towels.

Lightly coat the calamari.

A heavy coating will most likely clump up or fall off the calamari. A light coating will stick to the slippery surface of the squid better. So make sure to dust or shake off any excess before frying the calamari in hot oil.

Do not overcook the squid.

Overcooking squid will make them tough and rubbery. Fry them only under the instructed time to keep them tender.

Compliment your calamari with your favorite sauces and sides. Calamari on its own is already delicious. But having an array of sides such as salad and pasta, and dipping sauces will elevate this Italian fried calamari.
Frequently Asked Questions
How do you cook calamari so it's tender?
In general, cooking fried squid only takes 30 seconds to 2 minutes over high heat. This will result in a crunchy coating and soft calamari rings inside.
What's the best oil to fry calamari in?
Canola and vegetable oil are usually used. They do not have overbearing flavors that will affect the deep fried squid. These oils are also known as "healthy oils", and they hold well in high cooking temperatures.
What kind of sauce is served with calamari?
Calamari fritti is an amazing dish already on its own. But you can complement its taste when paired with our calamari dipping sauce recipes. This dill tartar sauce will add a tangy flavor to your crispy calamari. Or enjoy the rustic yet bright flavors of this tomato dip.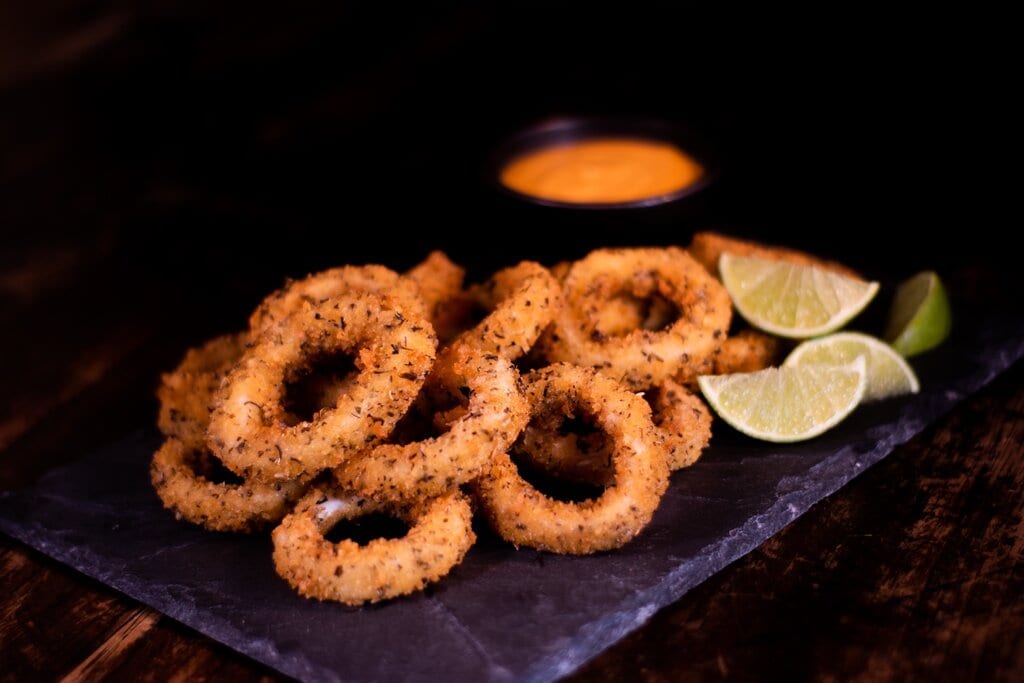 Calamari Fritti (Italian Fried Calamari) Recipe
How to Make Calamari Fritti (Italian Fried Calamari)
Enjoy a popular Italian appetizer by making this easy calamari fritti recipe. Tasty pieces of squid are coated in breading and deep fried for a crunchy, chewy snack we all love.
Ingredients
1

lb

squid,

whole, cleaned and sliced into thin rings

2

cups

all-purpose flour

3

eggs,

beaten

5

tbsp

semolina flour,

for coating

vegetable oil,

for frying

salt and pepper,

to taste
Instructions
Transfer the squid rings into a plate. Pat them dry with a paper towel before coating.

In a large pot, pour the vegetable oil at least several inches deep. Make sure it will submerge the squid when frying. Heat the oil over medium high heat and wait for the oil to get hot.

Set up a breading station for the calamari. Get 3 bowls and place the all purpose flour in the first one, beaten eggs in the second, and semolina flour in the third bowl.

Season the all purpose flour and the eggs with a pinch of salt and pepper.

Dredge the squid in the flour first and shake off any excess by tapping the pieces a few times. Then, dip the squid into the eggs, shaking off any excess. Lastly, coat the squid ring with the semolina flour.

Repeat the process for the remaining pieces of the squid.

Fry the squid in the hot oil for 4 to 5 minutes or until golden brown and crispy.

Remove the calamari rings and place on a paper towel lined plate or a wire rack. Pat any excess oil off with a paper towel.

Season with salt and pepper as preferred, then serve with a side of dipping sauce and a lemon wedge on the side. Enjoy!
Nutrition
Sugar:

1g

:

Calcium:

67mg

Calories:

446kcal

Carbohydrates:

65g

Cholesterol:

387mg

Fat:

6g

Fiber:

2g

Iron:

5mg

Monounsaturated Fat:

1g

Polyunsaturated Fat:

2g

Potassium:

426mg

Protein:

31g

Saturated Fat:

2g

Sodium:

98mg

Trans Fat:

1g

Vitamin A:

216IU

Vitamin C:

5mg
Nutrition Disclaimer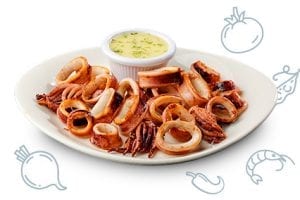 Conclusion
Calamari Fritti is always a must-try in any restaurant. It's a good start to whet your appetite for any meal. It has a crunchy, golden brown coating, and chewy, tender squid meat underneath. Make it at home and pair it with any dips and sides to make your meal exciting and complete!