When someone mentions pizza, you drool at the mere thought of having a slice. But you're worried you can't down a slice because you're on a diet. Worry not, your streak of healthy eating habits doesn't have to end! Pizzas are best paired with a salad, especially with our easy Tomato Caprese Salad with Balsamic Vinegar recipe!
This refreshing tomato and mozzarella salad go well with our version of the deep-dish Detroit-Style pizza by Jet's. This tomato basil salad balances the pizza's savoriness with its fresh tomato and tangy balsamic glaze dressing.
A flexible dish, this fresh tomato salad is sure to complement any savory dish you'll have tonight!
Choosing The Best Tomatoes For Your Caprese Salad 
Tomatoes are one of the many versatile fruits you can add to your meal. You can make our no-cook Chilled Tuscan Tomato Soup Recipe for one of those lazy nights.
You can also add tomatoes into your meat dish for lunch or dinner, just like our Chicken Breast with Fennel and Tomatoes Recipe. Tomato adds a sweet hint to the moist chicken and the pleasant flavor of the fennel bulb. Or for more fresh tomato recipes, you can go classic with a simple Cherry Tomato Salad for your next barbeque or lunch.
The perfect tomatoes are heavy for their size, so don't be shy to feel the weight when choosing tomatoes. A good tomato is not hard that it doesn't react to your touch. It is also not so firm to resist pressure. We suggest giving your tomatoes a sniff too. A sweet scent is perfect, and an earthy scent from its stem means it's a fresh pick.
As the star of our Insalata Caprese salad, the sweet and tangy taste of a tomato elevates our simple Caprese salad. Luckily, these are found in heirloom tomatoes. The rich flavors heirloom tomatoes bring to our salad liven up our dish. For alternatives, you can also use Red Beefsteak tomatoes with large and meaty juices. Its flavor is mild enough not to clash with other ingredients. Tomatoes on the vine are also perfect with its garden-fresh taste and the firm thick wall which holds better.
Our Balsamic Glaze Dressing
Sweet and smoky, the Balsamic Vinegar dressing pairs well with most savory and fresh dishes. It adds a sweet hint to your main dishes, like our Italian Chicken in Balsamic Vinegar Recipe. You can also drizzle it on your salad for extra flavors like in our Melon Prosciutto with Balsamic Vinegar and Mint Recipe. Balsamic Vinegar became famous due to exposure to food magazines and television programs. Now, considered as an art form, the Balsamic Vinaigrette is a symbol of the Italian high-quality products.
Balsamic Vinegar also has different variations. Made in Modena and Reggio, The Artisan vinegar type is approved by balsamic consortiums. Meanwhile, the Condimenti type is not aged for more than 12 years but follows artisan methods. The Industriale type is quickly made vinegar while imitation types are "make-believe" balsamic vinegar. This type is usually red wine vinegar watered down and is made in just a day.
The perfect Caprese salad dressing for our Caprese recipe is the Imitation. This balsamic vinaigrette is enough to add a hint of sweetness and acidity to our Insalata Caprese salad. It's also easy to buy since you can find a bottle of this Balsamic Vinegar in most grocery stores.
Making Tomato Caprese Salad with Balsamic Glaze
This recipe will show you how a simple salad recipe can be transformed with just fresh ingredients and the perfect dressing!
Contrary to the Italian Caprese salad people used to make, the balsamic dressing balances out the tomato and mozzarella while adding more acidity to the vegetables. Instead of the usual oil and vinegar vinaigrette like in our fresh Caprese Pasta Salad Recipe, we're using balsamic one. Learn how to make a homemade balsamic glaze (or balsamic reduction) by reading our CAQ section down below!
While this tomato salad recipe gives you that classic Insalata Caprese taste, there are still ways you can add your fun twist to it. Adding juicy peaches, crunchy pistachios, and sweet cherries to your tomato basil salad adds variety to the refreshing taste of our salad. Also, adding the crowd favorite avocado to your fresh mozzarella recipes gives it more creaminess while balancing the sweet and tangy balsamic vinegar.
Ready to make our Caprese salad? Whip this recipe up in just 10 minutes perfect as a last-minute snack for your guests!
How To Make Tomato Caprese Salad with California Balsamic Vinegar
This no-fuss caprese salad recipe makes a healthy and delicious meal perfect for those lazy nights. Just simply toss your fresh tomatoes, extra-virgin olive oil, mozzarella cheese, and basil on a plate and top it off with Balsamic Vinegar. With that, you're good to go!
Ingredients
2

tomatoes,

cut into ¼-inch thick slices

1

bunch

basil leaves

½

lb

fresh mozzarella cheese,

cut into ¼-inch thick slices

1

tbsp

Balsamic Vinegar,

preferably O Oak Aged

3

tbsp

Olive Oil,

extra virgin

salt and pepper,

to taste
Instructions
Wash the sliced tomatoes and set aside. 

Wash and rinse the basil leaves and set aside. 

Arrange the mozzarella cheese, tomatoes, and basil together on a plate. 

Sprinkle olive oil over the top of the plated ingredients. Afterward, drizzle some balsamic vinegar. Then, sprinkle salt and pepper as well. 

Your salad is now ready. So grab a fork and enjoy!
Nutrition
Calcium:

296mg

Calories:

278kcal

Carbohydrates:

4g

Cholesterol:

45mg

Fat:

23g

Fiber:

1g

Iron:

1mg

Potassium:

189mg

Protein:

13g

Saturated Fat:

9g

Sodium:

360mg

Sugar:

3g

Vitamin A:

1001IU

Vitamin C:

9mg
Nutrition Disclaimer
Commonly Asked Questions
Is Caprese Salad healthy?
Totally! Tomatoes provide few calories and are sources of different vitamins and nutrients such as Vitamins C, K, E, and B3. They are also rich in potassium and magnesium and most of all lycopene. Although mozzarella is rich in potassium and calcium, it is best not to overdo it with the cheese.
How do I make homemade balsamic reduction?
Make your own balsamic reduction by cooking 2 cups of your favorite balsamic vinegar over medium heat. Wait for it to bubble then reduce heat to medium-low. Don't forget to stir it continuously to avoid burning it. When your vinegar reduces to half and becomes glossy and thick to coat your spoon, take it off immediately and let it cool. Balsamic vinegar turns sweet as you cook it but you can add a dash of sugar or honey if you prefer. When it cools down, you can store it in your fridge and it will last for a good month.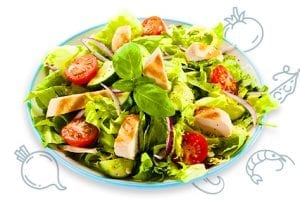 Conclusion
Being healthy does not always have to be expensive and complicated. Most takeout salads are a bit pricey and almost all salads are created from greens.
But if you're looking for something different and refreshing, this easy Tomato Caprese Salad with Balsamic Vinegar is perfect for you! This five-ingredient salad is ideal for last-minute dinner plans and unexpected guests.
Topics: