You don't have to pay for an airline ticket just to have a taste of authentic Italian cuisine. In fact, you don't have to pay for anything. All you need is a slow cooker and 6 hours. This Amazing Crockpot Mostaccioli recipe brings a classic Italian dish to you. This recipe is great for big batches or you just want to make a meal ahead of time. Before we get started, let us tell you all about mostaccioli versus penne pasta. They are close in resemblance but with a little detail, you are able to tell them apart. A mostaccioli is smooth in texture as compared to a penne which has a ridged surface. So if mostaccioli isn't available, you can opt for Penne instead.
This recipe is seasoned with a variety of herbs and spices, which is why this comes out as a flavorful dish. Of course, you can throw in your own add-ins like spinach, cheese, and even tomatoes. You can also omit the ground beef and replace it with chicken or mushrooms for a diet-friendly dish. There's really not much preparation done in this recipe. You just have to let your slow cooker do the rest of the work for you. Just remember to keep it on low heat. And once you have a taste of this Mostaccioli, you will find that it tastes like lasagna but thankfully, it is so much simpler to make.
Make it a complete Italian feast at home beginning with a classic Italian starter, a bruschetta! May we suggest our Creamy Tomato and Egg Bruschetta? Then end your feast on a sweet note with our Authentic Italian Cannoli recipe. This cannoli recipe makes for a great dessert after a tomato-based dish.
Amazing Crockpot Mostaccioli or Penne Recipe Video
How To Make Amazing Crockpot Mostaccioli or Penne
Savor in a lasagna-like dish without having to go through so many layers. This Amazing Crockpot Mostaccioli is a flavorful meal you can easily whip up in your slow-cooker.
Advertisement
Continue Reading Below
Ingredients
1

lb

ground beef

1

lb

penne,

or mostaccioli, cooked & cooled

½

cup

carrots,

chopped

½

tsp

garlic powder

1

tsp

dried oregano

1

bay leaf

1

tsp

dried basil

1

cup

yellow onions,

chopped

½

cup

celery,

chopped

1

tbsp

sugar

1

tsp

salt

16

oz

tomato sauce
To serve:
½

cup

parmesan cheese

2

tbsp

herbs of your choice,

like parsley or basil, chopped
Instructions
Add all the ingredients, except for the pasta, into the crockpot.

Cook on low for 6 hours.

Pour sauce over mostaccioli when ready to serve.

Garnish with parmesan cheese & chopped herbs of your choice.
Advertisement
Continue Reading Below
Advertisement
Continue Reading Below
Commonly Asked Questions
Can I bake this mostaccioli recipe?
Definitely! You just need to make a few changes. First, cook your ground beef, garlic, and onion in a large skillet until the beef is cooked through. Second, preheat your oven to 350 degrees F. In a large bowl, mix all your ingredients together until well-distributed. Lastly, place them in a 9×13–inch baking dish and cover the top with lots of cheese. Bake for 15 to 20 minutes or until the cheese appears brown and sauce is bubbling. Voila! You got yourself some baked mostaccioli.

What can I serve with mostaccioli?
Salad is always a great pair with pasta. It's a healthy touch with fresh flavors. Try our Barbecue Chicken Salad recipe to pair with a saucy and cheesy dish.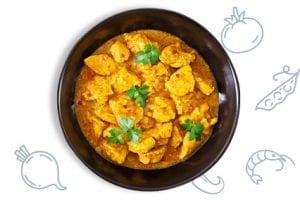 Conclusion
You can never go wrong with an Italian dish. Pasta is the easiest recipe to make and this amazing crockpot mostaccioli ensures you keep your hands off the entire process.
This mostaccioli recipe is a flavorful dish and, unlike a lasagna, you don't have to go through the hassle of layering. Sprinkle an abundance of cheese or your own favored add-ins to make your own version of a mostaccioli.
Advertisement
Continue Reading Below
Topics:
Advertisement
Continue Reading Below
Advertisement
Continue Reading Below