Whether it's for lunch, breakfast, or just a quick snack, our Prosciutto on Ciabatta Recipe is an easy yet delicious Italian sandwich that will surely satisfy your palette. Every meal deserves an upgrade, and your typical sandwich recipe is no exception. With that, we're sharing with you this special recipe with simple ingredients to create an easy and delectable meal. 
Sandwiches are the usual "on-the-go" meals. For instance, Italian sandwiches or subs are a must-try like this Italian grilled cheese sandwich with tomatoes and basil, which are essential ingredients in Italian cuisine too. 
Taste the simple deliciousness of prosciutto on a ciabatta sandwich and enjoy the exquisite taste of each ingredient. This is a delicacy worth every bite. It's a simple meal with a twist and a recipe perfect for beginners who wish to try their hand in cooking.
What's In Our Prosciutto On Ciabatta Recipe?
What makes Prosciutto on Ciabatta special is its Italian origins. The seemingly "fancy" name of the sandwich is composed of Italian words for their ham (prosciutto) and a type of white bread (ciabatta). 
Prosciutto is the general term used for this Italian ham which is familiar to most Americans and also alternatively called parma ham. Furthermore, it's a popular ham in Italy and the most commonly known prosciutto are prosciutto di parma, prosciutto crudo ("uncooked"), and prosciutto cotto ("cooked"). 
This sandwich recipe has simple ingredients that you can easily find in your kitchen or local Italian deli stores. Our sandwich includes: 
Prosciutto crudo

– We suggest that you use

prosciutto crudo

to experience that delicious sweet and salty taste for your first bite. If you're feeling a bit adventurous with your sandwich-making, then you can try the other types of prosciutto we mentioned.

 The taste comes from the curing process which gives the meat the necessary concentrated flavors for a more delicious ham.



Ciabatta bun

– It is soft and chewy on the inside and crunchy on the outside. This type of bread can be found on top of soups or as an enjoyable side dish. There is also a

guilt-free Italian bread recipe

that can be a great alternative to ciabatta for those who consider making healthier sandwiches.

Tomato

– Plum and heirloom tomatoes go well in a prosciutto sandwich, but feel free to use any kind that you have on hand.

Either way, your homemade ciabatta sandwich will taste heavenly. 

Arugula

– This leafy green vegetable blends well

with our sandwich, and the peppery taste adds another layer of flavoring to our dish. You can interchange this with spinach if you want thicker leaves for your sandwich.
Tips In Making Ciabatta Sandwich
We have a couple more tips and variations to give you in making your sandwich extra delicious. 
Add some extra cheese or more vegetables

to really fill up the sandwich. Adding creamy cheeses like mozzarella or brie cheese can enrich the taste of the sandwich.

 

Try toasting or grilling the ciabatta bun

for that extra crunchiness. The warmth of the bread can melt the cheese and give it that gooey and stretchy string of cheese.

 

Pair your ciabatta sandwich with some crisp white wine

on the side

. 
Serve the prosciutto crudo in thin slices so that you can feel the buttery texture of the meat melt inside your mouth. Prosciutto goes well in sub sandwiches, grilled or regular panini sandwiches, and club sandwiches. It can also be paired with delicious seafood like in our Prosciutto-Wrapped Shrimp Recipe. 
After experiencing our Prosciutto on Ciabatta, your love for Italian cuisine will flourish. The next delicious meal you can make is our Italian Chicken Lasagna which you can serve to impress your loved ones for those fun-filled family lunches or fancy dinner nights.
How To Make Prosciutto on Ciabatta
Spice up your deli sandwiches with this prosciutto on ciabatta recipe with tomato and arugula. It's a perfect lunch option and pairs well with some delicious white wine.
Ingredients
4

loaves

ciabatta bread

3/4

lb

prosciutto

1

tomato,

sliced

1

cup

arugula,

washed and dried
Instructions
Start with vertically cutting the 4 loaves of ciabatta bread in half. Set aside the other halves of the bread for now.

With a piece of ciabatta bread, place the arugula first on top.

Place the tomato slices next and then the prosciutto on top of the arugula.

Spread out each ingredient evenly and add your favorite mayo or mustard spread if you prefer.

Place the other half of the ciabatta bread on top of the prosciutto to complete the sandwich.

Repeat the process until all 4 loaves are filled with all the ingredients.

Enjoy!
Nutrition
Calcium:

15mg

Calories:

364kcal

Carbohydrates:

3g

Cholesterol:

56mg

Fat:

34g

Fiber:

1g

Iron:

1mg

Potassium:

260mg

Protein:

11g

Saturated Fat:

11g

Sodium:

571mg

Sugar:

1g

Vitamin A:

406IU

Vitamin C:

5mg
Nutrition Disclaimer
Commonly Asked Questions
Can I use other bread for this recipe?
Ciabatta is our personal favorite, however, you're free to use any kind of loaf that you prefer. You can take this recipe up another notch by spreading some butter and mayonnaise on the inside of your ciabatta and putting it on a hot pan to warm it up a little. The butter and/or mayonnaise will turn golden brown and give your sandwich some extra flavor.

How to reheat ciabatta bread?
It's best to bake them again to regain its softness and crunchiness. Preheat the oven at 450 degrees F. To soften the bread, wrap wet dampened paper towels around each bread to give it some moisture. Place each wrapped bread on a baking sheet and place inside your preheated oven. Bake for 5 to 15 minutes or until it's soft again. To regain it's crisp, remove the wet paper towels and bake for an additional 5 to 10 minutes.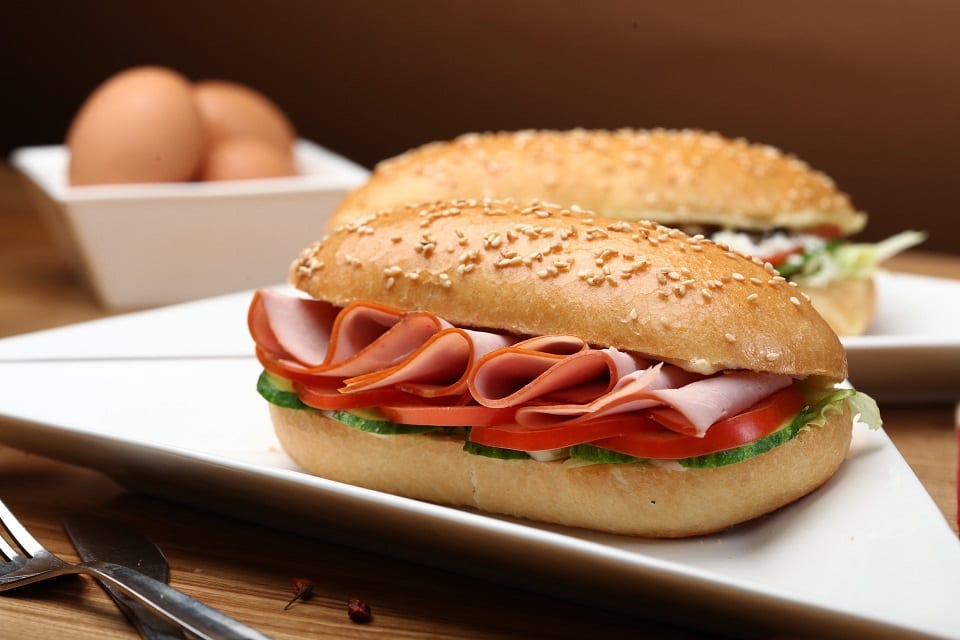 Conclusion
This recipe makes the perfect Italian sandwich to pack for a picnic or serve on a lazy weekend afternoon. You can even throw in some mozzarella if you're feeling a little adventurous. Let us know what you think of this recipe in the comments down below.
Topics: