Level up your usual sandwiches with this quick and easy Italian ciabatta sandwich recipe that calls for nothing but the best ingredients. Nestled between the toasted ciabatta bread loaves are layers of tasty dry-cured prosciutto ham, arugula leaves, and freshly sliced tomatoes. The sweet and savory flavors of the prosciutto blend perfectly with the slightly tangy and peppery veggie fillings. It's the perfect sandwich to bring on a picnic day, or a simple lunch get-together. This delicious ciabatta sandwich is great to eat alongside macaroni salad, potato chips, or a refreshing fruity drink.
Tips on Making Ciabatta Sandwich With Prosciutto
Prosciutto on ciabatta sounds fancy, but it literally just means dry-cured or cooked ham (prosciutto) on bread (ciabatta). Ciabatta, or Italian white bread, does well in holding all the fillings together. It is stable and chewier than other white loaves, but still soft enough for a good bite. 
Try out some of our helpful tips down below for more delicious and tasty prosciutto ciabatta sandwich at home: 
Always brush the insides of the ciabatta with butter or olive oil.

This

extra layer

not only gives flavor, but also

protects the

bread from watery ingredients like tomatoes

so that it won't get soggy.
Serve the prosciutto in thin slices

so that you can feel the buttery texture of the meat melt inside your mouth. You can also include additional protein like grilled chicken slices, or even

salami

for more flavor. Make sure to spread out the fillings evenly to taste all the yummy ingredients in one bite.
Add some extra cheese or vegetables

to make the

ciabatta sandwich

more filling. Adding creamy cheeses like brie,

provolone cheese

,

fresh mozzarella

, goat cheese, and blue cheese will definitely enrich the taste of the sandwich. Thinly sliced red onions, cherry tomatoes, and roasted red peppers will add a fresh crunch.
Use spinach if you want thicker leaves for your sandwich.

Iceberg lettuce, alfalfa sprouts, fresh basil, and shredded red cabbage are also great choices of leaves to add to your sandwich. These are especially great if you're aiming for a healthy, vegetarian

ciabatta sandwich

variation. Just remove the meat, and add more tasty vegetables.
More Ciabatta Sandwich Ideas To Try
If you're craving for more tasty sandwiches that use ciabatta bread, then you'll definitely love some of these simple homemade sandwich recipes: 
Ciabatta Panini Sandwich

– It's packed with pancetta slices and layered with crisp vegetables like baby spinach, tomato, bell peppers, and onion. It also has provolone cheese, and a drizzle of olive oil mixed with red wine vinegar for extra flavor. 
Provolone Portobello Mushroom Sandwich

– Enjoy this gourmet vegetarian sandwich that's brimming with rich flavors – even without the meat! All the flavors come from the sauteed mushrooms, garlic, and bell peppers.

These veggies are

layered with mustard, mayonnaise, lettuce, tomato, provolone cheese and avocado. 
Basil Pesto Sunshine Sandwich

– Take your sandwich even further

by slathering

basil pesto mixed with mayonnaise

on it

. Afterwards, layer it with sun-dried tomatoes, roasted red peppers, and feta cheese so it tastes even more exquisite.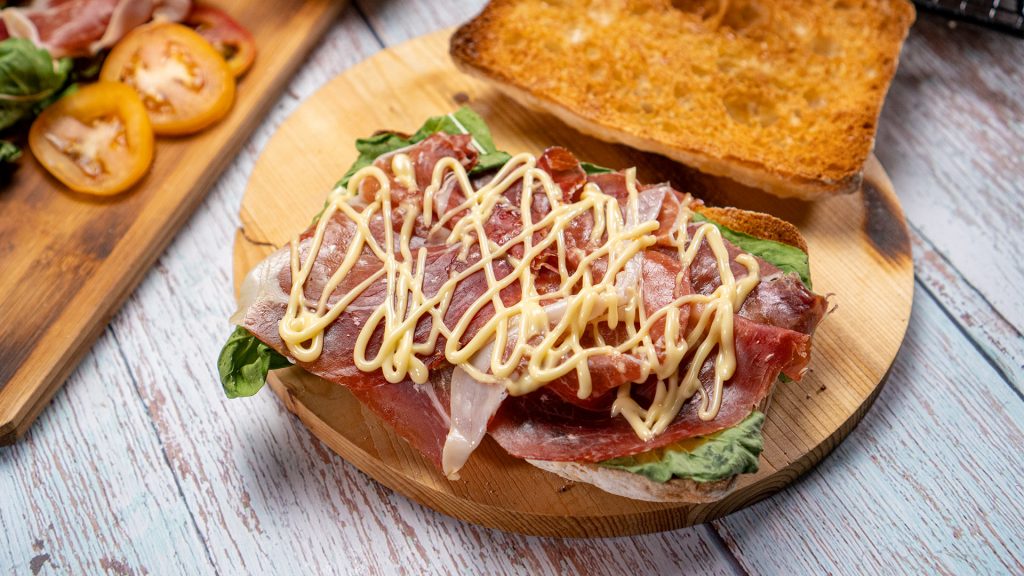 Ciabatta Sandwich With Prosciutto Recipe
How To Make Ciabatta Sandwich With Prosciutto
Level up from your usual sandwiches by serving this prosciutto on ciabatta sandwich with tomato and arugula. It is the perfect lunch option, and it pairs well with a glass of light white wine.
Ingredients
4

loaves

ciabatta bread,

small

2

tbsp

olive oil

¾

lb

prosciutto,

divided

1

cup

tomatoes,

sliced, divided

1

cup

arugula,

washed and dried, divided

1

cup

mayonnaise,

divided
Instructions
Start by slicing each ciabatta in half so that you have a top and bottom piece.

Lightly brush the inside of each piece of ciabatta with olive oil.

Lay the slices on a baking sheet and bake them in the oven for 7 minutes. This can also be done by toasting the oil-brushed side of the bread on a skillet on medium heat for 2 minutes or until lightly brown.

On each bottom piece of ciabatta, place a layer of arugula, tomato slices, and then prosciutto.

Top with mayo or mustard spread if you prefer.

Place the other half of the ciabatta bread on top of the prosciutto to complete the sandwich. Repeat the process until all 4 loaves are filled with all the ingredients.

Serve and enjoy!
Recipe Notes
You can make your

ciabatta bread sandwiches

up to two days ahead.

Wrap each one in parchment paper to store

in the refrigerator.

To rehea

t, you may either

use the microwave, oven, or stovetop.

You'll be able

to enjoy a hot ciabatta breakfast sandwich in just 1 to 2 minutes, or until it's warmed through.
Nutrition
Sugar:

2g

:

Calcium:

21mg

Calories:

808kcal

Carbohydrates:

4g

Cholesterol:

80mg

Fat:

83g

Fiber:

1g

Iron:

1mg

Monounsaturated Fat:

29g

Polyunsaturated Fat:

31g

Potassium:

286mg

Protein:

12g

Saturated Fat:

19g

Sodium:

927mg

Trans Fat:

1g

Vitamin A:

497IU

Vitamin C:

6mg
Nutrition Disclaimer
Frequently Asked Questions
Is ciabatta the same as panini?
Ciabatta bread sandwiches are actually a variation of a panini. Panini is the Italian term for sandwiches usually grilled and made with ciabatta or focaccia.


How do you toast ciabatta?
Toast ciabatta bread either in a preheated oven, or a pan on the stovetop. First, slice it in half using a sharp knife. Drizzle or brush it with olive oil or butter, then place it in the oven rack or on the pan for three to five minutes or until brown. Alternatively, you can also use a grill or a sandwich grill press to get those beautiful grill marks on your ciabatta bread. We recommend not skipping this part since this ciabatta sandwich has better flavor when toasted or grilled.
Can I use other bread for this ciabatta sandwich recipe?
While ciabatta sandwich bread is our personal favorite, you can use other types of bread that you prefer. This low-calorie Italian bread recipe makes for a healthier option. Also, do take note that sturdier bread like focaccia and baguette works best for these heavily loaded sandwiches. Softer loaves of bread like challah, brioche, and American white bread could easily be squished and get soggy. Baguettes are the best choice for when you want to make twice as much ciabatta sandwich. It's much larger than a regular ciabatta roll, so you can share this delicious Italian sub with friends or family.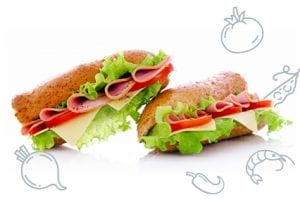 Conclusion
An Italian ciabatta sandwich is perfect for a picnic on a lazy weekend afternoon. Make it as simple or as fully loaded as you like! Either way, savory cured ham and fresh veggie slices in between crusty bread loaves will surely fill your tummies and delight your taste buds.