If you're looking for an easy-to-make sandwich for breakfasts, lunches, picnics, or for quick snacks, our hearty prosciutto on ciabatta sandwich is a must-try! The layers of flavorful prosciutto, fresh tomatoes, and peppery arugula comfortably nestled between chewy Italian ciabatta bread will surely satisfy your tastebuds. Pair it with a tall glass of ice-cold drink with this lemonade recipe or your favorite wine.
Tips on Making Ciabatta Sandwich
Prosciutto on ciabatta sounds fancy, but it literally just means ham (prosciutto) on bread (ciabatta). Ciabatta does well in holding all the fillings together because though it is stable and denser than other white loaves, it is soft enough for a good bite. We have more tips down below for a guaranteed tasty ciabatta prosciutto sandwich at home.
Always brush the insides of the ciabatta with butter or olive oil.

This not only gives flavor but also adds a seal of protection so that the bread won't get soggy from watery ingredients like tomatoes.

Serve the prosciutto in thin slices

so that you can feel the buttery texture of the meat melt inside your mouth. You can also include additional protein like grilled

chicken

slices.

Spread out the fillings evenly

so you can taste all the yummy ingredients in one bite.

Add some extra cheese or vegetables

to make the sandwich more filling. Adding creamy cheeses like brie,

provolone cheese, goat cheese,

and

blue cheese

will enrich the taste of the sandwich. Thinly sliced

red onions, cherry tomatoes

, and

roasted red peppers

will add a fresh crunch.

Use spinach if you want thicker leaves for your sandwich.

Iceberg lettuce,

alfalfa sprouts

,

fresh basil

, and shredded red cabbage are also great choices of leaves to add to your sandwich.

Use a sharp knife with a serrated edge

when slicing your

ciabatta

sandwich

. We did not build all the beautiful layers just to ruin them with a dull knife!

Make your ciabatta bread sandwiches up to two days ahead.

Store them by individually wrapping them in parchment paper. Reheat using a microwave, oven, or on the stovetop to enjoy a hot

ciabatta breakfast sandwich

in minutes.
How To Make Prosciutto on Ciabatta Sandwich
Level up from your usual sandwiches by serving this prosciutto on ciabatta sandwich with tomato and arugula. It's the perfect lunch option and pairs well with some light white wine.
Advertisement
Continue Reading Below
Ingredients
4

loaves

ciabatta bread

2

tbsp

olive oil

¾

lb

prosciutto

1

tomato,

sliced

1

cup

arugula,

washed and dried
Instructions
Start by slicing each ciabatta in half so that you have a top and bottom piece.

Lightly brush the inside of each piece of ciabatta with olive oil.

Toast the oil-brushed side of the bread on a skillet on medium heat for 2 minutes or until lightly brown. This can also be done by laying them on a baking sheet and baking them in the oven for 7 minutes.

On each bottom piece of ciabatta, place a layer of arugula, tomato slices, and then prosciutto.

Add your favorite mayo or mustard spread if you prefer.

Place the other half of the ciabatta bread on top of the prosciutto to complete the sandwich.

Repeat the process until all 4 loaves are filled with all the ingredients.

Serve and enjoy!
Advertisement
Continue Reading Below
Advertisement
Continue Reading Below
Commonly Asked Questions
Is ciabatta the same as panini?
Ciabatta is a type of Italian white bread. Panini is the Italian term for sandwiches usually grilled and made with ciabatta or focaccia. So, ciabatta sandwiches are a variation of panini.

How do you toast ciabatta?
Ciabatta sandwiches have better flavor when toasted. You can toast ciabatta bread in a preheated oven or a pan on the stovetop. First, slice it in half using a sharp knife. Drizzle or brush it with olive oil or butter, then place it in the oven rack or on the pan for three to five minutes or until brown.
Can I use other bread for this recipe?
While ciabatta sandwich bread is our personal favorite, you can use other types of bread that you prefer. This low-calorie Italian bread recipe makes a healthier option. Take note that sturdier bread like focaccia and baguette works best for these heavily loaded sandwiches. Softer loaves of bread like challah, brioche, and American white bread could easily be squished and get soggy.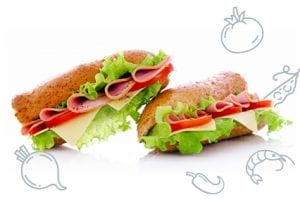 Conclusion
An Italian ciabatta sandwich is perfect for a picnic on a lazy weekend afternoon. Make it as simple or as fully loaded as you like. Either way, it will surely fill your tummies and delight your taste buds.
Advertisement
Continue Reading Below
Topics:
Advertisement
Continue Reading Below
Advertisement
Continue Reading Below