Affogato is an Italian coffee-based dessert. A classic made with two main delicious essentials: espresso and gelato. Affogato (or affogare), "drowned" in Italian, is referring to gelato swimming in piping hot coffee. Watch as the coffee cascades over the ice cream. All the while creating a pool of creamy espresso at the base of the cup.
An affogato shot is usually served after a meal or as an afternoon snack. It is recommended that high quality coffee should be used. However, you can still enjoy a delicious cup of creamy coffee if all you've got at home is the instant stuff. The key here is to find the right balance to suit your liking. 
We love it especially when the espresso is just bitter enough to bring out the sweetness of the ice cream. Certainly, this is even better when you pair your affogato with a crisp piece of biscotti. If you're looking for more coffee-infused recipes, check out our Low Fat Cinnamon Sour Cream Coffee Cake.
Tip: You can leave your serving glass in the freezer for an hour before preparing this dessert, as this is best consumed right away.
Affogato Recipe Video
Affogato is a quick and easy dessert to end your meal. A scoop of vanilla ice cream drenched in rich espresso.
Ingredients
4

long shots hot espresso

3

scoops vanilla gelato or ice cream
Instructions
Prepare your ingredients in two separate glasses.

Pour four long shots of hot espresso onto your vanilla gelato or ice cream until it is drowned with the coffee.

Enjoy your own affogato before the vanilla melts!
Recipe Notes
Serve or consume affogato immediately after making it.
Nutrition Facts
Serving:
160
g
|
Calories:
3
kcal
|
Carbohydrates:
1
g
|
Protein:
1
g
|
Fat:
15
g
|
Saturated Fat:
8.6
g
|
Cholesterol:
152
mg
|
Sodium:
118
mg
|
Sugar:
1
g
Ingredients You Need
Commonly Asked Questions
What does affogato mean?
Affogato or affogare is an Italian word for "to drown" or drowning which basically refers to the scoop of gelato or ice cream being drowned in espresso or other varieties of coffee. 
How do you eat affogato?
As most have their way of consuming their desserts, the affogato is no exemption. You can drink the coffee right away and spoon your way into the coffee-infused ice cream, or you can stir it for a creamy coffee drink.
Is affogato served hot or cold?
This comes as a tricky question since gelato or ice cream is cold but is drowned with hot coffee. Therefore, there's an interplay between the hot and cold ingredients that when served right, is at the goldilocks sweet spot of not too hot, not too cold, but just right.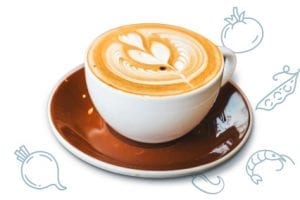 Conclusion
This quick and easy dessert is certainly greater than the sum of its parts. Whether have it as a dessert, a pick-me-up, this would easily please anyone. Seriously, even non-coffee lovers would enjoy this cup. By just combining a perfectly brewed coffee and your favorite vanilla ice cream you are left with a decadent end to your meal.