Imagine having a spoonful of cool and creamy ice cream, followed by the robust flavor and aroma of coffee. Washing everything down and melting into the perfect day. Yes, you're right! We're making Affogato. This Italian confection will drown you into a dreamy cup of hot espresso and cold vanilla gelato. Affogato means drowned. The sight of hot coffee flowing through the velvety ice cream is mere satisfaction. But are you ready for the blissful satisfaction from tasting this beautifully simple dessert?
Affogato may sound fancy but this recipe finds beauty in simplicity. It won't cost so much of your time or money. It only has two main ingredients – coffee and ice cream so you can add any toppings you like. We recommend that you try grated dark chocolate. However, if you like things to be on the sweeter side, go for crushed honeycomb toffee. If you're wondering about what coffee beans you should use for Affogato, you can use any bean you like.
Pump up your usual cup of coffee with two or more scoops of creamy gelato. Want your ice cream to stay cold to get a picture-perfect shot? You can leave your serving glass in the freezer for an hour before preparing this dessert. Craving for it now? Go make it and indulge in its sinfully rich, creamy texture and earthy aroma of great coffee. If you want to bring out your inner barista, even more, try this Dreamy Cinnamon-Hazelnut Coffee Recipe.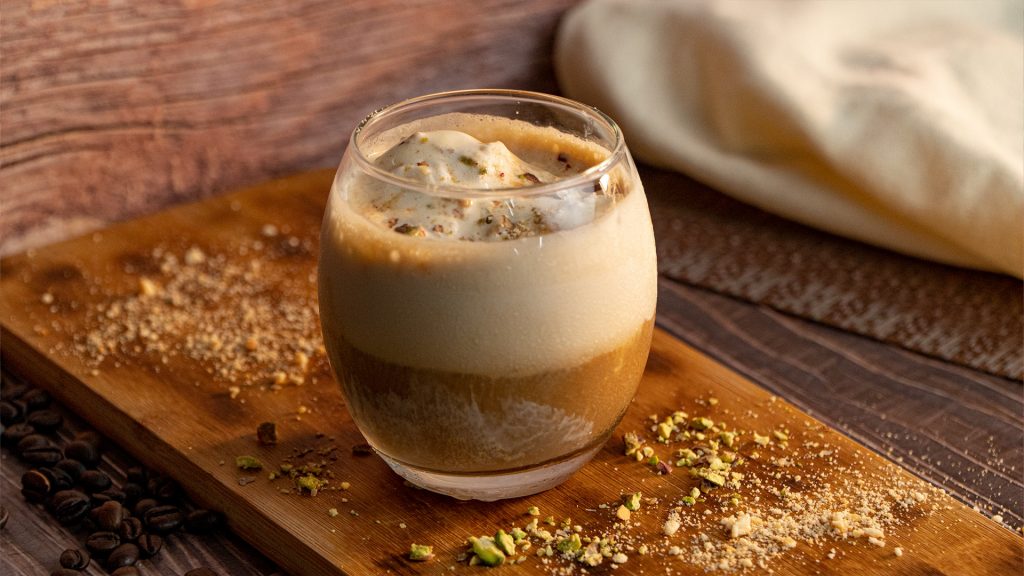 Affogato Recipe
Affogato is a quick and easy dessert to end your meal. A scoop of vanilla ice cream drenched in rich espresso.
Ingredients
½

cup

long shots hot espresso,

(3 shots)

4

scoops

vanilla gelato,

or ice cream
For Serving:
caramel sauce

amaretti cookies,

crushed

pistachios,

chopped
Instructions
Place 4 scoops of vanilla ice cream in a glass.

Pour your coffee onto your ice cream starting from the side.

Drizzle with caramel sauce and sprinkle with crushed amaretti cookies and chopped pistachios. Enjoy your affogato before the vanilla melts!
Recipe Notes
Serve or consume affogato immediately after making it.
Nutrition
:

:

Calcium:

1mg

Calories:

5kcal

Carbohydrates:

1g

Fat:

1g

Iron:

1mg

Polyunsaturated Fat:

1g

Potassium:

68mg

Protein:

1g

Saturated Fat:

1g

Sodium:

8mg

Vitamin C:

1mg
Nutrition Disclaimer
Frequently Asked Questions
How do you eat affogato?
You can drink the coffee right away and spoon your way into the coffee-infused ice cream, or you can stir it for a creamy coffee drink.
Is affogato served hot or cold?
The hot and cold temperature of this delightful dessert is where the magic happens. The hot espresso and the cold vanilla gelato bring out a perfect combination and you wouldn't want it any other way.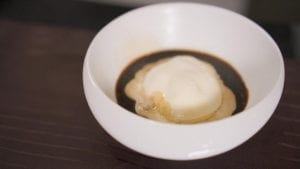 Conclusion
This quick and easy dessert is certainly greater than the sum of its parts. Whether have it as a dessert, a pick-me-up, this would easily please anyone. Seriously, even non-coffee lovers would enjoy this cup. By just combining a perfectly brewed coffee and your favorite vanilla ice cream you are left with a decadent end to your meal.