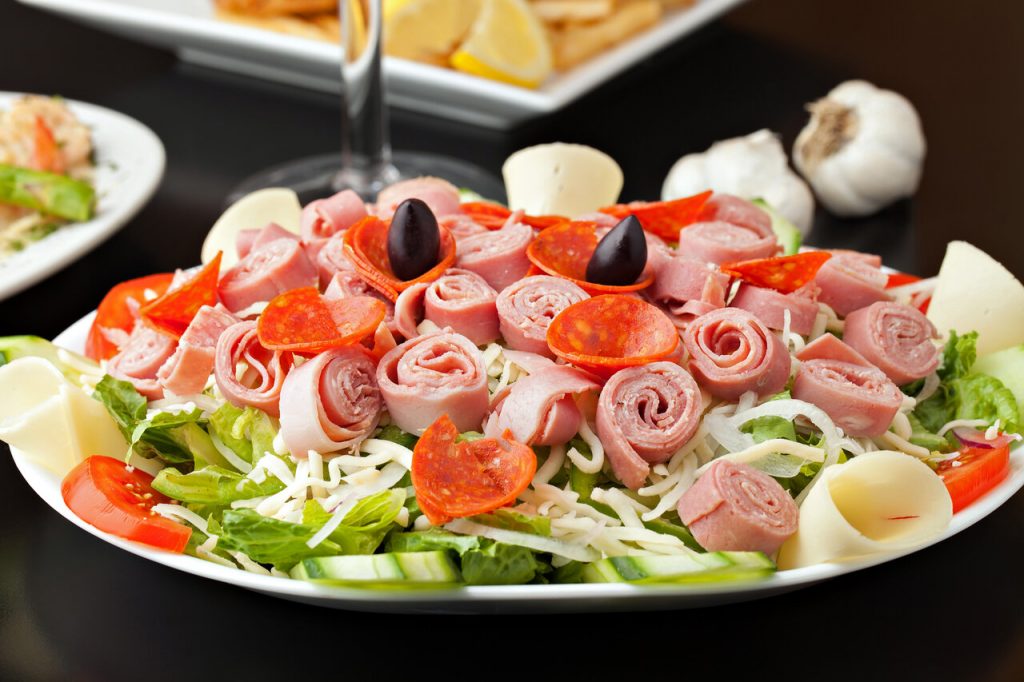 Antipasto Salad Recipe
The antipasto salad is everything you'll love about an Italian antipasto platter. It's sweet, savory, tangy, and bursting with delicious Italian flavors. Without a doubt, this Italian salad will satisfy your guests until the main course is ready. Better yet, serve it with Italian chicken and fish dishes to elevate your meal. It'll also be the perfect companion for capellini Pomodoro. Perfect for when you're If you're planning an Italian-inspired lunch or dinner!
What's In Our Antipasto Salad?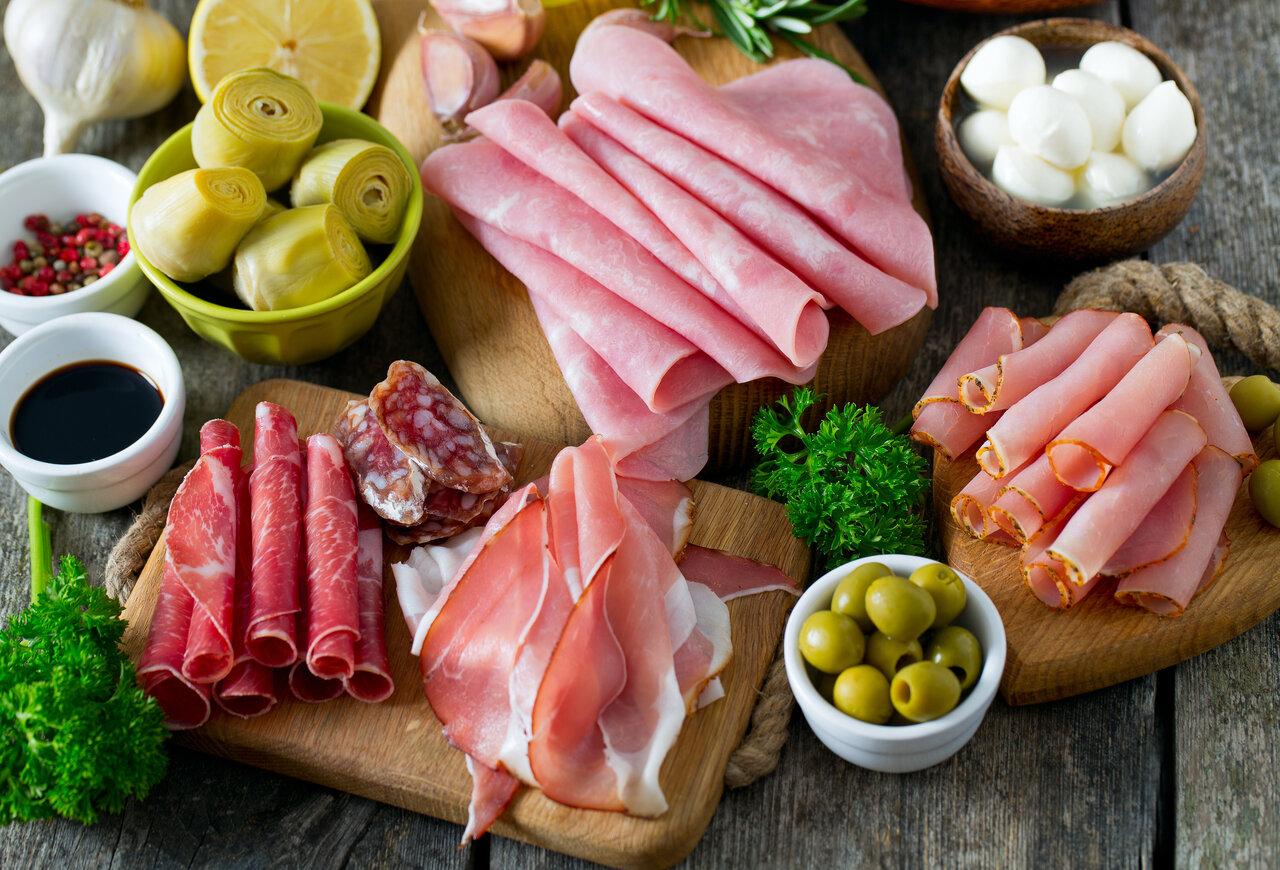 If you love Italian recipes, you might be familiar with antipasto. It's an Italian appetizer with all sorts of cured meats, vegetables, and cheese. Then, everything is tossed with an Italian dressing. And should you feel like turning this starter into a full meal, just make a platter of antipasto salad. It will certainly be one of the best Italian salads you'll ever try!
Here are the ingredients you need for this antipasto salad recipe:
Lettuce

– Opt for large Romaine lettuce.

Cured Meats

– Use salami and prosciutto for variety.

Mozzarella balls

– If you want, you can use cubed mozzarella.

Artichoke hearts

– To deliver bright and herby flavors to the salad.

Pepperoncini peppers

– To add a sweet, spicy, and tangy taste.

Olives

– Black olives and kalamata olives are excellent choices! You can also use a mix of kalamata and green olives.

Parsley

– For garnish.

Canned chickpeas

– Make sure to rinse and drain them!

Mixed salad greens

– For a crunchier salad!

Cherry tomatoes

– To brighten up the salad and add freshness.

Roasted red peppers

– To incorporate a slight kick and a charred flavor to your salad.
How To Make an Antipasto Salad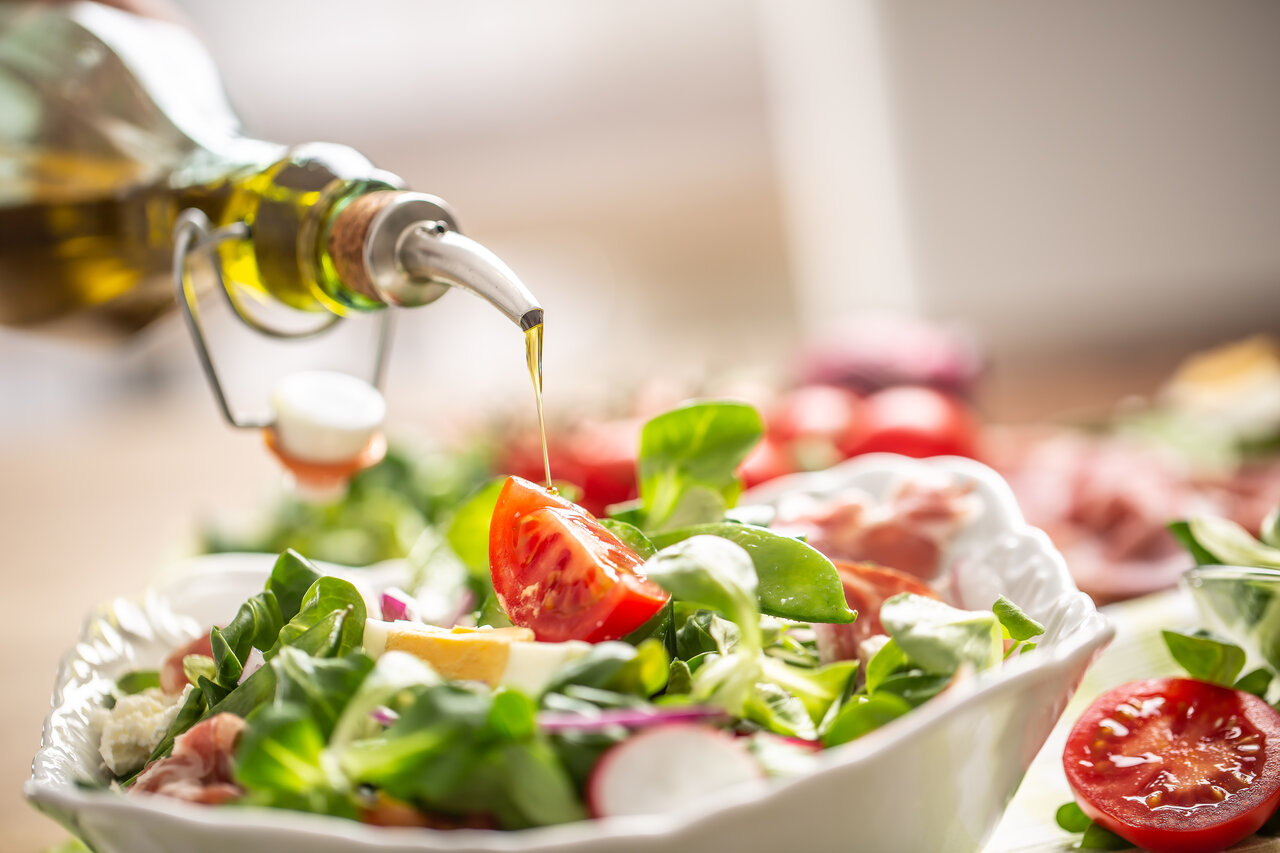 You'll love how simple and easy-to-make antipasto salad recipes are at the same time. Whip up a double batch just so you have extras for the next week! Here's how to make it:
First, prepare the salad dressing. Simply combine all the ingredients for the salad dressing in a jar and shake until well combined. Then, set it aside.

Place the lettuce in a large bowl, then toss with half of the dressing.

Then, pile the meats, cheese, olives, chickpeas, and vegetables on top of the greens.

Drizzle the remaining dressing over the top.

Garnish with parsley if desired.

Serve and enjoy!
Tips on Making Antipasto Salad
This Italian salad dish fits the bill if you need a no-cook lunch or dinner. It's marvelously easy to prepare. Still, these tips should come in handy to make your meal more mouthwatering:
This Italian antipasto salad is customizable!

Feel free to include any of your favorite antipasto ingredients. You can add corn for a summery flair or nuts for a fantastic crunch.

You can serve this salad with lettuce as the base.

If you want a crunchier salad, use half Romaine and half iceberg. Or, just go for mixed salad greens for varied flavors and textures.

To make a vegetarian version, omit the cured meats and add more vegetables.

You can toss some cucumbers, marinated mushrooms, and bell peppers.

If you want to make an antipasto pasta salad, simply toss everything with pasta.

Any

cooked, medium pasta will do, including rotini, cavatappi, and fusilli.

If you're pressed for time, you can use a store-bought vinaigrette.

However, homemade dressing is always BETTER than the store-bought one.
Frequently Asked Questions
What is the difference between antipasto and antipasti?
In essence, "antipasto" is just the singular form of the word. Meanwhile "antipasti" denotes the plural form. To put it in another way, antipasto technically refers to an individual dish. Meanwhile, antipasti is used when referring to multiple appetizers.
Why is it called an antipasto salad?
In Latin, "antipasto" means "before" and "pastus" means "meal." Thus, in traditional Italian cuisine, the term "antipasto" refers to the first course of a meal.
How long can antipasto last in the fridge?
If stored properly in an airtight container, antipasto salad can last for about 1 to 3 days in the fridge. It's best to keep any leftovers in the refrigerator as they don't freeze well. If you're making this salad ahead of time, store the salad ingredients and the dressing separately. It can be stored in the fridge for 3 to 5 days.
How To Make Antipasto Salad
This antipasto salad is full of Italian flavors and comes loaded with salami, prosciutto, cheese, and veggies. Toss everything in a homemade Italian dressing for a fuller meal!
Ingredients
For Dressing:
¼ cup olive oil

1 tsp dijon mustard

2 tbsp red wine vinegar

1 tbsp lemon juice

¼ tsp garlic powder

¼ tsp onion powder

½ tsp dried oregano

Salt and pepper, to taste
For Salad:
1 head Romaine lettuce, (about 8 cups), large, chopped

½ cup salami, chopped

¼ cup olives

1 cup canned chickpeas, rinsed and drained

½ cup prosciutto, chopped

6 cups mixed salad greens

½ cup marinated mozzarella balls, drained

1 cup cherry tomatoes, halved

½ cup roasted red peppers, coarsely chopped

½ cup marinated artichoke hearts, drained

6 small pepperoncini peppers

chopped parsley, optional garnish
Instructions
Dressing:
Place all of the salad dressing ingredients in a jar and shake until thoroughly combined. Set aside.
Salad:
Place the lettuce in a large bowl; toss with half of the dressing.

Arrange the meats, cheese, olives, chickpeas and vegetables on top of the greens.

Drizzle the remaining dressing over the top.

Garnish with parsley if desired.

Serve and enjoy!
Nutrition
Calories: 

420.77kcal

Fat: 

32.75g

Saturated Fat: 

7.70g

Trans Fat: 

0.51g

Monounsaturated Fat: 

16.58g

Polyunsaturated Fat: 

3.79g

Carbohydrates: 

15.88g

Fiber: 

5.51g

Sugar: 

2.12g

Protein: 

19.07g

Cholesterol: 

53.82mg

Sodium: 

1558.65mg

Calcium: 

143.97mg

Potassium: 

475.60mg

Iron: 

4.08mg

Vitamin A: 

267.63µg

Vitamin C: 

43.32mg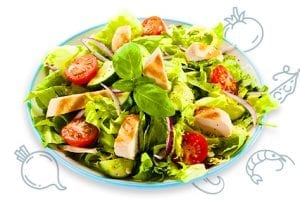 Conclusion
Try bringing an antipasto salad platter to a potluck, picnic, or backyard party — it's gonna be a total hit! Even better is you can make this recipe your own by switching up the ingredients. Tie everything with a flavorful Italian salad dressing, and you've got one the best salad dishes ever!