Lobster ravioli is a next-level dish for anyone who loves pasta and seafood. A truly sophisticated meal, this homemade ravioli is stuffed with a lobster filling and dressed with a flavorful sauce. It totally fits the bill if you're looking for an extravagant dinner to wow your guests. We love a pasta dinner followed by a decadent Olive Garden tiramisu dessert for a perfect Italian-inspired meal.
A ravioli is a type of pasta that's usually filled with meat, vegetables, and cheese. Making this stuffed pasta can be a labor of love, but we promise it's all worth it! Think of this dish in 4 parts: the homemade pasta, the ravioli filling, the sauce, and the garnish. Everything in this recipe is made from scratch, making this meal even more delicious. Case in point: the result of this tasty lobster ravioli recipe checks all the flavor boxes!
What's in Our Lobster Ravioli Sauce?
Drizzled with sauce, this ravioli is even more mouthwatering! Apart from teaching you how to make fresh stuffed pasta at home, we'll also help you whip up a delicious sauce for ravioli.
Our ravioli sauce takes time and effort to make, but the outcome is an amazingly unique sauce that is the life of the dish itself. To make the best sauce for lobster ravioli, a lobster stock is reduced to half its amount, delivering a very concentrated shellfish flavor. Here are the ingredients you need:
Lobsters

– Use fresh lobsters. Wash thoroughly, and chop them with a cleaver or a large, sharp knife.

Vegetable Oil

– You can use olive oil, but feel free to replace it with butter if you're in a pinch.

Tomato

– Use fresh ones for this recipe!

Tomato Paste

– It adds intense tomato flavor and makes the sauce thick and rich.

Brandy

– Use a good quality brandy of your choice.

Garlic and Onion

– They add flavor to the lobster sauce.

Leek

– It lends a slightly sweet taste.

Celery Stalk

– Make sure to wash thoroughly before chopping and adding to the sauce.

Herbs

– We used basil and thyme for an earthy and subtle peppery flavor.

Vanilla Beans

– Incorporate to provide a hint of vanilla flavor to the sauce.
Tips for Making Lobster Ravioli
Homemade ravioli always tastes better than the store-bought ones. Fill the pasta dough up with an elaborate lobster ravioli filling, and it transforms into  an exquisite dinner. It sounds fancy, but there's no need to be intimidated by making this seafood ravioli from scratch. Our easy-to-follow recipe will help you get started on the right foot! 
Here are some must-save tips on how to make ravioli at home:
Use Italian 00 Flour for the pasta dough

. Our

ravioli dough recipe

for this

homemade lobster ravioli

requires 00 flour. This super fine flour can produce a softer, fine-textured dough that's effortless to knead and won't tear easily. 

Let the pasta dough rest before rolling it into a thin sheet.

After making your

homemade ravioli dough

, allow it to rest for at least 30 minutes. That way, it will be easier to stretch. Cover with a plastic wrap and place in the refrigerator. 

Make sure the dough is thin enough

. Generally, the pasta dough used for

ravioli recipes

should be paper-thin. Otherwise, you will end up with undercooked and chewy ravioli. You can easily achieve this with a pasta machine, but if you don't have it, using a rolling pin will also work. Although, it might take a bit more time.   

Seal the ravioli properly

. Sealing the stuffed dough the right way keeps the fillings from leaking while the ravioli is cooking. To  close the stuffed dough, make sure to press out any excess air and brush the edges with water. 

Cut your homemade lobster ravioli into various shapes

. You can also get creative and shape the stuffed pasta dough into squares, circles, diamonds, and even hearts. Use a good-quality ravioli cutter or play with cookie cutters with different shapes. 

Don't overcook the ravioli

. We suggest that you monitor the stuffed pasta pieces as they cook. Fresh ravioli tends to cook very fast, around 3 to 5 minutes only. When some start to rise and float, it only means they're good to go. Cook them longer than necessary, and the filling might burst out. 

Explore other delicious ravioli filling ideas

. Send your seafood ravioli to the next level by combining the lobster with chunks of shrimp meat. A crab and prawn ravioli also tastes luxurious and fancy enough for a special

dinner for two

.
If you have any leftover ravioli, you can store them in an airtight container and keep them in the fridge. These can last for about 3 to 5 days. To extend their shelf life up to 1 to 2 months, freeze your lobster ravioli. Spread the filled pasta pieces in a single layer on a baking sheet and freeze them. Once frozen, transfer them to a freezer-friendly container and put it in the freezer. To reheat the lobster ravioli, just cook them straight from the freezer!
And if you plan to prepare the ravioli in advance, keep the dough and the filling separately. Store these in the fridge, and only assemble the ravioli only when you're ready to cook.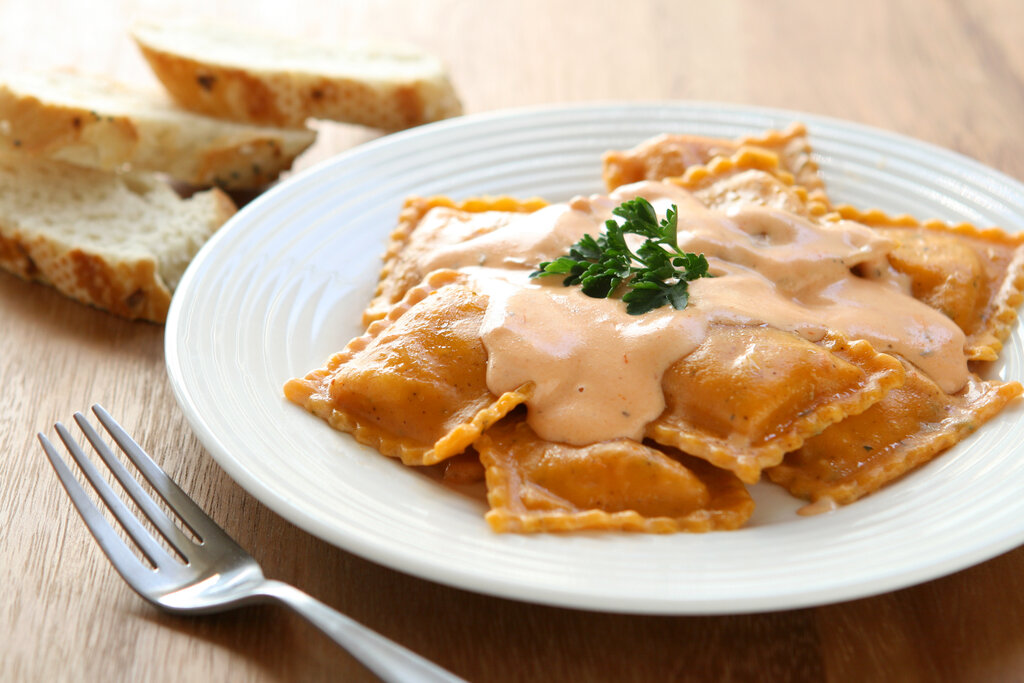 Lobster Ravioli Recipe
How to Make Lobster Ravioli
Stuff your fresh spinach ravioli with a lobster filling, and slather them with lobster sauce and saffron emulsion. Serve with classic Italian sides for a complete Italian-style dinner.
Ingredients
1¼

lb

lobsters,

(2 pieces)
For Browned Lobster Stock Reduction:
2

lobsters,

bodies and shells

2

tbsp

vegetable oil

½

tomato,

chopped

1

tbsp

tomato paste

½

cup

brandy

1

yellow onion,

small, peeled and sliced

1

clove

garlic,

peeled and crushed

1

leek,

cleaned and sliced

1

celery stalk,

cleaned and sliced

1

green onion,

cleaned and sliced

2

branches

basil

2

sprigs

thyme

¼

vanilla bean ,

cleaned and scraped

salt,

to taste

ground black pepper,

to taste
For Saffron Emulsion:
1

parsnip,

medium-sized

½

tbsp

olive oil,

extra virgin

1

tbsp

unsalted butter

½

clove

garlic,

peeled and crushed

1

shallot,

small, peeled and sliced

½

leek,

roots and greens removed, cleaned, and washed

1

sprig

thyme

2

Kaffir lime leaves,

fresh

½

tbsp

black peppercorns

½

tbsp

saffron threads

¼

cup

white wine

1

cup

fish stock,

(or shellfish/vegetable stock)

salt ,

to taste

ground white pepper,

to taste

4

tbsp

unsalted butter
For Spinach Ravioli Dough:
½

lb

Italian 00 flour

2

eggs,

large

1

oz

spinach ,

pureed

¼

tsp

olive oil,

extra virgin

salt ,

to taste

ground white pepper,

to taste
For Ravioli Filling:
1

tbsp

unsalted butter

1

tbsp

olive oil,

extra virgin

1

shallot,

peeled and minced

1

garlic clove,

peeled and minced

1

celery stalk,

peeled and minced

¼

tsp

thyme,

chopped

¼

tsp

tarragon,

chopped

salt ,

to taste

ground black pepper,

to taste

tomalley,

reserved

lobster tails,

reserved, chopped

¼

cup

Cognac,

or Armagnac

2

tbsp

lobster stock

¼

cup

brioche,

diced into small pieces

1

egg yolk,

whisked

1

tbsp

pumpkin seed oil,

toasted

4

sprigs

chervil
Instructions
Bring an adequate amount of water to a boil in a large pot. Then, add the lobsters. After some time, turn off the heat and let them steep for 2 minutes.

Remove the lobsters and separate the tails and claws from the body. Afterward, return the claws to the water and steep them for 7 more minutes.

Remove the claws and allow them to cool for 5 minutes.

Next, remove the shells from the claws and tails. Cut the tails in half and reserve.

Reserve the shells for your browned lobster stock and the tomalley for the ravioli filling.
Browned Lobster Stock Reduction:
Preheat a large roasting pan in an oven heated to 450 degrees F.

Clean and chop the lobster bodies with a cleaver while the pan heats up.

Add half of the oil to the roasting pan as well as the lobster bodies. Then, return the pan to the oven and roast the lobster bodies for 10 minutes. Turn them over occasionally until they start to caramelize.

Add the chopped tomato. Return the pan to the oven once more, stirring every 5 minutes until the tomatoes start to caramelize.

Add the tomato paste and caramelize for 5 more minutes. Afterward, remove the roasting pan from the oven and deglaze it with brandy. Be cautious as brandy is flammable.

Slowly sweat all the other ingredients for the stock in the remaining oil in a separate stockpot on the stove. After that, add the roasted lobster bodies and cover them in water.

Bring the mixture to a simmer for 30 minutes and skim off the top of the stock.

Remove the dish from the heat and strain it through a chinois or cone-shaped sieve. Then, return it to heat and reduce the mixture until it achieves a syrup-like consistency. Season with salt and pepper, then set aside.
Saffron Emulsion:
Rub the parsnip with oil and roast it in the oven until it's done. Allow it to partially cool, then rub to remove the skin. Chop and set aside.

In a medium saucepan, cover and sweat the garlic, shallots, and leek in butter.

Next, make a sachet containing thyme, Kaffir lime leaves, and peppercorns.

Add the sachet, parsnips, saffron, and white wine to the saucepan. Then, cover the pan and simmer its contents for 5 minutes. Afterward, add the stock and simmer for another 10 minutes.

Remove the pan from heat and transfer the sachet to a blender. Purée it completely and strain it using a fine sieve.

Return the pan to heat, adjust the seasonings, and add butter. Froth the pan's contents using a hand blender until the butter is emulsified and very foamy.
Spinach Ravioli Dough:
Place the Italian 00 flour in the bowl of an electric mixer. Make a well and add the whisked eggs, spinach puree, oil, salt, and pepper.

Attach the paddle and mix until the dough is formed. Continue mixing for at least 4 minutes to develop the gluten.

Make sure that the dough is lightly soft, elastic, and is nothing more than faintly damp to the touch. If the dough is wet, continue mixing and add the all-purpose flour. Do this until its texture has improved.

Remove the dough from the bowl. Then, wrap it in plastic and store it in the refrigerator. Let it rest for at least 1 hour.

Remove the dough from the refrigerator. Using a pasta machine, roll out the pieces of dough until they become very thin.

Lay the sheets out on a cutting board. Then, using a large circular cutter, cut out 8 large disks (approximately 3 inches) to make the ravioli. Cut 4 of the disks 1 size bigger than the others, so they can act as tops that need to be stretched down around the filling during assembly.

Lastly, lay the disks on parchment paper and refrigerate.
Ravioli Filling:
In a small saucepot, melt the butter with the oil. Then, add the shallot, garlic, celery, thyme, and tarragon. Season with salt and pepper, and let them sweat.

Add the tomalley and lobster to the mixture, and flame with cognac.

After that, add the lobster stock and reduce. Stir in the brioche, adjust the seasoning, then remove it from heat and cool.

Lay out the 4 smaller ravioli pasta disks. Divide the filling into 4 even parts and roll them into balls.

Place the balls in the middle of the pasta disks and brush the circumference of the dough with egg yolk.

Place the 4 large ravioli disks over the fillings and stretch them down. Use a fork to press the circumferences of the disks together and seal the ravioli.

Preheat a large pot of boiling salted water and gently add the ravioli.

After some time, turn down the water to a simmer and cook the ravioli for 3 to 4 minutes. Then, remove the ravioli from the water, dry them, and serve.

Plate the ravioli, drizzle them with lobster reduction, and spoon the saffron emulsion all around them. Lastly, garnish with a drizzle of toasted pumpkin seed oil and chervil.

Serve immediately and enjoy!
Recipe Notes
For making the fresh pasta, make sure to dust the formed dough with flour to ensure it doesn't stick to the pasta machine.

For making the lobster ravioli sauce, you can also replace the brandy with vodka or dry white wine.

Don't simmer the lobster stock for more than 30 minutes or it will turn bitter.

You may add cream or butter to the lobster sauce if you wish.
Nutrition
Sugar:

7g

:

Calcium:

228mg

Calories:

898kcal

Carbohydrates:

73g

Cholesterol:

332mg

Fat:

42g

Fiber:

6g

Iron:

6mg

Monounsaturated Fat:

12g

Polyunsaturated Fat:

4g

Potassium:

869mg

Protein:

31g

Saturated Fat:

21g

Sodium:

861mg

Trans Fat:

1g

Vitamin A:

2632IU

Vitamin C:

23mg
Nutrition Disclaimer
Frequently Asked Questions
What kind of sauce goes well with lobster ravioli?
There are so many sauces that would go well with this pasta dish. Besides the lobster sauce and saffron emulsion which we recommend, you can also make a brown butter sauce for this ravioli. This pair is truly a classic! Cream sauces such as butter cream sauce and tomato cream sauce let the flavors of lobster ravioli shine as well. If not, this stuffed pasta also tastes exquisite when served with alfredo or vodka sauce. Lastly, you can never go wrong with a tasty lemon garlic butter sauce for lobster ravioli, as its flavor blends perfectly with seafood.
What should I serve with lobster ravioli?
You can pair lobster ravioli with many delicious side dishes, including plain Italian bread, cheese polenta, and this honey-glazed potatoes and carrots recipe. We're also all about this fruit salad with cream cheese that's sure to elevate your pasta dinner. If you want a simple yet delicious side dish, go for roasted and grilled vegetables.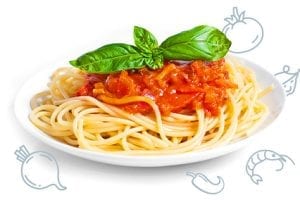 Conclusion
Impress your guests with this elegant lobster ravioli. Everything about this seafood-stuffed pasta is delicious — from the filling to the sauce. It's a show-stopping dish that's perfect for any occasion. Served with your favorite sides, it might even elevate your ordinary weeknight meal!