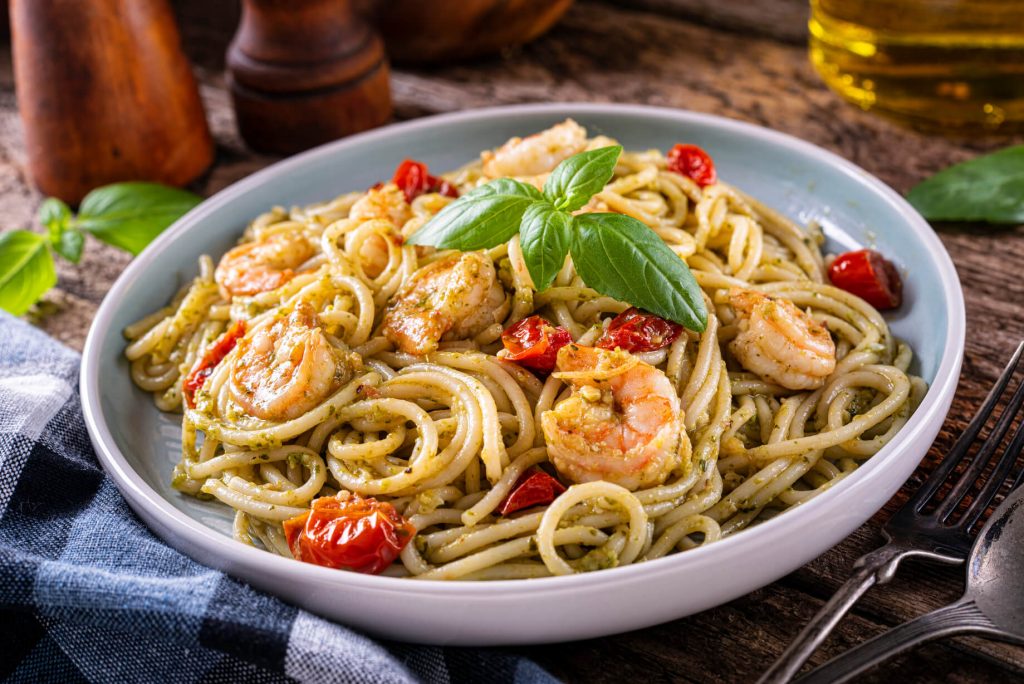 Shrimp Pesto Pasta Recipe
Fettuccine pasta tossed in basil pesto sauce, then topped with shrimp and tomatoes. This easy-to-make shrimp pesto pasta recipe uses some cupboard-staple ingredients for a simple and surprisingly delicious dinner. Of all the ways to prepare and eat shrimp, this should be one of your new favorites. Best of all, everything's ready in as fast as 20 minutes.
Looking for more easy pesto pasta recipes? Try this Trenette al Pesto Pasta inspired from Disney Pixar's Luca, that's also loaded with potatoes and green beans.
What's in This Shrimp Pesto Pasta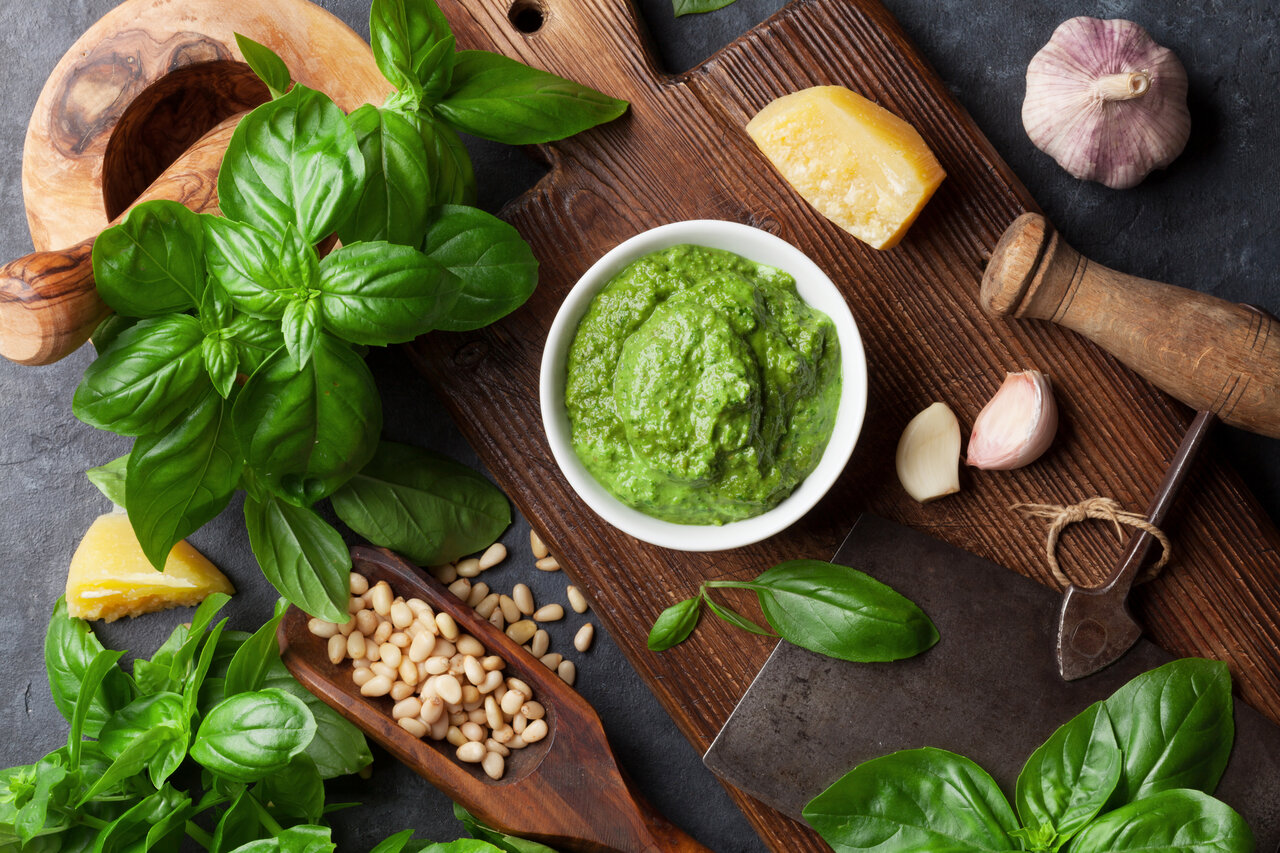 This pesto shrimp pasta recipe is easily adjustable to fit your preferences. Below are the ingredients you will need to get started:
Fettuccine

– You can use any

type of pasta

, long or short. Spaghetti, linguine, penne, bowtie, or rigatoni are great alternatives as well

Basil pesto

– Homemade is preferred. But you can also use store-bought pesto, which can be equally delicious and aromatic.

Shrimp

– This

shrimp with pesto pasta

calls for raw, fresh shrimp. Get the freshest ones you can find. They should be slightly transparent and smell like the ocean. Smaller-sized shrimps work best for this

pesto pasta recipe

so you get more shrimp pieces throughout the dish.

Olive oil

– Olive oil is traditionally used for pesto sauce. But you can swap it for neutral oils like avocado, canola, or grapeseed.

Italian seasoning

– This is a blend of herbs like basil, oregano, rosemary, thyme, and marjoram. It gives the dish an earthy flavor.

Parmesan cheese

– Finely grated parmesan cheese gives the pesto sauce its distinct salty, nutty bite. It also serves as a thickener.

Cherry tomatoes

– Shrimp and pesto go as well together as with other ingredients like tomatoes. Fresh, juicy, and ripe tomatoes add a sweet, tart, and tangy flavor to the dish.
Tips for Making Shrimp Pesto Pasta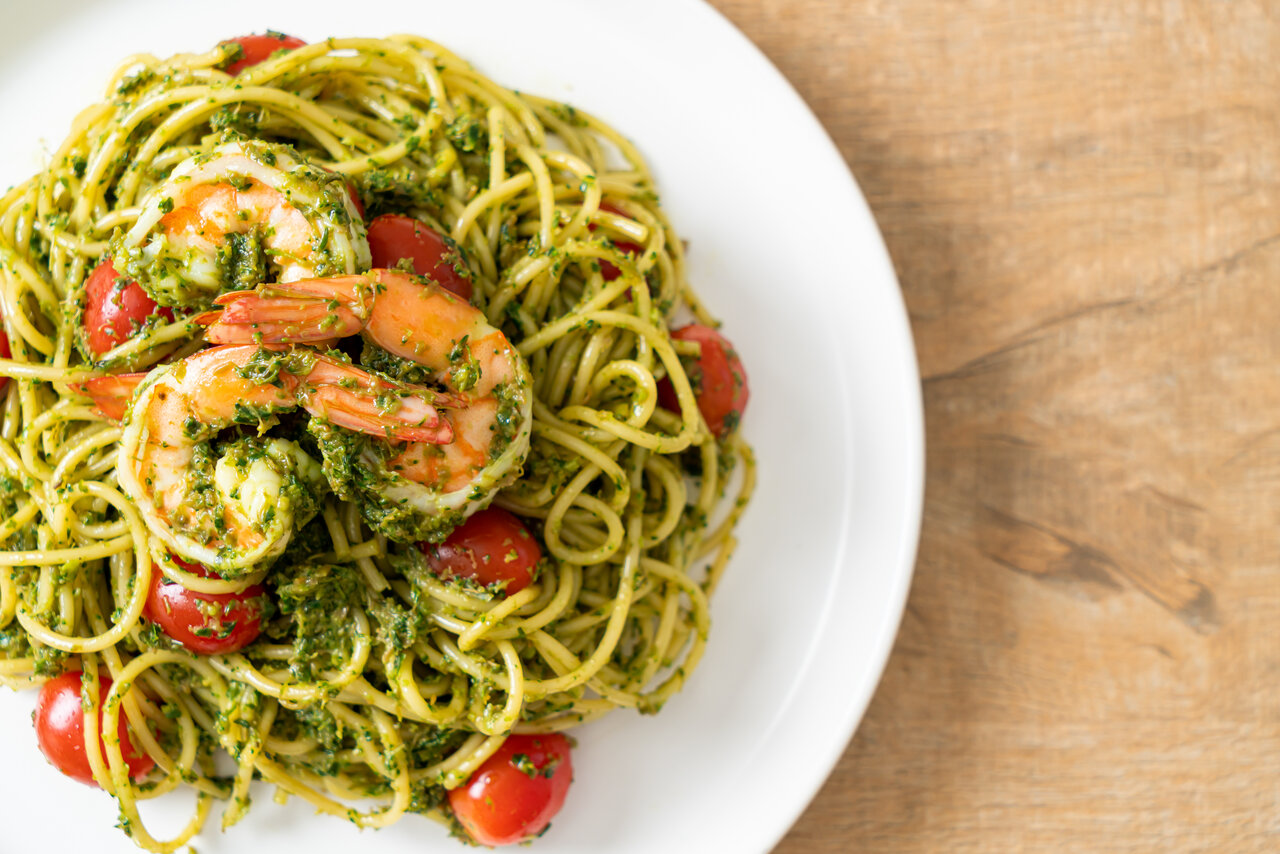 This shrimp pesto pasta is easy to make, even when you make homemade pesto sauce yourself. Here are a few tips to help elevate your shrimp and pesto pasta!
Use salt water when boiling the pasta.

This adds to the overall taste of the pasta recipe. Bring a pot of salted water to a boil and cook the pasta according to package directions or until

al dente.

Do not rinse the pasta after boiling.

A common mistake when preparing pasta is rinsing it to reduce the stickiness. Spray the pasta with a little olive oil instead to reduce stickiness.

Use pasta water to help the sauce stick to the pasta.

Don't drain all of the pasta water. Save some to help the oils from the pesto sauce stick to the pasta better. You can also use it to thin out the sauce. When heating the sauce and pasta, add the pasta water, little by little, and toss vigorously.

Do not cook the pesto sauce.

All the charm of pesto is in its fresh and raw flavor. Cooking the pesto sauce will change the makeup of the fresh basil, causing it to turn darker in color. So when serving shrimp pesto pasta, use the sauce at room temperature instead. Simply toss in the pasta and shrimp before serving.

Customize your dish.

Shrimp pesto pasta is already scrumptious on its own. Make it healthier by adding vegetables and fruits like zucchini and avocado. Or make it even more filling by also throwing in some hearty mushrooms.
Frequently Asked Questions
What goes well with pesto pasta?
Shrimp pesto pasta is a tasty dish that is delicious on its own. But you can elevate your pasta experience with garlic bread, antipasto salad, or roasted bell peppers served on the side. It also pairs well with smoky sides like grilled corn on the cob or grilled sea salted asparagus.
Is pesto sauce healthy?
Besides adding fresh, garlicky flavor to your dish, pesto sauce contains vitamins, minerals, and monounsaturated fats. It is part of the heart-healthy Mediterranean diet and helps reduce the risks of heart disease, diabetes, and cancer.
How To Make Shrimp Pesto Pasta
This recipe for shrimp pesto pasta is made with fettuccine tossed in basil pesto sauce. Topped with shrimp and cherry tomatoes for a filling meal! It's a fresh, easy-to-make, flavorful meal perfect for dinner with the family.
Ingredients
10 oz fettuccine, or your preferred pasta

1 lb shrimp, small to medium, peeled, deveined

¾ cup basil pesto

1 tbsp olive oil

salt and pepper, to taste

1 tsp Italian seasoning

¼ cup parmesan cheese

1 cup cherry tomatoes, halved

parsley, chopped, optional garnish
Instructions
Bring a large pot of salted water to a boil and cook the pasta according to package directions.

Heat the olive oil in a large pan over high heat. Add the shrimp and sprinkle with Italian seasoning, salt, and pepper.

Cook for 2 to 4 minutes or until the shrimp is just pink and opaque. Turn off the heat.

Drain the pasta and add it to the pan with the shrimp. Stir in the pesto.

Add the cherry tomatoes and parmesan cheese to the pan. Toss to combine.

Garnish with chopped parsley, serve, and enjoy!
Nutrition
Calories: 

591.15kcal

Fat: 

24.19g

Saturated Fat: 

4.67g

Trans Fat: 

0.02g

Monounsaturated Fat: 

3.52g

Polyunsaturated Fat: 

1.19g

Carbohydrates: 

60.87g

Fiber: 

4.06g

Sugar: 

3.15g

Protein: 

31.13g

Cholesterol: 

153.21mg

Sodium: 

1288.18mg

Calcium: 

288.30mg

Potassium: 

428.31mg

Iron: 

3.24mg

Vitamin A: 

111.85µg

Vitamin C: 

10.00mg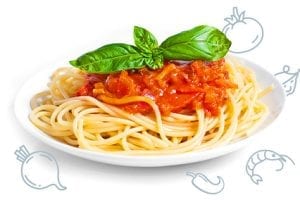 Conclusion
Shrimp pesto pasta can be quite intimidating if you have never cooked it before. But this recipe proves otherwise. It's super easy to make, yet it is so filling and delicious. It cooks up so fast that you will have a hassle-free, flavorful dinner in just 20 minutes!