A vanilla panna cotta recipe is a must-try on our list of easy desserts that you can serve at parties and gatherings. If you're after serving something sweet and regal to end the night, we suggest you try this recipe out. 
Aside from the delicious texture and flavors of the panna cotta, serving in martini glasses adds an extra touch of fancy and makes your dining experience even more enjoyable. If you're looking for other fancy dishes, drinks, and more desserts to serve with our vanilla panna cotta, check out 20 Easy Culinary School Recipes To Master and make your full-course meal.
What is Panna Cotta?
Panna Cotta is an Italian dessert that literally means cooked cream. It's known for its very elegant yet simple look. It is soft, melts in your mouth, and gives off just the perfect amount of sweetness.
It is super easy to make and its flat sweetness makes it flexible to the flavors you pair it with. You can never go wrong with serving it for unique events and occasions. 
It's made with heavy cream, gelatin, and sugar to achieve that iconic jiggle that it looks like it's about to break and melt. We're topping our panna cotta with sweet and fruity, fresh berry compote. The compote gives it extra flavor without overpowering the base flavor and compliments it well.
Tips In Making Panna Cotta And Delicious Toppings You Can Try
A common struggle with making panna cotta is achieving that jiggly consistency. Keep in mind that in cooking the gelatin, you should not boil it. Boiling the gelatin will eliminate the silky texture it needs to hold up. Also, keep stirring until we dissolve the gelatin to avoid bubbles forming.
Fruits are a common company of panna cotta but chocolate is good too. You can top it with grated chocolate of your choice or drizzle it with chocolate syrup before serving. Adding homemade whipped cream is also a brilliant choice. Serving it on wine glasses or mini shot glasses will also give you a plus on aesthetics!
What is Berry Compote?
Berry compote is any berry doused in water and sugar, or any sweetener until it thickens to a creamy sauce with fruit bits. This heightens the flavor of anything you top it with. 
It's a great addition to our buttermilk panna cotta recipe because it goes really well with the gelatin texture of our panna cotta. It also improves its flavor. The sweet fruity flavor heightens the excitement as the buttermilk panna cotta melts in your mouth.
You can add berry compote to a variety of dishes. You can top this fruit sauce in your breakfast french toast or in cheesecakes like in our Strawberry Vanilla Cheesecake Recipe. 
In this recipe, we used raspberry compote. But you can also try to make a compote with any ripe berry of your choice, like blueberries and strawberries. Now that's something to look forward to.
A Panna Cotta Recipe For Every Occasion
Every occasion deserves a treat! Try out these panna cotta recipe suggestions you can try for unique and memorable events.
Strawberry Panna Cotta Recipe for Valentine's

–  The color of strawberry itself already celebrates love. Try our

Panna Cotta with Balsamic Strawberries

. It would be perfect for an intimate celebration. Enjoy the flavors of a mix of tangy and juicy strawberries and a sweet, silky, vanilla flavored panna cotta base. Try to give it a personal touch by topping it with your preferred ingredients.

Pineapple and Coconut Panna Cotta for Summer Picnics –

This

panna cotta recipe

will instantly travel you from your kitchen to a tropical island in just one bite. Add natural milky sweetness and that citrus juices you crave every summer to your

classic panna cotta recipe

by trying out our

Pineapple and Coconut Panna Cotta

if you miss the beach waves and the beach vibes. You can also try a classic panna cotta with summer berries. 

Buttermilk Panna Cotta –

 Its elegant taste comes from the perfect balance of milky gelatin taste and consistency, extra sweetness that the berry compote adds to it. Plus the fresh bites of fruits you get every scoop to make this the

ultimate panna cotta recipe

to serve for all occasions. It is also as kid-friendly as it is. May it be Christmas parties or the 4th of July. Buttermilk Panna Cotta will never cease to satisfy your tastebuds.
Impress your guests and yourself by serving this milky and silky dessert or you can just indulge your cravings by following this super easy panna cotta recipe today.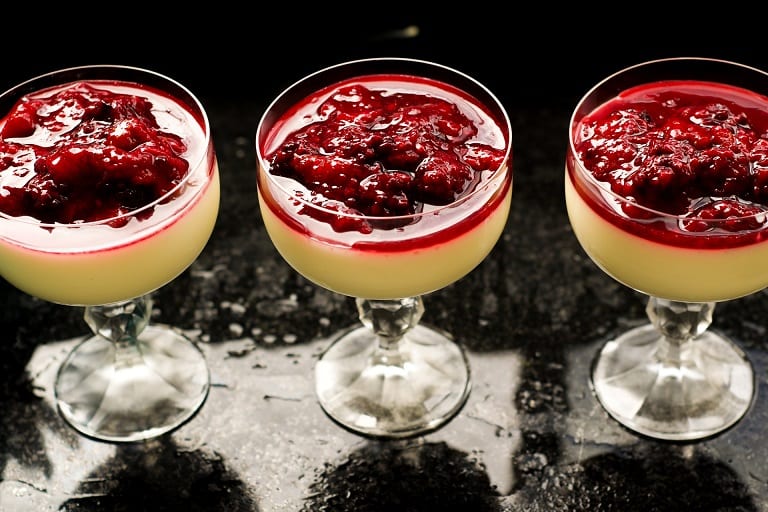 Buttermilk Panna Cotta with Berry Compote Recipe
How To Make Buttermilk Panna Cotta "Martinis" with Fresh Berry Compote
The regal flavor of this Italian panna cotta matches its fancy look. Enjoy the perfect sweet and fruity flavor and silkiness of this buttermilk panna cotta that melts in your mouth.
Ingredients
For Fresh Berry Compote:
¼

cup

water

2

tbsp

sugar

1½

cups

fresh raspberries,

or other ripe berries, divided
For Buttermilk Panna Cotta:
1¾

cups

buttermilk

2

tsp

powdered gelatin,

(1 envelope)

1¼

cups

heavy cream

¼

cup

sugar

1

tsp

lemon juice

¼

tsp

vanilla extract
Instructions
Fresh Berry Compote:
In a small saucepan, combine the water and sugar. Stir the mixture over medium heat until the sugar dissolves. Afterward, add ½ cup of berries.

Cook the mixture for 2 to 3 minutes, stirring and crushing the berries until the mixture produces a jam-like consistency.

Remove the pan from the heat and gently add in the remaining berries.

Pour the compote evenly into 6 large martini glasses and refrigerate until you are ready to use them.
Buttermilk Panna Cotta:
Pour the buttermilk into a medium mixing bowl.

Sprinkle the gelatin powder evenly over the buttermilk and leave it to soften for 1 minute; then stir the gelatin into the buttermilk. Afterward, set this mixture aside.

In a small saucepan, stir the heavy cream and sugar together.

Over medium heat, bring the mixture to a boil, then remove it immediately from the heat. Pour the hot cream mixture over the buttermilk and stir to combine.

Stir in the lemon juice and vanilla extract. Then leave the mixture to cool at room temperature, stirring occasionally.

Remove the martini glasses from the refrigerator. Spoon the room-temperature panna cotta mixture evenly into the glasses.

Return the glasses to the refrigerator to chill for at least 2 hours.

Garnish them with fresh mint sprigs or fresh berries before serving and enjoy.
Nutrition
Sugar:

19g

:

Calcium:

116mg

Calories:

287kcal

Carbohydrates:

22g

Cholesterol:

76mg

Fat:

21g

Fiber:

1g

Iron:

1mg

Potassium:

153mg

Protein:

5g

Saturated Fat:

13g

Sodium:

96mg

Vitamin A:

862IU

Vitamin C:

2mg
Nutrition Disclaimer
Frequently Asked Questions
Can you make Panna Cotta in jars?
Yes, you can! The buttermilk panna cotta mixture takes form and turns into a pudding once it cools down. So you can pour your mixture anywhere and it will take up the shape of whatever container you put it in to.
Do you have to stir the gelatin consistently?
After you are sure that you have dissolved the gelatin in 140 to 158 degrees F, you can stop stirring. Bubbles form when we don't dissolve the gelatin properly. We stir to avoid bubbles to form.
Can I make panna cotta ahead of time?
Yes! Just make sure that you keep them properly covered and chilled. This is an excellent make-ahead dessert that you can prepare two days ahead of serving.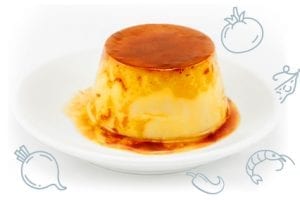 Conclusion
Make this your next go-to recipe for an easy-to-make dessert that you can whip up for any party, hangout, or gathering. This dessert is not too sweet that it will leave you wanting for another serving. You'll surely enjoy the silky texture and milky and fruity taste of this panna cotta that makes it a delicious and light dessert.
Topics: