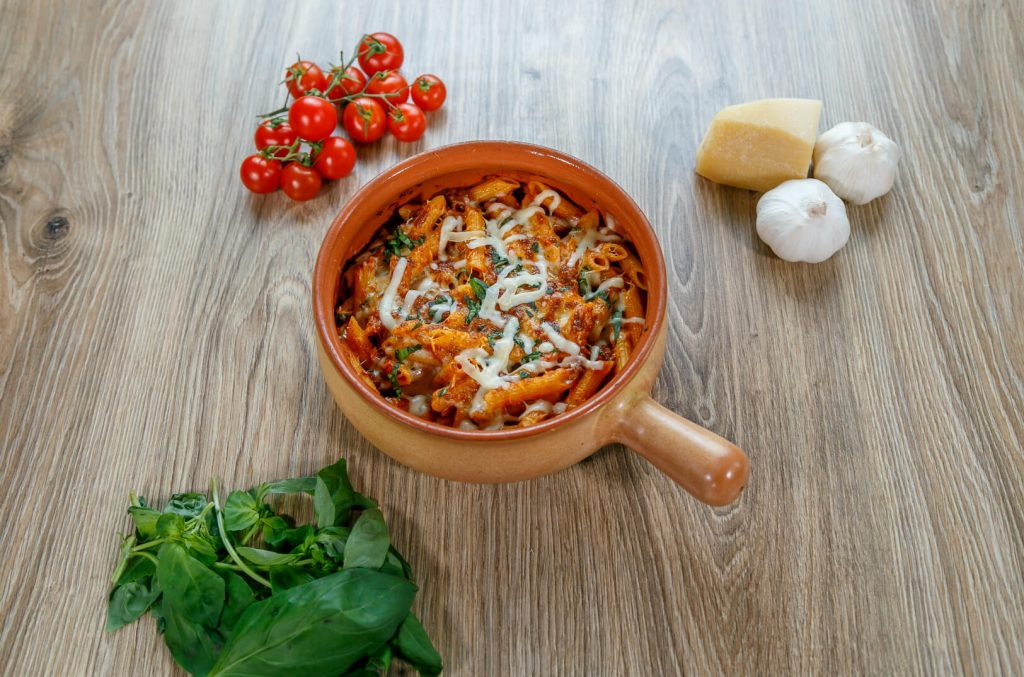 Pasta al Forno Recipe
This pasta al forno recipe makes a hearty and complete meal in a snap. Having to prepare a delicious meal for friends or family can be time-consuming sometimes. But I guarantee that my recipe makes a quick and easy dish that uses the simplest ingredients. Now you can have a classic Italian meal anytime without much hassle!
Pasta al forno is an Italian oven baked pasta dish. Al forno translates to "on fire", and "from the stove", based on the wood-fire brick oven cooking method that Northern Italians used. But no need to get your own brick oven when making this Italian pasta bake. Your own electric oven will do!
The pasta usually used is short or medium in length and cooked until al dente. The al forno pasta is made up of sausages, onions, garlic, and herbs. It is simmered for a long time to build flavor. It is then topped with cheese and baked until the dish comes together as a whole.
In my pasta al forno recipe, I used simple and easy-to-find ingredients. I used canned tomato sauce and marinara sauce for my convenience and to cut back on cooking time. Though you may also make the sauce from scratch by using the freshest and juiciest tomatoes you can find! Try tossing in some herbs like oregano into the sauce as well for added flavor and aroma. For my rigatoni al forno meat, I used mild Italian sausages as a base. But you may also try it with some hearty meatballs. I used rigatoni for my pasta, though spaghetti, mostaccioli, and penne are also excellent alternatives.
You can also make this pasta al forno recipe into a vegetarian, no meat dish. Simply replace the meat with veggies such as eggplants, mushrooms, or bell peppers. Try to stick to simple flavors as much as possible, and don't overdo it! Italian recipes are often easy to follow and very straightforward. Remember: less is more.
This baked pasta with mozzarella is a dish you can make on your own whether you're a novice home cook or a seasoned chef. It can feed families or crowds, so I usually serve it at gatherings during lunch or dinner. Having this rigatoni al forno recipe around will surely benefit your meal preps. You can pair this pasta dish with other sides that will enhance your meal, like buttery and crispy garlic bread or a hearty and healthy salad.
How To Make Pasta al Forno
Rigatoni pasta is tossed in a rich tomato sauce with savory sausage. It's then topped with mozzarella cheese for a cheesy, gooey pasta bake!
Cooking:
1 hour 15 minutes
Ingredients
For Sauce:
2 tsp olive oil

2 lb mild Italian sausage, casings removed

½ cup onion, finely chopped

2 tsp garlic, minced

24 oz marinara sauce, (1 jar)

8 oz tomato sauce, (1 can)
For Assembly:
16 oz rigatoni, or other short pasta, cooked according to package directions in salted water

2 cups mozzarella cheese, shredded

2 tbsp fresh parsley, chopped

cooking spray
Instructions
Preheat the oven to 350 degrees F. Coat a 9×13-inch pan with cooking spray.

In a large pan, heat oil over medium high heat. Add sausage to the pan.

Cook the sausage for 3 to 4 minutes and crumble it up with a spoon into small pieces. Add the onion to the pan. Cook for an additional 5 minutes until sausage is browned and cooked through and the onion has softened.

Add garlic to the pan and cook for 30 seconds. Pour marinara sauce and tomato sauce into the pan and bring it to a simmer.

Let the sauce simmer for 5 minutes or until thickened. Toss the cooked pasta with the sauce until coated.

Pour the pasta mixture into the prepared pan and top with mozzarella cheese.

Cover the pan with aluminum foil and bake for 20 minutes.

Take the cover off and bake for another 15 to 20 minutes or until the pasta is bubbly and cheese is melted and browned.

Cool for 5 minutes.

Garnish with a sprinkle of parsley, then serve. Enjoy!
Nutrition
Calories: 

912.03kcal

Fat: 

58.75g

Saturated Fat: 

23.61g

Trans Fat: 

0.00g

Monounsaturated Fat: 

24.53g

Polyunsaturated Fat: 

7.07g

Carbohydrates: 

54.83g

Fiber: 

3.99g

Sugar: 

8.30g

Protein: 

39.32g

Cholesterol: 

145.71mg

Sodium: 

1788.32mg

Calcium: 

437.71mg

Potassium: 

840.25mg

Iron: 

3.24mg

Vitamin A: 

166.29µg

Vitamin C: 

8.18mg