Advertisement
Continue Reading Below
For all pork enthusiasts out there, rejoice! These easy pork recipes are exactly what every aspiring cook needs. Not only do they contain less than a handful of ingredients, but they're relatively easy to make too. We're going to show you just how effortless it can be to whip up a delicious meal with the star of the show being a delicious cut of pork. 
It doesn't matter if you're just starting out in the kitchen or you've been dabbling with the cooking equipment for a little while. These pork recipes are a cinch! Therefore, don't just settle for boring ole pork chops because we've got casseroles, glazed pork, and BBQ too! Take your pick from our list below.
27 Easy Pork Recipes With Just 5 Ingredients (or Less)!
You don't have to sacrifice presentation in exchange for a quicker and more effortless time in the kitchen. Check out these easy pork recipes for dinner, party, or get-together dishes that you can recreate with minimal effort and ingredients.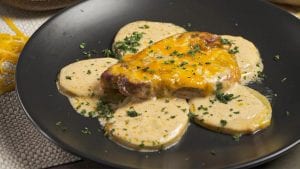 This casserole is definitely one to serve for cozy family dinners because it gives off a comforting feeling. Aside from that, you can't go wrong with a creamy and cheesy pork meal that even kids are bound to enjoy! 
Try making your own rendition of this dish to taste the flavors of tender and perfectly seasoned baked pork chops and potato slices swimming in a mixture of creamy cheddar and asparagus soup, topped with melted cheddar cheese. You'll only need these five key ingredients, plus basic ones from your pantry such as garlic, vegetable oil, butter, salt, and pepper to taste. If you want, sprinkle some chopped parsley on top for a pop of color.
Recipe for Inspiration: Easy Cheesy Pork Casserole
Garlic and Glazed Pork Chops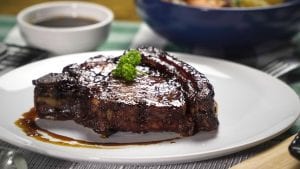 Got a weekend potluck coming up? Well, there's no better way than to go with the easiest dish on the menu — pork chops. Our one-pot recipe makes it quick and easy but still full of that mouthwatering bite your guests can't resist. 
The brown sugar glaze and the garlic seasonings bring a savory zest to the meat from the outside all the way to the inside. To avoid getting dry and tough pork chops, you need to let the meat marinate for a bit so that it absorbs the flavoring. Not only that but using a tenderizing marinade, like this brown sugar glaze, helps to penetrate through the meat so that you can slice through it like a hot knife through butter.
Recipe for Inspiration: Glazed Brown Sugar And Garlic Pork Chops 
Advertisement
Continue Reading Below
Boiled Pork Tenderloin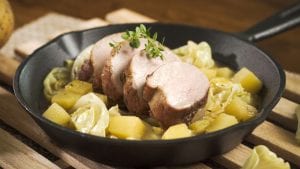 Another simple recipe to try is this boiled pork tenderloin recipe. Boiling is another way to cook the meat till it turns tender. Not only that, but boiling also helps lessen the actual cooking time. For this recipe, it simmers the meat for two hours in a delicious wine glaze. The wine gives the meat more smack and enhances the taste for a scrumptious meal. Out of all the pork recipes for dinner, this one has to be the easiest because it doesn't require much effort to cook. All you need to do is to put all ingredients in the pot and let it boil until the meat is properly cooked.
Recipe for Inspiration: Boiled Pork Tenderloin Recipe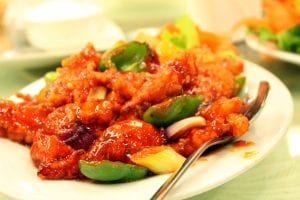 Want more unconventional pork dinner ideas? Instead of getting takeout from a Chinese restaurant, how about trying your hand at recreating this pork recipe inspired by an Asian-American fusion that we all know and love! Unlike the original stir-fried orange chicken or pork that calls for traditional oriental seasonings, you can make this dish with three ingredients that are more accessible! 
Savor the taste of succulent pork chops smothered with a sweet and tangy sauce that is unlike any other. Simply bake the pieces of meat together with a topping of deeply saccharin apricot preserves and zesty Italian dressing for a dish that you won't forget.
Recipe for Inspiration: Easy Sweet and Sour Pork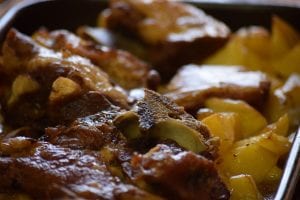 This pork recipe takes its cues from the classic pork and potato pairing. Sink your teeth into incredibly succulent and flavorful bone-in pork steaks that have been slowly marinated and baked in a mixture of Worcestershire sauce, grated garlic, and crushed rosemary. They're delicious on their own, but a batch of baked russet potatoes on the side would definitely tie your meal together. Feel free to incorporate this dish into your regular meal rotation, or save it for the holidays! 
Recipe for Inspiration: Pork Steak with Seasoned Potatoes
Advertisement
Continue Reading Below
Pork Braciole
Impress your guests by serving classic Italian braciole or braciola with this easy pork dinner recipe! For this one, the five main ingredients are pig skin, breadcrumbs, grated parmesan cheese, onion powder, and Italian tomato sauce. You'll also need to grab some basic stuff from your pantry, such as black pepper, oil, and butter. 
You should know that this dish requires a bit more time and patience, but the end product would definitely be worth the wait. Cut into crispy cheese-stuffed pork skin rolls simmered in tangy Italian tomato sauce for an incredibly gratifying meal.
Recipe for Inspiration: Pork Braciole in Tomato Sauce 
Pork Chops and Apples
This dish is a sure-fire way of satisfying the cravings of fall-enthusiasts! Cut into pieces of juicy pan-seared pork rib chops that have been oven baked with sweet cinnamon-sugar flavored apples. And yes, this dish only calls for four ingredients which makes it easy to recreate at home! For the best results, we highly recommend using cooking apples because they won't crumble as much compared to the regular dessert kind.
Recipe for Inspiration: Pork Chops and Apples 
Bacon-Wrapped Pork Tenderloin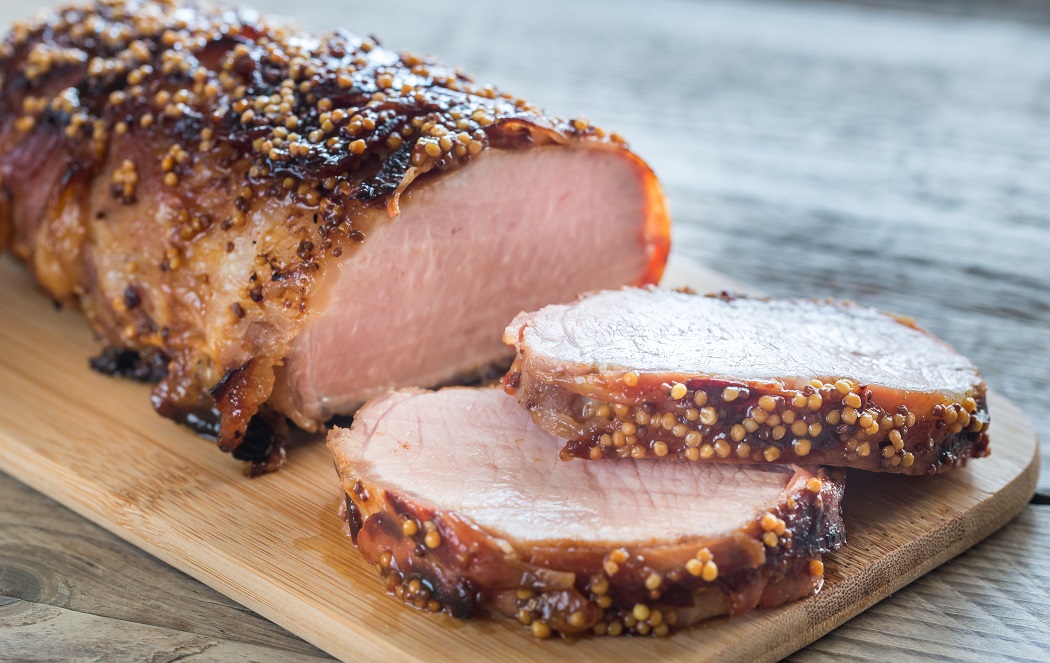 Meat lovers will surely appreciate this pork on pork dish. Not only does this recipe call for only three ingredients, but you also have the choice of cooking this dish in two different methods. If you don't want to fire up your grill, you can easily bake it indoors (or vice versa). After that, you'll get to enjoy a juicy bacon-wrapped tenderloin that cuts like a hot knife through butter.  
Recipe for Inspiration: Bacon Wrapped Pork Tenderloin (Grilled or Baked)
Advertisement
Continue Reading Below
Italian Pork Chops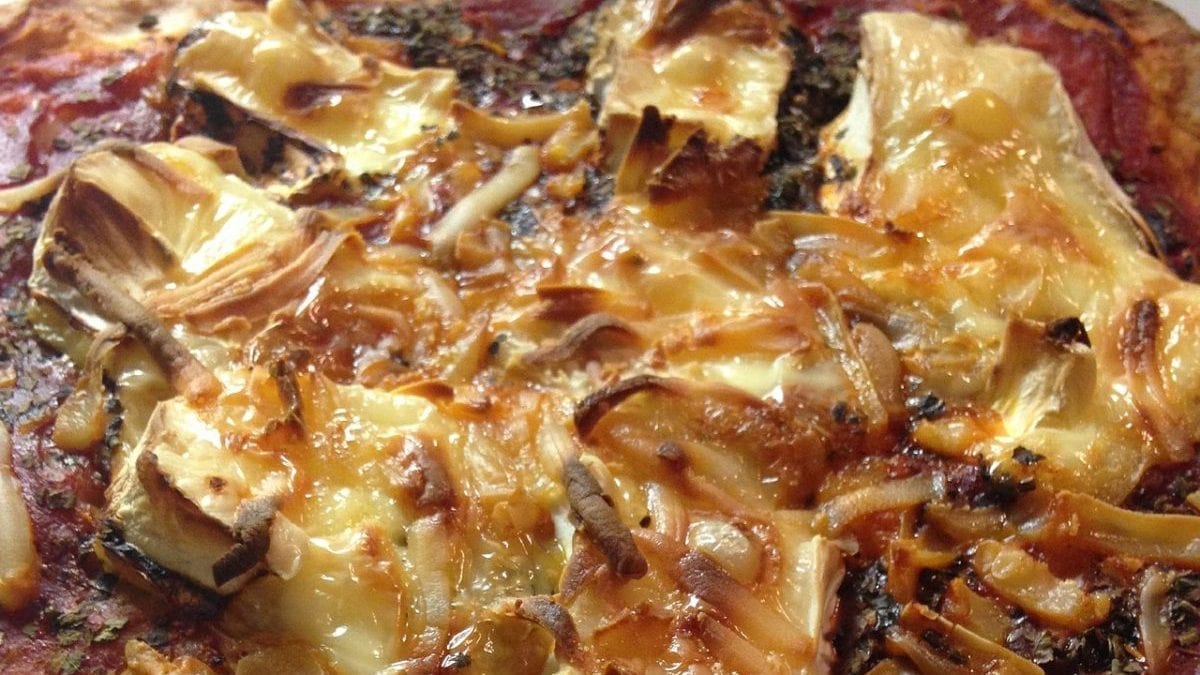 There's something truly comforting about the familiarity of Italian flavor combinations! If you love their cheesy tomato-based dishes, then this easy pork recipe might just be up your alley. Have a taste of crispy seasoned boneless pork chops swimming in warm spaghetti sauce and melted mozzarella cheese for a fun twist on classic culinary favorites.
Recipe for Inspiration: Italian Pork Chops Mozzarella
Easy Pork Recipes for Your Slow Cooker
What could be more effortless than combining the ingredients of your dishes and leaving them to cook inside one kitchen appliance? With these slow cooker pork recipes, you'll be able to do that and more! Get inspired with the list below:
Slow Cooker Cranberry Pork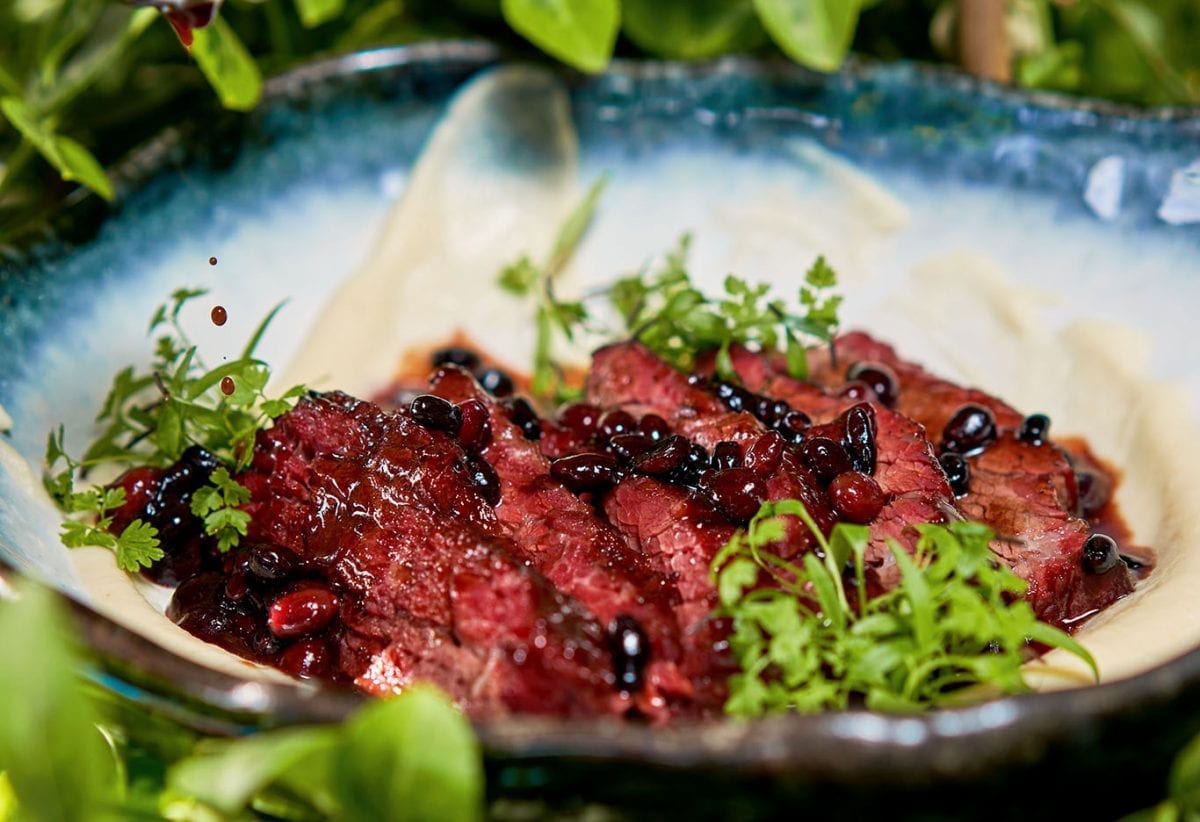 Cranberries are one of the many fruits that are often found in dishes during the Thanksgiving season. The berries have a unique natural sweetness with a tinge of a contrasting tart taste. European cranberries are more sour while cranberries that grow in Northern America have a more delightful sweetness to them. Aside from using them for Thanksgiving desserts and dishes, why not try it out on a slab of pork meat? Fruits and meat have a yin-yang relationship when it comes to their flavors. For this recipe, the sweetness of the cranberries compliments the savory palate of the pork.
Recipe for Inspiration: Slow Cooker Cranberry Pork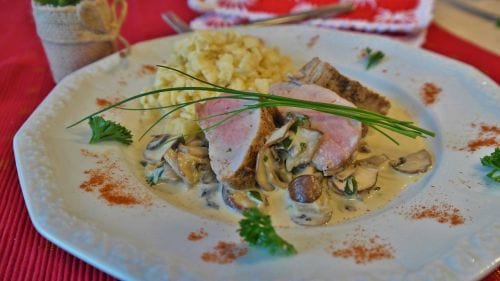 We've got another from our pork chop recipes but with an added twist. Trade in the usual fried pork chops with something more juicy and flavorful. For this recipe, all you need is a slow cooker to get things done. Let the pork chops simmer in a delicious mushroom or celery soup broth for a couple of hours. You will then get an incredibly juicy piece of meat. Plus, you can also use the remaining juices as a sauce over your pork chops. It's so simple to do and doesn't require any effort at all. The whole family will love this dish you've prepared for them over dinner.
Recipe for Inspiration: Pork Chops Supreme 
Advertisement
Continue Reading Below
Glazed Crockpot Ham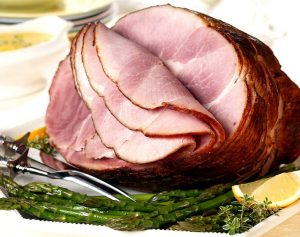 Reinvent your traditional honey-glazed ham by incorporating Dr. Pepper into your marinade! It may sound a bit unconventional, but this easy pork recipe plays on the same salvo of sweetness and savoriness that holiday hams tend to give off. 
More than that, the soda will impart more complexity to your dish with its signature cherry taste. The five main ingredients for this dish are a piece of ham, Dr. Pepper, mustard, honey, and maple syrup. You'll also need half a cup of brown sugar, although you can probably already get it from your pantry. When it's done, you'll be able to enjoy very tender cuts of pork in a treacly, caramelized sauce that might just take your guests by surprise. 
Recipe for Inspiration: Dr. Pepper And Brown Sugar Glazed Crockpot Ham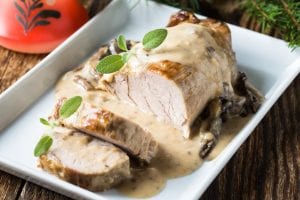 Have a taste of soft loin chops swimming in creamy mushroom soup with this tasty yet effortless dish! This is another one of those easy pork recipes that you can simply throw together in your slow cooker and forget about until it's ready to serve. 
Hectic schedule? We've compiled 10 Quick and Easy Dinner Recipes for Working Moms that you can try making for your family.
All you need is a can of mushroom soup, your main protein, and salt and pepper to taste. So, you can easily prep this loin chop dish even during busy days when you don't have much time to spend in the kitchen. Or when you don't have much food in your pantry. For a more balanced meal, serve your loin chops with veggies on the side!
Recipe for Inspiration: Crockpot Pork Loin Chops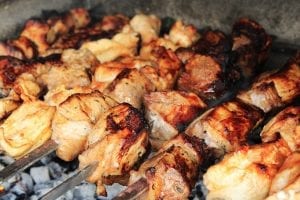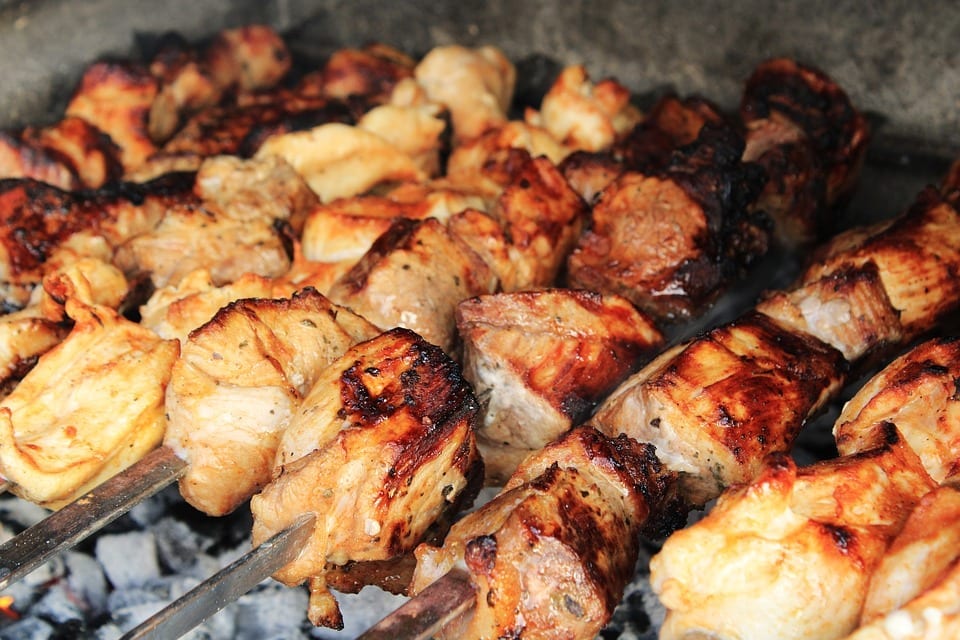 Who knew that you could achieve a barbecue dish without firing up the grill? With this pork recipe, you absolutely can! The bonus part is, you don't need any special ingredient for it. Simply slow cook pieces of pork shoulder in a cup of cola to tenderize, shred the meat, and pour in barbecue sauce according to your own preference. You can enjoy it on its own, although this smoky Crockpot pork barbecue tastes even better sandwiched in between pork buns.
Recipe for Inspiration: Crockpot Pork Barbecue
Advertisement
Continue Reading Below
Crispy Pork Shoulder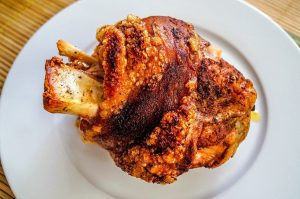 One of the best perks of using a slow cooker is that you won't need to put in much effort and caution into tenderizing some of the chewiest meat parts. And this easy recipe is the perfect testament to that! After all, pork shoulders are notorious for requiring longer cooking times. 
With this recipe, you'll be able to serve a meat dish that is incredibly tender inside, while maintaining a satisfyingly crispy and crackly exterior. Although it might require more time, the end product is definitely worth the wait. You'll only need a cut of pork shoulder and two tablespoons of kosher salt for this endeavor.
Recipe for Inspiration: Slow-Cooked Crispy Pork Shoulder
Crock Pot Pork Tenderloin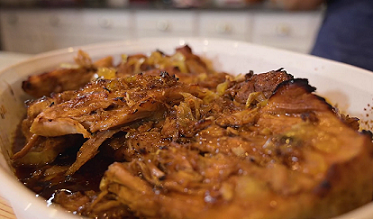 This is one of the best easy pork recipes to make at the start of the day, so you can enjoy a flavorful meat dish for lunch or dinner. Make the flavoring by stirring together barbecue sauce, mustard, chili powder, and kosher salt for a savory and tangy marinade with a kick of heat. Pour it over your tenderloins and let it simmer for a few hours. Do some errands while you wait and come back when the tender pork cuts are ready for serving.
Recipe for Inspiration: Crock Pot Pork Tenderloin 
Pulled Pork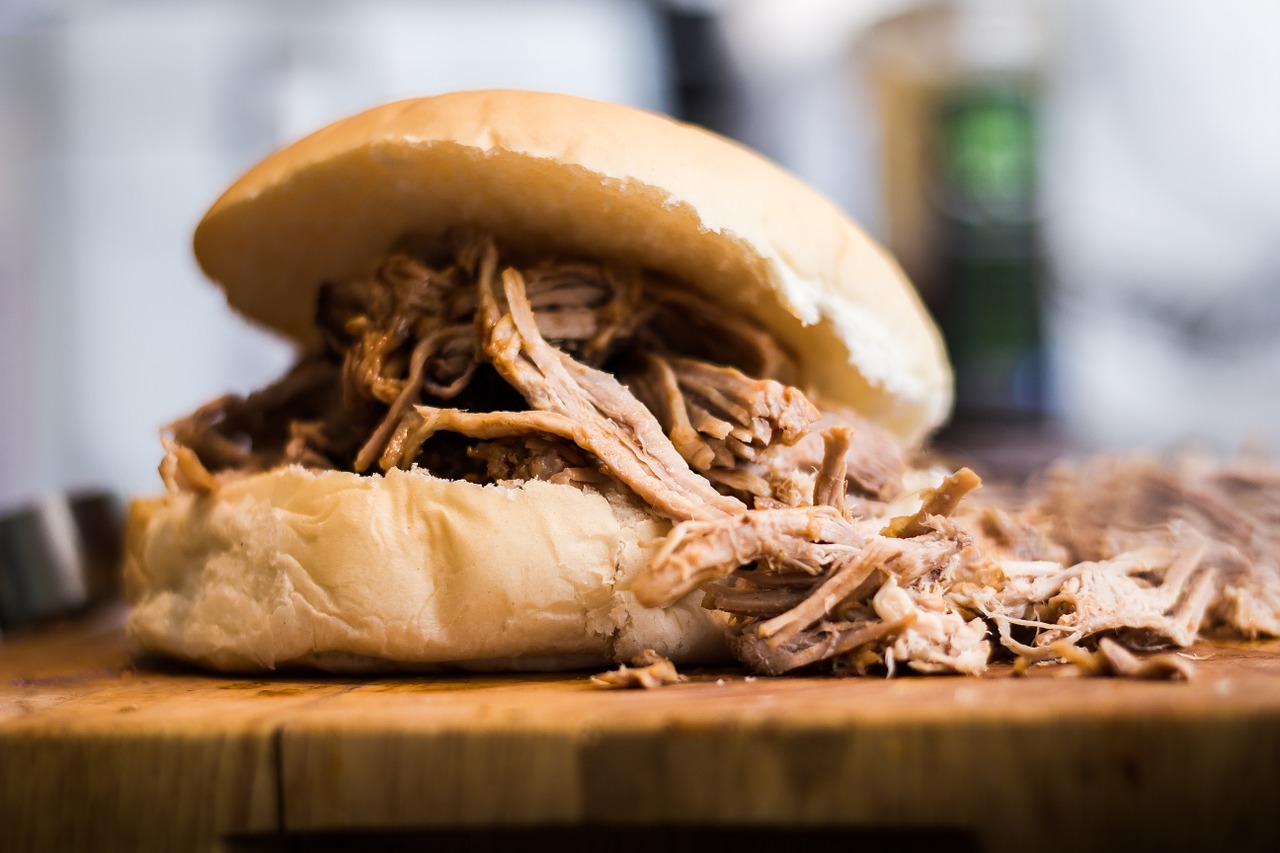 With just five ingredients and an Instant Pot, you'll be able to make this easy pork recipe without breaking a sweat. This kitchen appliance is perfect for the job because it has all the functions that you'll need for the dish. Give the seasoned pork cubes a good sear, and finish off by using the Instant Pot's pressure cooking function to tenderize it. You'll have no problem shredding the meat when you're done! Douse the pieces with barbecue sauce, and serve tender pulled pork for your sandwiches, sliders, and more!
Recipe for Inspiration: Instant Pot Pulled Pork
Advertisement
Continue Reading Below
Slow Cooked Kalua Pork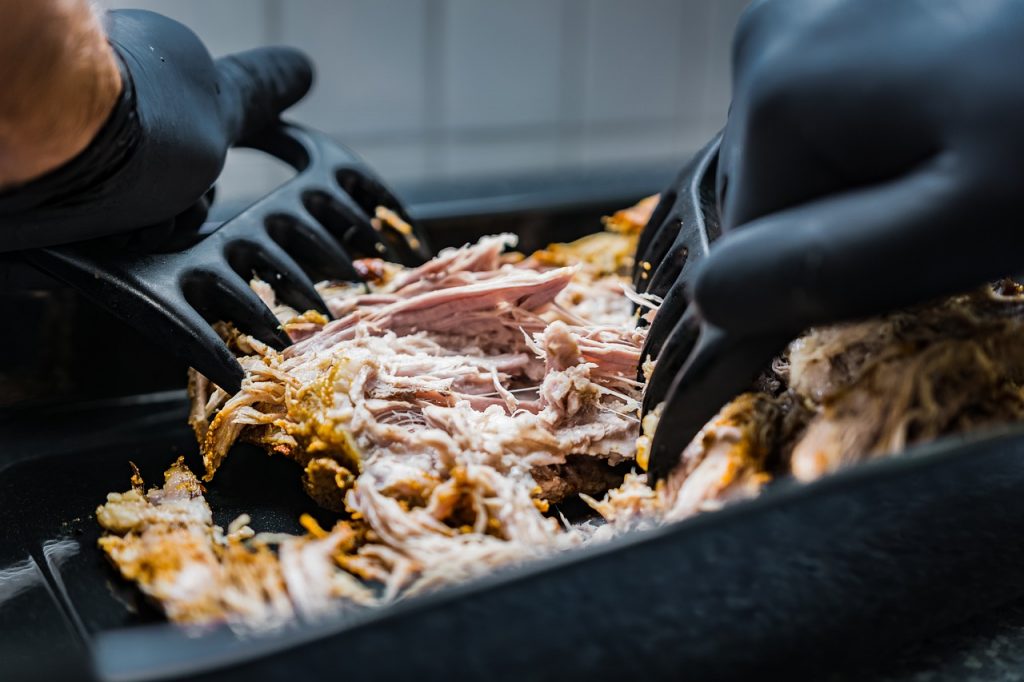 Kalua pork is a traditional Hawaiian dish that everyone has to try at least once in their lives. The only problem is, not everyone has access to an "imu" or underground oven that is needed for making the real thing. Luckily, you can refer to this recipe for a version that you can recreate in the comforts of your own kitchen. All you need is a slow cooker, and you'll get to serve salt-seasoned tender pork shoulder meat that satisfyingly falls apart in your mouth with each bite. 
Recipe for Inspiration: Hawaiian Slow Cooker Kalua Pork
Tasty Barbecue and Roast Pork Recipes
We've collected these easy pork recipes that are perfect for an outdoor dinner or roast party. Take a look at the list below for more pork dinner ideas: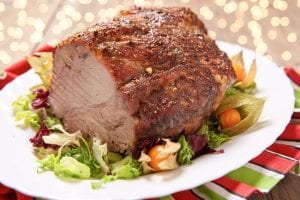 When it comes to flavor, not only is the pork neck a slice of soft meat, but once you cook it, you get this amazing meaty taste that brings life to the dish. It's the meat's marbled fat that locks in all those juices which will delight you with every bite. And as it's a versatile meat, it can be cooked in several ways whether grilled, roasted, in a casserole, or in woks. For this dish, a simple seasoning of thyme and rosemary, plus some added garlic, enhances the taste of this juicy meat.
Recipe for Inspiration: Garlic Roasted Pork Neck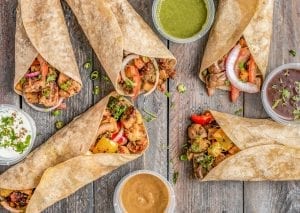 Take a shot at making this easy pork recipe for your next outdoor barbecue! Why stop at serving plain roasted meat when you can switch it up with this Mexican-inspired dish made easy? Munch on a meaty tortilla wrap stuffed with a combination of pork strips, peppers, and onions stir-fried together in smoky barbecue sauce. You don't need many ingredients, and you won't even have to fire up the grill to try this dish in all its glory! Because this requires very little time to make, you can also easily whip up this pork wrap as a quick meal or snack the next time you're craving something more filling.
Recipe for Inspiration: Barbecue Pork Wraps
Advertisement
Continue Reading Below
Juicy Pork Roast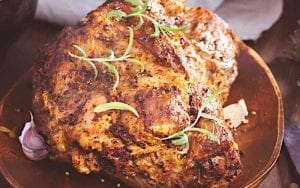 After a bite of this irresistible pork roast, we know you'll want more. Us too! Prepare a scrumptious feast around this delicious roast on any special occasion. When the holidays are nearing, prepare your seasonings and garnishes and be ready to serve up an aromatic piece of meat at the dinner table.
A tip to help keep the meat from drying out in the oven is to cover it with aluminum foil so the meat comes out juicy, soft, and succulent.
Recipe for Inspiration: Juicy Pork Roast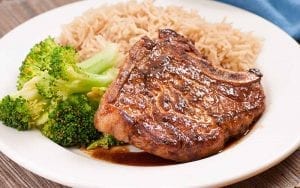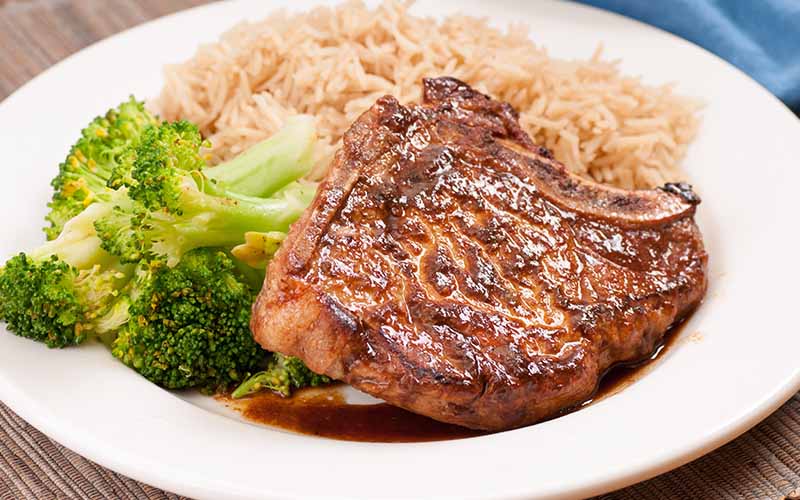 This dish can be made with center-cut pork chops or pork tenderloin. It's easy to put together and a breeze to cook with no hassle. The BBQ marinade is simply divine. You can even make your own version of the BBQ marinate to your preference. Since BBQ sauce is a staple condiment in the United States, it's no surprise that the smokey-peppery flavoring can also have different variations. Feel free to mix in some mustard, ketchup, honey, or even molasses to give the meat a sweet and savory touch. Just make sure to grill the meat for a good 8 to 10 minutes so it doesn't dry out. Good for any time of the year – it is a light and satisfying dish. You can opt to serve the pork with some simple blanched vegetables or in a sandwich.
Recipe for Inspiration: BBQ Pork Chops and Rice 
Pork Loin with Applesauce
Applesauce aren't just for toddlers because you can now use it to switch up your easy pork recipes! Enjoy a sweet and tart combination of chunky applesauce and redcurrant jelly, spiced with a bit of horseradish and rubbed on the crispy skin of roasted pork loin. Glaze everything together in an oven for 15 minutes, and you'll have a dish that's everything but ordinary.
Recipe for Inspiration: Pork Loin with Applesauce, Jelly, and Horseradish
Advertisement
Continue Reading Below
Pork Loin Roast With Garlic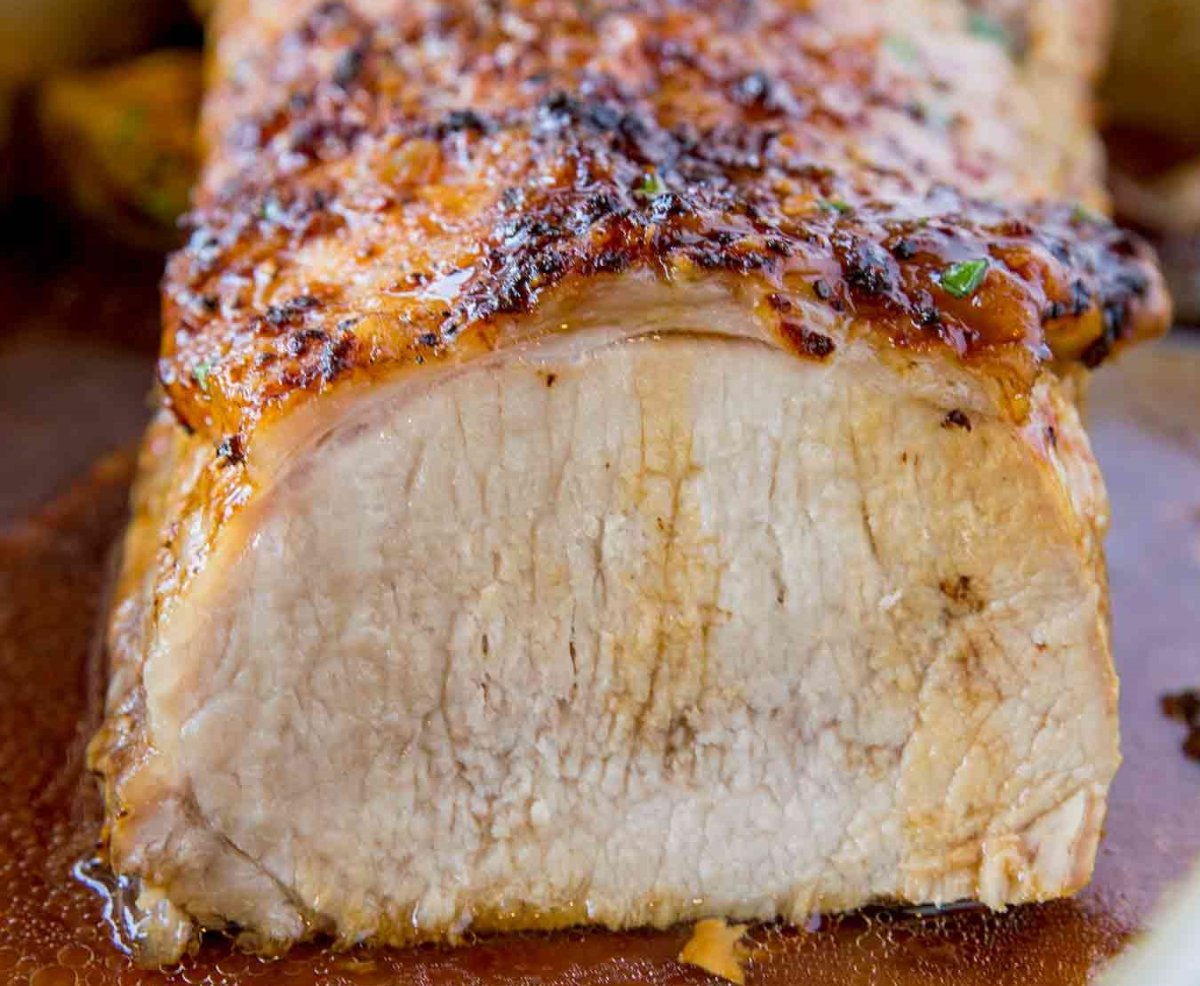 If you'd rather not stick to familiar flavors, then this is for you. Despite using basic ingredients, you can guarantee that this roast pork recipe has all the trappings of a tasty home cooked meal! What could be better than a perfectly cooked cut of pork loin that's juicy on the inside and crispy on the outside? You just need garlic, salt, pepper, and paprika to whip up this dish! 
Recipe for Inspiration: Ultimate Garlic Pork Loin Roast 
Teriyaki Pork Barbecue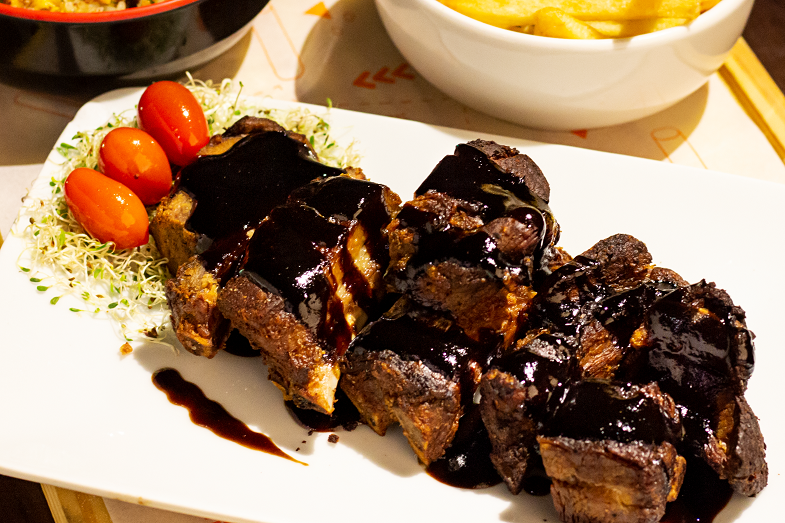 Treat yourself to succulent grilled pork tenderloin medallions that have been slowly marinated for hours beforehand in a sweet and umami teriyaki and onion sauce. Serve these morsels of meat with caramelized grilled onions, sesame seeds, and chopped scallions for one of the more flavorful pork dinner ideas to serve for your family.
Recipe for Inspiration: Barbecued Teriyaki Pork Tenderloin
Ranch Pork Chops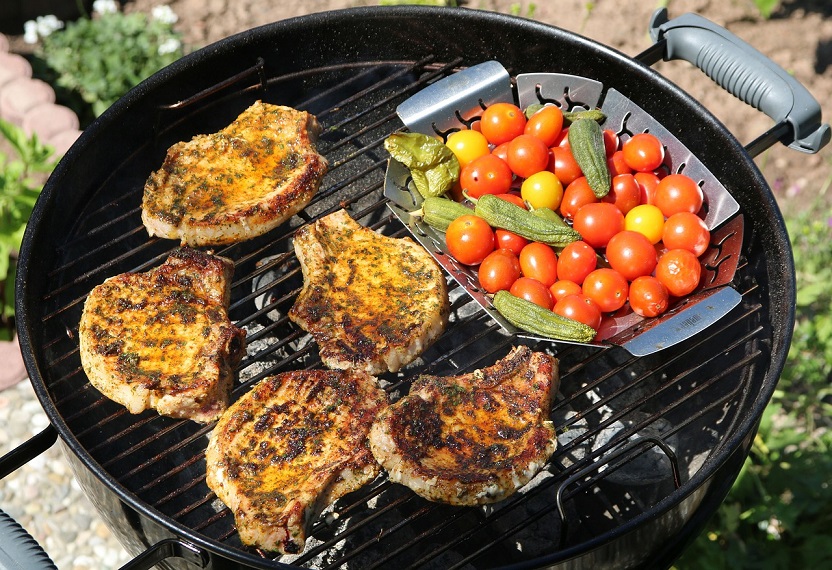 Use one of America's most beloved flavors and incorporate it into your pork recipes for dinner. Aside from being pleasantly juicy, these pork chops are packed with flavor because they have been peppered with tangy and sweet ranch seasoning. Top them with chopped parsley, and serve it alongside a side dish of your choice to complete your meal.  
Recipe for Inspiration: Ranch Pork Chops Recipe – BBQ & Grilled
Advertisement
Continue Reading Below
Grilled Pork With Mexican Adobo Rub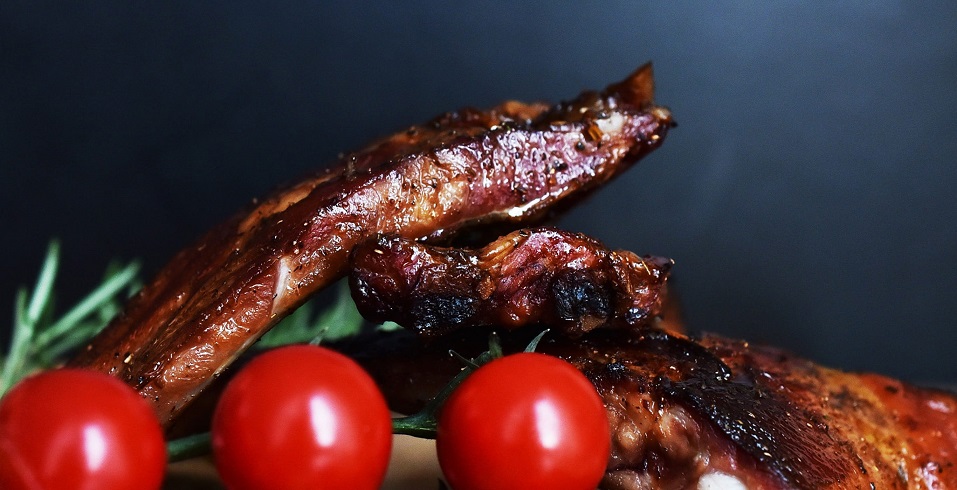 Make your barbecued pork recipes easy with this simple dish. Say goodbye to inconsistent marinades because you'll only need premixed dry Mexican adobo seasoning for this one. Evenly rub a piece of tenderloin with the mixture, salt to taste, and you're all set for the grill! You'll be able to enjoy a juicy cut of pork with classic smoky and savory flavors in no time. 
Recipe for Inspiration: Mexican Adobo Rubbed Grilled Pork Tenderloin
Advertisement
Continue Reading Below