Whip up a quick and simple BBQ pork chop recipe that's perfect for busy weeknights. This filling weeknight dinner will serve simply seasoned bone-in pork chops baked in savory BBQ sauce with pepper, onion, and tomato wedges. It's an effortless meal to prepare that will be an all-time favorite at home and at your next barbecue!
Baking bone-in pork chops in sweet and spicy sauce is a real winner. It's incredibly easy to prepare and you just have to pop it in the oven for 30 minutes or less! This gives you time to prepare your steamed rice and other sides. In less than an hour, you'll be serving juicy and tender chops in a rich and flavorful sauce! You can definitely use boneless chops if you prefer, but bone-in ones, like what we used in this recipe, absorb more flavor and are extra juicy.
Impress your family and friends with this terrific oven-baked BBQ pork chop recipe. For a fuller meal, you can add in some healthy sides like green beans and broccoli almond. There's no marinating, brining, and searing needed in making this oven-baked BBQ pork chops recipe. It's very easy to follow and will give you an exceptional dish to serve your dinner table. Try it out and you'll love making it again and again!
This is just one of our easy pork recipes, check out the other recipes that you can do with 5 ingredients or less!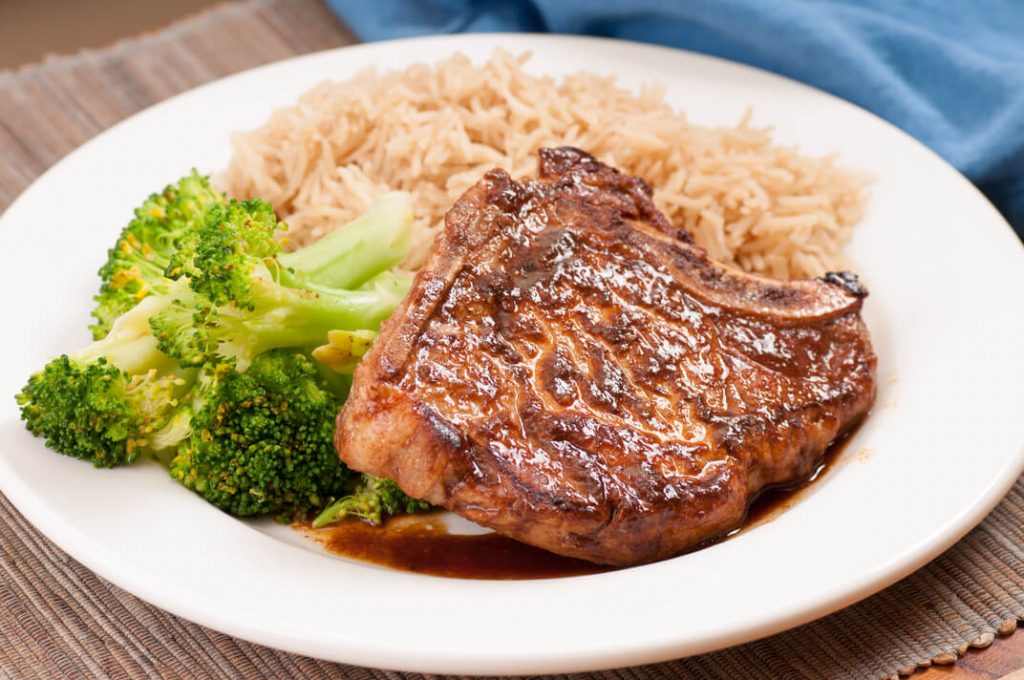 BBQ Pork Chops and Rice Recipe
How To Make BBQ Pork Chops and Rice
 A quick and easy pork chops recipe that serves juicy and tender chops baked in sweet and savory BBQ sauce, bell peppers, tomatoes, and onions.
Ingredients
4

pork chops,

bone-in, cut into a 1-inch thickness

1

sweet onion

2

tomatoes

1

large red, green, or yellow bell pepper

½

cup

barbeque sauce

2

tbsp

olive oil

salt and ground black pepper,

to taste

1

cup

long grain rice,

cooked
Instructions
Preheat the oven to 350 degrees F.

Drizzle your pork chops with olive oil and rub it all over them.

Season your pork chops with salt and black pepper.

Place your chops in a medium to large baking pan.

Cut tomato, onion, and pepper in wedges, and put on top of the chops.

Top everything with your BBQ sauce. Cover with heavy-duty foil.

Bake for 25 to 30 minutes until the internal temperature of your chops reaches 145 degrees F and your chops are fork-tender. 

Let rest for 3 minutes before serving.

Place your chops on a clean plate and top them with your barbecue sauce. Serve it with hot cooked rice and a side of greens if you like and your meal is complete!
Nutrition
Sugar:

17g

:

Calcium:

51mg

Calories:

536kcal

Carbohydrates:

60g

Cholesterol:

90mg

Fat:

17g

Fiber:

2g

Iron:

2mg

Potassium:

797mg

Protein:

33g

Saturated Fat:

4g

Sodium:

442mg

Vitamin A:

1012IU

Vitamin C:

42mg
Nutrition Disclaimer
Commonly Asked Questions
How can you tell if the pork chops are done?
We want to avoid having overcooked and under-cooked pork chops. When pork is cooked for a very long time, they dry out and get chewy. Then there's the under-cooked pink pork chop that's not safe for eating. We wouldn't want to eat overcooked pork chops that are tough, dry, and flavorless. The best way to check the doneness of pork chops is by using a meat thermometer and checking if its internal temperature has reached 145 degrees F then letting it rest for 3 minutes. This way, we safely cook them and prevent them from overcooking.
How long does it take to cook boneless pork chops?
Compared to bone-in chops, boneless ones cook faster. You can cook boneless pork chops that are 1-inch thick for 20 to 22 minutes at 350 degrees F. Remember to still check its internal temperature and make sure it reaches 145 degrees F, then let it rest for 3 minutes before serving.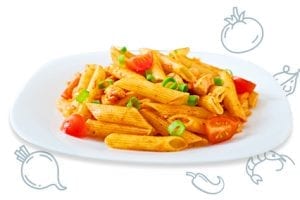 Conclusion
Oven baking bone-in pork chops are the perfect busy weeknight dinner idea. Our BBQ Pork Chops and Rice Recipe is fast and easy and gives you an incredibly tasty and hearty dinner. The whole family will surely love your perfectly baked chops swimming in sweet and savory BBQ sauce. Wrap up your day with this filling and tasty meal that will surely top your favorite BBQ recipes!