Pork is one of the most versatile meat there is. It has a neutral taste that works perfectly with seasonings that enhances its flavors. This garlic pork chop will fill your appetite with its aromatic flavor, glazed over with sugar, and worcestershire sauce. This savory pork dish is so easy to make, you'll be dishing them out in no more than 90 minutes! For a step-by-step guide, be sure to check out our recipe tutorial video, too.
This homey meal will surely be your family's new favorite pork recipe and it is also perfect to try on your romantic dinner for two. Serve these sweet and savory garlic pork chops with light and hearty Sweet Potato Salad to complete your fulfilling meal.
Making Glazed Brown Sugar And Garlic Pork Chops
Our baked garlic pork chops are marinated with brown sugar, soy sauce, ketchup, garlic, paprika, and Worcestershire sauce that will give the umami kick in our dish. The glaze mixture is sweet, a bit spicy, and sour. 
Blanket in the glaze, the pork chops will then be tossed into the oven for roasting. Roasting the pork absorbs all the juice from the marinade. So, go crazy on the amount of glaze you're pouring in, cover all the meat if you want. While roasting, wait until you see that finished bright brown skin before cooling to serve. 
To enjoy your meal even more, we highly recommend serving these tender and savory pork chops with vegetables on the side for a full-on meal.
Tips For An Even Tastier Garlic Pork Chop
We want to achieve that rich, tender and juicy end result on our garlic baked pork chops that drips with the sweet glaze of brown sugar. Aside from generously brushing the meat with the pork chop seasoning to get that umami flavor, here are some tips to know more on how to enjoy this thick meat even more.
We recommend using bone-in or the loin chops.

Bone-in chops are moister and have an ample amount of fat that makes the pork taste richer and fuller.

Some cooks prefer

searing the meat initially before baking.

This will keep the meat juicy during the roasting process. For extra moistness, you can also slide in some butter to the top of the chops before putting it into the oven.

Give the meat some rest.

Give it at least five minutes if you have decided to sear the pork chops before you continue roasting them in the oven, be sure to wrap them in foil and set them aside for the meat to relax its fiber. Roasting the meat immediately after searing will backfire and lead to having some really tough and dry meat.

Check the doneness of the meat.

Bear in mind that when cooking a thicker cut, leave it to bake for a longer time. If it's a thinner chop, reduce the cooking time. The most ideal way to make sure that the meat is cooked is by sticking a meat thermometer. Stick the thermometer into the thickest part of the meat and see that it reflects 145 degrees Fahrenheit. Do this right after removing the meat from the heat source.
If you're wondering how to tenderize your pork chops and how you could bake it without drying it out, check out our CAQs section below to learn all about it. Also, be sure to check out the accompanying video for more visual guides! For more pork recipes, take a look at our easy pork recipes!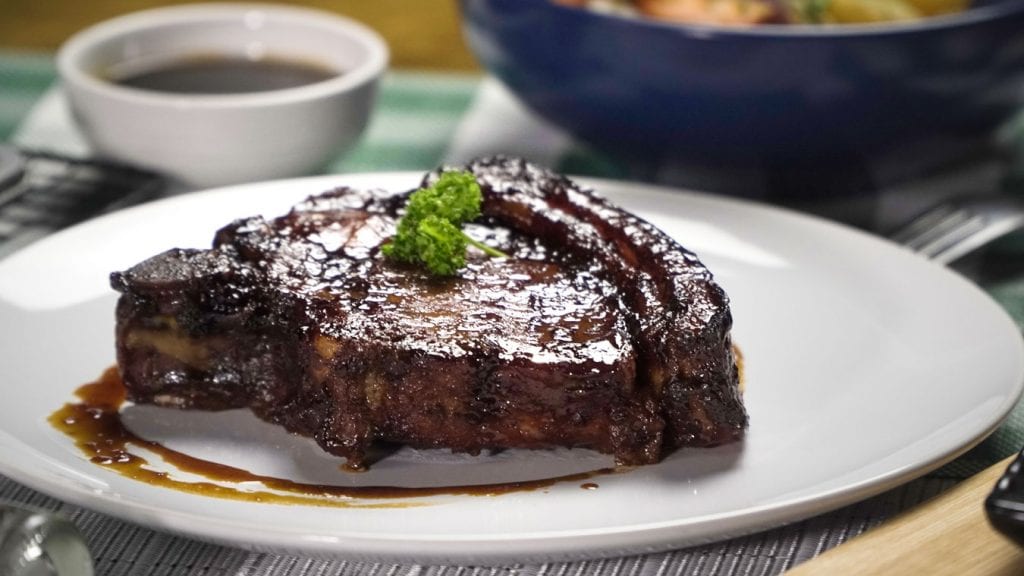 Glazed Brown Sugar And Garlic Pork Chops Recipe
How To Make Glazed Brown Sugar And Garlic Pork Chops
This garlic pork chop recipe is not only incredibly quick and easy to make, it's also deliciously tender and juicy served with a smooth and sweet brown sugar glaze.
Ingredients
4

bone-in or boneless pork chops,

 cut into a 1-inch thickness

½

cup

brown sugar

2

tbsp

soy sauce

¼

cup

ketchup

1

tbsp

Worcestershire sauce

3

tbsp

garlic,

minced

1

tsp

paprika

cooking spray
To Serve:
potatoes and vegetables,

done to your preference

parsley,

chopped
Instructions
Sauce:
Preheat the oven to 300 degrees F.

Combine sugar, soy sauce, ketchup, garlic, paprika, and Worcestershire sauce in a mixing bowl. Whisk until sugar has dissolved.
Pork:
Lay your pork chops on the roasting tray.

Pour the prepared sauce over the pork chops, and leave it to be seasoned for 30 minutes.

Save ½ cup of sauce for dipping.

Transfer to the oven and roast for roughly 35 to 40 minutes, or until medium done.

Once roasted, allow to rest briefly on cooling racks.

Serve together with potatoes and vegetables done your way, add the remaining sauce. Garnish with parsley.
Recipe Notes
In this recipe, we used carrots and onions. We sauteed the vegetables together and serve them with the potatoes.
We served roughly ¼ cup remaining sauce, 1 sprig of parsley, roughly ¼ oz, and 2 cups of mixed potatoes & vegetables per serving
Nutrition
Sugar:

61g

:

Calcium:

149mg

Calories:

855kcal

Carbohydrates:

69g

Cholesterol:

234mg

Fat:

31g

Fiber:

1g

Iron:

4mg

Potassium:

1490mg

Protein:

73g

Saturated Fat:

10g

Sodium:

1565mg

Trans Fat:

1g

Vitamin A:

259IU

Vitamin C:

9mg
Nutrition Disclaimer
Commonly Asked Questions
How do I tenderize pork chops?
If you are going to sear the meat before baking, you can use any fruit juices like lime or lemon for a squeezing over. The acid content from fruits helps in lowering down the protein in the meat making the pork chops soft and tender.

How to store cooked pork chop with sauce?
Place the cooked pork chops with sauce in a plastic container, or wrap tightly with aluminum foil. Refrigerate the pork chops to last for 3 to 4 days.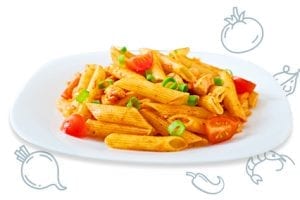 Conclusion
Devour on these moist, tender, and juicy pork chops served with sweet and tangy brown sugar and garlic-flavored sauce. You'll be amazed at how much a simple prepping can do in boosting the flavors of these meat. This is the answer to your dinner dilemma. Bon appetit!