This tasty home-style pork casserole recipe is a family favorite. It's the perfect meal to whip up on busy days because it's very easy to make! It cooks potatoes soaked in rich, creamy and cheesy sauce topped with juicy and tender browned pork chops. This pork casserole recipe is deliciously heartwarming and is the perfect dinner idea to switch up your home cooking.
Indulge in this healthy cheesy comfort food that's easy on the budget. This cheesy pork casserole recipe is your next go-to Sunday meal. The meat and potato combo of this dish makes it energizing and it's a meal that kids will surely love! It's already a complete and filling meal, but you can definitely make it extra healthy by adding greens on the side. You can make it fancy and serve it with a plate of green beans or some roasted brussel sprouts, eggplants, and tomatoes.

Tip: You can use bone-in chops or country-style pork ribs if you prefer meats that absorb more flavor.
You won't regret trying out this healthy and easy-to-make cheesy pork casserole recipe that will perk you up for the day ahead. Enjoy the rich, creamy, and cheesy touch of this dish, a simply heavenly combination of pork and cheese.
Easy Cheesy Pork Casserole Recipe
Ingredients
6

boneless pork chops

thinly cut

2

large

russet potatoes

thinly sliced

10 ¾

oz

condensed French onion soup

10 ¾

oz

condensed Cheddar cheese soup

2

garlic cloves

1

tbsp

olive oil

1

cup

cheddar cheese

shredded
Instructions
Preheat the oven to 350 degrees F.

In a large skillet, sear pork chops in olive oil over medium-high heat. Add in the garlic then saute. After cooking, set them aside.

Spray a 9x13-inch baking dish with nonstick cooking spray.

Line the potato slices at the bottom of the baking dish. Feel free to make a double layer if you want to add more potatoes.

Lay the seared pork chops on top of the potatoes.

In a bowl, blend the two soups together.

Pour soup mixture over pork chops and try to cover them evenly.

Cover the baking dish with foil and bake for 30 minutes.

Remove the foil, top the mixture with cheese and bake for another 30 minutes.

Sprinkle with cheddar cheese and serve.
Commonly Asked Questions
What kind of cheese goes best with pork?
Fresh cheeses like cream cheese, feta, mozzarella and burrata go well with pork. It can also be paired with blue cheese and cheddar cheese. You can stuff pork with cheese like our Ham and Cheese Stuffed Pork Tenderloin Recipe. You can also top your cooked meat with cheese or use it to add flavor to your sauce.
What is the best temperature to cook pork in?
The recommended cooking temperature for pork is 145 degrees Fahrenheit. Temperature and length of cooking are very important if you want juicy and tender meat. Since pork chop is very lean, it's prone to overcooking. It's best to check the doneness of your meat to also ensure great flavor and that it's safe to eat. When cooking meat, be sure to check the recommended cooking temperature for that type of meat and to let it rest for at least 3 minutes after cooking.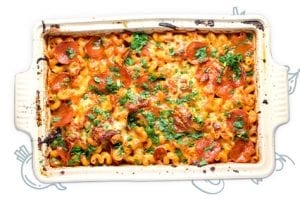 Conclusion
You can prepare many dishes with pork and cheese but this cheesy pork casserole is a knockout! It captures that home style cooking that everyone loves and makes you crave for more. It also has potatoes to complete this crowd-pleasing dish. Don't miss out on this hearty meal that's truly comforting and tastes like home.