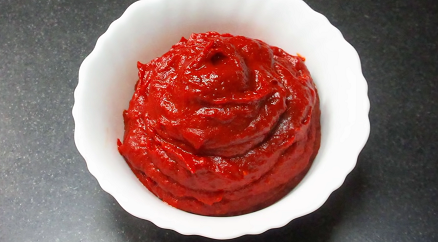 Mexican Red Chili Sauce Recipe
How To Make Mexican Red Chili Sauce
Rich in Mexican flavors, this spicy chili sauce takes your dish to a whole new realm, with bold bites of simmered ancho chiles, garlic, and peppercorns.
Ingredients
3

dried Ancho chiles,

(pasilla), or 2 ancho and 2 guajillo chiles

water

1

large garlic clove

2

black peppercorns,

crushed

pinch

ground cloves

½

tsp

salt,

more to taste

extra virgin olive oil
Instructions
Working on one chile at a time, use a paring knife to cut a slit all the way down one side of a chile. Open up the chile and remove the stem and seeds. Remove as much of the veins as you can.

Reserve a few of the seeds or veins for adding later, if looking for more heat.

Heat a large skillet on medium heat. Flatten out the dried chilies and place on the skillet to heat. Press down on the opened chilies and leave for a few seconds. Turn the chilies over and heat a few seconds more.

Add the chilies to a small saucepan and add enough water so that they are just covered. Bring to a boil.

Remove from heat and let sit for 10 minutes, until the chilies have softened and plumped up.

Reserving the soaking water, remove the chilies from the pan and place in a blender. Add the garlic, salt, crushed peppercorns, ground cloves, and 1½ cups of the soaking liquid.

Purée for 2 minutes, until the sauce is completely smooth. Taste the sauce and adjust the seasoning. If more heat is desired, add in a few of the seeds or veins and purée some more. Add more salt, if needed.

Pour the sauce through a sieve into a skillet. Add 1 tablespoon of olive oil to the sauce.

Bring to a simmer and reduce heat to maintain the simmer, then cook for 10 minutes. Skim off the foam. Remove from heat.

Use immediately or pour into a glass jar, then refrigerate.

Serve over meals, and enjoy!
Recipe Notes
When working with chilies, either wear protective gloves or wash hands very thoroughly with soap and warm water after handling the chilies. Do not touch or rub eyes while handling chili peppers.
Taste the soaking water first before adding it to the blender, if it seems bitter, use plain water instead.
Nutrition
Calories: 

159.77kcal

Fat: 

5.05g

Saturated Fat: 

0.55g

Trans Fat: 

0.00g

Monounsaturated Fat: 

0.85g

Polyunsaturated Fat: 

2.41g

Carbohydrates: 

28.34g

Fiber: 

11.32g

Sugar: 

0.06g

Protein: 

6.44g

Sodium: 

133.80mg

Calcium: 

43.69mg

Potassium: 

1258.94mg

Iron: 

5.74mg

Vitamin A: 

521.39µg

Vitamin C: 

2.58mg