One of our favorite pasta sauces to make is this Olive Garden's five cheese marinara sauce. This recipe originated from Olive Garden's five cheese ziti al forno, which means baked ziti pasta. The sauce became widely popular, so much so that Olive Garden even created a separate menu just for the sauce to match with your favorite pasta! So we've also followed suit and made our very own cheesy marinara sauce recipe for you to try. 
This marinara pasta sauce is a crowd favorite along with Olive Garden's meatballs, which you can also throw along in this recipe! Now, grab your cheeses, pasta noodles, and bring your hungry belly. Let's make the best pasta sauce!
Tips on Making Five Cheese Marinara Sauce
Before you start cooking, here are some tips that will amp up this amazing dish:
Add crushed tomatoes.

This will give your marinara additional tanginess, sweetness, and thicker texture. You can also add it in chunks if you're aiming to add juicy bites of that ol' fashioned tomatoes.

Add your favorite meat

if you want to. Adding ground beef, seafood, or chicken strips will surely give this marinara pasta a hearty boost!

Use cheese substitutes

if you don't have all of them on hand. This marinara pasta wouldn't be five cheese marinara if it doesn't have five types of cheese.

You might not have all the cheese on hand, so here's a quick guide you can follow

below to learn what you can use as a substitute for the 5 types of cheese.
Cheese Substitutes For Each Cheese
Ricotta cheese can be substituted with small curd cottage cheese. Although it's a bit runny than ricotta, they almost have the same taste. Otherwise, you can also go for cream cheese, which also tastes similar but is creamier than ricotta. 
Mozzarella cheese is soft with a mild milky taste. Havarti will make a good sub as it also has the same characteristics as mozzarella and can be melted easily. It has a stringy texture and a mild flavor.
Asiago has a strong flavor and carries a nutty and yeasty aroma. It's often mistaken as Parmesan. This naturally makes Parmesan a great substitute (though it's less salty) for Asiago. On the other hand, Pecorino is also another good alternative especially if you're using it to cook with pasta.
Parmesan cheese can easily be replaced with Grana Padano. It is a slow-aged semi-fat cow's milk hard cheese that has a nutty and fruity taste, just like parmesan.
Fontina cheese is one of the cheeses that has the most versatile flavors so it's easy to find a substitute for it. But if you're going to use it for melting, go for Gruyere. Like Fontina, it has a rich nutty aroma and produces a silky texture when heated.
Now that we've had a glimpse of the flavors of our five cheese marinara, it's time to make this savory pasta sauce. You might want to pair this with a rhubarb drink to help wash it all down. So, let's head right into making this five cheese marinara!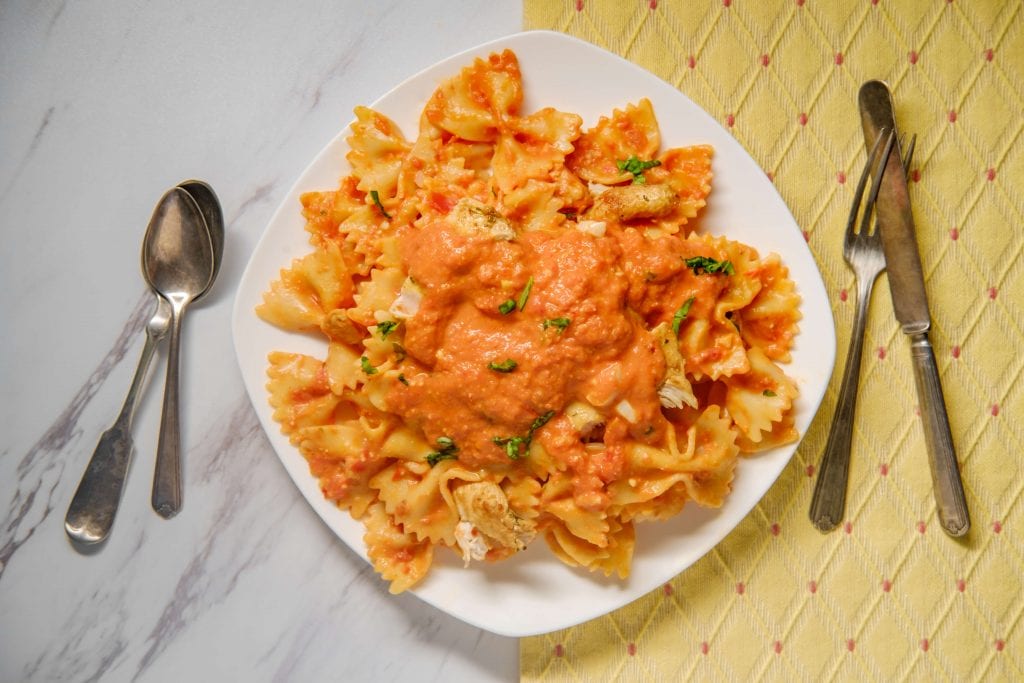 Five Cheese Marinara Sauce Recipe (Olive Garden Copycat)
How To Make Five Cheese Marinara Sauce (Olive Garden Copycat)
This five cheese marinara pasta sauce is oozing with cheese and savory flavors. All you'll need to make this Olive Garden copycat is a hefty amount of marinara, herbs, and tons of cheese that will excite your taste buds.
Ingredients
1

lb

pasta,

(your preference) cooked and drained

1

tbsp

olive oil

1

onion

3

cloves

garlic,

minced

1

tsp

dried oregano

4

cups

marinara sauce

2

cups

Alfredo sauce

½

cup

ricotta cheese

¼

cup

mozzarella cheese,

shredded

¼

cup

Asiago cheese,

shredded

¼

cup

Parmesan cheese,

shredded, plus extra for topping

¼

cup

fontina cheese

kosher salt,

to taste

ground black pepper ,

to taste
Instructions
In a large skillet, heat the olive oil, then saute the onion until soft.

Add in the garlic and season with salt, pepper, and oregano. Cook until fragrant.

Pour in marinara and alfredo sauce. Bring the mixture to a simmer for 10 minutes.

Add in all the cheeses and stir well until melted.

Toss the pasta into the sauce and mix until the pasta is completely coated in sauce, then serve with a sprinkle of parmesan on top.
Nutrition
Sugar:

14g

:

Calcium:

360mg

Calories:

811kcal

Carbohydrates:

85g

Cholesterol:

203mg

Fat:

38g

Fiber:

4g

Iron:

7mg

Monounsaturated Fat:

11g

Polyunsaturated Fat:

7g

Potassium:

1124mg

Protein:

32g

Saturated Fat:

18g

Sodium:

2484mg

Vitamin A:

1481IU

Vitamin C:

20mg
Nutrition Disclaimer
Frequently Asked Questions
I'm lactose intolerant. Are there any dairy substitutes I can use?
Definitely! Being lactose intolerant shouldn't prevent you from enjoying this amazing meal. You can use vegan cheese alternatives, especially those made from almond or cashew milk. Nutritional yeast adds a cheesy vibe to the dish as well, and there are also dairy-free cheeses available in grocery stores. However, if you're slightly skeptical about substituting your cheese, you can try our marinara chicken penne pasta, easily opting out the parmesan and replacing it with chopped parsley for garnish.
What is the difference between marinara sauce and spaghetti sauce?
Marinara sauce is an undemanding tomato sauce that is made with crushed tomatoes flavored with simple herbs, garlic, and onions. On the other hand, spaghetti sauce, while similar to marinara, includes more ingredients like ground meat and vegetables.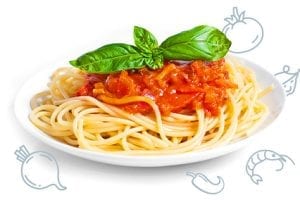 Conclusion
Five cheese marinara is ideal to make if you're looking for a quick pasta sauce to cook. Not only the hearty marinara satisfies your mouth, but it also oozes with five types of cheese, making it an undeniable crowd favorite. The tomato sauce balances out this dairy-filled marinara sauce, resulting in a rich and savory sauce for your favorite pasta.