One of mankind's greatest discoveries is cheese. An essential ingredient in making creamy soups, cheesy burgers, or mouth-watering dips. And now you can learn to make a delicious cheese dip recipe with a simple household appliance. Our 5-Ingredient Microwave Cheese Dip barely takes time and effort to make and will best the preservative-laden store-bought cheese sauces.
Best Cheese for Nachos
When picking out the cheese, it's important to know that you can't pick whatever is available on the shelf. Two classifications are taken into consideration; taste and melting ability. Apart from the slight tang you get from cheddar cheese, you can also make use of American cheese or Monterrey Jack. They're semi-soft cheese that makes for a creamy and silky cheese dip recipe. Pepper Jack cheese and Mozzarella are ideal for quesadillas or as nacho cheese sauce due to their melting properties. 
They're flavorful in their own way but the most common problem you will probably encounter is how to melt cheese easily. A widely-known factor is buying pre-shredded cheese. They contain additives that hinder its capability to melt. Make your shredded cheddar cheese by grating them yourself to prevent this from happening.
How to Make Cheese Sauce
So, to start with our homemade cheese, we begin with what we call a roux. This is when we mix flour with warm butter to thicken the consistency of your cheese dip. Cornstarch makes a great substitute for flour in case you don't have any on hand. Next, add your milk. 
Milk adds a creamier flavor to the dish. Whole milk, half and half, or even evaporated milk works when making this cheese sauce as well. However, if you wish to adjust the taste and texture, sour cream leaves a tangy note and creamier consistency. Whipped cream adds rich flavors and turns your cheese dip extra creamier. Of course, if you plan to go with this alternative, omit the butter as whipped cream is already heavier in fat. 
When adding in the cheese, remember to microwave and whisk between 30-second intervals. This is to avoid burning your cheese dip and making sure that it maintains a smooth consistency. Throw in a little bit of salt and there you have it! An easy peasy microwave cheese dip recipe! Enjoy your microwave cheese sauce as a dip or on a plate of nachos. Check out our 5 Ingredient Nachos for another easy quick meal fix!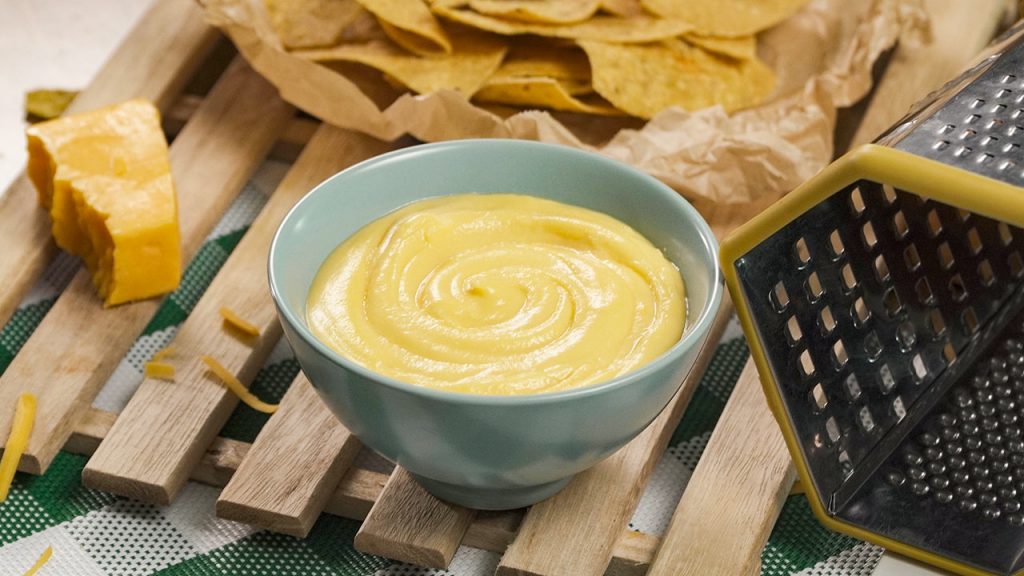 Microwave Cheese Dip Recipe
How To Make Microwave Cheese Dip
This easy 5-ingredient cheese dip simply oozes with flavorful cheesy goodness. You can whip this up in just a snap and all you need is a microwave.
Ingredients
2

tbsp

unsalted butter

2

tbsp

all-purpose flour

1

cup

milk,

warm

1

cup

cheddar cheese,

shredded

salt,

to taste
To serve:
Instructions
Place the butter in a small bowl and heat it in the microwave for 50 seconds or until melted.

Add flour and milk to the bowl and whisk together.

Throw in the shredded cheddar cheese, then place the bowl in the microwave. Cook for 2 minutes, whisking the mixture every 30 seconds until sauce is thick and heated.

Season with salt and whisk till fully blended.

Serve warm with a side of nacho chips.
Recipe Notes
If time permits, you can make this in a saucepan just by following the instructions. 

Throw in some paprika, chilli powder or even pepper to add a little spice.
Nutrition
Sugar:

3g

:

Calcium:

273mg

Calories:

215kcal

Carbohydrates:

6g

Cholesterol:

36mg

Fat:

17g

Fiber:

1g

Iron:

1mg

Potassium:

108mg

Protein:

9g

Saturated Fat:

8g

Sodium:

558mg

Vitamin A:

632IU
Nutrition Disclaimer
Commonly Asked Questions
How to store and reheat cheese sauce?
Cheese sauce can last up to 4 days in the fridge and 4 months in the freezer, granted no one double dips. You can portion out your cheese dip to avoid bacterial growth while it's being stored. Place them in airtight containers and you're good to go. You can reheat them in a skillet until the cheese is fully warm and melted or pop them in the microwave for 20 seconds. If your cheese dip appears too thick, stir in a little milk for a smoother consistency.
How to make nachos chips?
Knowing how to make nachos chips from scratch is a great skill to have on hand if you come upon an empty chips aisle or your party seems to need more chips but you don't have anymore on hand. All you'll need is olive oil, corn tortilla wraps, and a little bit of salt. Check out our recipe on how to make Corn Tortilla Chips to get to know the entire process.
How to make Mexican cheese dip?
A regular cheese chip is different from the Mexican cheese dip which they call 'queso'. The popular Tex-Mex creation consists of tomatoes, jalapenos, tabasco sauce, or any meat that goes with the dip. To make a Mexican cheese dip, head right onto our Mexican Cheesy Chicken Dip to find out more on how to whip one up!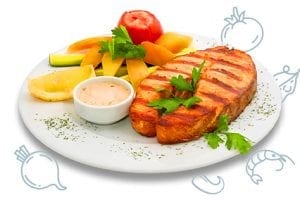 Conclusion
A microwave is all you need to make this easy cheese sauce. You can easily enjoy a plate of nachos and cheese with this recipe. It's simple and effortless to make plus you only need 5 ingredients. This recipe is also a versatile dish where you can throw your desired add-ins for a more flavorful dip. If you need to make a last-minute cheese run, this is the recipe for you!