Crispy onion rings wouldn't be complete without a flavorful dipping sauce. So if you want to spice your crispy snacks up, pair it with Burger King Zesty Sauce!
Burger King is popular for its mouthwatering appetizers like burgers, chicken sandwiches, and other delish appetizers. But have you tried their zesty onion ring dipping sauce? It has a delicious combination of peppery and spicy flavors. And it will definitely take onion rings to a whole new level of hotness. You'll surely love this zesty sauce with our copycat Burger King Onion Rings Recipe!
Now, don't worry because there's no need to rush to the nearest Burger King to experience their spicy onion ring dipping sauce. We'll show you how to recreate this popular dipping sauce for onion rings. You'll be amazed how quick and easy it is to make this savory condiment!
What's In Our Copycat Burger King Zesty Sauce Recipe? 
A slightly sweet and tangy sauce with a kick to make your mouth water. The Burger King onion ring sauce is definitely a must-try. In this recipe, we'll teach you how to make onion ring dipping sauce that tastes just like Burger King's.
Thankfully, this onion ring dipping sauce is quite a breeze to make at home. We'll be using the very same ingredients that Burger King uses to make this flavorful sauce. You just need a handful of ingredients and you're good to go. And in just five minutes, you'll be serving your favorite snacks alongside this homemade onion ring dipping sauce! 
First, Burger King onion ring sauce has a delicious creamy mayo base. What makes BK sauces extra delicious is the added flavorful and tangy seasonings. Additionally, Burger King's zesty sauce has a slight kick coming from the horseradish with an accompanying heat from the cayenne. Meanwhile, for ingredient alternatives and storing instructions, don't forget to check out our CAQ section down below!
If you like our version of Burger King's onion ring dipping sauce, we have other dips that will go well with your snacks. Additionally, if you want a spicy mayo on your sandwich, you can try making our Spicy Cottage Cheese Dip Recipe. It's as pungent as the zesty sauce! Check out our Copycat Papa John's Garlic Dipping Sauce Recipe if you like to go a bit garlicky for your next munchies.  
What To Serve with Burger King Zesty Sauce 
Burger King's Zesty Sauce is a decadent and creamy dipping sauce with a subtle hint of tanginess. This savory sauce is not just for crunchy onion rings since it's a very versatile dipping sauce. Similarly, it goes well with crispy and tangy fried pickles and addicting mozzarella poppers. 
This zesty sauce is also a perfect dipping sauce for chicken. Pair it with our Copycat Raising Cane's Chicken Fingers. This tangy sauce will make these fried chicken tenders extra mouthwatering. Well, this BK sauce is delicious on anything fried and crispy! 
The deliciousness of this dipping sauce does not end there. Not only is this Zesty Sauce perfect for dipping. It also goes along great as a spread on sandwiches, wraps, and burgers. Now, what else can be matched deliciously with BK sauces other than the Burger King Big Fish Sandwich? Our copycat recipes will surely save you a trip to Burger King!
Try putting this dipping sauce in our Classic Turkey Sandwich Wraps. Just replace the regular mayonnaise sauce with BK zesty sauce. This dipping sauce is sure to make these tortilla-wrapped sandwiches more satisfying!
Burger King Zesty Onion Ring Dipping Sauce
Add a little kick of spiciness to your onion rings with Burger King Zesty Sauce. With its creamy goodness, this dipping sauce is perfect for anything fried and crispy!
Ingredients
1 ½

cup

mayonnaise

1 ½

tsp

prepared horseradish,

minced

½

tsp

lemon juice

1 ½

tsp

ketchup

½

tsp

ground cayenne pepper
Instructions
Prepare all necessary ingredients for your copycat Burger King onion ring dipping sauce.

In a mixing bowl, add in all the prepped ingredients.

Using a spatula, stir your ingredients until they are well-combined.

Garnish your sauce with a pinch of dried dill and enjoy it with perfectly fried onion rings!
Recipe Notes
Feel free to adjust the spiciness to suit your preference.

You can also substitute lemon juice with apple cider vinegar if you like a fruitier

, more tangy

taste. 

Add some yellow mustard if you like a tangy mustard flavor.

For best results, cover and chill for at least 1 hour before serving alongside homemade onion rings.
Nutrition
Calcium:

7mg

Calories:

575kcal

Carbohydrates:

1g

Cholesterol:

35mg

Fat:

63g

Iron:

1mg

Potassium:

17mg

Protein:

1g

Saturated Fat:

10g

Sodium:

558mg

Sugar:

2g

Vitamin A:

148IU

Vitamin C:

1mg
Nutrition Disclaimer
Commonly Asked Questions
How do I make Burger King zesty sauce healthier?
You can substitute regular mayonnaise with low-fat mayonnaise if you're looking for a healthier option.
I don't have fresh horseradish on hand, is there an alternative?
Absolutely! You can substitute prepared horseradish with store-bought horseradish sauce. Alternative options also include black radish, wasabi, fresh or ground ginger, as well as brown mustard.
How long does this zesty sauce last in my refrigerator?
Feel free to make this zesty onion ring sauce a day or two ahead of time. This homemade dipping sauce will last for about a week if properly stored in the refrigerator.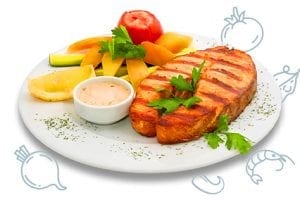 Conclusion
Burger King zesty sauce is decadent and sweet with a creamy texture. What takes it apart from other regular dipping sauces is its slight kick of spiciness all thanks to horseradish and cayenne pepper. Plus, this spicy sauce goes well with crispy, fried dishes. So fry up some onion rings and give this dipping sauce a try!
Related Dip, Sauce & Condiment Recipes