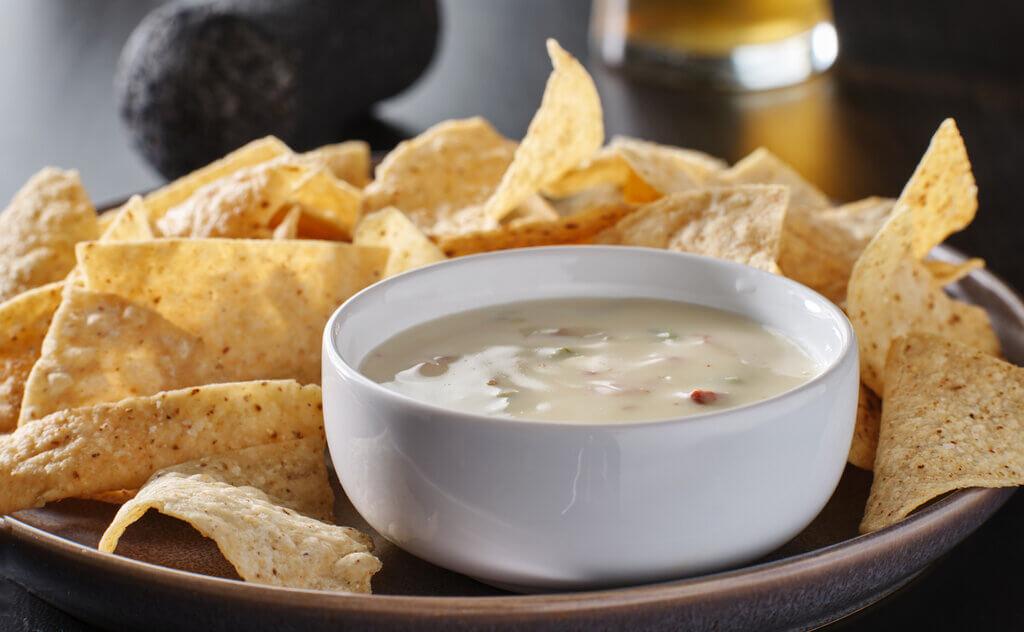 Queso Blanco Chipotle (Copycat) Recipe
Every time I have guests or family members over, I make sure that I'm prepared with my appetizers. I usually like to make baked tortilla chips or, sometimes, just plain crackers and chips. Either way, I always serve these delightful appetizers with a tasty dipping sauce. I have a list of dips that I prepare for my appetizers, and one of them is this delicious Chipotle queso recipe. This smooth and creamy dip is also known as Chipotle queso blanco which means white cheese in English.
I love making this queso blanco Chipotle dip because it's not just creamy and cheesy, but it also has the right amount of zest and heat. In a way, it's a bit similar to a chili con queso dip with just a slight difference in color. This dip is more pale white in color instead of yellow, hence the name queso blanco. That's why I like this dip because cheesy dips get boring after a while so I prefer the added chili and spiciness that this dip has to offer.
I included bell peppers and jalapeno peppers into the mix. You can also try adding in poblano pepper, serrano peppers, green chiles, or even Chipotle pepper for a more authentic spicy Mexican flavored dip. Once I had spices ready, the next essential ingredients are the dairy. Adding in more cheeses can improve the flavor and texture of the dip since it can also act as a thickener. I used white cheddar cheese for this recipe, but adding in other kinds of white cheese works as well. I tried mixing together white cheddar cheese and white American cheese with Monterey Jack cheese before, and it was an interesting flavorful combination. It also really bulked up the dip! I also noted that switching up your whole milk for heavy cream or evaporated milk can create an even thicker cheese sauce dip.
I've done this before and both work in creating a much creamier dip for my tortilla chips. You won't have to worry about a runny Chipotle queso blanco dip ever again with these helpful alternatives. These are just some of the cheese variations that I used for this dip, but you can also experiment with Mexican cheeses for a more authentic queso blanco dip. Try oaxaca cheese and queso fresco (fresh cheese). Be advised, though, that queso fresco doesn't melt well since it's a crumbly cheese so I simply used it as a garnish.
Speaking of garnishes, the lemon and lime juice that I added as a final touch for this cheese dip really brought in the delicious mix of tang and spice. The tang really completed the whole dip. Although, next time, I'm going to try adding some browned ground beef into the dip to try and make it even more appetizing with the added meatiness.
How To Make Queso Blanco Chipotle (Copycat)

Dip your tortilla chips in this bowl of creamy, flavorful, and spicy Chipotle queso blanco made with white cheese, fresh peppers, and tomatoes.
Ingredients
2 tbsp

v

egetable

oi

l

½ yellow onion,chopped

1 pc green bell pepper

1 pc jalapeno pepper

15 oz tomatoes and chilis, canned

½ cup tomatillo salsa

3 garlic, cloves, minced

2 tbsp

cornstarch

2 tsp

Chipotle chili powder

1 tsp ground cumin

1 tsp dried oregano

1 tsp kosher salt

½ tsp black pepper, coarse ground

2 cups

whole milk

, or

heavy cream

2 tbsp tomato paste

1 tbsp red wine vinegar

2 cu

ps

white cheddar

c

heese,

or

Monterey Jack cheese

, (grated)

1 tbsp lime juice

1 tbsp lemon juice
Instructions
In a large dutch oven, add the vegetable oil on medium-high heat along with the onion, bell peppers, and jalapeños and cook for 5 to 6 minutes, stirring occasionally until softened.

Add in the canned tomatoes, chilis, tomatillo salsa, garlic

, cornstarch, Chipotle powder,

cumin, oregano, salt, and pepper. Mix well.

Pour the milk and whisk well. Then add in the tomato paste, vinegar, and cheese and whisk until

the grated ch

eese is melted.

Right before serving

, w

hisk in the lime and lemon juice and serve.
Nutrition
Calories: 

268.69kcal

Fat: 

17.30g

Saturated Fat: 

7.86g

Trans Fat: 

0.42g

Monounsaturated Fat: 

5.90g

Polyunsaturated Fat: 

1.49g

Carbohydrates: 

17.78g

Fiber: 

4.11g

Sugar: 

8.72g

Protein: 

12.85g

Cholesterol: 

39.76mg

Sodium: 

618.69mg

Calcium: 

337.29mg

Potassium: 

586.76mg

Iron: 

1.47mg

Vitamin A: 

183.03µg

Vitamin C: 

50.83mg