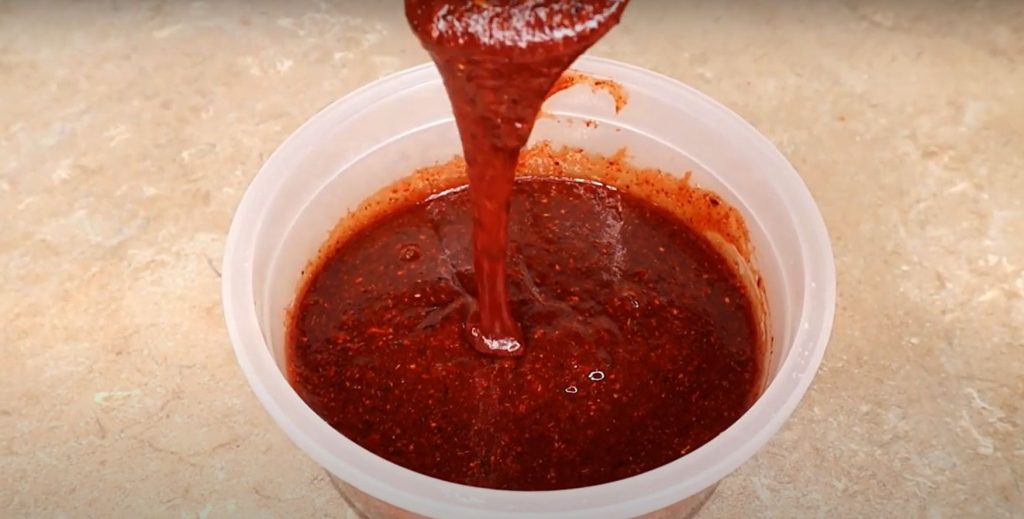 Chamoy Rim Dip Recipe
How To Make Chamoy Rim Dip
Level up your favorite alcoholic drinks with this Mexican chamoy rim dip! It adds sweetness and tanginess to your drinks with each sip.
Ingredients
10

Pulparindo candies

1⁄2

cup

chamoy

1⁄2

cup

tajin,

plus more for decorating the dip (optional)

2

Baby Lucas candy,

any flavor

2

Lucas Gusano candy,

any flavor
Instructions
In a medium saucepan over medium heat, add pulparindo candies. Melt the candies, stirring frequently, for about 5 to minutes until a thick paste forms. Adjust the heat as needed. If the candies begin to smoke, turn heat down to medium low.

Add chamoy to saucepan. If needed, return heat to medium. Allow to cook, stirring constantly, for about 4 to 6 minutes until Pulparindo has fully melted and incorporated in with the chamoy.

Add the tajin, Baby Lucas candy, and Lucas Gusano candy. Stir and cook until ingredients are fully incorporated.

Check consistency and do a taste test. Consistency should be thick enough that it fully coats a spatula or spoon but will slowly slide of. Taste should be tart and spicy with a hint of fruit. Add tahin for more spice or less watery consistency. Add Lucas candies for more sweetness.

Pour the prepared rim paste into a sealable container and allow to completely cool on the counter for about 1 hour.

Serve by dipping cleaned bottles or cans into the rim paste, twisting the drinks to fully cover the top, rim, and upper sides.